---
USA. 1955.
Crew
Director – Charles Lamont, Screenplay – John Grant, Story – Leo Loeb, Producer – Howard Christie, Photography (b&w) – George Robinson, Music – Joseph Gershenson, Photographic Effects – Clifford Stine, Makeup – Bud Westmore, Art Direction – Alexander Golitzen & Bill Newberry. Production Company – Universal.
Cast
Bud Abbott (Peter Patterson), Lou Costello (Freddie Franklin), Marie Windsor (Madame Rontru), Richard Deacon (Semu), Edwin Packer (Klaris)
---
Plot
In an Egyptian coffee house, two idiots, Freddie and Peter, overhear a conversation of a noted archaeologist and go to his house in the hope of finding a job escorting the mummy he has uncovered back to the US. However, while they are there, the cult worshippers of the mummy Klaris murder the professor. The police think the two of them are the killers. When Freddie accidentally swallows a cursed medallion, the two idiots become caught up in the hunt for the lost tomb of Klaris.
---
With a great sigh of relief, this was the last of Abbott and Costello's comedic team-ups with the famous monsters of the 1930s. Like their other monster bashes (see below), Abbott and Costello Meet the Mummy was a sad and ignoble end for the great original creation etched by Boris Karloff in The Mummy (1932) and even the clumsier interpretations of the shuffle conducted by Lon Chaney Jr in The Mummy's Tomb (1942), The Mummy's Curse (1944) and The Mummy's Ghost (1944) and Tom Tyler in The Mummy's Hand (1940). It may well have been that it was the sheer shabbiness of the mummy costume here killed the Universal mummy film off for good.
The film is a cheap and miserable one. The studio backlot production values entirely fail to convince one that the locations are in any way Egyptian. The sets are cheap – there is one supposedly stout wooden door that can be seen to crinkle when it moves. The plot is a tedious, dull matter.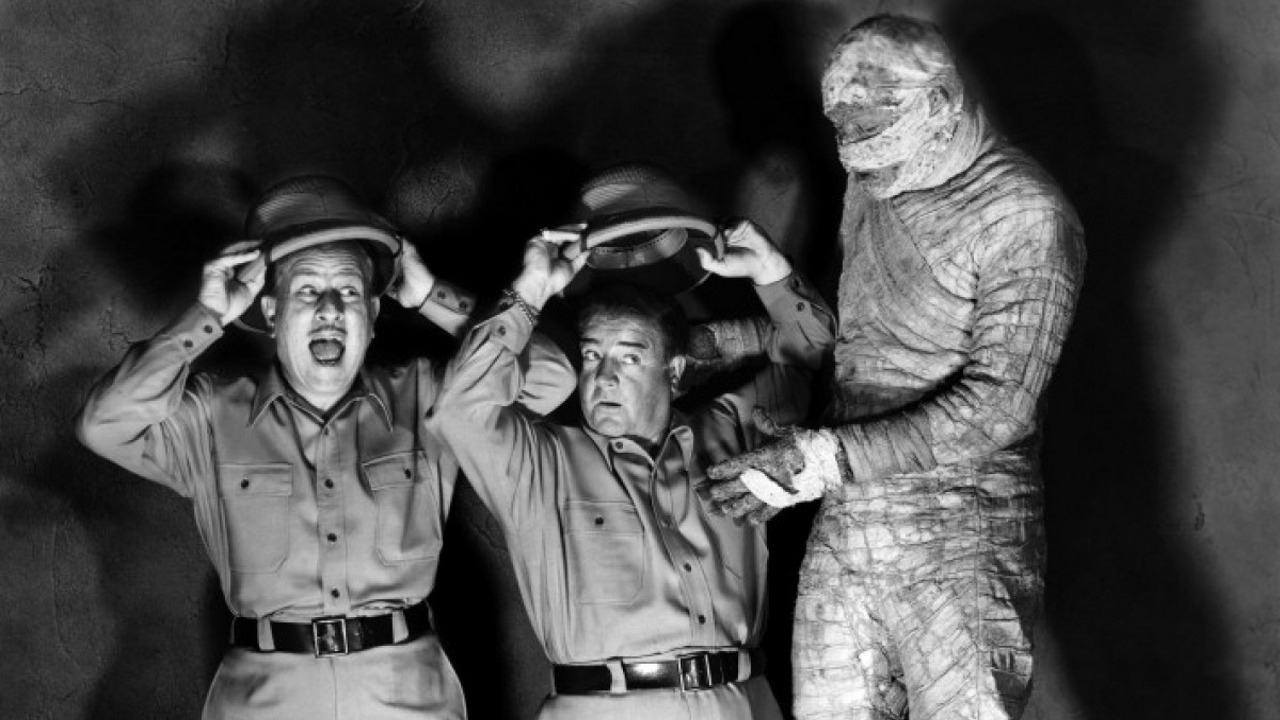 Abbott and Costello Meet the Mummy was the duo's last film at Universal and second-to-last in total and, while they give it the good old college try, nobody around them seems to be making much effort. Proceedings are dragged to death by the endless, extended scenes of the two leads' tomfoolery. As with many of their Meet the Monsters efforts, much of the latter half of the film seems to consist of comic runnings around involving the monster of the show.
The other Abbott and Costello genre entries are Hold That Ghost (1941), The Time of Their Lives (1946), Abbott and Costello Meet Frankenstein (1948), Abbott and Costello Meet the Invisible Man (1951), Comin' Round the Mountain (1951), Jack and the Beanstalk (1952), Abbott and Costello Go to Mars (1953) and Abbott and Costello Meet Dr Jekyll and Mr Hyde (1953). Lou Costello made one solo effort with The 30-Foot Bride of Candy Rock (1959).
---
---