---
USA. 1955.
Crew
Director – Francis D. Lyon, Screenplay – Richard Collins & Cecil Marden, Story – Jerry Davis, Producer – Howard Pine, Photography (b&w) – Russell Metty, Music – Joseph Gershenson, Makeup – Bud Westmore, Art Direction – Alexander Golitzen & John Meehan. Production Company – Universal-International.
Cast
Marshall Thompson (Tom Markel), Faith Domergue (Lisa Moye), Richard Long (Paul Able), Kathleen Hughes (Julia Thompson), Jack Kelly (Carl Turner), William Reynolds (Pete), David Janssen (Rico), James Dobson (Nick)
---
Plot
1946. Six GI's on leave in Malaysia are bored with roaming the usual tourist spots and seek something exotic. A snake charmer sneaks them into a ceremony of the Lamian snake cult where followers are reputed to turn into snakes. They are discovered when one of them tries to take a photo. They flee from the angry followers. That night, the one that took the photo dies, apparently from a snake bite. As the war ends, the others return to civilian life back in New York. Tom Markel becomes involved with the mysterious Lisa Moye living in the apartment next door to him. However, the rest of the group then start being killed off by deadly snakes bites.
---
This B-budget film is little more than a ripoff of Cat People (1942). It has the same plot elements as Cat People – the central presence of a mysterious and beautiful woman who may have the ability to transform into a cat/snake person. It is also a film that has effectively learned the tricks of the Val Lewton school. Most people pass Cult of the Cobra over and dismiss it but it is not that bad.
The story is decidedly banal – most of the GI's are written as total idiots. There is no ambiguity or suspense generated in guessing who the cobra-person is. Some of the behaviour that the film seems to censure as acceptable for Marshall Thompson's hero to get away with – beating up people who dance with his girl, bursting into her apartment when she fails to answer the door and generally forcing his presence on her more than is seemly – raises a few eyebrows today.
However, where Cult of the Cobra tries to copy Cat People, it succeeds. Francis D. Lyon successfully transcends the banality of the rest of the material with some adroitness. There is some often moody black-and-white photography and Lyon experiments with all manner of cinematographic ideas – such as presenting snake's eye point-of-view shots. There is also a striking shot where we see Faith Domergue's shadow transforming into a snake in silhouette against a wall. Early in the show, Lyon stages a snake dance, which has noticeably sexual overtones.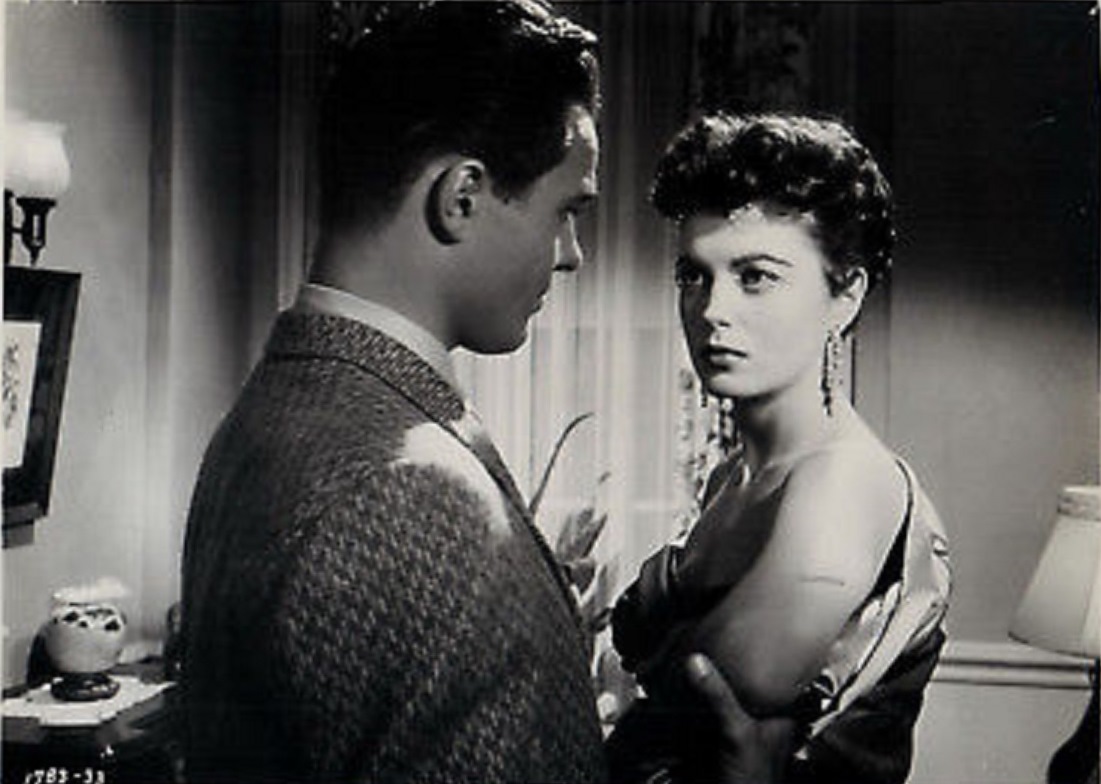 The film also benefits from the presence of Faith Domergue, who was terribly wooden in the same year's This Island Earth (1955) and It Came from Beneath the Sea (1955), but comes off here with considerable allure in coiffed hair and elegant, mysteriously aloof presence.
Director Francis D. Lyon was previously an editor throughout the 1930s and 40s, having edited Things to Come (1936). He went on to work in television and direct several other minor B genre films including Destination Inner Space (1966), Castle of Evil (1966) and The Destructors (1968).
---
Trailer here
---