---
Crew
Director – Jay Baruchel, Screenplay – Jay Baruchel & Jesse Chabot, Based on the Graphic Novel by Justin Gray & Jimmy Palmiotti, Producers – Jay Baruchel, Randy Manis & Noah Segal, Photography – Karim Hussain, Music – Wade MacNeil & Andrew Gordon MacPherson, Visual Effects – Deluxe Toronto (Supervisor – Matt Whelan), Special Effects Supervisor – Derek Liscoumb, Prosthetic Makeup Designer – Paul Jones, Production Design – Michelle Lannon. Production Company – Random Act/Wicked Rig/Manis Film/Jobro Productions/Kickstart Comics/Telefilm Canada/Ontario Creates.
Cast
Jesse Williams (Todd Walkley), Jordana Brewster (Kathy), Jay Baruchel (Ezra), Niamh Wilson (Aurora), Simon Northwood (The Man), Isaiah Rockcliffe (Young Todd), Clark Backo (Todd's Mother), Wade MacNeil (Gary Reston), Amir Sam Nakhjavani (General Store Clerk)
---
Plot
Todd Walkley is a comic-book creator who enjoys success with the hit title Slasherman based on a real-life series of murder along the I-90. He has announced what will be the comic's final issue but is struggling to think of a story for it. His publisher Ezra pushes Todd to take a road trip from Toronto down the I-90 to make various signings and interviews. They set off, accompanied by Todd's girlfriend Kathy and Ezra's girlfriend/Todd's assistant Aurora. Kathy has decided to write a book on the victims of the I-90 Killer and interviews various people along the route. However, their journey has brought the I-90 Killer back out of the woodwork and he is leaving a string of bodies along the route replicating the killings that appear in the comic-book.
---
Random Acts of Violence (2010) was a single issue comic-book from Image Comics. It was created by Justin Gray and Jimmy Palmiotti, both regular DC and Marvel comic-book writers with Palmiotti probably being best known as the creator of Painkiller Jane.
The film version of the comic-book has been taken up as a directorial outing by Canadian actor Jay Baruchel. Baruchel has been acting since he was sixteen and gained attention after appearing in Judd Apatow's Knocked Up (2007). Since then, he has appeared usually cast as a gawky teenager (still while well into his thirties) in films like Fanboys (2009), She's Out of My League (2010) and The Sorcerer's Apprentice (2010), as well as voicing the hero in How to Train Your Dragon (2010) and sequels. He appeared in the ice hockey film Goon (2011), which he also co-wrote, and made his directorial debut with the sequel Goon: Last of the Enforcers (2017).
I wanted to like Random Acts of Violence. And there are a lot of very good things about it. Although one of the things that quickly switched me off were the characters who do little to come across as likeable. Jesse Williams (who seems a dead ringer for Danish actor Pilou Asbaek) is passable in the lead. Jordana Brewster does okay as the girlfriend but their connection seems off – one where it feels that she has been given a motivation to write a book about the victims of the same killer he wrote a comic-book about for the sole reason to have them argue about it. Even so, it seems an argument that comes out of nowhere but serves no real purpose that is ever followed up later on in the film.
Jay Baruchel writes himself a wet blanket of a role that fails to ever come to life. The worst performance comes from Niamh Wilson as Baruchel's girlfriend where you get the feeling that she thought she was auditioning for some kind of mumblecore film instead. None of the characters really connect, or all seem so disappeared into their own spaces that they could be operating from completely different scripts.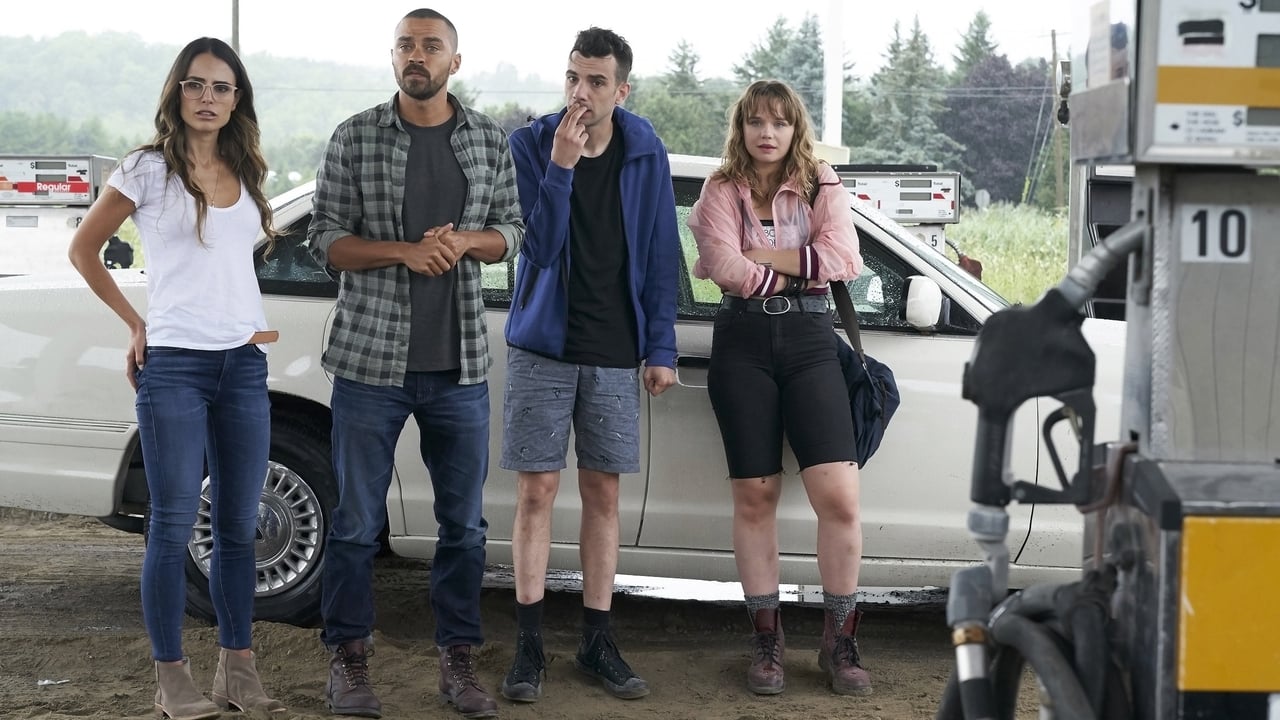 After time spent with the non-connecting characters, things do suddenly perk up around the 21-minute point where the killer encounters a quartet of teenagers on a country road and the abrupt and savage brutality with which he starts stabbing them as they huddle inside the car (although you cannot help but wonder why the ones on the other side stay there and don't simply open the doors and flee).
Once, he gets to the killer's lair and the point of Jesse Williams being pursued by the killer, Jay Baruchel lets all stops go and determines to deliver a brutal shock show. This unfortunately also becomes the point where Random Acts of Violence teeters from the potentially worthwhile to the tedious. Much of the show after this point becomes more an assault on the nerves than it is actually effective. The soundtrack blares with raw, amplified noise during the action. Even the opening credits comes in a frenetic blur of epilepsy-inducing stroboscopic flashes and deliberately obscure font that is near-impossible to read (even when the screen is on freeze-frame) that it only seems to shout out a director that is affecting style for its own sake.
Beneath Jay Baruchel's aggressive excess style, Random Acts of reveals itself as a rather ordinary plot. It is the same plot that has served films such as Tenebrae (1982), A Murder of Crows (1998), Reaper (1998), I'm Not Harry Jenson. (2009) and The Raven (2012) of the writer who finds they are dealing with a killer who is imitating their works. The film does a nothing particularly standout treatment of this. There is a twist ending that never delivers much, least of which is the puzzling incongruity of seeing the hero apparently change his entire ethnicity between when he was a child and an adult.
---
---