aka Paranoia
---
Crew
Director – Adam Simon, Screenplay – Adam Simon & Charles Beaumont, Story – Charles Beaumont, Producer – Julie Corman, Photography – Ronn Schmidt, Music – Peter Francis Potter, Makeup Effects – Barney & Rob Burman, Production Design – Catherine Hardwicke. Production Company – Concorde.
Cast
Bill Pullman (Dr Rex Martin), Bud Cort (John Halsey), Bill Paxton (Jim Reston), Patricia Charbonneau (Dana Martin), Nicholas Pryor (Dr Rimson Conklin), George Kennedy (Cyrus Vance)
---
Plot
Dr Rex Martin, a brilliant neurologist obsessed with finding the centre of the brain that causes paranoia, is asked by his friend Jim Reston to diagnose John Halsey, a mathematician who has gone paranoid and been placed in an asylum after killing his family. Martin reluctantly agrees to perform an experimental operation that will eliminate Halsey's paranoia and allow access to the secret formula locked away in Halsey's mind that Reston's people want. However, as soon as the operation is completed, Martin begins to experience Halsey's hallucinations, finding himself being followed by a man in a bloody coat and then seeing his wife dead. He then finds himself in the asylum in Halsey's place being treated for paranoid hallucinations in which he sees himself as a neurologist.
---
Brain Dead – which should not be confused with Peter Jackson's zombie splatter comedy Braindead (1992) or the subsequent Brain Dead (2007) – is one of the better dream/reality intrusion films that came out in the late 1980s, attempting to copy the success of A Nightmare on Elm Street (1984). Brain Dead was produced by legendary B-movie producer/director Roger Corman. The director was Adam Simon, who went to direct Carnosaur (1993), also for Roger Corman, and The American Nightmare (2000), a fine documentary about the modern horror film. Simon also wrote the scripts for Bones (2001), The Haunting in Connecticut (2009) and Books of Blood (2020), as well as created/produced the tv series Salem (2014-7) and produced the alien invasion film Captive State (2019).
The credit that draws the attention is the co-writing credit of Charles Beaumont. Charles Beaumont had been one of the regular writers on the original The Twilight Zone (1959-63) and had delivered scripts for several of Roger Corman's Edgar Allan Poe films (see bottom of page for Charles Beaumont's other genre films). What is interesting about the credit is that Beaumont died in 1967. The script was one that had been sitting around in Roger Corman's possession for several years. It is rather amusing to picture Corman trying to get such a whacked out script off the ground in the days before Elm Street made this baffling reality flip type of film commonplace.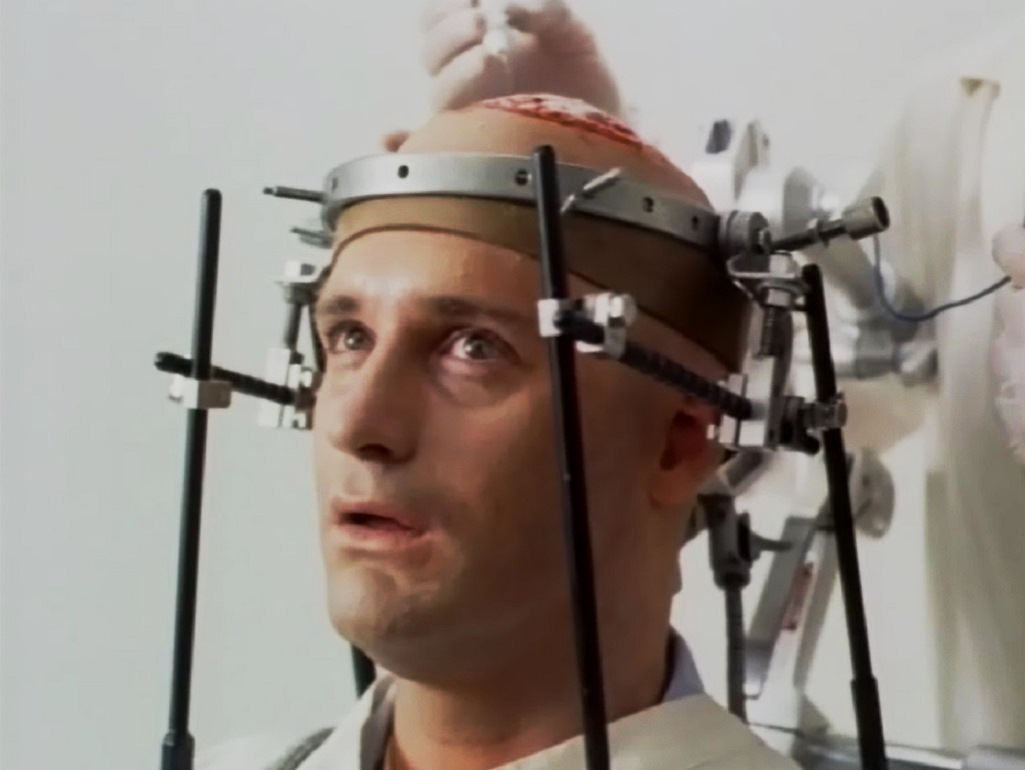 In fact, Brain Dead is one of the best of all A Nightmare on Elm Street clones. Most Elm Street copies, indeed most of the Elm Street sequels themselves, flip back and forward between reality and dream illusion with such regularity that the dividing line becomes like wet paper and in so doing diminish any real effect. So does Brain Dead but the reality flips are nested in a script filled with startling and clever reversals. Bill Pullman cures Bud Cort's paranoid hallucinations but then with disturbing regard starts to see them himself.
The film keeps putting the screws on the situation until Bill Pullman is in a psychiatric institution having become Bud Cort's wife-killing paranoiac and being told that his identity as a neurosurgeon is an hallucination. Most paranoia/loss of identity films have the protagonist fighting to retrieve his identity, but Brain Dead pushes Pullman through an increasingly deeper series of turns to the point that any fixed sense of what is real is obliterated altogether.
There is a constant weirdness that is offsetting audience assumptions. The film sometimes verges on the cartoony – Bud Cort swimming in an ocean inside Bill Pullman's head notes oncoming storm clouds: "Maybe it's a brainstorm" – but in cleverer ways than any of any Elm Street-esque Freddy quips. The final ending arrived at is amazingly bleak. While in another film all the reality bendings would collapse into meaninglessness, Brain Dead sustains them at such a dexterous series of whiplash reversals that it contrarily becomes thoroughly ingenious.
Charles Beaumont (1929-67) was a noted horror and science-fiction writer during the 1950s and 60s. He wrote a number of screenplays including Queen of Outer Space (1958), Night of the Eagle/Burn, Witch, Burn (1961), three films for Roger Corman with Premature Burial (1962), The Haunted Palace (1963) and The Masque of the Red Death (1964), The Wonderful World of the Brothers Grimm (1962) and 7 Faces of Dr Lao (1964), as well as twenty-two scripts for tv's The Twilight Zone (1959-63),
---
---