---
USA. 2016.
Crew
Director – Bram Coppens, Screenplay – James Agnew & Sean Keller, Producer – Wendy Benge, Photography – Kees Van Oostrum, Music – David Julyan, Visual Effects Supervisor – Clint Nitkiewicz Hernandez, Special Effects – Chris Cline, Josh Hakian & David Waine, Production Design – Dins W.W. Danielsen. Production Company – Bullet Entertainment
Cast
Wes Bentley (Patrick Flynn), Jaimie Alexander (Tara Bloom), Cam Gigandet (Michael Prince), Alexandra Breckinridge (Debra), Emily Robinson (Annie Bloom), Matt Gerald (Clay Darrow), Astrid Bryan (Justine)
---
Plot
Tara Bloom is on a vacation with her two bridesmaids-to-be when she is charmed by handsome barman Patrick Flynn and spends the night with him. However, she is disturbed the next morning when Patrick tells her he loves her and shows her that he has tattooed her name on his wrist. She returns back to L.A. and throws herself into her wedding plans with her fiance Michael, mentioning nothing to him about Patrick. However, she has dropped her phone at Patrick's place and he goes through her contact list and calendar. She then returns home to find Patrick in her shower. As Michael comes, she hurriedly gets Patrick out of the apartment and agrees to meet him the next day. In the morning however, a girlfriend drags her off to a spa and she fails to meet with him. An upset Patrick then starts calling up and cancelling all of her wedding plans and comes determined to invade the ceremony and threaten those in his way.
---
Broken Vows was a directorial debut for Belgian director Bram Coppens.
I thought Broken Vows looked promising from the first few minutes in. Wes Bentley gives a great performance, playing with a darkly magnetic bad boy intensity that seems to burn itself off the screen. The scene where he seduces Jaimie Alexander from behind the bar by just holding her hands and looking into her eyes as all the while irritated customers beg his attention starts the film off particularly well.
Unfortunately, Broken Vows' edginess dissipates the moment that Jaimie Alexander surrenders to Wes's charms. Their love scenes together, while they should have burned up the screen, come with a PG-rated tameness as though the respective actors were too afraid of their no-nudity clauses to put anything into the performances.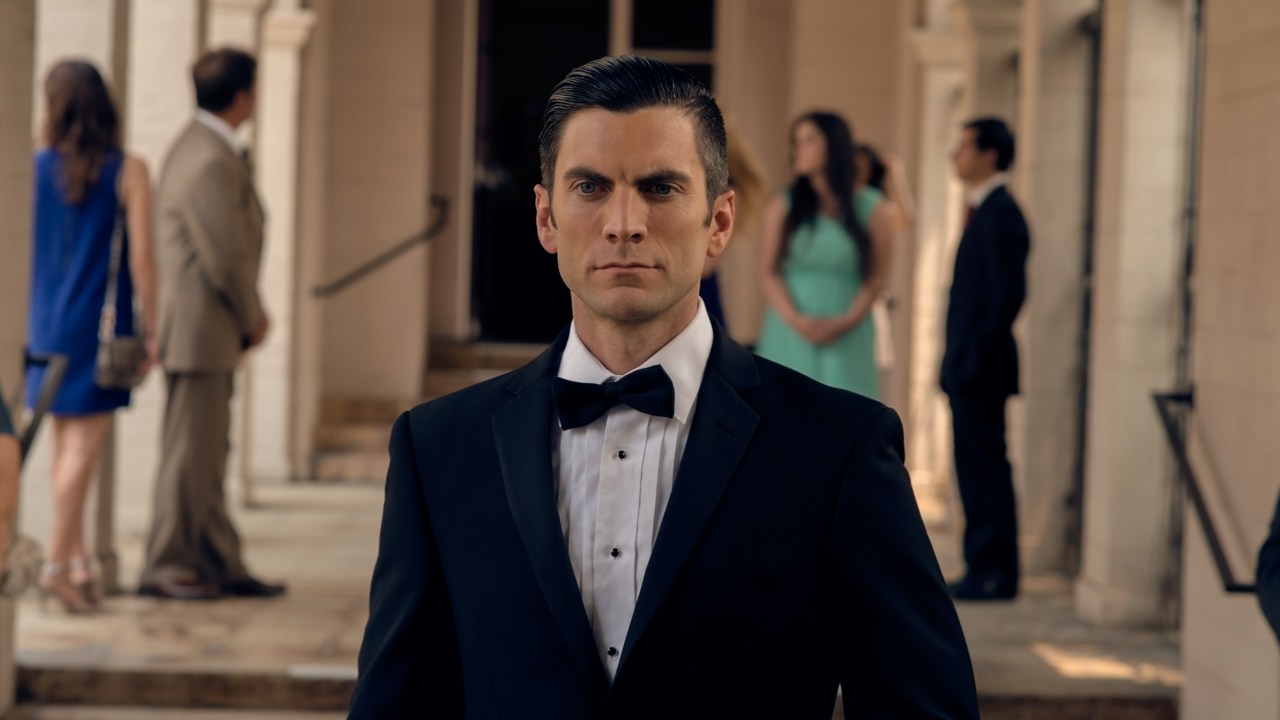 Thereafter Broken Vows plays out as an exceedingly standard stalker psycho-thriller as per the cliches laid down by Fatal Attraction (1987) and copied by dozens of imitators. The only real difference here is that the stalker is a male as opposed to the disturbed woman we almost always had in the bulk of the Fatal Attraction copycats. There is also a twist ending that has been borrowed from The Gift (2015). Even the title has the utter genericism that suggests more a Lifetime tv movie romance – bar the barely even racy love scene, this could be a tv movie in every way.
Bram Coppens gives none of the scenes anything that brings them to life in any way. As I have repeatedly said, a film that keeps needing to throw in dream and daydream sequences to get jumps out of an audience is one that cannot get them elsewhere.
Wes Bentley certainly goes for broke with his performance. Jaimie Alexander is merely serviceable in her role but never seems to generate much chemistry with either Wes or her fiance Cam Gigandet. The worst performance comes from Cam Gigandet. Looking more like a trained monkey, the performance he gives comes entirely in terms of bizarre smirks and grimaces as though he were camera shy or taking nothing before him seriously. You keep wondering what there is about him that Jaimie Alexander regards as the bastion of normalcy she must cling to.
---
Trailer here
---