---
USA. 1962.
Crew
Director – J. Lee Thompson, Screenplay – James R. Webb, Based on the Novel The Executioners by John D. MacDonald, Producer – Sy Bartlett, Photography (b&w) – Sam Leavitt, Music – Bernard Herrmann, Art Direction – Robert Boyle & Alexander Golitzen. Production Company – Melville-Talbot Productions.
Cast
Gregory Peck (Sam Bowden), Robert Mitchum (Max Cady), Polly Bergen (Peggy Bowden), Lori Martin (Nancy Bowden), Martin Balsam (Chief Mark Dutton), Telly Savalas (Charlie Sievers), Barrie Chase (Diane Taylor), Jack Kruschen (Dave Grafton)
---
Plot
Eight years ago, lawyer Sam Bowden saw Max Cady beating a woman and gave testimony that helped put Cady away in jail. Cady has now been released and starts to follow Bowden and his family everywhere. He then poisons the Bowden dog. When Bowden's friends in the police department try to drive Cady out of town, Cady returns with a slick lawyer who cries police harassment. Powerless to stop him, Bowden must sit back as Cady moves in with the intent of tearing Bowden's family apart in revenge.
---
Cape Fear was one of the last great gasps of film noir. The period that has been identified as film noir fairly much ended around 1955 and Cape Fear was one of the last landmarks of that era – the final occasion before an entire style of filmmaking vanished. (Indeed, Cape Fear was one of the last films still made in black-and-white before black-and-white became merely an artistic statement).
Cape Fear was also the one moment of shining glory in the career of director J. Lee Thompson. Just prior to Cape Fear, J. Lee Thompson had had a big hit with the war movie The Guns of Navarone (1961) and went onto a directorial career that would span four decades up until his retirement in 1989. Cape Fear was J. Lee Thompson's one moment in the sunlight with he at the peak of his form, something he would never ever demonstrate again as his career, which went steadily downwards through muscular epics and Westerns like Taras Bulba (1962) and McKenna's Gold (1968), through a line of mediocre genre entries – Eye of the Devil (1967), The Chairman/The Most Dangerous Man in the World (1969), Conquest of the Planet of the Apes (1972), Battle for the Planet of the Apes (1973) and The Reincarnation of Peter Proud (1975).
In the last twenty years of his career, J. Lee Thompson's films went from middling – The White Buffalo (1977), The Greek Tycoon (1978) – to the dire Happy Birthday to Me (1981) King Solomon's Mines (1985) – before bottoming out with a slew of all bad Charles Bronson vehicles – 10 to Midnight (1983), The Evil That Men Do (1984), Murphy's Law (1986), Death Wish 4 (1987), Messenger of Death (1988) and Kinjite: Forbidden Subjects (1989). Everything in Cape Fear works so well you wonder what it was that J. Lee Thompson managed to do right here but never replicate elsewhere.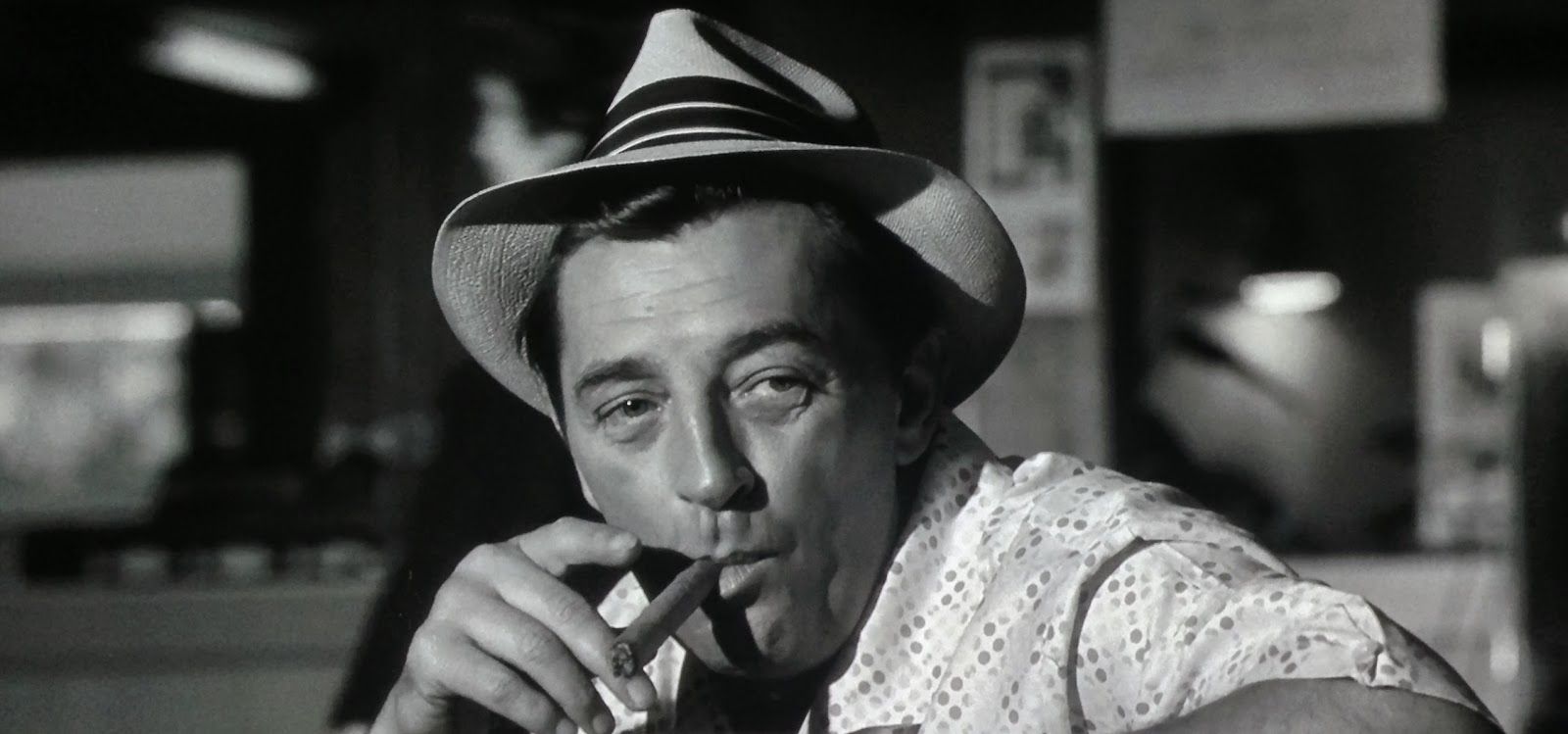 There is something beautifully driven and obsessive about Cape Fear. It has a psychological intensity that many other noir films only develop indirectly. The atmosphere is marvellously sustained by Bernard Herrmann's driving, grinding score – all chopping blocks of strings. The location shooting in Savannah, Georgia amid heated Southern climate, magnificent old court-buildings and tree-lined streets makes for superb background.
J. Lee Thompson's direction has a razor-sharp tightness – the precision of the camera set-ups between wide-angle and Robert Mitchum's looming face as Mitchum walks into the courthouse in the opening moments are exquisite. All that Thompson needs to do in this scene to suggest that Robert Mitchum is a bad man is simply have him walk past and ignore a woman who drops one of a pile of books.
Some of the suspense sequences are absolute classics. Like where Lori Martin flees from Robert Mitchum into the basement of a building and Thompson beautifully misdirects us to think Mitchum is pursuing her, only to have the feet coming down the stairs anticlimactically revealed to be those of a janitor and for her to then back straight into the arms of Mitchum waiting outside. Or the chill moment where Gregory Peck is talking on the phone and the bark of the dog cuts off in mid-howl outside.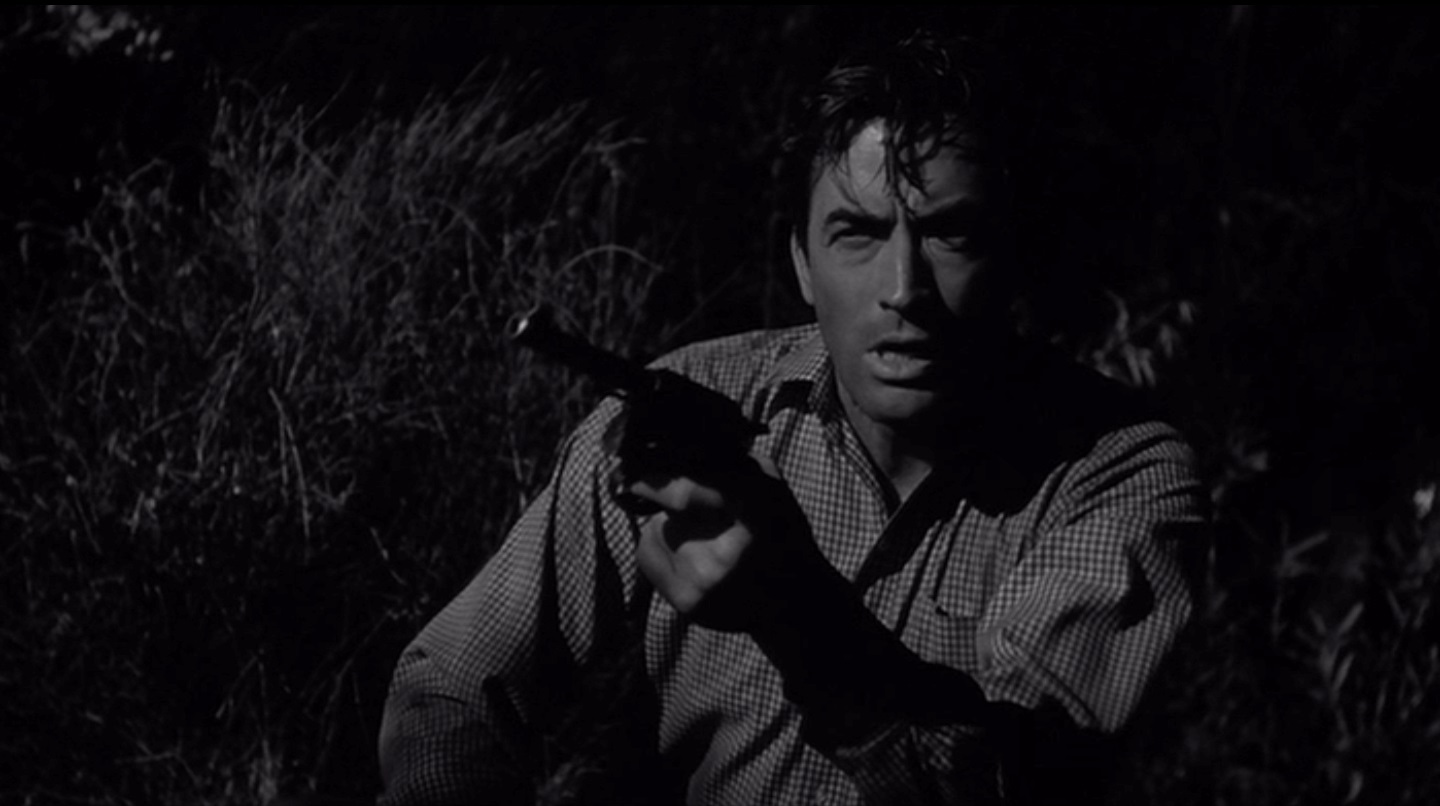 However, it is at the climax that Cape Fear enters into its own in the wonderfully sustained tension with Robert Mitchum skulking around to get aboard the houseboat and the all-out climactic fight between he and Gregory Peck in the reeds. Cape Fear is a lot gutsier than many of the thrillers being made at the time – there are not many other films that would dare to kill the dog or threaten the child.
Robert Mitchum gives a wonderfully insolent performance, where he is served by some great dialogue. Mitchum is made into a wonderfully sleazy embodiment of all the values that were considered amoral at the time – he hangs out in bars and drinks, he is an unemployed drifter, he consorts with women of loose moral virtue. Most amusing – clearly a holdover from the pugnacious law-enforcement views upheld in noir – is that police seem to find it perfectly acceptable to harass drifters and run people out of town on such ill-defined terms as vagrancy charges and loose consortion.
There is an especially well-directed scene with he and Gregory Peck meeting in a bar where he describes the revenge he took on his wife, which carries a hypnotically cruel charge that exists merely by suggestion, nothing overt. J. Lee Thompson turns Mitchum into a predator who looms with all manner of sexual threat – the scenes with him prowling around Barrie Chase's bed and in particular with him bare-chested aboard the houseboat as he threatens Gregory Peck's wife convey a charge of real animal sexuality. What is especially astonishing is the fact that it is made perfectly clear that, as part of his revenge on Gregory Peck, he wants to rape both Peck's wife and underage daughter – in one remarkable scene, he tries to persuade wife Polly Bergen to give herself to him so that she can spare daughter Lori Martin.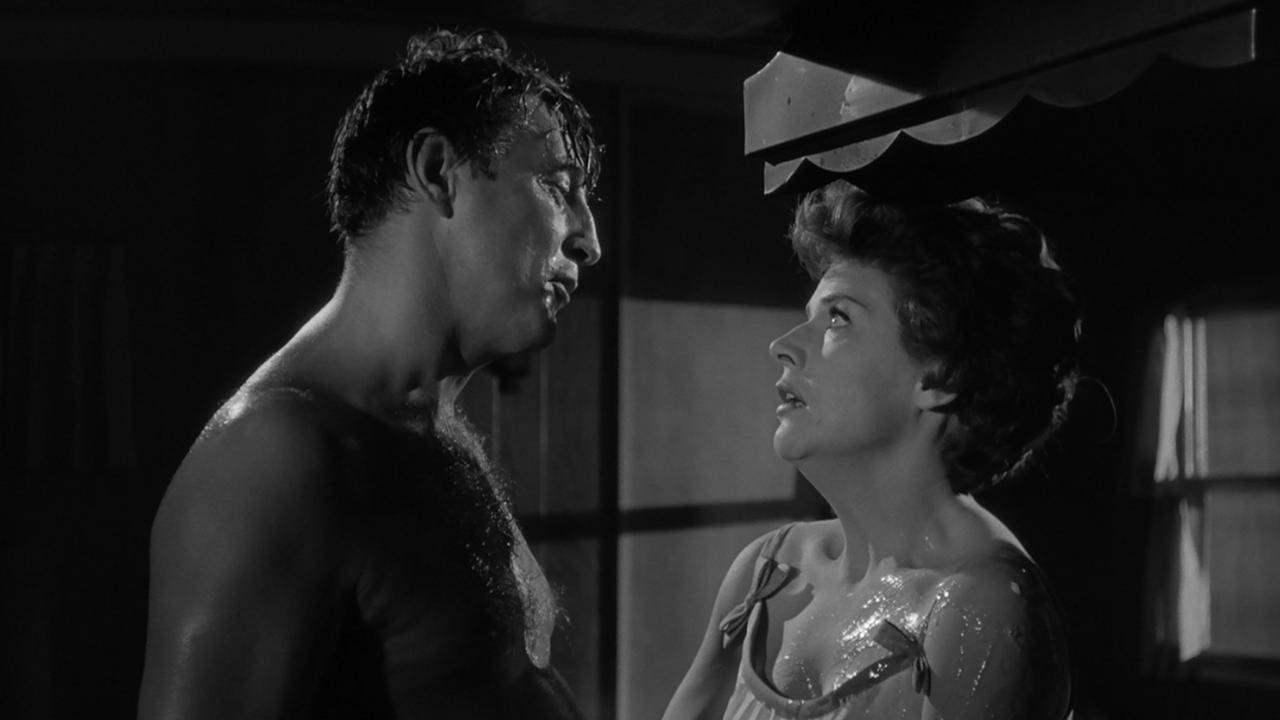 Cape Fear's true importance did not become apparent for another three decades. It was the first of a subgenre of films that placed the nuclear family and the values of ordinary American decency up against a wall. It was also the first of a series of films that confronted the perceived dangers of a liberal justice system that allows too much leniency to criminals, usually involving plots where a psychopath would wield the letter of the law to make life miserable for a decent ordinary protagonist. Direct echoes can be found in films like Straw Dogs (1971), Dirty Harry (1971), Fatal Attraction (1987), Pacific Heights (1990), Ricochet (1991), Unlawful Entry (1992) and Just Cause (1995).
The film was remade less effectively but not entirely unworthily by Martin Scorsese as Cape Fear (1991) starring Robert De Niro as Max Cady and Nick Nolte as Bowden.
---
---