---
Crew
Director/Screenplay – Tom Shankland, Story – Paul Andrew Williams, Producers – Allan Niblo & James Richardson, Photography – Nanu Segal, Music – Stephen Hilton, Visual Effects Supervisor – Florian Obrecht, Makeup Effects Design – Paul Hyett, Production Design – Suzie Davies. Production Company – Protagonist Pictures/Aramid Entertainment/Barnsnape Films/Screen West Midlands/BBC Films.
Cast
Eva Birthistle (Elaine), Hannah Tointon (Casey), Stephen Campbell Moore (Jonah), Rachel Shelley (Chloe), Jeremy Sheffield (Robbie), William Howes (Paulie), Rafiella Brooks (Leah), Jake Hathaway (Nicky), Eva Sayer (Miranda)
---
Plot
Jonah and Elaine, along with their three children, the teenage Casey and two younger ones, arrive to join Robbie and Chloe and their two children at their country home for Christmas celebrations. As the children play around the house, their actions become increasingly malicious. Robbie has his skull gouged open in an accident on a sled. As the adults react in shock, the children start to become more sadistic and violent as they attempt to kill the adults.
---
The Children was the second film for British director Tom Shankland. Shankland first appeared with WΔZ (2007), a fairly ho-hum police procedural that did at least come with some interesting genre twists. Subsequent to these two film outings, he has become a regular director in British television and has delivered solid and above average work on British tv series/mini-series such as The Fades (2011), Dirk Gently (2012), Ripper Street (2012-6), The Missing (2014-6), The City & The City (2018) and Les Miserables (2018), as well as several ventures to the US to direct episodes of House of Cards (2013-8), The Leftovers (2014-7), Luke Cage (2016-8), Iron Fist (2017-8) and The Defenders (2017).
The Children should not be confused with the cheaply schlocky The Children (1980) that somewhat similarly featured children affected by a radioactive leak, which caused them to develop black fingernails and incinerate adults by coming up and hugging them. While retaining the evil children, this more ominously offers no explanation for their sudden turning against adults. (There are one or two scenes at the start where we see them ill, which implies some kind of infection but this is never explicitly raised as an explanation). You are reminded of 1970s classics like Devil Times Five (1974) and Who Can Kill a Child? (1976), which featured children inexplicably turning against adults with murderous results.
The film starts with innocuous innocence – something as perfectly normal and convivial as the Christmas get-together (although the film never lets us know how the two families are related). Tom Shankland does a fine job in the early sections in engaging us in the interactions of the two groups – it is clear the various actors have rehearsed together to create a warm, naturalistic energy. Interspersed with this are some increasingly under the radar touches that leave you wondering without ever explicitly saying something – Jeremy Sheffield's creepy over-friendliness towards the teenage Hannah Tointon; cuts to the children watching or their toys abandoned and stacked in unusual ways; all of the children crying together at the table in unison; and this contrasted with banal scenes like Stephen Campbell Moore's insistence on trying to interest Sheffield in investing in Traditional Chinese Medicine, which suggests a financial urgency in his persistence.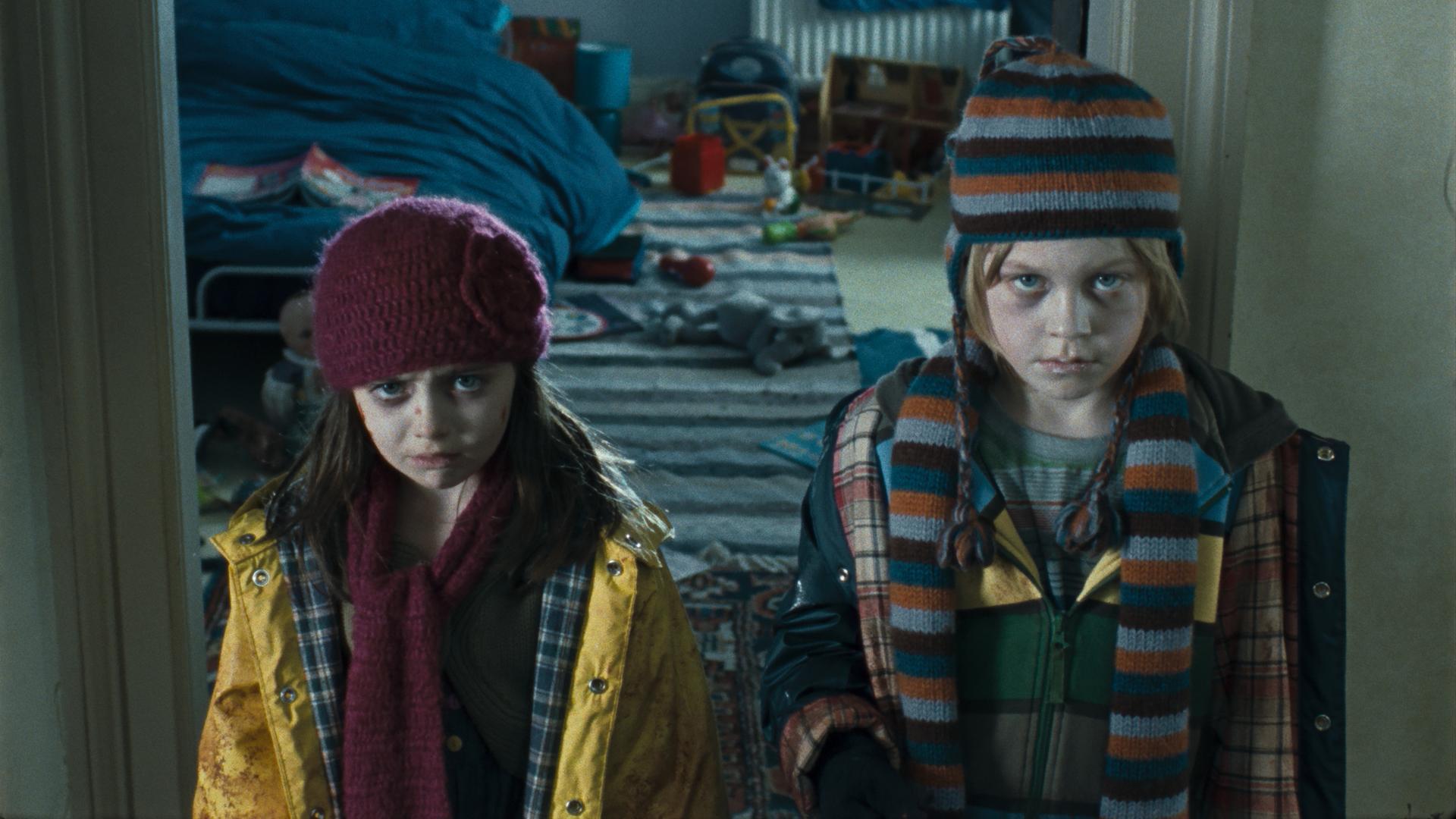 It is not long until this innocent seeming picture, where you at first dismiss what is happening as just being the chaos of children at play, soon starts to emerge into something increasingly disturbed. There is the nasty scene where Jeremy Sheffield's run on a sled ends with him gashing his skull open on a pitchfork (and then the body subsequently disappearing) and then William Howes stabbing Stephen Campbell Moore with a knife as everyone tries to deal with the accident.
At this point, you are still not entirely sure if what is happening is innocent and accidental or comes with some sinister intent. The latter becomes increasingly evident in the nastiness of scenes with Howes deliberately causing Eva Birthistle to break her leg on the monkey bars or the images of the kids hunting the adults though the greenhouse with knives while the sound of their happy laughter comes on the soundtrack.
There is a disturbing sense through much of the film of the adults not knowing whether to treat the children as sweet little darlings or as dangerous monsters and then turning on the other adults when they see them defending themselves or attacking the kids. The film builds to an impressive siege with extremely well directed results.
---
---