---
Crew
Director – Greg McLean, Screenplay – Shayne Armstrong, S.P. Krause & Greg McLean, Producers – Jason Blum, Matt Kaplan & Bianca Martino, Photography – Toby Oliver, Music – Johnny Klimek, Visual Effects Supervisor – Marty Pepper, Special Effects Supervisor – Jimmy Lorimer, Makeup Effects – Sota F/X, Inc. (Designer – Roy Knyrim), Production Design – Melanie Paizis-Jones. Production Company – Blumhouse/Emu Creek Pictures.
Cast
Kevin Bacon (Peter Taylor), Radha Mitchell (Bronny Taylor), David Mazouz (Michael Taylor), Lucy Fry (Stephanie Taylor), Paul Reiser (Simon Richards), Trian Long-Smith (Sammy Levin), Ming-Na Wen (Wendy Richards), Parker Mack (Andrew Carter), Alma Martinez (Teresa Morales), Ilza Rosario (Gloria Ortega), Matt Walsh (Gary Carter), Jennifer Morrison (Joy Carter)
---
Plot
Husband and wife Peter and Bronny Taylor are on vacation in the Grand Canyon with their children and friends. The children go exploring where their young autistic son Michael falls through into a cave and finds a set of patterned stones. Back home, Michael begins acting in a different way. There are increasingly unexplained phenomena in the house – taps that turn on by themselves, animals acting highly distressed, strange handprints everywhere, Michael lighting a fire in bedroom and the scorch marks afterwards seeming to flicker with energy. As tensions within the family divide them, Bronny comes to believe that Michael has found a cave where Anasazi demons were imprisoned and that by removing the stones he has opened the way for them to return to this world.
---
Australian director Greg McLean made a sensational emergence onto the genre stage with the Backwoods Brutality film Wolf Creek (2005). McLean subsequently went onto make the incredible killer crocodile film Rogue (2007) and the likes of Wolf Creek 2 (2013), The Belko Experiment (2016) and Jungle (2017). In addition, McLean has also produced Crawlspace (2012) and the tv series spinoff of Wolf Creek (2016-7).
The Darkness was Greg McLean's first venture into the US. The film is a co-production with Jason Blum's near ubiquitous Blumhouse production company and has been shot in California using a predominantly American cast. The film floated around for the last couple of years under the far more interesting title of 6 Miranda Drive but was renamed The Darkness just before release. The choice of such a bland and generic title for a horror film does not exactly presage well. Indeed, it becomes difficult to distinguish from several other identically titled films – see also the vampire film Darkness (1993) and Jaume Balaguero's Darkness (2002).
The Darkness is also Greg McLean's first venture into supernatural horror. Unfortunately, while one high hopes for what he would do, these quickly disappear into something as anonymous as the film's title. The haunted house and ghost story has become something rapidly overused by low-budget films in recent years. Even though the cause d'etre in The Darkness is not a haunting, it very much follows the pattern of these films. In fact, you could say that everything we have here has been played out in Blumhouse's Paranormal Activity films – the only difference here is that there is no Found Footage effect.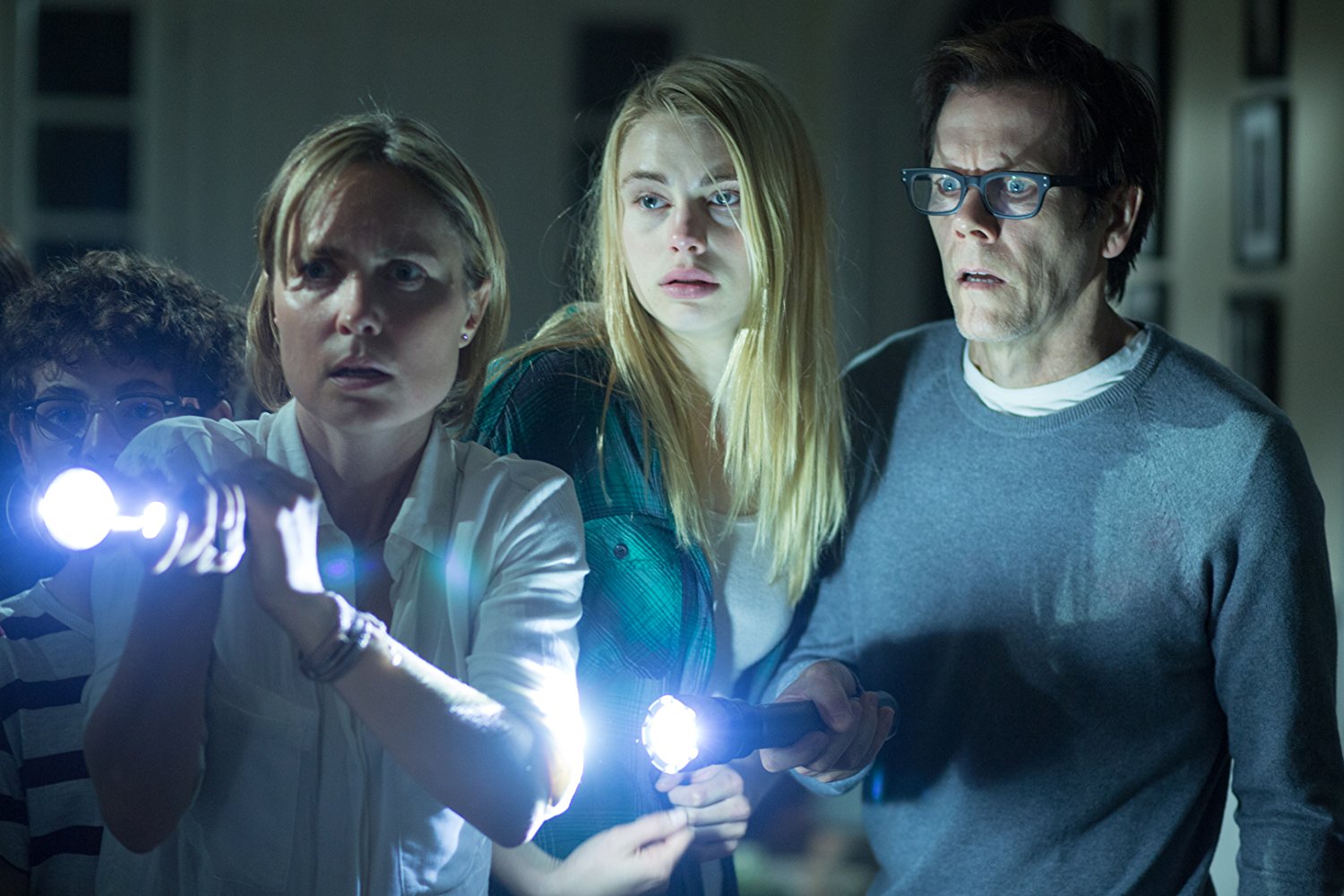 For that matter, everything that happens in The Darkness is strongly dependent on the plot of Poltergeist (1982) – the nuclear family in a suburban house who are experiencing mysterious phenomena; the child with the unnatural connection to the supernatural, which is at first taken to be merely an imaginary companion; the arrival of the exorcists; an explanation derived from Native American spirits; the portal manifesting through the wall and the parent's eventual journey into the portal to have to rescue the child.
I had high expectations of The Darkness because Greg McLean has impressed with everything else that he has done. It is this that eventually made the film even more disappointing. My hope was as it started in was that McLean would do something that would turn the ghost story on its head and deliver a gruellingly intense ride in much the same way that Rogue, his best film so far, turned the Animals Amok genre into an incredibly harrowing work. The great disappointment is that you reach the end of The Darkness feeling that there is not a single thing that McLean did that raises one's pulse in the slightest or is in the slightest bit memorable.
Jason Blum and his Blumhouse production company have produced a number of other genre films including:- Hamlet (2000), Paranormal Activity (2007) and sequels, Insidious (2010) and sequels, Tooth Fairy (2010), The Bay (2012), The Lords of Salem (2012), The River (tv series, 2012), Sinister (2012) and sequel, Dark Skies (2013), Oculus (2013), The Purge (2013) and sequels, the tv mini-series Ascension (2014), Creep (2014), Jessabelle (2014), Mercy (2014), Mockingbird (2014), Not Safe for Work (2014), Ouija (2014) and sequel, 13 Sins (2014), The Town That Dreaded Sundown (2014), Unfriended/Cybernatural (2014), Area 51 (2015), The Boy Next Door (2015), Curve (2015), The Gallows (2015), The Gift (2015), Jem and the Holograms (2015), The Lazarus Effect (2015), Martyrs (2015), Visions (2015), The Visit (2015), Hush (2016), Incarnate (2016), The Veil (2016), Viral (2016), Amityville: The Awakening (2017), Get Out (2017), Happy Death Day (2017), The Keeping Hours (2017), Split (2017), Stephanie (2017), Bloodline (2018), Cam (2018), Delirium (2018), Halloween (2018), Seven in Heaven (2018), Truth or Dare (2018), Upgrade (2018), Black Christmas (2019), Ma (2019), Prey (2019), Don't Let Go (2019), Sweetheart (2019), Black Box (2020), The Craft: Legacy (2020), Evil Eye (2020), Fantasy Island (2020), Freaky (2020), The Hunt (2020), The Invisible Man (2020), Nocturne (2020), You Should Have Left (2020), Black As Night (2021), The Black Phone (2021), Dashcam (2021), Firestarter (2022), M3gan (2022), Mr Harrigan's Phone (2022), Nanny (2022), Soft & Quiet (2022), Run Sweetheart Run (2022), Sick (2022), They/Them (2022), Torn Hearts (2022), Unhuman (2022), The Visitor (2022), The Exorcist: Believer (2023), Five Nights at Freddy's (2023), There's Something Wrong With the Children (2023) and Totally Killer (2023).
---
---