---
Crew
Director – Phillip Noyce, Screenplay – Terry Hayes, Based on the Novel by Charles Williams, Producers – Terry Hayes, George Miller & Doug Mitchell, Photography – Dean Semler, Music – Graeme Revell, Special Effects – Brian Cox, Makeup – Bob McCarron, Production Design – Graham 'Grace' Walker. Production Company – Kennedy-Miller.
Cast
Nicole Kidman (Rae Ingram), Sam Neill (John Ingram), Billy Zane (Hughie Warriner)
---
Plot
While on holiday at sea aboard their yacht Saracen, husband and wife John and Rae Ingram's tranquillity is suddenly interrupted by Hughie Warriner who is fleeing from the schooner Orpheus whose crew he claims have died from salmonella poisoning. John rows over to the Orpheus to investigate. However, after he departs, the psychotic Warriner takes off in the Saracen with Rae his prisoner. John meanwhile is trapped aboard the sinking Orpheus with the bodies of the crew that Warriner has murdered.
---
Dead Calm was the international breakthrough film for director Phillip Noyce, his fifth film in total. Phillip Noyce would go on to helm a number of works in the US mainstream of variable quality such as Patriot Games (1992), Sliver (1993), The Saint (1997), The Bone Collector (1999), Salt (2010) and The Giver (2014), as well as the quite good Clear and Present Danger (1994), before attaining critical acclaim with Rabbit Proof Fence (2001) and The Quiet American (2002). Dead Calm was also produced by George Miller, who had had enormous success as director with his Mad Max trilogy.
Dead Calm is based on a 1963 novel by Charles Williams. Orson Welles had previously attempted to make a film of the book. Welles shot his version variously under the titles The Deep and Dead Reckoning in Yugoslavia in the late 1960s, starring Laurence Harvey in the Billy Zane role and Oja Kodar in the Nicole Kidman part. However, as with many Welles productions, it befell financing problems and Welles abandoned it after Laurence Harvey's death in 1973.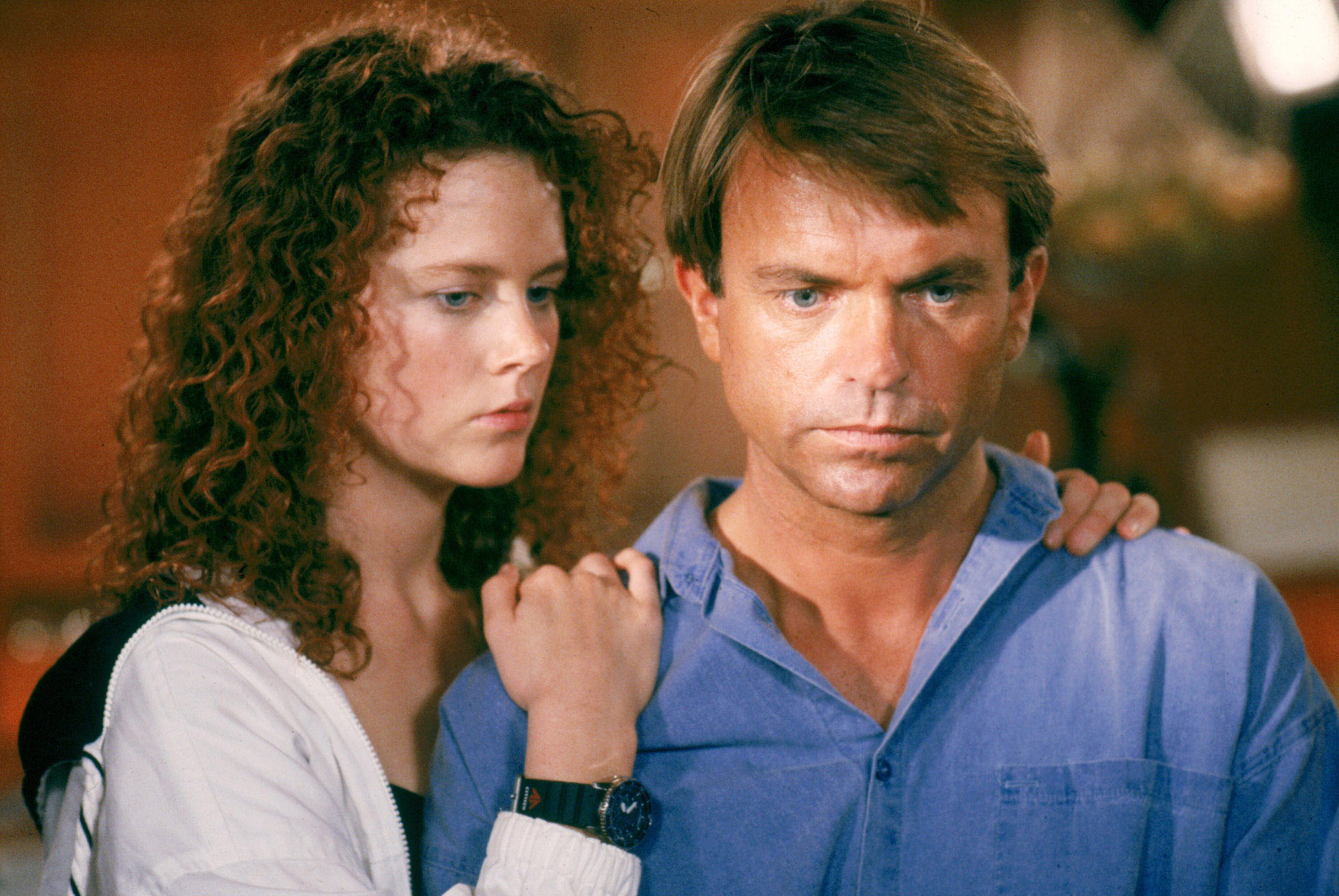 Dead Calm is emerges almost as a psycho-thriller variation on Roman Polanski's Knife in the Water (1962). Phillip Noyce makes an impressive thriller out of the material. Whatever one does they should catch Dead Calm in a theatre because it is loses an enormous amount in the translation to video, even when letterboxed.
The photography has been designed to maximise wide-screen impact with shots that pull back to show both yachts in frame separated by a quarter-mile distance and the tiny dinghy rowing between, or that sinuously cruise and circle the yacht as its length glides past camera. The score is an arty mix of ethereal percussive effects and operatic aria.
Phillip Noyce creates some moments of incredible seat-edge suspense – Sam Neill's race aboard a dinghy for the departing Saracen, only missing it by a literal fingers-breadth; or the slow intercut compounding of his plight aboard the sinking Orpheus, ending in the extraordinary image of him breathing air down through a pipe, trapped beneath the water in a flooded cabin. Ultimately, Phillip Noyce tends to rely on the B horror movie clichés after all, in particular with its pointless psycho-returns-from-the-dead twist ending. However, the beautiful natural-lit camera-work and the classical Hitchcockian suspense set-ups make Dead Calm an extremely interesting, if not always totally satisfying thriller.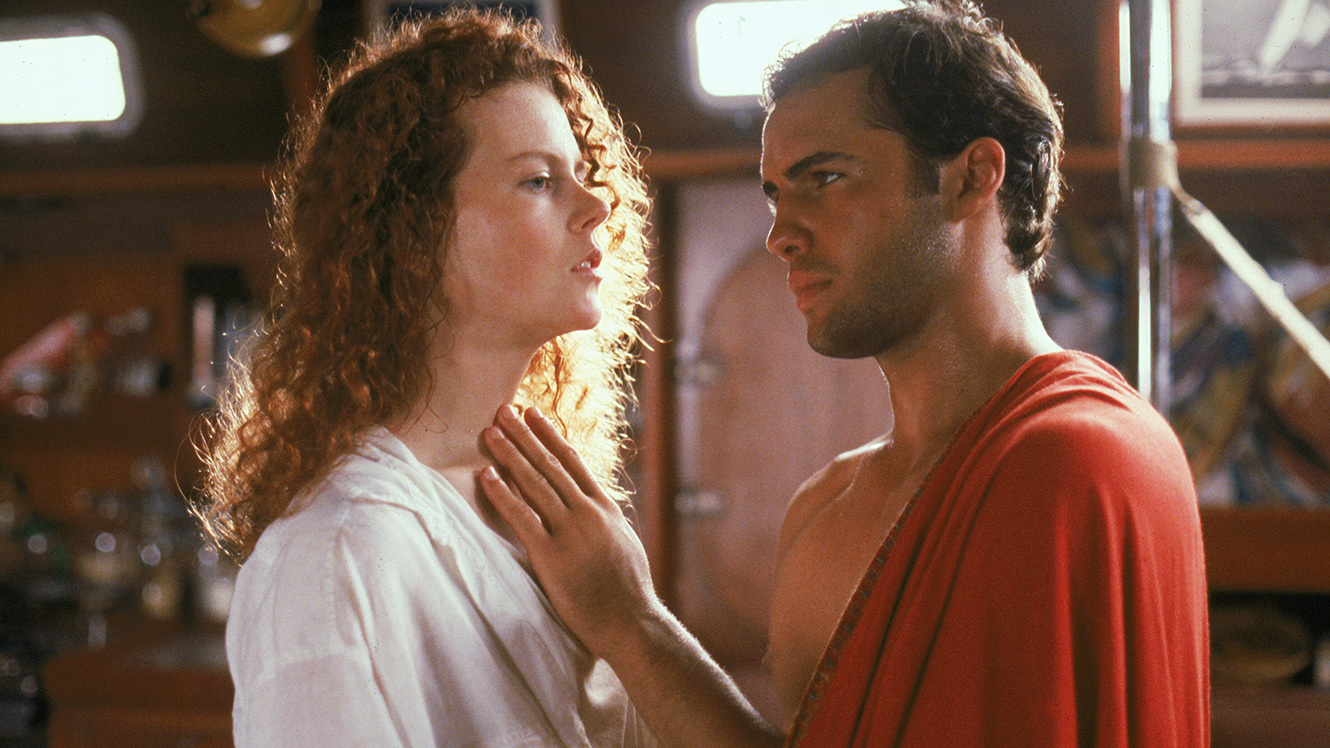 Dead Calm featured the first leading role of Nicole Kidman, then only 22 years old. It brought her to international attention and the next year she went to the US, starred in Days of Thunder (1990), married Tom Cruise and became a superstar. Kidman, with her thin, angular 5'10" frame and gorgeous flock of red curls, is ravishing. As an actress though, she was somewhat flat in her early parts. Nevertheless, she has demonstrated a relentless desire to improve herself and has done so to considerable strength since this point – see her great work in the likes of To Die For (1995), Eyes Wide Shut (1999) and the later awards acclaim of The Hours (2002) and other works.
Sam Neill, a fine actor, is unfortunately reduced to a vaguely distressed supporting role. Billy Zane overacts the sweating and twitching with variable success, but it is ultimately less than one would expect – he just seems a hyperactive weirdo rather than anyone that projects any psychological threat.
---
---