aka Star Vehicle
---
Crew
Director/Screenplay – Ryan Nicholson, Photography – Jay Gavin, Music – Gianni Rossi, Special Effects – Colin Decker, Makeup/Prosthetics Design – Michelle Grady. Production Company – Plotdigger Films/New Image Entertainment.
Cast
Dan Ellis (Donald Q. Cardini), Sindy Faraguna (Riversa Red), Nick Windebank (The Lodgeboy), Nathan Durec (Luke), Mike Li (Frankie), Erindera Farga (Sienna), Paige Farbacher (Jenny 'FX' Gore), Matt Janega (The Boyfriend)
---
Plot
Donald Cardini works as the set driver for the crew of a low-budget horror film shoot. Donald is a huge fan of the leading lady, scream queen actress Riversa Red, and contemptuous of the director Luke as someone who has merely borrowed from the horror classics. Donald's surly and impudent manner isolates most of the crew, excepting for Riversa whom he worships. Riversa is being pursued by a stalker. Donald takes it upon himself to protect her. He starts by eliminating her boyfriend, followed by the rest of the film crew.
---
Star Vehicle, which was renamed the more sensationalistic Bleading Lady by its US distributor, is the fifth feature-length film from Canadian director Ryan Nicholson. Nicholson had previously co-directed Necrophagia: Nightmare Scenarios (2004) and then solo directed the likes of Live Feed (2006), Gutterballs (2008), Hanger (2009) and the subsequent Famine (2011), Dead Nude Girls (2013), Collar (2014) and Gutterballs 2 (2015), all within the horror genre. Before that, Nicholson had a career way back into the mid-1990s in makeup effects on Canadian-shot tv series such as The X Files (1993-2002, 2016-8), The Outer Limits (1995-2002), Millennium (1996-9), Stargate SG-1 (1997-2007), Smallville (2001-11) and films including eXistenZ (1999), The 13th Warrior (1999), Final Destination (2000), Mission to Mars (2000), Scary Movie (2000), Blade Trinity (2004), The Chronicles of Riddick (2004) and Ghost Rider (2007), among others. Star Vehicle/Bleading Lady is also produced by New Image Entertainment, a Vancouver-based makeup teaching school with a low-budget filmmaking division that has branched into feature films in the last couple of years. His career was cut short in 2019 by his death of brain cancer at the age of 48.
Star Vehicle/Bleading Lady has an amusing premise that falls just between uncomfortable truth and wry meta-fictional irony – it is a low-budget horror film that takes place on the set of a low-budget horror film. In fact, this is not the first low-budget horror film to do this – there was also Tim Reaper's highly amusing Lights Camera Dead (2007) and around the same time there was also Skeleton Crew (2009), Israel Luna's Fright Flick (2011) and the also Canadian-made Silent But Deadly (2011). As such, Star Vehicle/Bleading Lady is written with a wry knowledge of genre conventions and low-budget filmmaking. The comments that Dan Ellis makes about Scream Queens and his scathing indictment of modern directors with a lack of original ideas are all wittily spot-on to anybody with a grounding in genre cinema. A frequent number of the lines had one laughing out loud.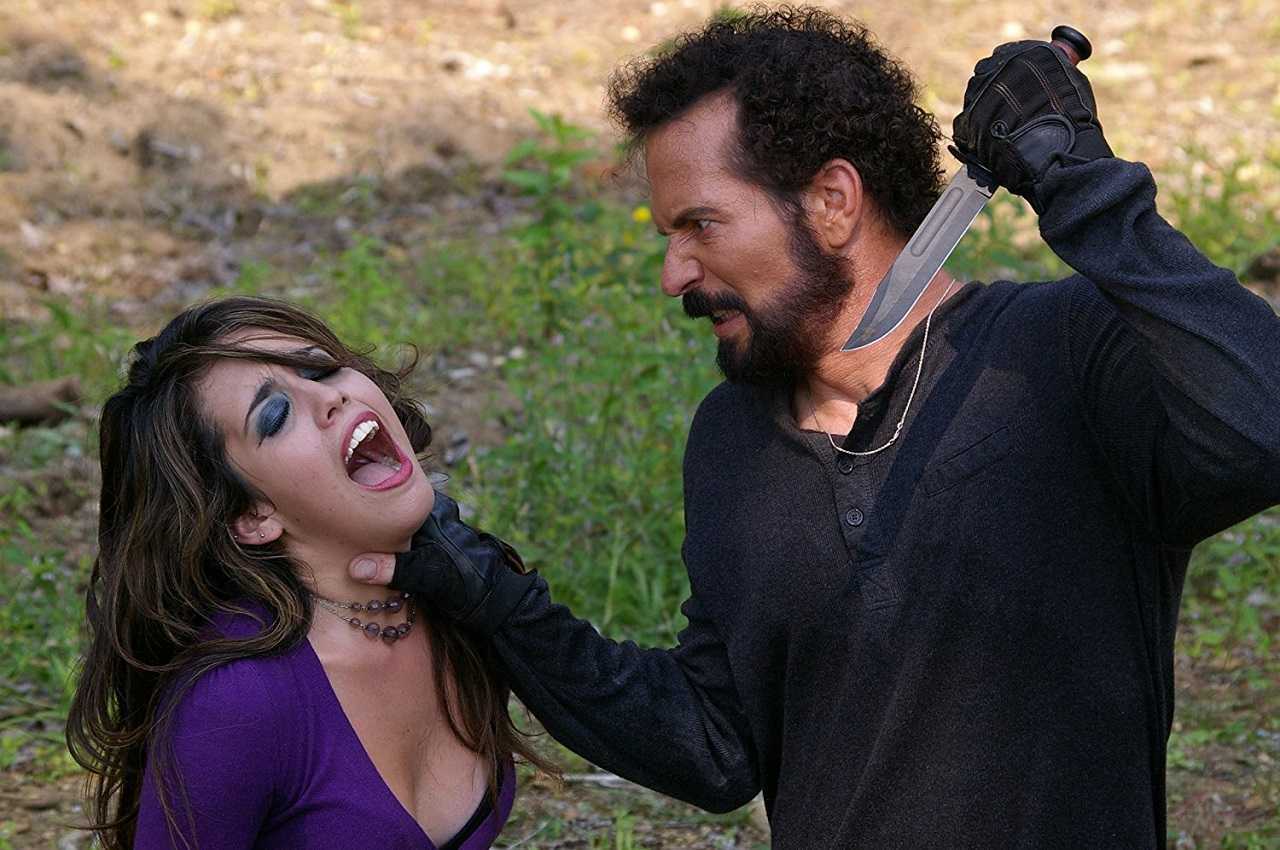 The role of the psychopath driver is amusingly well played by Dan Ellis. Ellis is not someone you would automatically cast as a typical movie psycho – he is bearded, plays the part with rough edges and a surly confrontational manner. It certainly gives the role something that is different to the usual eye-rolling twitchiness, smoothly handsome or calculatingly super-intelligent cliches of a psycho. His performance becomes amusingly outrageous in its surliness, be it picking fights with two gay men on set to at one point even writing his own lines for the leading lady and driving the director off set after an argument. On the other hand, Sindy Faraguna fails to quite get right the part of the aging Scream Queen – she seems no more than an average contemporary girl and just a little too young for the part.
Things become increasingly more tongue-in-cheek when Dan Ellis starts to go crazy. He orders lodgeboy Nick Windebank to pick up the video camera at gunpoint. "Does this mean I'm hired?" Windebank says in excitement. Things become even funnier when Ellis rounds the cast up in the woods and starts directing them to kill one another – what is highly amusing here is the contrast of movie terminology and slaughter. At one point, Ellis is yelling at one of the screaming crew-members: "Shut up, you don't have any lines in this scene."
The film is extremely gory in places – clearly the New Image graduates showing their skills – with Matt Janega having his throat slashed in a massive gout of blood, Mike Li having a crowbar ripped through his jaw, various severed bodies and the like, including an amusing climax where Nick Windebank has his dick ripped off in the midst of an attempt to rape the heroine. The film does suffer from an evident low-budget – rather than having the leading lady driven around in a limo, the production has to make do with an ordinary SUV; while the lodge where everybody is sequestered is clearly no more than a country cabin of which the film crew were able to obtain use.
---
---