---
France. 2002.
Crew
Director/Screenplay – Olivier Assayas, Producers – Xavier Giannoli & Edouard Weil, Photography – Dennis Lenoir, Music – Sonic Youth, Production Design – Francois-Renard Labarthe. Production Company – Elizabeth Films/M6/Citizen Films.
Cast
Connie Nielsen (Diane de Monx), Charles Berling (Herve), Chloe Sevigny (Elise), Gina Gershon (Elaine Si Gibril), Dominique Reymond (Karen), Jean-Baptiste Malartre (Volf), Abi Sakamoto (Kaori)
---
Plot
Diane de Monx is an executive with a French entertainment corporation but is secretly working as an industrial spy for a rival company. On a transatlantic flight, she drugs the water of her superior Karen and has two men abduct her at the airport, leaving her in the trunk of her car. While Karen is recovering, Diane inherits her job negotiating the contract with a Japanese corporation that specialises in hentai manga, which she has been given orders to sabotage. An American internet pornography corporation enters to try and buy the rights off them. However, during the negotiation, it is discovered that they secretly manage an internet site Demonlover that specialises in hardcore S&M. As Diane attempts to steal information from the Americans, she discovers that Demonlover has a dangerous hold that extends to spies within her own firm and that this knowledge has now placed her life in danger.
---
Demonlover comes from French writer-director Olivier Assayas, previously best known internationally for Irma Vep (1996) and someone who would find considerable international acclaim as a director over the next decade.
Demonlover starts extremely well. Assayas gives it the coolly detached grip of a dark thriller. In the opening scenes, we watch as Connie Nielsen's executive drugs the pottle of airline water of her corporate rival during a transatlantic flight and then has her abducted so that she can inherit her job – only for someone, possibly her boss Charles Berling who has romantic designs on her, to tauntingly leave the drug packet on her desk. We pass through a series of coolly aloof boardroom conversations and with some fascination Assayas delves into the world of hentai – pornographically explicit Japanese anime that features a strong element of rape and sadomasochism. Then comes the introduction of Gina Gershon as an executive for dodgy American internet company that specialises in porn sites. Twists follow – the revelation that Gershon's company is sponsoring the titular Demonlover site, a hardcore live S&M site, and then Connie Nielsen being ordered to break into Gina Gershon's hotel room, which goes disastrously wrong at which point she discovers she is in over her head.
The film is rather compulsive and fascinating up to this point. Twists continue to mount – in a considerable jolt, one character pulls a gun on Connie Nielsen and is revealed to be an agent for Demonlover, while Connie's break-in is revealed to have been videotaped and is being held for blackmail purposes. However, about this point, and most certainly the point that a second major character is also revealed to be a Demonlover agent, plausibility starts to get away from the film and it starts to devolve into a mishmash of improbable contrivations. Other twists, such as the revelation that Connie Nielsen is not just a double agent but that her entire background is false, are thrown away with astonishing casualness. By the time of Connie Nielsen being abducted (twice), escaping from a chateau (replete with photos of Diana Rigg from The Avengers (1962-9) in homage), car chases and crashes, the cool paranoia the film opened with has been lost.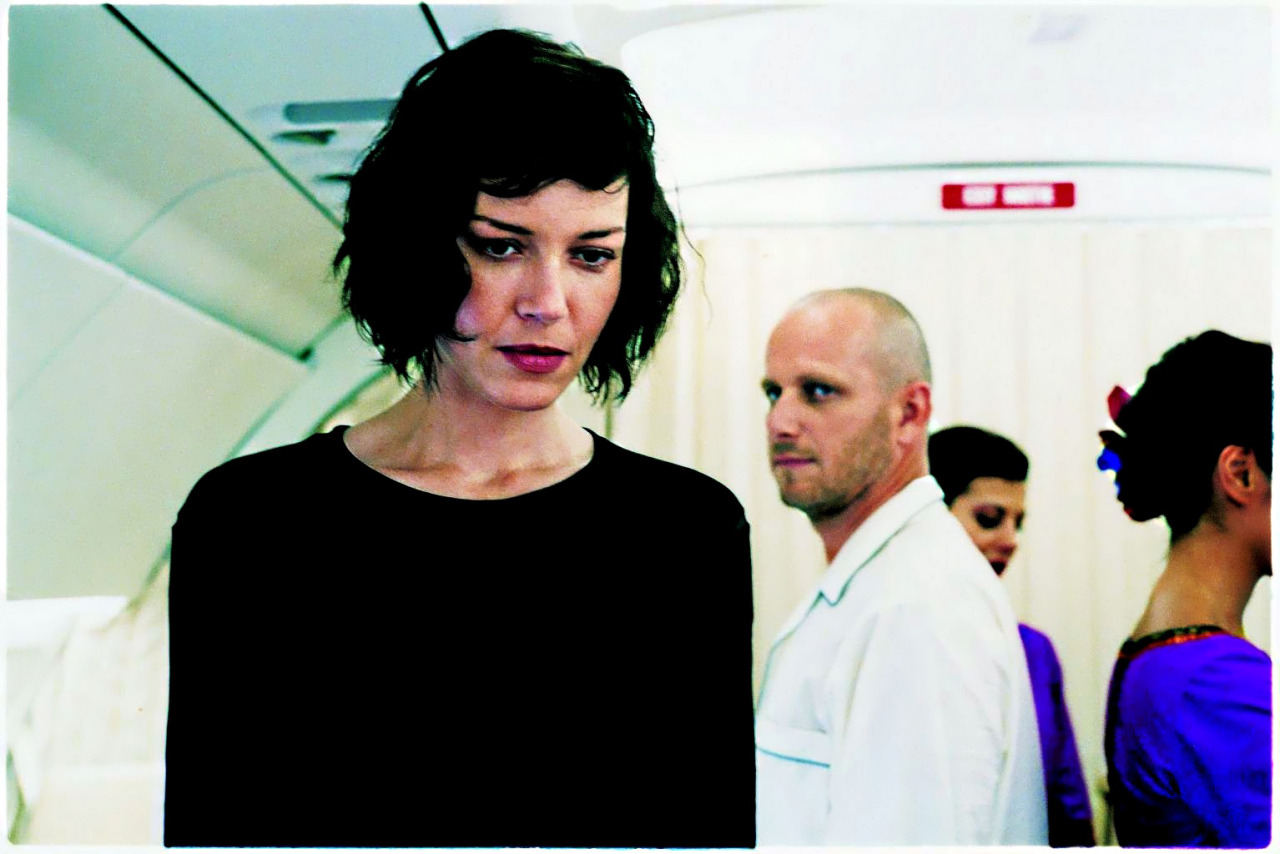 What is also deeply disappointing about the film is how little it has to say about the subject matter it takes up. The business conference scenes and tour of the Japanese lab show that Olivier Assayas has certainly done his research on the topic of hentai anime and the industry surrounding it, as well as the later scenes that show that he has looked into the business end of the online porn industry. However, all he can then think to do is bring up the nasty spectre of snuff sadomasochism.
This is especially noticeable in a coda just before the film ends with a young teen kid in his parents' home logging onto the Demonlover site and watching hardcore S&M feed, an unconnected scene that seems to have been inserted to deliberately provoke the knee-jerk reactions of alarmist groups who believe that the entire internet exists solely to lure young kids into viewing pornography. Demonlover is in many ways almost identical to 8MM (1999) and its journey of a man into a sordid world of vice to eventually discover an underground where snuff torture is performed. Like 8MM, Demonlover makes no distinction between erotica, pornography, between recreational and consensual BDSM and snuff, implying in a single conservative dismissal that it is all one indistinguishable mass of corruption.
Though French produced, Demonlover is a peculiarly cross-cultural film. It imports several moderately well known B-list stars from America – Connie Nielsen, Chloe Sevigny and Gina Gershon – and the dialogue vies between French and English (with no real explanation offered as to why either Connie or Chloe's French characters speak perfect American). The tall, thin Connie Nielsen glides through the film with a regality that is at one point aptly described as an 'ice queen'. Chloe Sevigny on the other hand manages, as in every film that one has seen her in, to seem dopey and half-asleep. Opposite Connie Nielsen, French actor Charles Berling plays with a ruggedly handsome Gallic charm. Gina Gershon steals a large part of the film, giving a charged performance, albeit the cliché of a vulgar American, that immediately captures attention the moment she enters – indeed, the film loses much energy the moment she is written off. There is also an excellent atmospheric score from cult alternate band Sonic Youth.
French director Olivier Assayas has subsequently gone on to make works such as Boarding Gate (2007) and Clouds of Sils Maria (2014). He returned to genre material with the ghost story Personal Shopper (2016).
(Nominee for Best Musical Score at this site's Best of 2002 Awards).
---
Trailer here
---