---
Crew
Director – Scott Spiegel, Screenplay – Scott Spiegel & Duane Whitaker, Story – Scott Spiegel & Boaz Yakin, Producers – Michael Murphey, Gianni Nunnari & Meir Teper, Photography – Philip Lee, Music – Joseph Stanley Williams, Visual Effects – Netter Digital Entertainment Ltd (Supervisors – Laurel Klick & Patrick Perez), Additional Visual Effects – Atomic-Cow, Special Effects Supervisor – Mark Byers, Makeup Effects – K.N.B. EFX Group Inc (Supervisors – Michael S. Deak, Howard Berger & Greg Nicotero), Production Design – Felipe Fernandez Del Paso. Production Company – A Band Apart/Los Hooligans.
Cast
Robert Patrick (Buck Bowers), Duane Whitaker (Luther Hicks), Bo Hopkins (Sheriff Otis Lawson), Raymond Cruz (Jesus), Brett Harrelson (Ray Bob), Muse Watson (C.W.), Danny Trejo (Razor Charlie), Maria Checa (Lupe), Lara Bye (Motel Clerk), Tiffani-Amber Thiessen (Pam), Bruce Campbell (Barry)
---
Plot
Buck Bowers is contacted by his old friend Luther Hicks who has just escaped from jail. Luther persuades Buck to reunite his old team and head across the border to Mexico to conduct a bank robbery. While they are holed up at the El Coyote Motel waiting, Luther collides with a bat on the road and crashes. He walks to nearest building, which happens to be the Titty Twister. He returns a vampire and leads the group on to conduct the bank robbery. As Luther bites his way through and infects the rest of the team, armed police squads arrive outside the bank. Buck then finds himself caught between his hungry vampire comrades on the inside and trigger-happy cops on the outside.
---
The Quentin Tarantino-Robert Rodriguez collaboration From Dusk Till Dawn (1996) was a considerable success, even if it met with a mixed reception from public and critics alike. That did not stop Tarantino and Rodriguez overseeing two sequels, of which this was the first and would be followed by the prequel From Dusk Till Dawn 3: The Hangman's Daughter (2000), which is the best of the three films, and the tv series From Dusk Till Dawn (2014-6).
Both the sequels use the same basic plot set-up of the first film where a group of outlaws encounter the Titty Twister bar and then have to fend off vampires. Certainly, From Dusk Till Dawn 2: Texas Blood Money develops the premise better as a horror film than From Dusk Till Dawn did, which, after a fine lead-in, ended up being nothing more than an extended barroom brawl. Texas Blood Money imaginatively reworks the fundamentals – with the outlaws now having to conduct a bank robbery while at siege from the police outside the building and from their own vampire-infected numbers on the inside.
What entirely wrecks the film is Scott Spiegel's direction. Spiegel is a longtime associate of Sam Raimi, having made acting appearances in all of Raimi's films as well as co-writing The Evil Dead II (1987), before making his directorial debut with the supermarket slasher film Intruder (1989).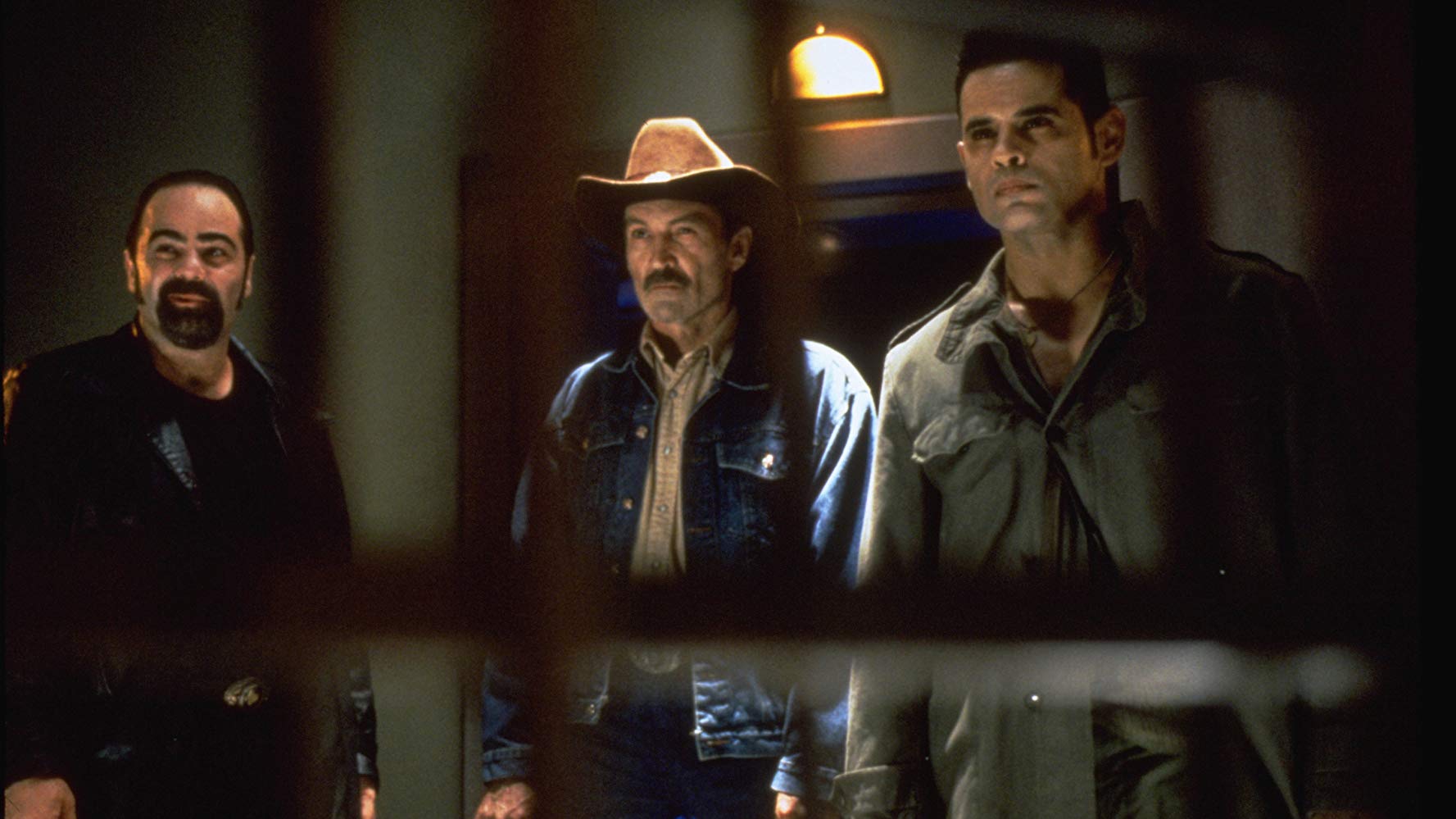 Spiegel fills the film with self-consciously arty and entirely distracting, not to mention sometimes downright silly shots – a desert road wide angle with an animal skull in closeup in the foreground that has a snake or tarantula crawling through it every time we see it; shots up from out of trash cans, tequila bottles, glasses, pools of blood, from inside the curl of a phone cord, inside the eyes of skulls, the mouths of vampires, even from inside a sliced-open neck. When the safe in the bank is being cracked, the camera takes the place of its dial and rotates around to various odd angles as it is being turned.
There is a very silly sequence that conducts a flashback to a narrated tale about a shoot-up on the set of a porn movie – the narrator says "… and then they shot the cameraman" whereupon the gunman turns and shoots the camera lens out. This ludicrously over-the-top, affectedly style-conscious direction kills off what might have been a credible and decent film in somebody else's hands.
Whereas the first film started life as a B movie script and ended up being mounted with an A-budget and cast after Quentin Tarantino's directorial success, From Dusk Till Dawn 2: Texas Blood Money is definitely a B movie. There is a silly opening with Bruce Campbell and Tiffani-Amber Thiessen as two lawyers leaving the office gloating about having gotten a serial killer off only to be attacked by a horde of bats inside the elevator. There are some schlocky scenes of bats gnawing through the elevator cable (considering that elevator cables are more than an inch thick and made of solid steel the bats would have to have helluva tough teeth or be gnawing an awfully long time) and tacky closeups of them burrowing inside Thiessen's skirt and top. Despite having on board K.N.B. EFX, a top drawer Hollywood makeup effects house and whose partner Robert Kurtzman (the K in K.N.B.) came up with the story for the first film, the effects looks cheap and cheesy.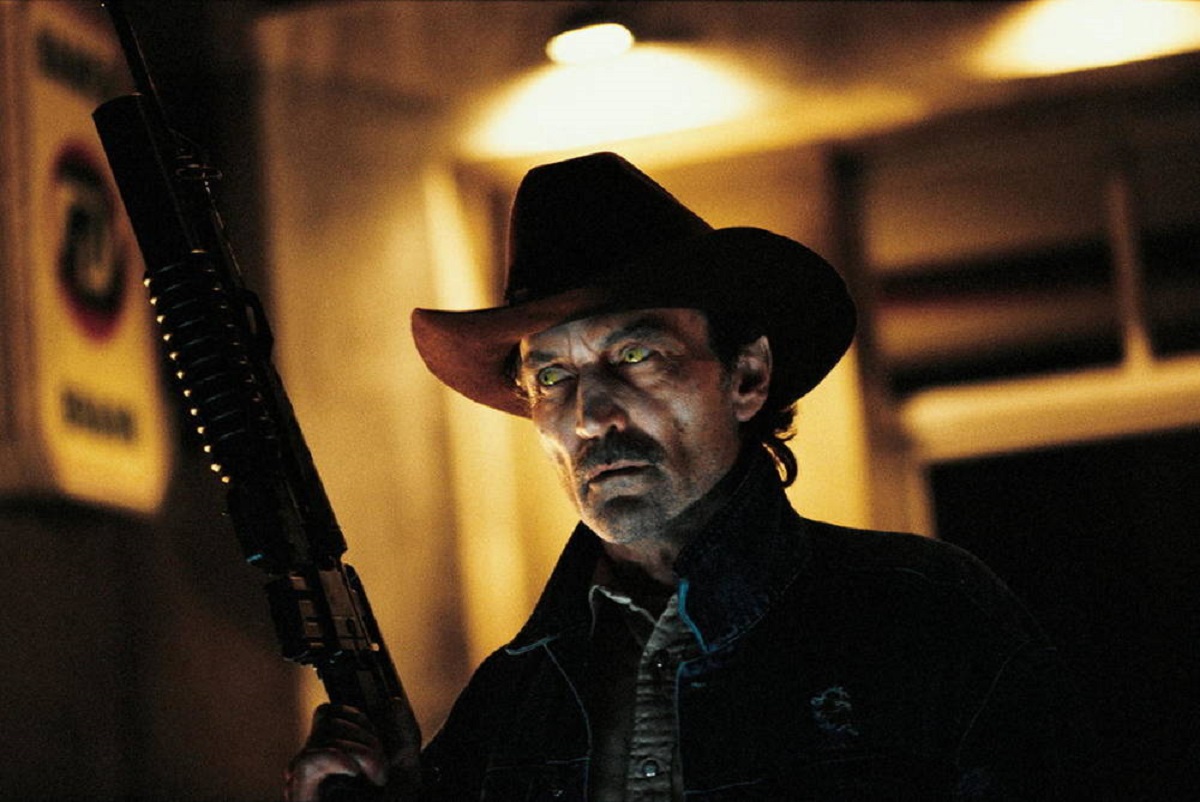 The film is badly written – one scene that tries to mimic cod-Tarantino nonchalant monologues with the gang nattering on about porn movies flops badly. Worse, the vampirism is ill thought out – people become vampires and start attacking others in a matter of seconds of being bitten and anything even vaguely cross-shaped can be used as a weapon. There is even a bizarre bat attack parody of the Psycho (1960) shower scene. Though set in Mexico, the film was shot in South Africa.
Scott Spiegel's other works include directing the Quentin Tarantino presented My Name is Modesty: A Modesty Blaise Adventure (2004), based on the popular comic-book heroine; and Hostel Part III (2011). Spiegel has also written the script for Sam Raimi's The Evil Dead II (1987); written and produced Thou Shalt Not Kill … Except (1985)) about a murderous religious cult; written the non-genre The Rookie (1990); produced Hostel (2005), 2001 Maniacs (2005) and Hostel Part II (2007). Spiegel has made minor acting cameos in most of Sam Raimi's films.
---
---