---
Crew
Director – Adam Wingard, Screenplay – Simon Barrett, Producers – Jessica Calder & Keith Calder, Photography – Robby Baumgartner, Music – Stephen Moore, Visual Effects Supervisor – Dimitri Loginowski, Special Effects Supervisors – Scott Hastings & David Naimi, Production Design – Thomas S. Hammock. Production Company – Snoot Films/HanWay Films.
Cast
Dan Stevens (David Collins), Maika Monroe (Anna Peterson), Brendan Meyer (Luke Peterson), Lance Reddick (Major Carver), Sheila Kelley (Laura Peterson), Leland Orser (Spencer Peterson), Tabatha Shaun (Kristen), Chase Williamson (Zeke Hastings), Joel David Moore (Craig), Brendan Wedner (Ian), Ethan Embry (Higgings)
---
Plot
David Collins turns up at the home of the Peterson family, saying that he served with their son Caleb who was killed in Iraq. He is following Caleb's last wish, which was to tell them all that he loved them. Overcome, the still grieving mother Laura invites David to stay. David soon inveigles himself into the family, helping the teenage son Luke stand up against school bullies and being sympathetic to the daughter Anna's secret liaisons with a boyfriend. However, David is also capable of turning violent at a moment's notice. When Anna overhears him on a phone conversation, she becomes suspicious and calls the military unit he says he was discharged from only to find that David Collins is listed as dead. This serves to trigger an alert from the KPG Corporation who regard David as a highly dangerous escapee from an experimental program and arrive with armed force. This in turn triggers David to snap into programmed defensive mode, creating a bloodbath.
---
Adam Wingard is a name that has been on the rise over the last few years as an independent horror director. Wingard first appeared with the horror film Home Sick (2007), gained some festival acclaim with the hallucinatory horror Pop Skull (2007) and went onto the serial killer film A Horrible Way to Die (2010) and the non-genre likes of What Fun We're Having (2011) and Autoerotic (2011). He found reasonable multiplex acclaim in 2013 with the eventual release of his home invasion thriller You're Next (2011). He has also become a prolific hand in the recent spate of multi-director horror anthologies, having directed segments of The ABCs of Death (2012), V/H/S (2012) and V/H/S/2 (2013). Subsequent to this, he made Blair Witch (2016), the English-language remake of Death Note (2017) and Godzilla vs. Kong (2021).
There has been a reasonable history of Mysterious Stranger films. The most influential was Pier Paolo Pasolini's Teorema (1968) with Terence Stamp as an enigmatic visitor who seduces his way through a bourgeois household and leaves everybody changed in miraculous ways. There have been others in similar veins with the likes of Brimstone and Treacle (1982), That Eye, The Sky (1994), Visitor Q (2001), Outside Satan (2011) and Borgman (2013).
That said, The Guest resembles more one of Pierre David's psycho-thrillers – The Nurse (1997), The Perfect Nanny (2000), The Perfect Tenant (2000), The Stepdaughter (2000), The Perfect Wife (2001) and numerous others – which all feature a charming and friendly stranger inveigling their way into a household and then killing the members of the family. As with all of these films, whether fantastical in nature or mundane psycho-thrillers, the Mysterious Stranger seems at the outset wondrous and charming, changing people's lives, before being revealed as something malevolent (or in the more fantastical versions as someone who is combination of angel and devil).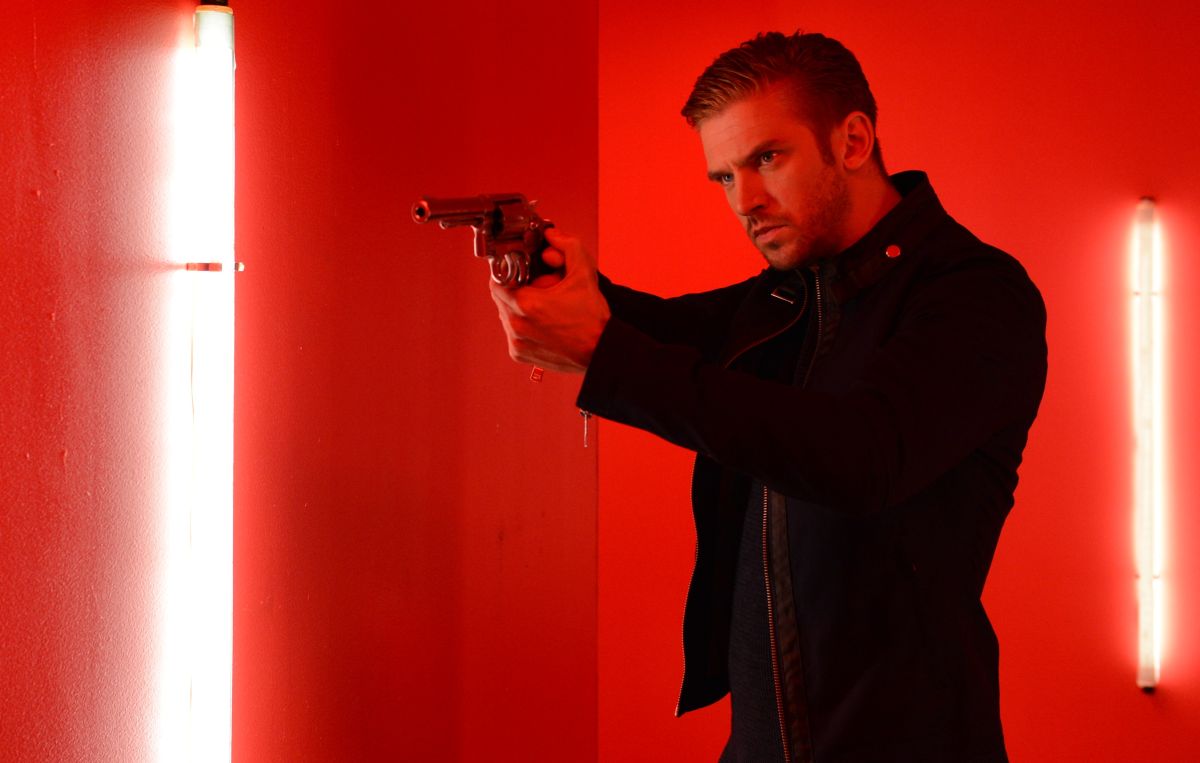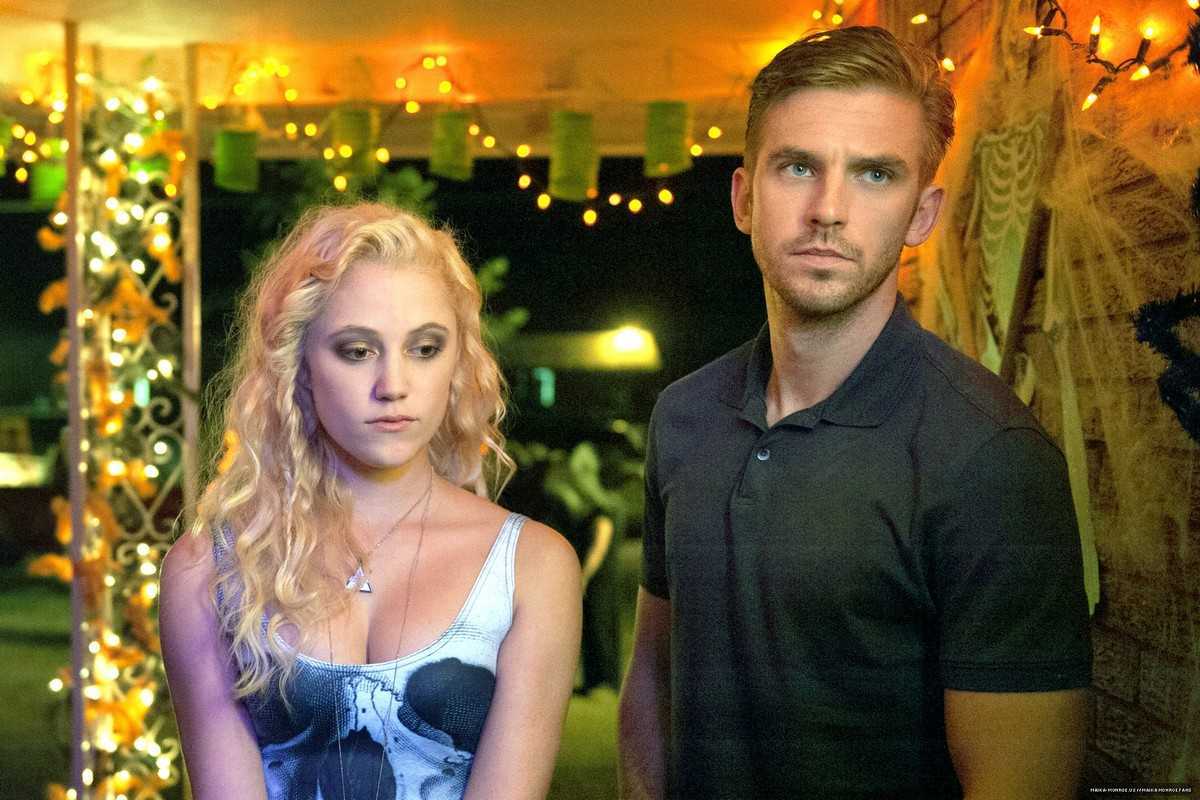 Adam Wingard has emerged as a promisingly talented director in the last few years. My complaint with the body of work he has turned out so far might be that his choice of scripts make for films that are formulaic in all every regards, where it becomes his directorial style that elevates the material. With a hack director, the material here could have been an utterly forgettable formula thriller destined for cable tv slots. Nevertheless, Wingard invests it with something more and provides a reasonable degree of tension. Still, you keep suspecting that if Wingard came armed with a really good script, he would be capable of producing exceptional. (You also have to admit he does a great job of prominently featuring Dutch darkwave band Clan of Xymox on the soundtrack).
The film gets its best moments out of Dan Stevens acting charming and ingratiating his way into the family with his perfectly mannered, old-fashioned politeness. The best scenes are those where Wingard knowingly plays into Stevens' handsome smoothness and then turns this on its head by showing either Stevens going cold or turning unexpectedly violent. The scene with he in the bar turning on Brendan Meyer's bullies by ordering each of them a Manhattan is side-splitting. Stevens performs perfectly in the part – in fact, he does so well at being a charmingly polite southern boy that you would never guess that Stevens was a British actor whose work is probably better known for costume dramas like Sense and Sensibility (2008) and tv's Downton Abbey (2010-5) – he even turned up as Arthur Holmwood in the BBC Dracula (2006).
Less effective is where The Guest turns from a psycho-thriller about a sinister stranger and opens up with a left field element about programmed soldiers. It is a turn that seems to take The Guest from being a psychological thriller in which a family's weaknesses are preyed upon into the realm of merely an action film. Certainly, the action element is something that Adam Wingard delivers perfectly acceptably – it is just that by the time of a standard slasher movie climax with Dan Stevens stalking the surviving members of the family around a burning Halloween maze, you feel like the film has slipped into something where you know everything that is going to happen. There is never enough to the script in terms of originality of ideas to deliver any surprises. Even the supersoldier elements are delivered in a way that are given only the minimum number of explanations about what is happening necessary to drive the plot.
(Nominee for Best Actor (Dan Stevens) and Best Supporting Actress (Sheila Kelley) at this site's Best of 2014 Awards).
---
---