---
Crew
Director – David Hayman, Screenplay/Based on the Novel by Peter Ransley, Producers – Eileen Quinn & Ann Wingate, Photography – Andrew Dunn, Music – Nick Bicat, Special Effects – Stuart Brisdon, Production Design – David Myerscough-Jones. Production Company – BBC Films/Initial Productions/BBC Enterprises/Screen Partners.
Cast
Helen Mirren (Annie Marsh), George Costigan (Steven Marsh), Owen Teale (Ken Marsh), Melanie Hill (Norma), Rosemary Leach (Mrs Marsh), Clive Russell (Inspector Daybury)
---
Plot
A killer that the police have nicknamed The Hawk strikes along the M1 motorway in the Yorkshire area, always attacking women who have two children and using a hammer to kill. Ann Marsh begins to wonder if her husband Steven might not be the killer – he travels much, was away on the dates of the killings and his hammer is missing. She uncovers increasing evidence that continues to suggest Steven might be the killer. At the same time, others around her remember how she was placed in a psychiatric hospital some years before, diagnosed with Post Natal Depression, believing that her two children might be monsters, and fear that she might be going crazy again.
---
This British psycho-thriller takes the unusual perspective of a woman who believes her husband might be a serial killer. Screenwriter Peter Ransley cites a basis of fact in the number of women who call the police when a serial killer is on the prey believing their spouse might be the killer.
The idea however never makes for that interesting a film. The Hawk often plays as though nobody involved had ever seen any other films in the thriller genre. All the scenes with Helen Mirren getting anxious and not knowing whether her suspicions are real or it is just her going mad again tread a well-worn path as though the film thought it were discovering such themes for the first time.
Furthermore, director David Hayman fails to wind the suspense up the way a good thriller should. Each continuing revelation that convinces Helen Mirren that husband George Costigan is the killer and each subsequent piece of doubt should come like a shock – the film should ride this doubt and relief like a rollercoaster. Yet it never does – the pacing of the scenes is muted. It does briefly pick up with a surprise accusation of someone else as the killer and a car chase at the end as though David Hayman realised at the last minute he needed to inject something. However, the film seems too caught up in the genre of the British tv arts program – it was funded by two separate divisions of the BBC – to be effective. As such, it found some acclaim among the arts/festival audience who lacked the experience with a hard and fast thriller, while it received no notice at all within the thriller/horror genre.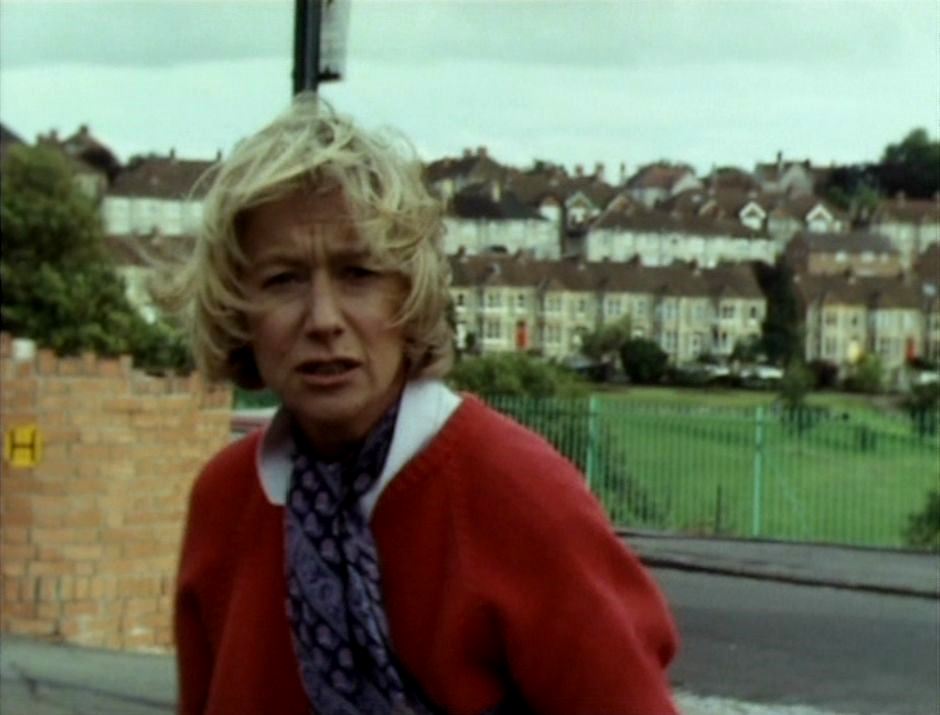 Helen Mirren, great actor that she is, seems miscast as the wife. Mirren suggests too much of a well-bred upper middle-class woman and cannot seem to shake the association of a private college schooled background – a role at which she usually performs very well. Unfortunately, cast as an average Yorkshire woman from a working-class background she seems out of place. She seems even more out of place when cast alongside George Costigan as her husband who look well-over a decade younger than she (even though in real-life he is only two years younger than she is). Far more credible in the part would have been Melanie Hill who plays her best friend and who suggests that same working-class background with both a shrewdness and vulnerability.
David Hayman is a Scottish actor and occasional director who has mostly worked in British television elsewhere. Peter Ransley is a novelist and playwright who has done much work mostly in British television, writing other notable mini-series such as Seaforth (1994) and Fingersmith (2005). In a similar vein to The Hawk, he also wrote the tv movie The Cry (2002) about a child protection officer haunted by her own mental past who becomes certain or possibly imagines of a case of child abuse.
The same premise of the wife who believes her husband may be a serial killer also formed the basis of the Stephen King adapted A Good Marriage (2014). Both films though owe their basic set-up to Alfred Hitchcock's Shadow of a Doubt (1943) in which Teresa Wright believed friendly uncle Joseph Cotten might be a serial killer.
---
Trailer here
---