---
USA. 2002.
Crew
Director/Photography – Danny Draven, Screenplay – Trent Haaga, Producer/Production Design – Tammi Sutton, Music – Josephine Soegijanty, Makeup Effects – Mark Bautista. Production Company – Full Moon Pictures/Tempe Entertainment/Shadow Entertainment Inc.
Cast
Debra Mayer (Paige Turner), Tim Muskatell (Max), Stacey Scowley (Stacey Butler), Sunny Lombardo (Rainbow), Tanya Dempsey (Amber Bradford), Olimpia Fernandez (Marti Williams), Joe Estevez (Stan), Charles Austin (Spud), Matt Moffett (Ted), Brinke Stevens (Head Spectre)
---
Plot
Down-and-out tv producer Max hopes to get a network executive to back his idea for a reality tv series 'The Chill Challenge' by producing a pilot. To shoot the pilot, he invites five girls to the mansion built by the notoriously sadistic Phineas Mason, which was converted into an asylum that has now been abandoned. There the girls must face challenges based on their individual fears. The girl that can pass the challenges and survive until dawn wins a million dollars. However, as filming gets underway, the group finds that something supernatural is in the house and killing the contestants for real.
---
Hell Asylum was the second directorial outing from director Danny Draven. Draven began working as editor and cinematographer for other low-budget horror directors like J.R. Bookwalter and David DeCoteau. He made his directorial debut with Horrorvision (2001) and has developed a promising genre career with several subsequent horror films – Cryptz (2002), Deathbed (2002), Dark Walker (2003), Ghost Month (2007), Reel Evil (2012), The Offerings (2015), Patient Seven (2016) and Weedjies: Halloweed Night (2019).
Hell Asylum has the same idea that a number of other films around the same time did – of conducting a horror movie set around a reality tv show – see other efforts like Series 7: The Contenders (2001), Slashers (2001), Halloween: Resurrection (2002), My Little Eye (2002), Reality Check (2002), Cruel World (2005), Survive This (2005), Are You Scared? (2006), The Condemned (2007), Wrong Turn 2: Dead End (2007), Elimination (2010), Incite Mill (2010), The Task (2011) and Camp Dread (2014). Although, if anything, the Chill Challenge, which involves the various contestants facing their fears, is more akin to the reality tv series Fear Factor (2001– ), which had notedly only premiered a few months earlier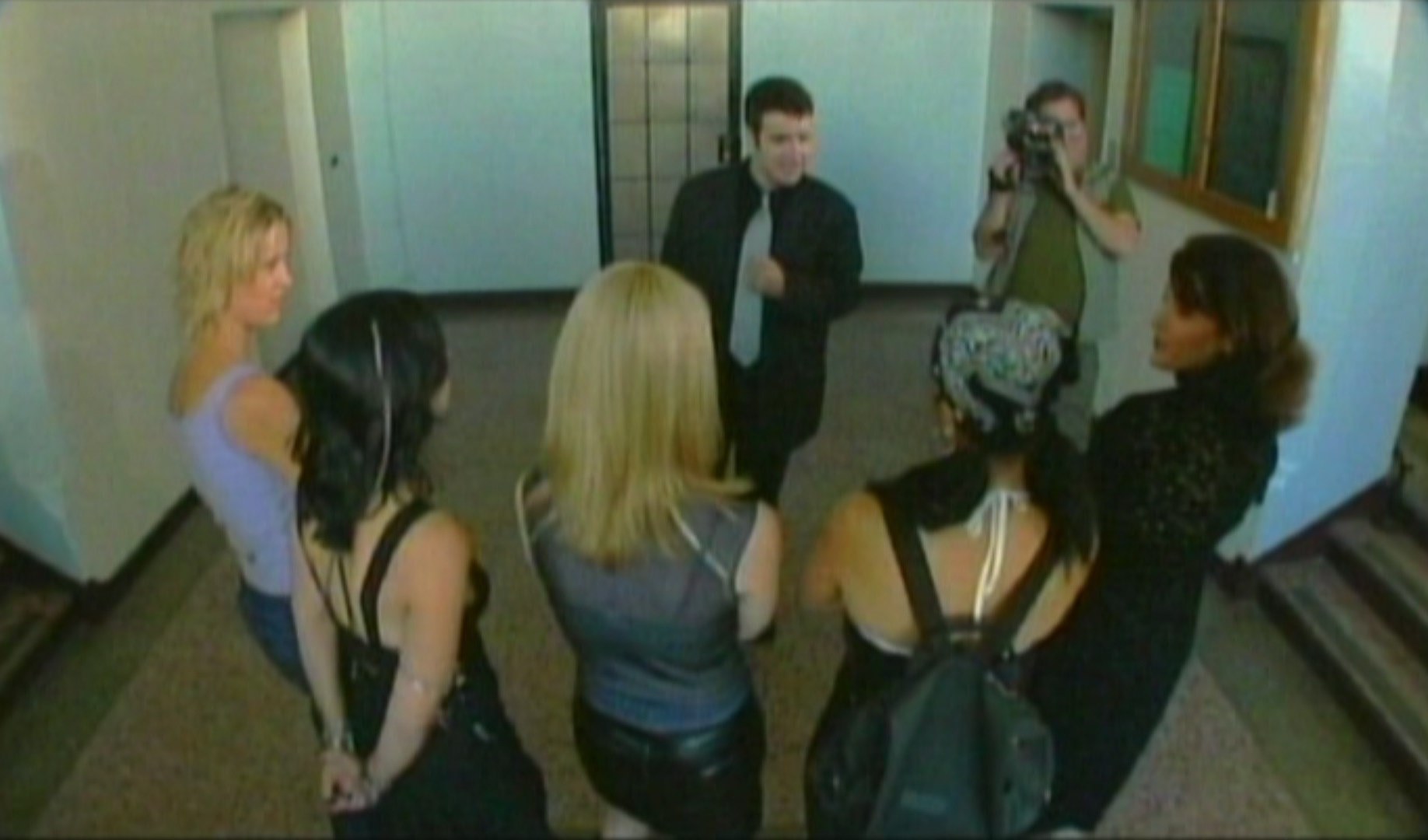 Hell Asylum has also pillaged its basic set-up from the then recent remake of House on Haunted Hill (1999) – a group of people locked into a haunted house that used to be an asylum where they are told they will receive a million dollars if they can survive various faked spooky challenges and make it to morning, only for real hauntings to then intrude into the faked. To this mix, Danny Draven has added a bevy of wannabe Scream Queens – although the only vaguely known of these is Debra Mayer who has appeared in various Full Moon productions. (Well-known Scream Queen Brinke Stevens does turn up as one of the spectres but her face is hidden behind a hood the entire time).
Unfortunately, there is little that makes Hell Asylum worthwhile. The scenes in the producer's office at the start feature some incredibly bad acting from those involved. The film picks up somewhat with the introductions of the five women where the bio that each gets to give of themselves is conducted with some humour by those involved. The rest of the film only looks cheap. Danny Draven has shot most of this on video in what looks like an abandoned building. Draven's atmosphere is rudimentary at best, tatty the rest of the time. The film does feature some very gory effects but these are cheaply and luridly presented and come without a shred of conviction. The film reaches its end with a thorough vagueness that never explains anything about the agency behind the hauntings.
---
Trailer here
---