---
Crew
Director – Victor Garcia, Screenplay – William Massa, Producers – Erik Olsen, Roee Sharon Peled, Steve Richards & Jonathan Tzachor, Photography – Lorenzo Senatore, Music – Frederik Wiedmann, Visual Effects – UFO International Productions LLC (Supervisor – Ryan "Spike" Dauner & P.J. Foley), Additional Visual Effects – Cos FX Films (Supervisor – Cosmas Paul Bolger Jr), Special Effects – DDT, Special Effects Supervisor – Georgy Kreav, Makeup Effects Supervisor – Arjen Tuiten, Production Design – Kess Bonnet. Production Company – Dark Castle Home Entertainment.
Cast
Amanda Righetti (Ariel Wolfe), Steven Pacey (Dr Richard Hammer), Erik Palladino (Desmond Niles), Tom Riley (Paul), Cerina Vincent (Michelle), Andrew-Lee Potts (Kyle), Gil Kolirin (Norris), Kalita Rainford (Harue), Andrew Pleavin (Samuel), Chucky Venice (Warren), Jeffrey Combs (Dr Vannacutt)
---
Plot
Magazine editor Ariel Wolfe is shocked to receive news that her sister Sara, one of the survivors of the House on Haunted Hill incident several years earlier, has committed suicide. Immediately after, Ariel is urged by Richard Hammer, a lecturer in history and mythology, to help him find the diary of Dr Vannacutt that Sara had in her possession, which supposedly leads the way to the lost Idol of Baphomet that is believed to be somewhere inside the House on Haunted Hill. Ariel then receives the diary in the mail, just as Desmond Niles, a rival of Hammer's, bursts into her apartment and takes her and her boyfriend Paul hostage at gunpoint. Niles drags them to the house in search of the idol at the same time as Hammer and two of his students arrive there. As they begin searching the house, the ghosts of the murdered mental patients come to life to take bloody revenge.
---
House on Haunted Hill (1999) was the first film from Dark Castle Entertainment. It in turn was a remake of an old Vincent Price-William Castle haunted house show House on Haunted Hill (1959). Dark Castle Entertainment have since maintained a modestly successful genre presence with efforts such as Thir13en Ghosts (2001), Ghost Ship (2002), Gothika (2003), House of Wax (2005), The Reaping (2007), The Hills Run Red (2009), Ninja Assassin (2009), Orphan (2009), Splice (2010), The Apparition (2012), The Factory (2012) and Seance (2021). Indeed, while none of these are particularly great films, they have all attained cinematic releases. On the other hand, Return to House on Haunted Hill was the first of Dark Castle's films to be released directly to dvd.
House on Haunted Hill 1999 was one of the better Dark Castle films due to director William Malone's giving it an effectively eerie atmosphere. Return to House on Haunted Hill by comparison is unmitigated junk filler on dvd shelves. None of the cast and crew from the original are present, with the exception of Jeffrey Combs who reappears as Dr Vannacutt but has no speaking lines. The directorial duties have been handed over to Spanish newcomer Victor Garcia, who had previously worked as a special effects crewmember on various Spanish-shot films such as Dagon (2001), Hellboy (2004) and Romasanta: The Werewolf Hunt (2004) and had made his directorial debut on 30 Days of Night: Blood Trails (2007), the 30 minute web mini-series prequel released to accompany 30 Days of Night (2007).
Return to House on Haunted Hill is one of those sequels that give sequels a bad name. It adds nothing to the original and abandons most of what made the first film work. While House on Haunted Hill 1999 was effectively atmospheric, Return to House on Haunted Hill is only driven by gore set-pieces. The characters in the show are paper-thin and often unable to tell apart – they exist solely to be set up for some means of despatch later. It should also be noted that the sequel is cast with people in their early 20s (a good decade younger than the majority of the cast in House on Haunted Hill 1999), which serves to push Return to House on Haunted Hill under the dread umbrella of the teen horror film that has cursed much of modern 00s horror.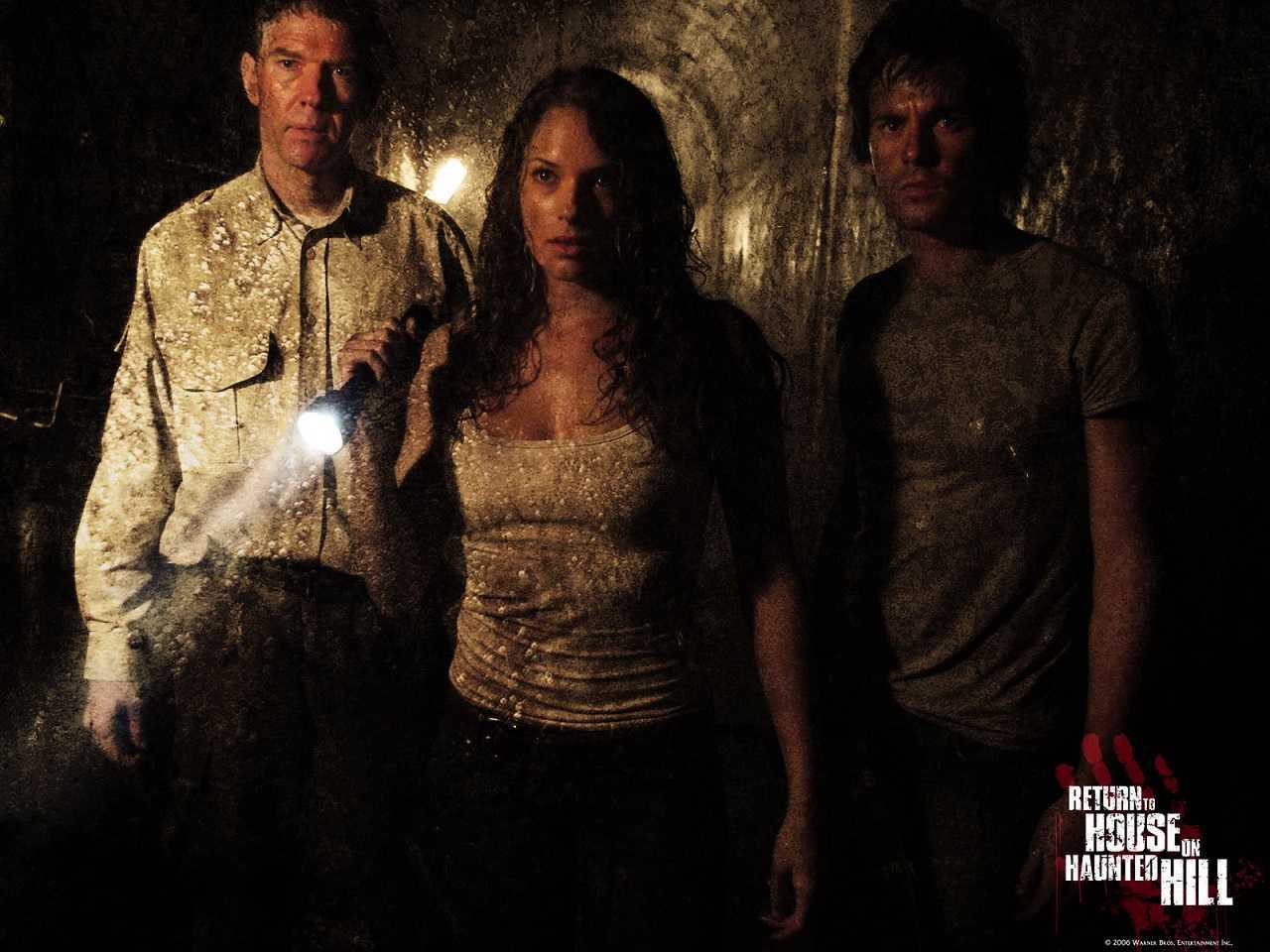 The only thing that the film has to offer up is a series of novelty gore set-pieces, most of which are conducted with a lack of imagination. There is the odd novelty of a scene where Kalita Rainford's face is sliced off and then collapses in pieces at her feet. Or a lesbian three-way between Kalita Ranford and two women that appear in a bathroom, which with eminent predictability turns into a variation on the scene in The Shining (1980) where Jack Nicholson kisses a woman that gets out of a bath and turns into a hag.
On the other hand, many scenes have a considerable silliness to them – like where Gil Kolirin is snatched up into the middle of the air by four supernaturally empowered sheets and splattered as they tear him in different directions, or where Cerina Vincent enters a room where the furniture suddenly levitates up to the ceiling and her head is squished beneath a falling refrigerator. Outside of these set-pieces, Victor Garcia seems to demonstrate almost no interest in the film and Return to House on Haunted Hill is disappointingly shoddy hackwork.
One of the novelties of the Blue-Ray and HD-DVD release is that the film has come with a navigation menu where viewers can choose the pathways that the various characters take and thus view entirely different versions of the film. Alas the version viewed here is the standard, albeit unrated, one. I honestly don't know if I wouldd have the patience to keep watching such a poorly made film through different versions of each scene.
Victor Garcia stayed with genre material for his subsequent directorial outings Arctic Predator (2010), Mirrors 2 (2010), Hellraiser: Revelations (2011), Gallows Hill (2013) and An Affair to Die For (2019).
---
---