---
Crew
Director – Paul Bartel, Screenplay – Charles B. Griffith & Robert Thom, Story – Ib Melchior, Producer – Roger Corman, Photography – Tak Fujimoto, Music – Paul Chihara, Special Effects – Richard Maclean, Art Direction – B.B. Neel & Robinson Royce, Cars Designed by James Powers. Production Company – New World Pictures.
Cast
David Carradine (Frankenstein), Simone Griffeth (Annie Smith), Sylvester Stallone (Machine Gun Joe Viterbo), Mary Woronov (Calamity Jane Kelly), Roberta Collins (Mathilda the Hun), Louisa Moritz (Myra), Martin Kove (Nero the Hero), Harriet Medin (Thomasina Paine), The Real Don Steele (Junior Bruce), Joyce Jameson (Grace Pander), Sandy McCallum (Mr President)
---
Plot
Competitors line up for the 20th annual Trans-Continental Death Race where drivers compete to win points by running down pedestrians. Top favourite is the reigning champion Frankenstein, so named because he has had so many crashes that he has had to have most of his body parts replaced. However, this year the revolutionary Army of the Resistance have vowed to stop the race and set out to ambush the contestants along the route.
---
This quirky little low-budget production was designed to exploit the success of the far bigger budgeted Rollerball (1975) and its vision of future sports. The irony is that Death Race 2000 was a far more enjoyable film than the much more ponderous and heavy-handed Rollerball was. Indeed, Death Race 2000 gained a cult reputation in some quarters for a number of years.
Death Race 2000 brings together some of the more fertile talents that were then gathered under the New World Pictures roof. In the producer's seat was Roger Corman and on the script were Ib Melchior, a B-budget director/producer of the 1960s who made films like The Angry Red Planet (1959), Reptilicus (1961), Journey to the Seventh Planet (1962) and The Time Travelers (1964); Charles B. Griffith who scripted some Corman's more amusing cult films like A Bucket of Blood (1959) and The Little Shop of Horrors (1960); and Robert Thom, who wrote the quirkily satirical science-fiction film Wild in the Streets (1968) and the very strange The Witch Who Came From the Sea (1976).
In the director's seat was Paul Bartel. Bartel had previously directed the little-seen kinky black comedy Private Parts (1972) and would go onto create the cult black comedy Eating Raoul (1982) about a couple killing swingers. Also on board was Paul Bartel's Raoul and frequent co-star, low budget cult queen Mary Woronov. Death Race 2000 starred David Carradine, who had just come off the end of his cult tv series Kung Fu (1972-5). Subsequently, David Carradine managed to etch out for himself the role of a sort of Zen Clint Eastwood in a number of low-budget films like this.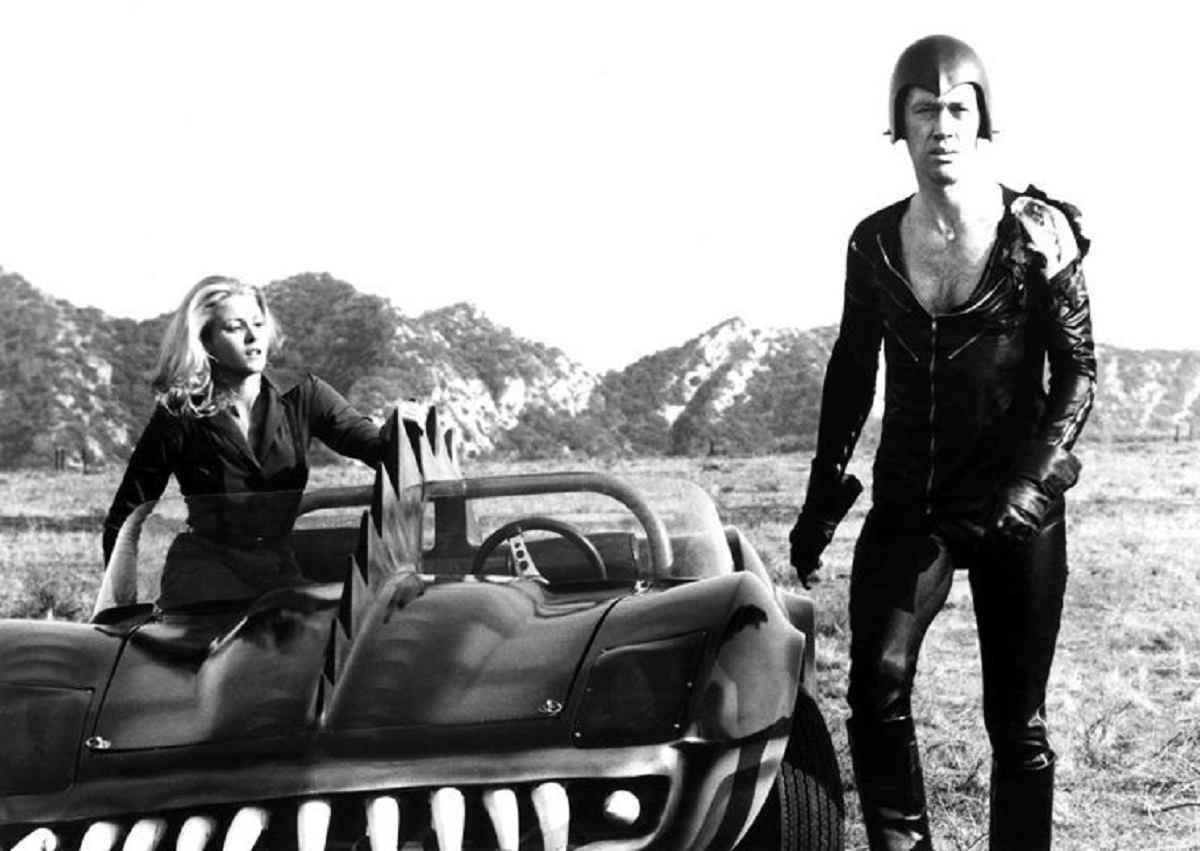 And, as with any Roger Corman film, Death Race 2000 contains at least several up and coming talents hoping to break into the industry including a young Sylvester Stallone; Martin Kove, who would become a minor B action star in the 1990s; a young John Landis, later director of The Blues Brothers (1980) and An American Werewolf in London (1981) in the role of a mechanic; and shooting second unit a young Lewis Teague, later director of Alligator (1980), Cujo (1983) and Navy Seals (1988).
Death Race 2000 is directed, edited and photographed in a crude and unappealing way but inside hides a drollness. The actual details of point-scoring in the Death Race are hidden up until Sylvester Stallone first runs down the construction worker, whereupon commentator Don Steele appears on screen and starts yelling, "too bad he was only 38, two more years and he'd be worth three times the points." The drollness of the comedy mounts with debates over whether David Carradine can score by running down race officials or Sylvester Stallone his own track crew. The lines come quickly and funnily – "If everyone scatters go for the baby and mother," Martin Kove instructs his co-driver as they head for a group of picnickers.
There seems nothing more deliriously absurd than the images of Mary Woronov in her car with bull horns mounted on the fender careening around a field trying to run down a man with a red flag; or nurses lining up patients in wheelchairs on the road outside a hospital. The level of gore in the film is rather funny in a stupid way (although Paul Bartel claims that all of was edited in afterwards by Roger Corman).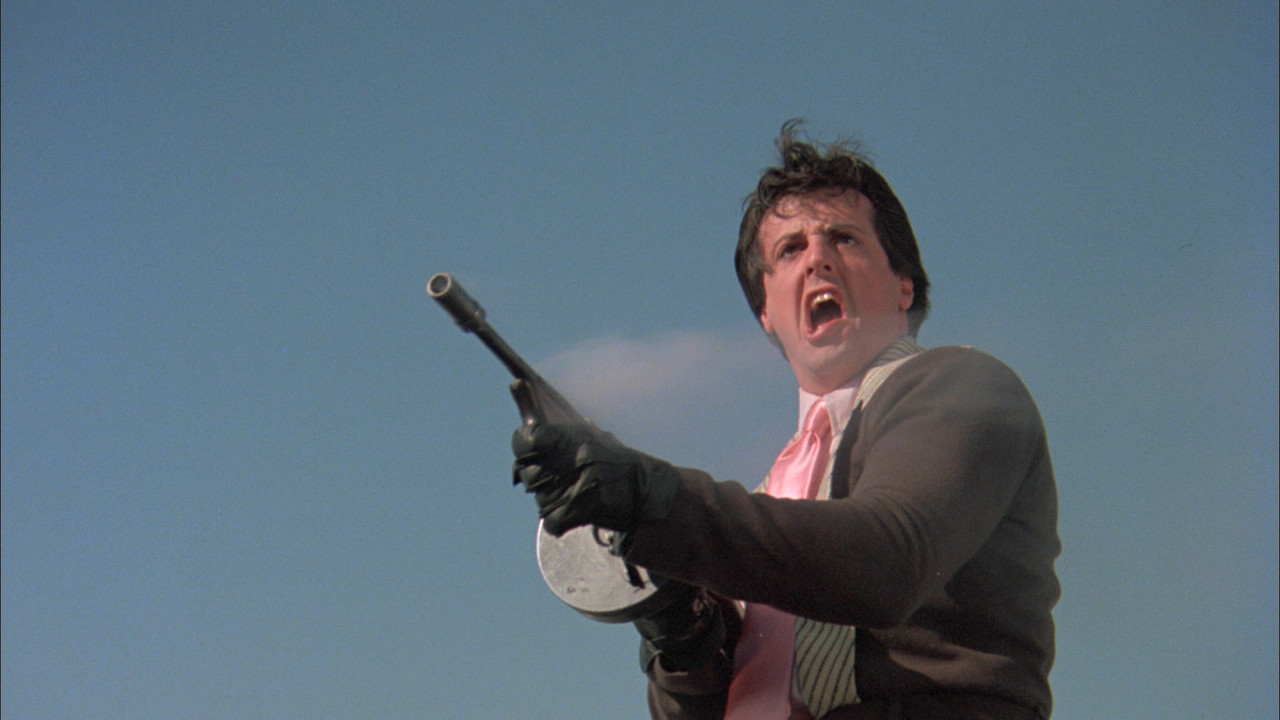 Among the mostly amateurish excess of the rest of the cast, David Carradine in stolid, grim mode behind black mask and cape achieves quite nicely. The funniest performance of all is that of young Sylvester Stallone who in his own close-lipped monosyllabic way, roaring and shouting as he runs victims down, gives an extremely funny send-up of brutish Italian thuggery and the type of role that he would take seriously in the next decade.
Paul Bartel would go onto direct films like Cannonball (1976), a non-genre attempt to replicate the coast-to-coast car chase success of Death Race 2000 and also starring David Carradine. As director, Paul Bartel also made Not for Publication (1984), Lust in the Dust (1985), The Longshot (1986) and Scenes from the Class Struggle in Beverly Hills (1989), as well as wrote the script for the bad taste comedy Mortuary Academy (1988), although none of these ever achieved the success of either Death Race 2000 or his cult black comedy Eating Raoul (1982). Up until his death in 2000, Paul Bartel also made numerous B-movie acting appearances, usually in Roger Corman company films.
Roger Corman later produced Deathsport (1978) with David Carradine, a dreary post-holocaust action film, which was sold as though it was a sequel to Death Race 2000, although it is not. Death Race 2000 was remade as Death Race (2008) by director Paul W.S. Anderson with Roger Corman acting as Executive Producer. There all the black comedy and the notion of a race where points are won by running people down was eliminated and the remake instead became a generic action film about convicts engaged in gladiatorial combat in armoured cars staged for a cable tv show. This also produced three prequels with Death Race 2 (2010), Death Race 3: Inferno (2012) and Death Race: Beyond Anarchy (2018). Roger Corman subsequently went on to conduct his own remake of the original with Death Race 2050 (2017) independent of these films.
---
---