---
Canada/UK/France/USA. 2002.
Crew
Director – Marc Evans, Screenplay – David Hilton & James Watkins, Story – David Hilton, Producers – David Hilton, Jonathan Finn, Alan Greenspan & Jane Villiers, Photography – Hubert Taczanowski, Music – Bias, Visual Effects – Double Negative, Special Effects Supervisor – John Laforet, Production Design – Crispian Sallis. Production Company – WT2 Productions/Studio Canal/Working Title.
Cast
Sean CW Johnson (Matt), Jennifer Sky (Charlie), Kris Lemche (Rex), Laura Regan (Emma), Stephen O'Reilly (Danny), Bradley Cooper (Travis Patterson)
---
Plot
Five people sign up for an internet-broadcast reality tv show where they must spend six months inside a remote house to win a million dollar prize. As the months drag out, they become apprehensive – someone is lurking around the premises and activating the sensor alarms. Their controllers seem to be playing cruel jokes – leaving them no food, making one girl think a childhood playmate is stalking her and one guy uncertain if his grandfather has died. They are unsure whether this is a ploy by the show's controllers to make them leave before their time is up or whether it is real. After a visit by a mysterious stranger, they suddenly discover that they are trapped inside an internet snuff site where people are able to bet on them being killed.
---
The 00s has seen the meteoric ascent of the concept of so-called 'reality tv', first with the amazing success of Survivor (2000– ) and then numerous other spinoff shows – Big Brother (2000– ), Temptation Island (2001-3), The Bachelor (2002– ) et al. This appears to have invariably bled off into the horror genre, with various films quickly popping up to take the elimination game such shows base themselves on to the next logical level – the point of eliminating contenders.
Coming out around the same time as Survivor premiered was Battle Royale (2000), which posited a bloodbath with Japanese teenagers eliminating one another on an island, and this was followed by the likes of the coolly intelligent Series 7: The Contenders (2001), which offered a dark satire of a gameshow where people competed to kill one another, and the dully unimaginative Halloween: Resurrection (2002) and the cheaper likes of Slashers (2001), Hell Asylum (2002), Reality Check (2002), Cruel World (2005), Survive This (2005), Are You Scared? (2006), Wrong Turn 2: Dead End (2007), Elimination (2010), Incite Mill (2010) and Camp Dread (2014), as well as the action movie The Condemned (2007).
This international co-production quickly emerges as one of the best of these 'reality tv horror films'. While Series 7 worked more as a dark satire, My Little Eye concentrates on suspense and paranoia and in being an out-and-out horror film. It is clearly influenced by the aesthetic begun by The Blair Witch Project (1999) and gets right into the handheld camera, video-shot look. Director Marc Evans taps into the same cabin fever paranoia that underlay Blair Witch – indeed, one is prepared to argue that he does a far better job of constantly rattling his audience than Blair Witch did. He evokes a considerable sense of claustrophobia out of the perpetually peering video cameras, and the cuts between the fisheye lenses, infra-red film stock, grainy video closeups and back to 35mm.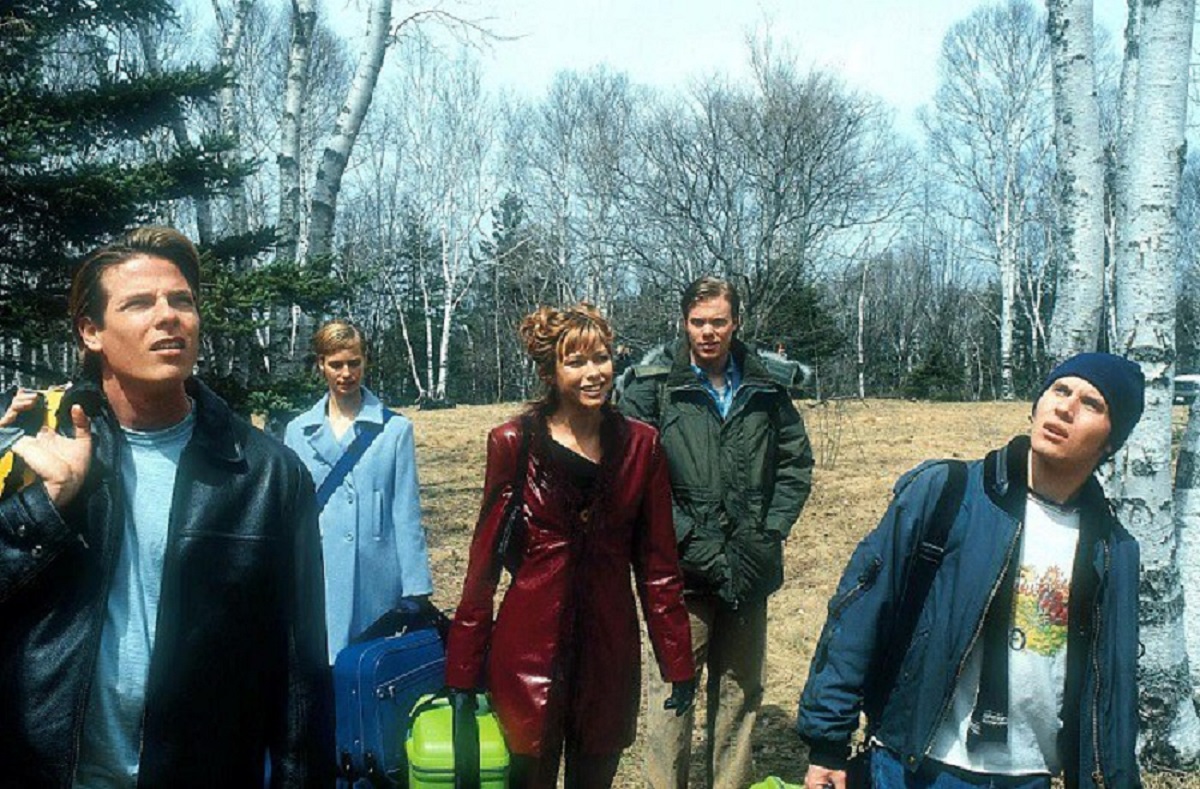 You get a genuine sense of clammy claustrophobia, something that seems especially constrictive while watching the film in a theatrical setting. The soundtrack is constantly filled with hums and whines; the sound of camera lenses zooming in; or the whine and squawk of a dial-up connection. This is a film that manages to make jolts produced by an amplified soundtrack work for it, rather than it sounding counterfeit as it does in most horror films that try such, and Marc Evans is frequently unnerving us with a stream of unexpected noises and especially an aurally jolting sequence where a bird breaks into the house.
Within this sense of eerily voyeuristic claustrophobia, Marc Evans then brings out some genuinely unexpected jumps – the moment one character walks into the bathroom and looks directly into the camera in the bathroom mirror and says "Told you I could fuck her," or where one character conducts a seductive massage of one girl, then wraps a piece of clothing around neck and then starts yelling "Shall I kill her now?" to the camera. The cast, all unknowns excepting Bradley Cooper who went onto become an A-list name several years later, give particularly convincing characterisations.
My Little Eye announced the talent of the promisingly up-and-coming Welsh-born director Marc Evans. Evans had previously made the clairvoyance mini-series The Gift (1990), the little seen Arthur's Departure (1994) about time travellers attempting to snatch King Arthur and then made Resurrection Man (1998) about a gang of sadistic thugs conducting a reign of terror in Belfast. Subsequent to My Little Eye, Evans made the ghost story Trauma (2004) and the non-genre likes of Snow Cake (2006), Patagonia (2010) and Hunky Dory (2011). Co-writer James Watkins later wrote Gone (2007) and The Descent: Part 2 (2009) and directed the horror films Eden Lake (2008) and The Woman in Black (2012).
(Winner in this site's Top 10 Films of 2002 list).
---
---