---
Crew
Director – Masayuki Ochiai, Screenplay – Luke Dawson, Based on the 2005 Thai Film, Producers – Doug Davison, Takashige Ichise & Roy Lee, Photography – Katsumi Yanagishima, Music – Nathan Barr, Music Supervisors – Dave Jordan & Jojo Villaneuva, Visual Effects – Big X (Supervisor – Kajime Matsumoto) & Pixel Magic (Supervisor – Raymond McIntyre Jr), Special Effects Supervisor – Hidekazu Kishiura, Production Design – Norifumi Ataka. Production Company – New Regency/Vertigo Entertainment/Ozla Pictures.
Cast
Rachael Taylor (Jane Shaw), Joshua Jackson (Benjamin Shaw), Megumi Okina (Megumi Tanaka), David Denman (Bruno), John Hensley (Adam), Maya Hazen (Seiko Nakamura), James Kyson Lee (Ritsuo), Kei Yamamoto (Murase), Yoshiko Miyazaki (Akiko)
---
Plot
Fashion photographer Benjamin Shaw marries Jane. Immediately after the wedding, Ben has to return to Japan on an assignment and takes Jane with him. Soon after they arrive, Jane skids while driving to avoid a girl who suddenly appears on the road ahead of her. However, after they call the police, no body can be found. Ben then finds a strange series of blemishes appearing on all the photos he takes. Jane becomes fascinated by these and discovers they are examples of spirit photography. She comes to believe that these images might be the ghost of the girl she ran down on the road. As she digs deeper in search of the girl's identity, she realizes that the girl is in some way connected to Ben's past.
---
In recent years, Asian horror (in particular Japanese horror or J-horror as it is known) has become a huge phenomenon. It has become so big that Hollywood filmmakers have been buying up various Asian horror films and remaking them in English language like they were going out of fashion. This includes so far the likes of The Ring (2002), The Grudge (2004), Dark Water (2005), Pulse (2006), The Echo (2008), The Eye (2008), Mirrors (2008), One Missed Call (2008), Don't Look Up (2009), The Uninvited (2009), Apartment 1303 3D (2012), 13 Sins (2014) and Death Note (2017). Indeed, Asian-American producer Roy Lee and his production company Vertigo Entertainment specialise in buying up Asian horror properties, with Lee and Vertigo having had a hand in The Ring and Grudge films, Dark Water, The Eye and Oldboy (2013), not to mention a host of non-horror Asian remakes including Eight Below (2006), The Lake House (2006), My Sassy Girl (2008) and most famously Martin Scorsese's The Departed (2006). Shutter is an English-language remake of an earlier Thai film Shutter (2004).
One of the odder phenomena among the Asian horror market is that various of the films from one country will get remade or outrightly copied by another Asian country – Shutter is the peculiarity of a film that started out as a Thai work but has not only been remade as an English language film but also been transplanted to Japan in the process. The director assigned to Shutter is the Japanese Masayuki Ochiai who has made a number of J-horror efforts with the likes of Parasite Eve (1997), The Hypnotist (1999) and Infection (2004) and the subsequent Thriller Restaurant (2010), Ju-on: The Beginning of the End (2014) and Ju-on: The Final Curse (2015). The only one of Ochiai's films that I had seen previously was Infection, which proved a cheaply made effort that fractured off into incomprehensible surrealism. As a result, one did not greet Shutter as a terribly inspiring prospect.
The thing that should be said about all the abovementioned English-language remakes of Asian horror films is that almost every single one is regarded as a weak copy by anyone who has seen the originals. It seems that something gets missed in the process of translation – the unearthly scares get watered down so that the films can appeal to a PG-13 audience and the atmosphere is ruined by the addition of CGI effects overkill. Even when some of the original Asian directors are employed to make English-language films – Hideo Nakata on The Ring Two (2005), Takashi Shimizu on The Grudge films or The Pang Brothers with The Messengers (2007) – their unique and individualistic style seems to be swallowed up and transformed into something anonymous.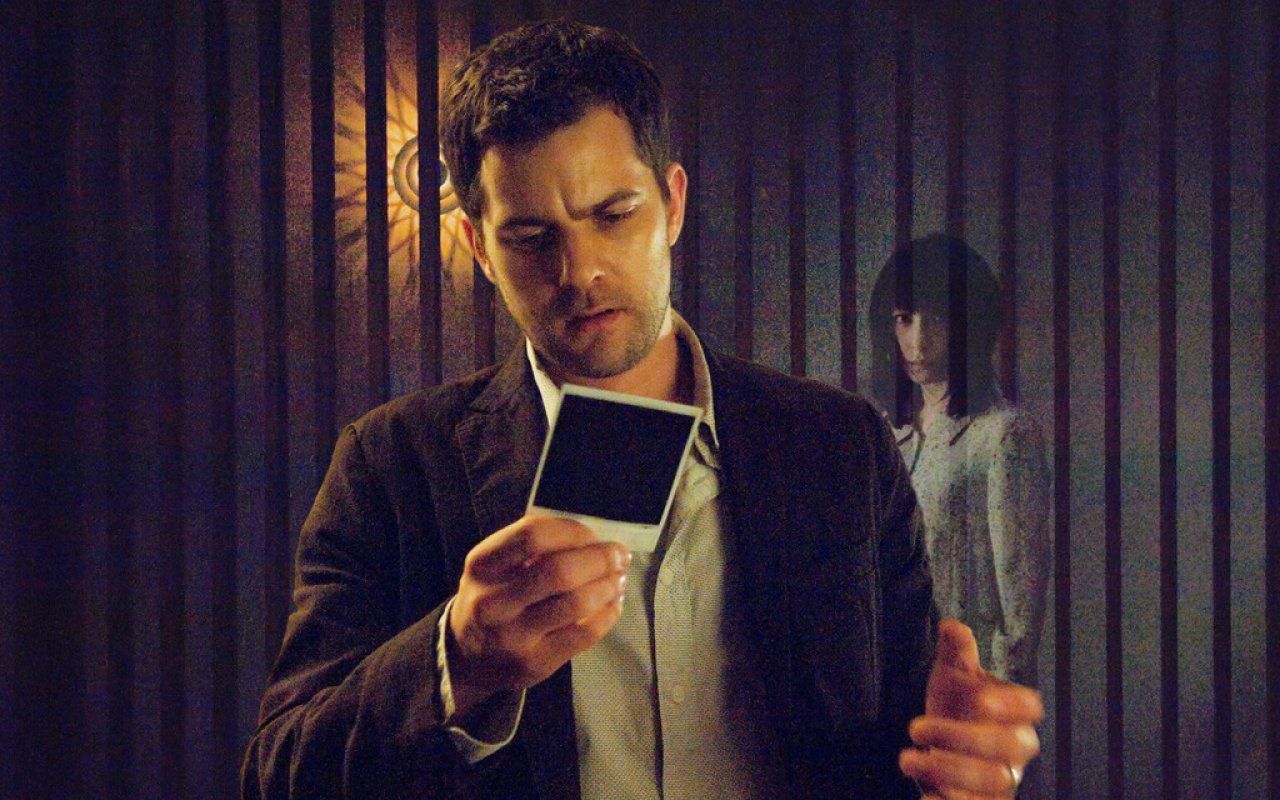 Even though Shutter would appear to follow its Thai counterpart on almost a scene-for-scene level, it is an English-language remake that is tedium inducing in its blandness. The basic set-up seems to copy Ring (1998) and Ju-on: The Grudge (2003) – the ghostly figure of a sinister girl with long black hair hanging across her face appearing everywhere – while the American cast on location in Japan theme and being haunted by guilts of the past is strongly reminiscent of The Grudge 04. The eventual revelation of what is going on is a tedious retribution for past guilt plot that has played through much Asian horror and is something that stands out only by the entirely by-the-numbers treatment that it is given here. Barely a thing happens in the film that does not come with a numbing sense of predictability.
You can see most of the set-ups and scares coming and Masayuki Ochiai delivers them with a bland lack of affect – neither the characters not the situations engage one in the slightest. A minor frisson is produced in one scene where Joshua Jackson is in his darkroom and absently thinks that Rachael Taylor's hand is caressing him, only for she to call on the phone outside leaving him wondering who is in the darkroom and to return and find Megumi Okina with something crawling under her skin, which burrows out through her eye and emerges as a fly. Or another scene where she turns up in bed and peels off her top to reveal a rotting corpse beneath and then tries to French kiss him with an obscenely long tongue.
These scenes amp the pulse slightly but soon vanish back into the same tepid tedium as the rest of the film – you keep wishing that Masayuki Ochiai would have pushed the film for something that made his audience feel uncomfortable. What is lacking in Shutter, as with most of the American remakes, is a sense of dread that most of the Asian originals conjure. Rather it has been replaced by processed scares, good-looking teen casts and CGI effects. That sadly is the shame of Shutter – a film that emerges less as a genuine horror film than it does as an entirely manufactured commercial product where there is not a sincere thing in it from the acting to the scares or the emotional reactions of the characters.
---
---