---
Crew
Director – Walter Salles, Screenplay – Rafael Yglesias, Based on the Film Written by Hideo Nakata & Takashige Ichise and the Novel Written by Koji Suzuki, Producers – Doug Davison, Roy Lee & Bill Mechanic, Photography – Affonso Beato, Music – Angelo Badalamenti, Visual Effects – Digital Domain (Supervisor – Mark O. Forker) & Flash Film Works (Supervisor – William Mesa), Special Effects Supervisor – Peter Chesney, Makeup Effects – Gord Smith, Production Design – Therese Du Prez. Production Company – Pandemonium/Vertigo Entertainment.
Cast
Jennifer Connelly (Dahlia Williams), Ariel Gade (Cecilia Williams), John C. Reilly (Mr Murray), Tim Roth (Jeff Platzer), Pete Postlethwaite (Mr Veeck), Dougray Scott (Kyle Williams), Camryn Manheim (Teacher), Perla Haney-Jardine (Natasha Rimsky/Young Dahlia)
---
Plot
While undergoing a bitter divorce with her husband Kyle and a custody battle over their six-year-old daughter Ceci, Dahlia Williams moves into an apartment building on New York's Roosevelt Island. She does not like the rundown apartment but it is all that she can afford and agrees to accept it after Ceci decides that she likes it. Soon after moving in, Dahlia is troubled by a persistent and growing damp spot on the ceiling and constantly dripping water, as well as a child's Hello Kitty bag found on the rooftop that keeps reappearing. She soon comes to believe that these manifestations are in some way related to the disappearance and possible death of a young girl Natasha. Next Ceci starts claiming that Natasha is her invisible playmate. Equally so, Dahlia believes that all of this could be being created by Kyle to mentally unbalance her and take away custody of Ceci.
---
Ever since the success of Ring (1998), Japanese (and Asian) horror is where it is all happening. This success was not unnoticed in Hollywood and has led to a spate of English-language remakes of Asian horror films, which has so far included the likes of The Ring (2002), The Grudge (2004), Pulse (2006), The Echo (2008), The Eye (2008), Mirrors (2008), One Missed Call (2008), Shutter (2008), Don't Look Up (2009), Possession (2009), The Uninvited (2009), Apartment 1303 3D (2012), 13 Sins (2014) and Death Note (2017). Dark Water is another in this burgeoning trend, having been based on Dark Water (2002), director Hideo Nakata's highly successful follow-up to Ring.
The English-language version of Dark Water has been given over into the hands of Walter Salles, the Brazilian director behind such international successes as Central Station (1998), Behind the Sun (2001) and, in particular, the international festival and arthouse hit The Motorcycle Diaries (2004) about the life of the young Che Guevara, and the subsequent English-language adaptation of On the Road (2012).
The remake is surprisingly faithful to the Japanese version and follows the original story closely on almost all points. One of the great advantages of the remake is just how much more that Walter Salles gets inside Jennifer Connelly's psychological headspace. In the original, Hideo Nakata gave us an effective portrait of solo mother Hitomi Kuroki but mostly the thrills were external jumps. By comparison, Walter Salles limits the number of scares but places us very much inside Jennifer Connelly's subjective state of mind and far more effectively suggests her fraying sanity amidst the situation, even leaving us frequently believing that she could be imagining it all. In many ways, Walter Salles creates a much more effectively haunted and spooky atmosphere of brooding psychological oppressiveness than Hideo Nakata did.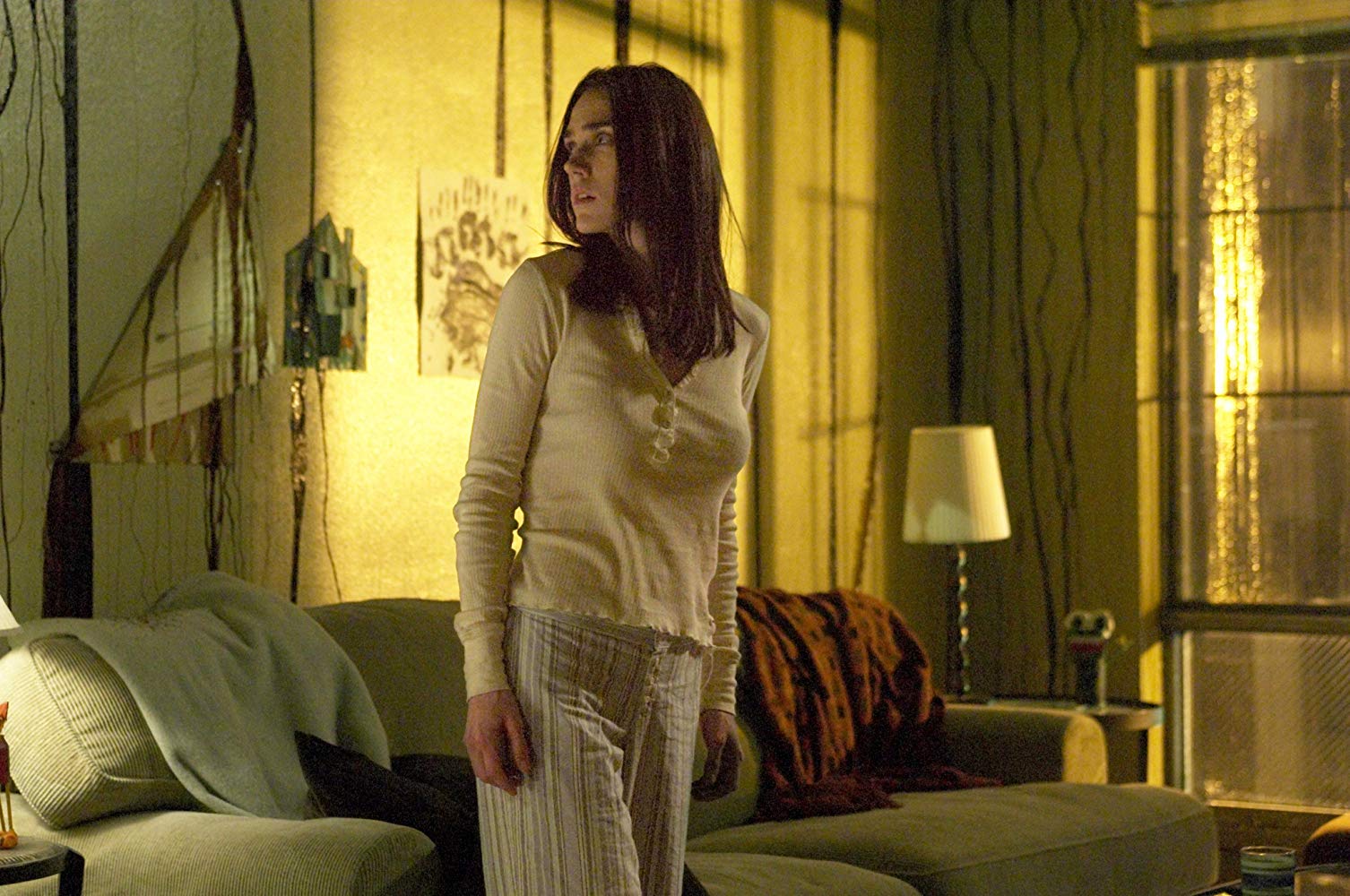 In a great many ways, the milieu of the story also works much more effectively translated to America than it did in Japan. America's housing problems and notorious rundown low-cost apartments are well documented and one can more than believably accept Jennifer Connelly's despair and dilemma at having to move into such a neighbourhood. Roosevelt Island – which incidentally is a real location, not one made up for the film – looks impressively grey and depressing.
While the build-up is fine, the film completely blows it at the ending. The difference between the Japanese Dark Water and this remake is this:– In the Japanese version, Hideo Nakata created a fair to passable ghost story that seemed nothing extraordinarily standout until the ending, which turned everything on its head with a jolt surprise.
Walter Salles's Dark Water by comparison goes almost the other way – Salles creates an absorbingly spooky atmosphere throughout but the entire film is let down by a muddled ending that never clearly lets us know what is happening. The original had a beautiful crystalline clarity – we think we see the mother heading downstairs with the daughter's body, only for the daughter to emerge elsewhere and for us to suddenly realise that the mother has gone off with the ghost girl instead.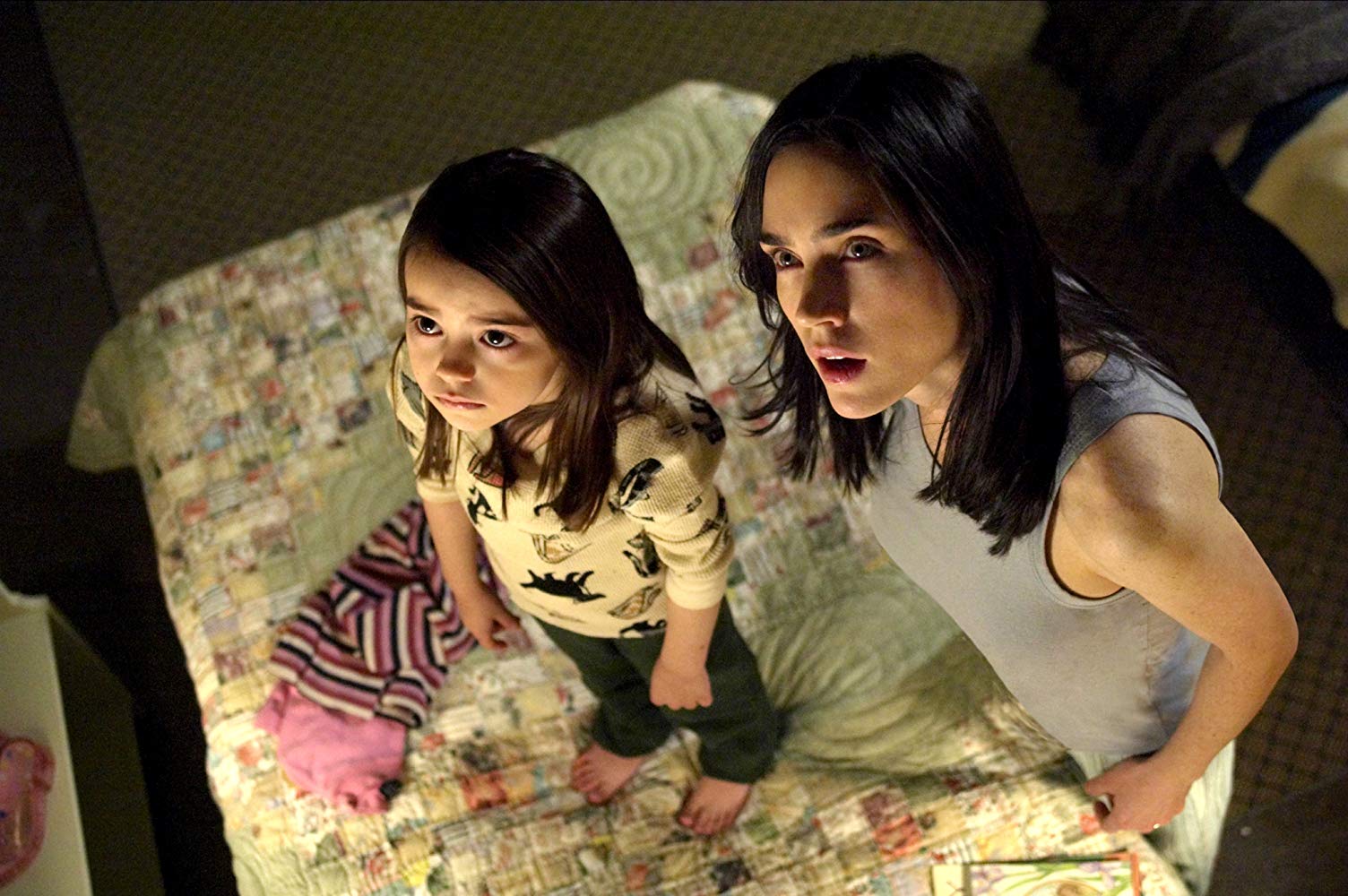 While the remake tries to replay this, what happens is muddled. I could see what the ending here was trying to achieve because I had seen the original but the person who sat through the film with me, who had not seen the Japanese version, was baffled as to what was going on. The remake is also missing the very effective and haunting epilogue where the now teenage daughter returns to the house years later to find the mother still there tending the ghost child.
Jennifer Connelly is good, although she is often upstaged by smaller roles from the likes of John C. Reilly and an unrecognizable Tim Roth (who I thought for all the world was Ron Silver throughout most of the film) who both give fine performances as people mouthing words of assurance while ignoring everything she says.
---
---