---
USA/Japan/Germany/UK. 2008.
Crew
Director – Eric Valette, Screenplay – Andrew Klavan, Based on the 2003 Film Written by Miwako Daira & Novel by Yasushi Akimoto, Producers – Broderick Johnson, Andrew A. Kosove, Scott Kroopf, Jennie Lew Tugend & Lauren G. Weissman, Photography – Glen MacPherson, Music – Reinhold Heil & Johnny Klimek, Music Supervisor – Deva Anderson, Visual Effects – Zoic Studios (Supervisors – Patti Gannon & Randy Goux), Special Effects Supervisor – David Fletcher, Makeup Effects – Mike Elizalde's Spectral Motion (Supervisor – Mike Elizalde), Production Design – Laurence Bennett. Production Company – Alcon Entertainment/Kadokawa Pictures/Equity Pictures Medienfonds GmbH & Co. KG IV/Intermedia Films.
Cast
Shannyn Sossamon (Beth Raymond), Edward Burns (Detective Jack Andrews), Ana Claudia Talancon (Taylor Anthony), Johnny Lewis (Brian Sousa), Azura Skye (Leann Cole), Ray Wise (Ted Summers), Meagan Good (Shelley Baum), Margaret Cho (Mickey Lee), Rhoda Griffis (Marie Layton), Ariel Winter (Ellie Layton), Regan Lamb (Laurel Layton)
---
Plot
Beth Raymond and her circle of friends are trying to cope with the apparently accidental death of one of their number. The group then start to receive cellphone calls – but each of the calls is dated a few days in the future and is their own voice screaming and begging for help. As the time and date that the call came from nears, the recipient sees ghostly figures surrounding them before they are then killed by an apparent accident. Immediately after, something starts dialling the numbers in the dead person's cellphone directory. Beth joins forces with police detective Jack Andrews, whose sister was one of the original victims, and they attempt to track down the source of the calls. The trail leads them to a children's hospital that was destroyed in a fire where a mother accused of child abuse and her daughter died under mysterious circumstances.
---
One Missed Call is yet another in the endless array of Asian horror remakes that have littered American shores since the success of The Ring (2002). Others among these have included The Grudge (2004), Dark Water (2005), Pulse (2006), The Echo (2008), The Eye (2008), Mirrors (2008), Shutter (2008), Don't Look Up (2009), Possession (2009), The Uninvited (2009), Apartment 1303 3D (2012), 13 Sins (2014) and Death Note (2017). The majority of these are not very good, let alone anywhere near a patch on their sources.
One Missed Call is taken from the Takashi Miike film One Missed Call (2003). The Japanese original was popular enough that it spawned two sequels One Missed Call 2 (2005) and One Missed Call: Final (2006), as well as a ten-episode tv series One Missed Call (2005). It was one of the cultish Takashi Miike's lesser films – it was clearly made as a copy of Ring (1998), substituting ghostly cellphone calls for the ghostly tv broadcast/videotapes in the Ring films. In both Ring and One Missed Call, the victim had a near-identical period before the curse would catch up with them and in both the curse would then spread to other contactees like a virus.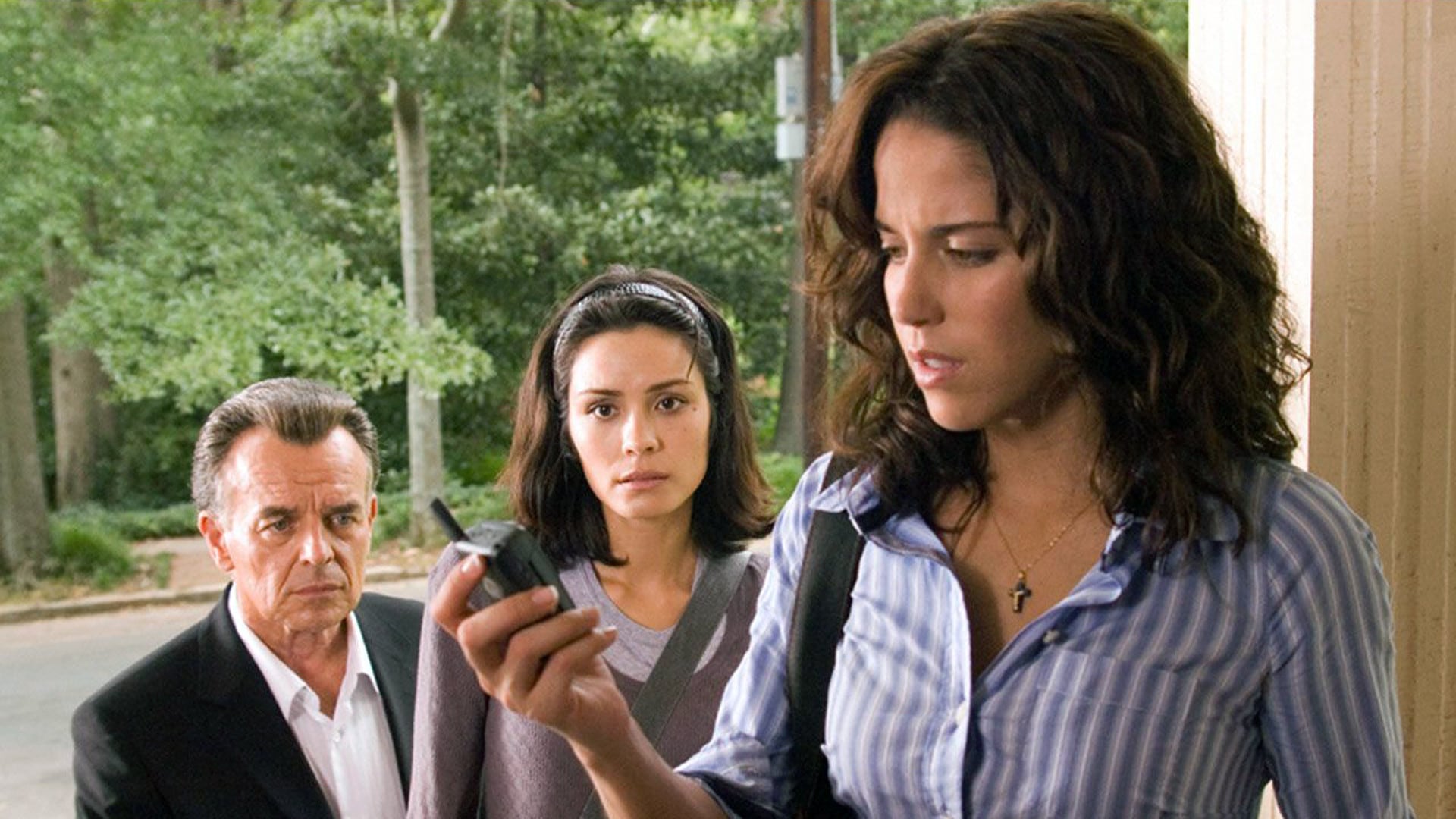 One Missed Call is the only one of Takashi Miike's films to have been optioned for an English-language remake so far. Although this is more than likely due to the fact that it was one of the perpetually eccentric Miike's more commercially motivated films. It is almost impossible to imagine, for instance, any of Miike's other films like Ichi the Killer (2001), The Happiness of the Katakuris (2001), Visitor Q (2001) or Sukiyaki Western Django (2007) being optioned for English-language remake. It is possible that a remake of Audition (1999) or some of Miike's Yakuza films might work but his others are so individualistic and eccentric that no sane mind could dream of attempting to replicate them.
Even though the original was not that great a film, One Missed Call 2008 is a bland effort that holds nothing up to it. The director is French newcomer Eric Valette who had previously made the quite interesting horror film Malefique (2002) and went onto make the killer car film Super Hybrid (2010), the thriller The Prey (2011) and the Torture Porn film Thousand Cuts (2017).
Valette provides a film that has a slick polish but little else. As is typical with far too many of these studio-produced modern horror films, he produces a series of scares that are driven more by digital pop-up effects than anything else and can be instantly forgotten the moment they are over – I write this review a few days after having watched One Missed Call and there is not a single frisson in the film that stands out in memory in any way. There are a good many images of people with melting blank-faced masks, figures that produce halos, insects crawling under the skin – but these are all post-production efforts to pump up the film and in fact produce no atmosphere at all.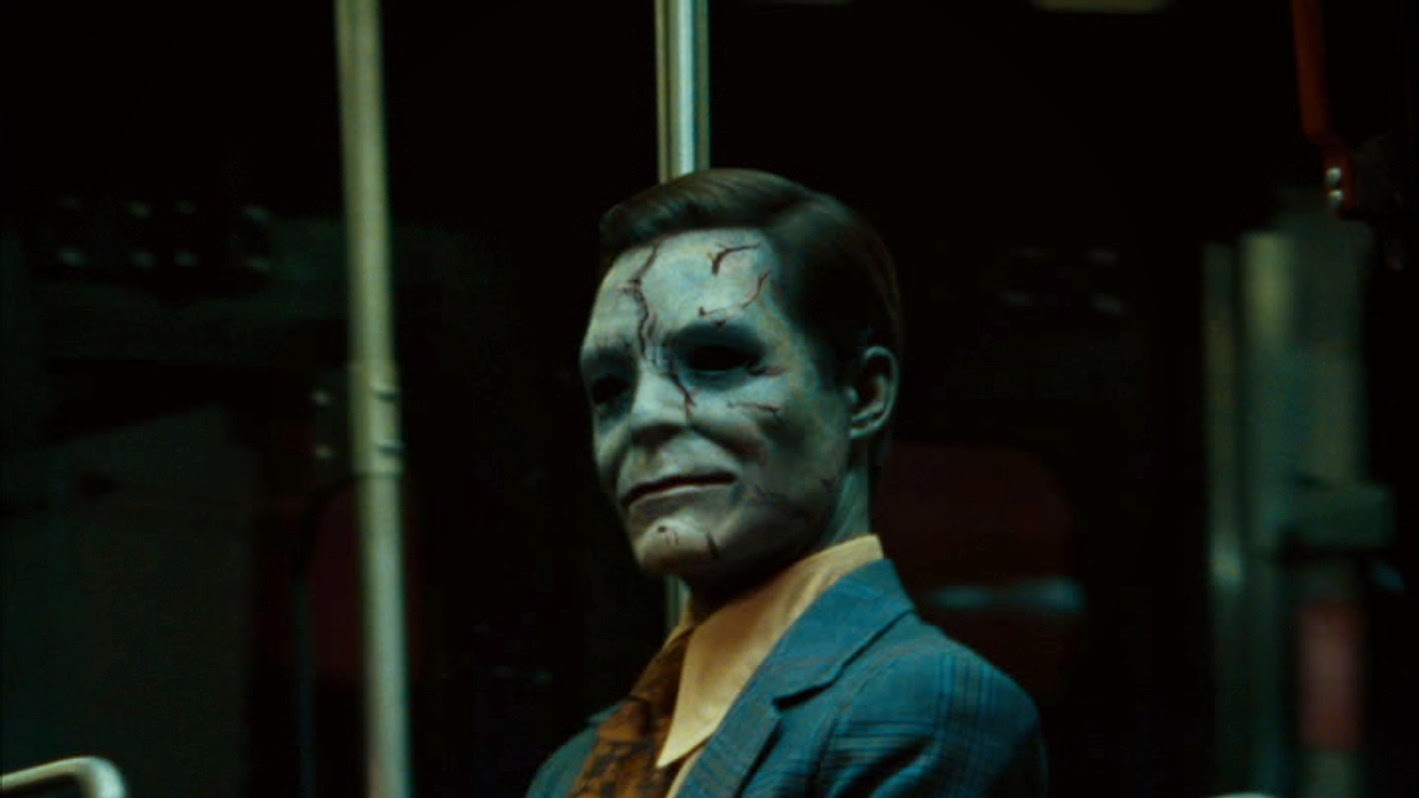 One of the standout scenes from the original was the scene where the tv crew surround one of the victims, broadcasting live as their allotted time arrives, but here this is reduced to bland lack of effect due to it being overrun by silly pop-up effects. Moreover, the film's makeup effects and indeed its very poster/dvd cover of a figure with a blank-faced mask is ruined due to the fact that the masks bear an uncanny resemblance the mask worn by Jigsaw in the Saw films – as I passed the film on the dvd store rack, I had to look twice to make sure that it wasn't a Saw film.
The film's lead is Shannyn Sossamon, who has been a rising name in recent years. Shannyn seems like a younger, thinner version of Angelina Jolie. However, she comes without any of the sultry teasing expressions that Jolie has perfected, for that matter even less of an ability to express anything at all onscreen. Up against Shannyn is Edward Burns, who can always be relied on to deliver a worthwhile performance. Burns makes a valiant effort to inhabit an entirely generic role and pretend that he is not there just for the paycheque but the film's conveyor belt approach is weighed against him.
---
---