---
USA. 1981.
Crew
Director – Jack Fisk, Screenplay – William D. Wittliff, Producers – Wittliff & Burt Weissbourd, Photography – Ralf Bode, Music – Jerry Goldsmith, Special Effects – Russ Hessey, Makeup – Mark Reedall, Art Direction – John Lloyd. Production Company – Universal.
Cast
Sissy Spacek (Nita Longley), Eric Roberts (Teddy Roebuck), Henry Thomas (Harry Longley), Carey Hollis Jr (Henry Longley), William Sanderson (Calvin Triplett), Tracey Walter (Arnold Triplett), R.G. Armstrong (Rigby), Sam Shepherd (Bailey)
---
Plot
Nita Longley, a divorcee with two boys living in a small Texas town during World War II, feels frustrated in her job as a telephone exchange operator. She finds Teddy Roebuck, a young sailor passing through on furlough, sleeping on her porch and invites him to stay. An attraction grows between the two of them and this stirs much gossip amongst the locals. After Teddy leaves, two locals move in, determined to forcibly have their way with Nita.
---
Raggedy Man was the directorial debut of Jack Fisk. Jack Fisk is best known as the husband of Sissy Spacek since 1974. Fisk mostly works as a production designer/art director and has worked on all of Terrence Malick's films, Brian De Palma's The Phantom of the Paradise (1974) and Carrie (1976), and There Will Be Blood (2007) and The Revenant (2015). Later Fisk fell into the orbit of David Lynch – he plays the Man in the Planet who pulls the lever at the end of Eraserhead (1977) and worked as production designer on later Lynch films such as The Straight Story (1999) and Mulholland Dr. (2001), as well as directing episodes of various Lynch tv series.
Raggedy Man taps into the great American Midwest nostalgia trip. It is a beautifully directed and photographed film. Clearly filming with a production designer's eye, Jack Fisk expends much effort at obtaining an impressively authentic 1940s period atmosphere. Fisk shoots in wistfully muted dun colours (there are almost no bright colours anywhere in the film) and directs with a soft, often touching simplicity.
There are some beautiful shots – the seductive touch of Sissy Spacek and Eric Roberts's hands meeting through a pair of nylons he has given her; the scene where the lights go out in a lightning storm as they talk and the camera shifts to a different position in the room in between each flash of lightning; the long-drawn master shot where Eric Roberts talks on the phone to his fiancé's father, learning she has taken up with another man, all being relayed through his reactions and the expressions we see on his face.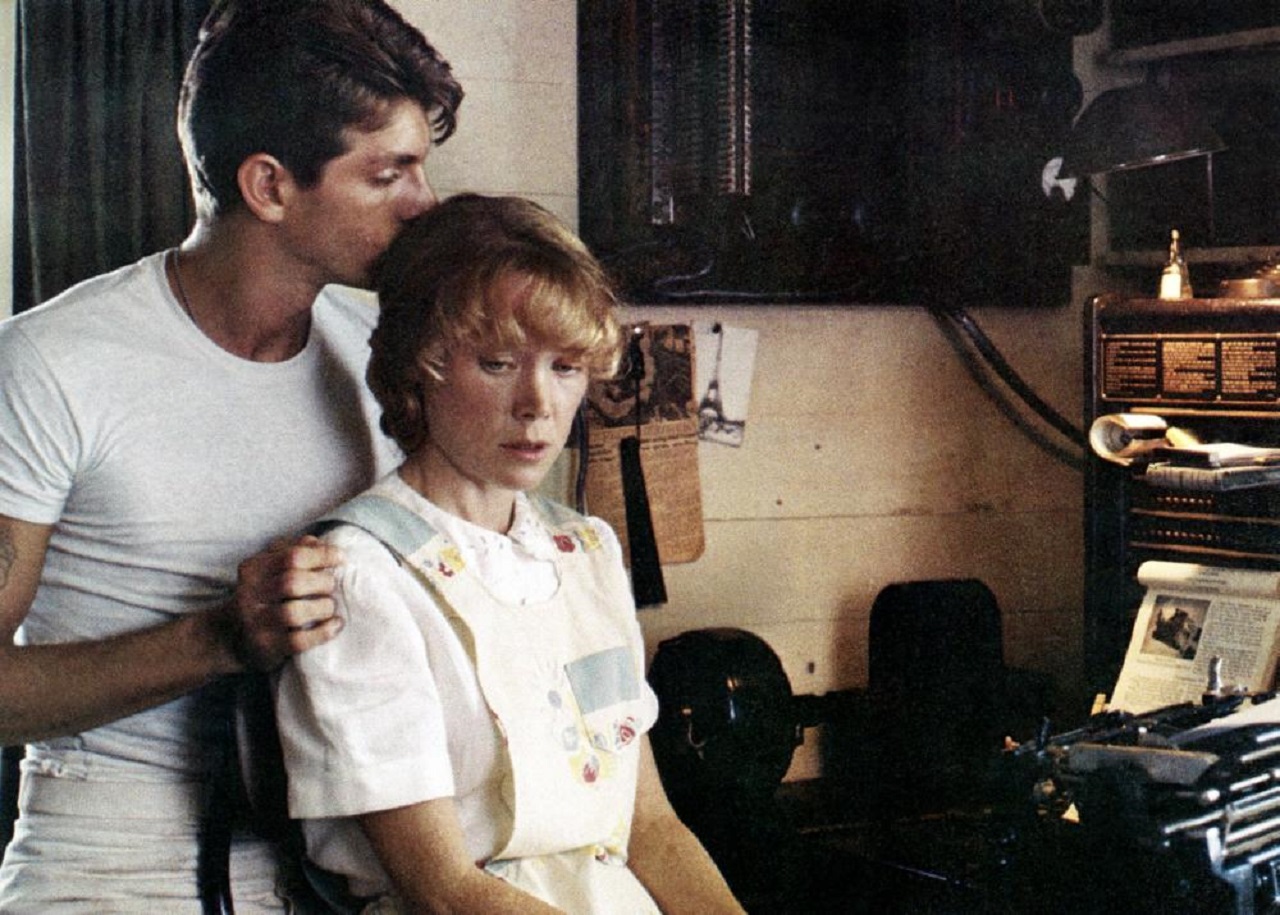 Ostensibly, Raggedy Man is a nostalgia story, but in the last fifteen minutes it takes a jarring turn of style and becomes somewhat of a horror story. The move from love story and a wistfully nostalgic tone to a virtual slasher film becomes too jarring a change of pace, not the least of which is the removal of the romantic hero of the show from the action. One keeps expecting Eric Roberts to make a reappearance but he never does and in a strange twist of plot the character that appears to be the monster of the piece becomes the hero.
The horror element plums much the same weirdness of backwoods America as Deliverance (1972) and The Texas Chain Saw Massacre (1974) with William Sanderson and particularly the sinisterly baby-faced Tracey Walter giving gleefully depraved performances. But here things go too far from the rest of the film to work and it is this left-field horror element – in fact, the reasons for the film's inclusion here – that mars an otherwise excellent film.
Jack Fisk has yet to find another film wholly worthy of the directorial talent he displayed here. He and Sussy Spacek reteamed for the romance Violets are Blue (1986) and he then went onto the comedy Daddy's Dyin' … Who's Got the Will? (1990), before returning to production design work.
---
Trailer here
---