---
Crew
Director/Screenplay – Simon Rumley, Producers – Bob Portal & Simon Rumley, Photography – Milton Kam, Music – Richard Chester, Makeup Effects Design – Lindsey Brown & Hawgfly Productions (Meredith Johns), Production Design – Josh Crist. Production Company – Rumleyvision Productions/Fidelity Films/Fantastic Fest.
Cast
Amanda Fuller (Erica), Noah Taylor (Nate), Marc Senter (Franki Morrison), Jon Michael Davis (Ed Lantau), Nick Ashy Holden (Alvin), Patrick Crove (Carl), Sally Jackson (Ellie Morrison), Mary Mathews (Marj), Eryn Brooke (Ed's Girlfriend), Saxon Sharbine (Ed's Daughter), Ernest James (Nightclub Pick-Up), Vincent Doeages (William)
---
Plot
In Austin, Texas, Erica leads a highly promiscuous life, sleeping with many men, never any of them twice. Her neighbour Nate tries to befriend her, although she says she doesn't sleep with friends. Despite herself, she begins to open up to Nate and the two become close friends. Franki, the member of a wannabe band, has slept with Erica, along with his fellow band members. He is then diagnosed as HIV positive. When he tells the other band members, they track down and abduct Erica. Left alone with her, Franki makes her his prisoner. They have reckoned without Nate, a former Iraq War interrogator, who employs his training to exact a horrible vengeance.
---
Simon Rumley is a British director who emerged in the 1990s, first with two short films and then several feature-length dramas with Strong Language (2000), The Truth Game (2001) and Club Le Monde (2002). He started to gain traction with his venture into horror The Living and the Dead (2006), followed by the festival attention that circulated around Red, White & Blue. More recently, Rumley has been directing episodes of anthology films such as Little Deaths (2011), 60 Seconds of Solitude in Year Zero (2011) and The ABCs of Death (2012). He subsequently went on to make a further horror film Johnny Frank Garrett's Last Word (2016) about a true-life wrongly executed man's curse, the non-genre Crowhurst (2017) about a true-life yachting fraud and Once Upon a Time in London (2019) about true-life gangsters.
Rumley takes you aback considerably during the opening scenes as he serves us up several sex scenes, which are not so much raw but are made all the more effective by their matter-of-factness and Rumley's abrupt editing cuts. What strikes you most about Red, White & Blue is how it works as a film of condensed narrative. Rumley directs in fragments, shows us only parts of a scene or intersperses the full scene with other things that seem at diametric oppose to what is happening. We are left to infer the whole of the story in a scene – Amanda Fuller gives Noah Taylor a note as to why she won't get involved with him but we are never privy to what is written on the note; he later asks her "I got this real crazy question I got to ask you" but we never hear what that question is. (Although you can make an educated guess as to what the answers were from information later in the film).
What also surprises you about Red, White & Blue is how Simon Rumley, a Britisher, gets such a searing portrait of rural Texas. In this, he is considerably aided by fine performances from the principals. In particular, Noah Taylor, a British actor usually seen in light and comedy roles and not someone you would immediately think of when it comes to casting an Iraq War vet, does a fine job of subsuming himself into a hick accent. Also of note is Marc Senter, who did a fine showing as the amok teen killer in The Lost (2005), who opens his character up to Amanda Fuller in surprising and unexpected ways.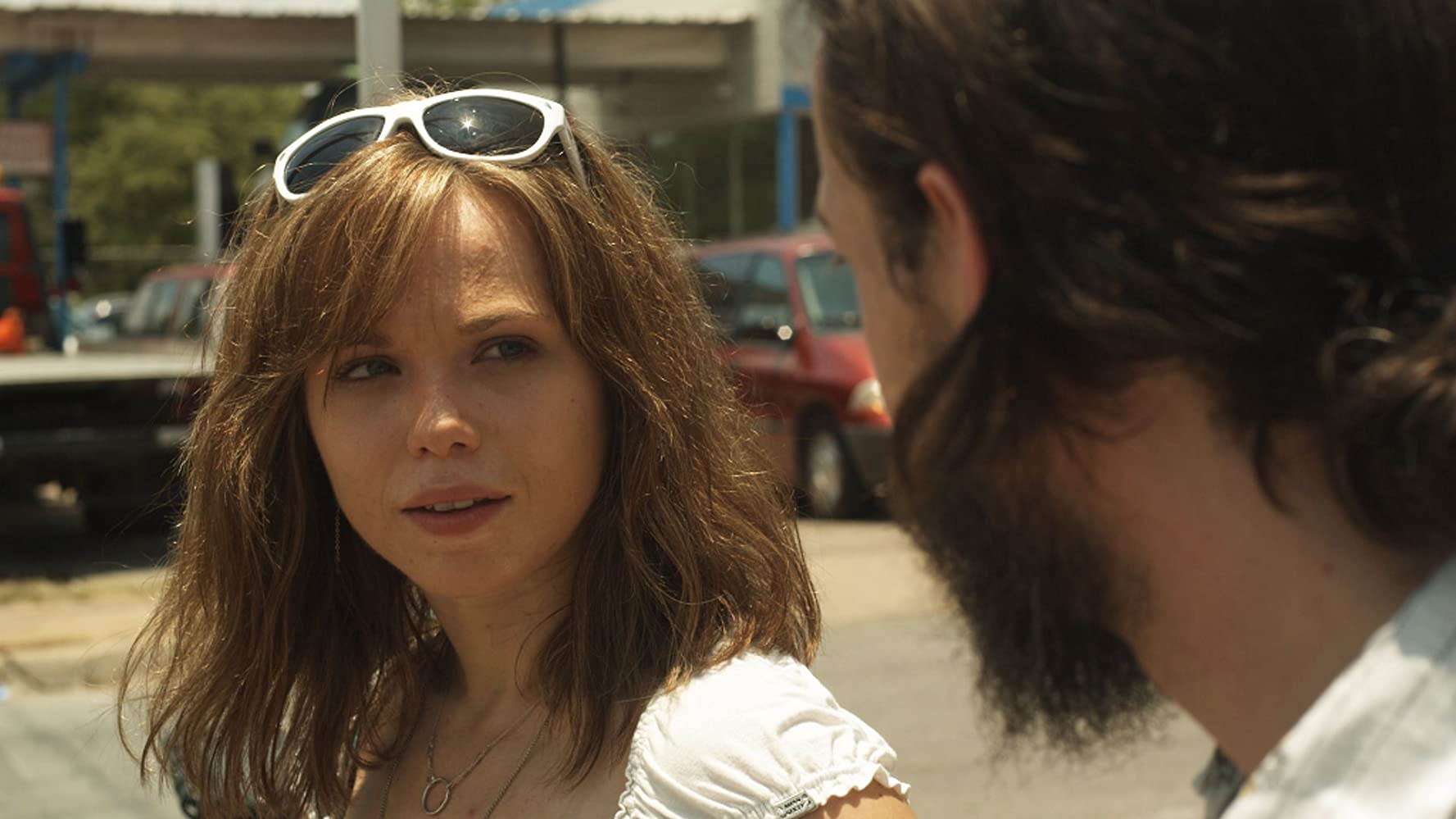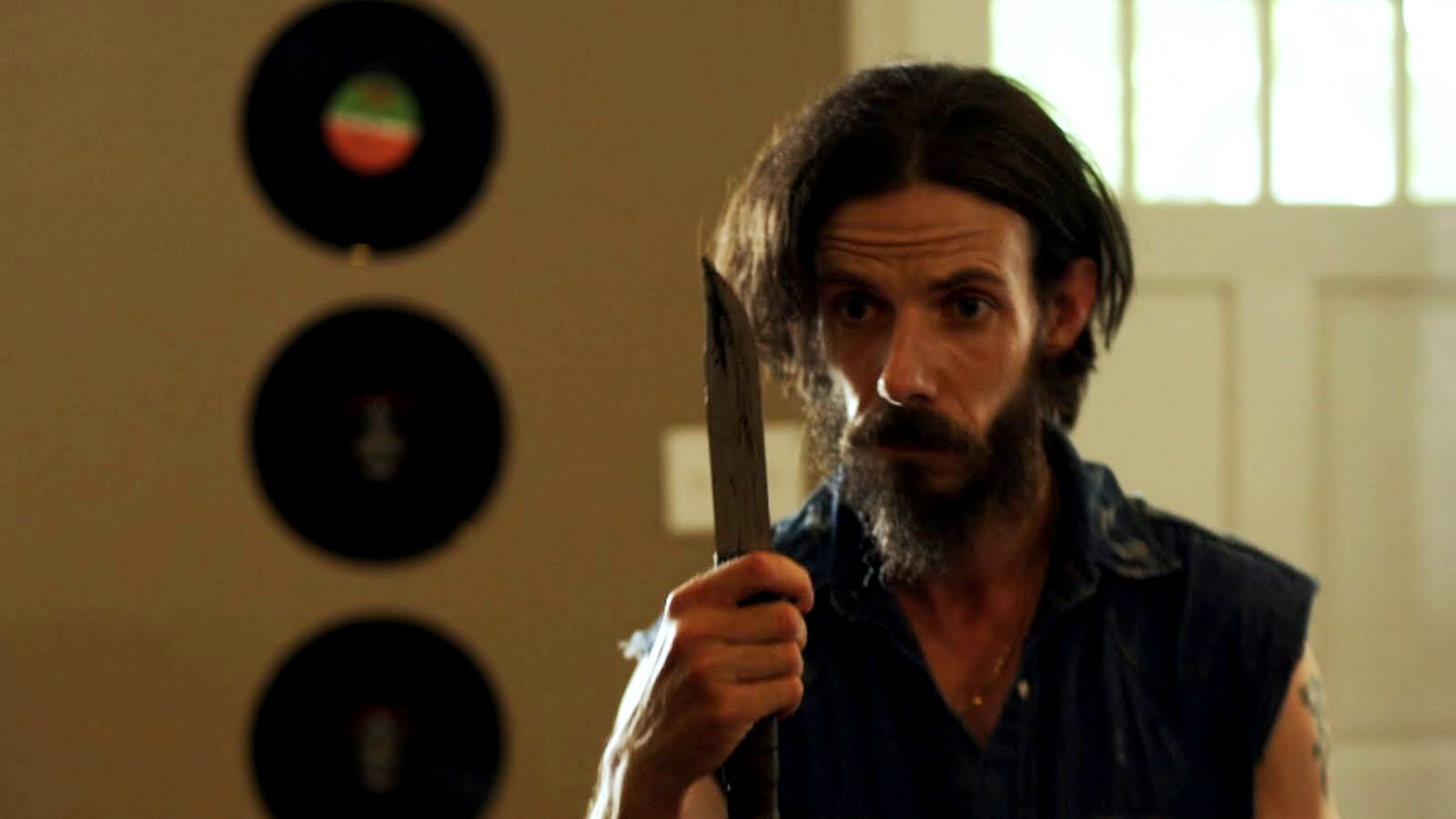 The film is constantly surprising you with where Rumley is taking it – the relationship that slowly grows between Noah Taylor and Amanda Fuller; Marc Senter and friends abducting Amanda Fuller where we are expecting him to do something nasty, only for him to suddenly turn around and propose to her, which then goes wildly sideways ending with her tied up in his living room. Up until about this point – fully two-thirds of the film, there is nothing about Red, White & Blue that suggests it is a horror film.
Thereafter though, the film goes off into demented genre territory. [PLOT SPOILERS]. Noah Taylor – who has been sidelined and forgotten about during Amanda Fuller's abduction – reappears and the film turns into something along the lines of a Death Wish (1974)-styled vigilante film. There is the disturbing scene as Taylor ties up Jon Michael Davis's wife and daughter and then waits for him to return home – with the added shock of him finding a body in the trunk of the car – whereupon he sets out to ruthlessly extract information, stabbing the daughter in the leg and asking her to make a choice between whether she wants to live after he kills her parents or be killed along with them. This is followed by his going to kill the other members of the band, with the film climaxing on a nastily graphic scene where he skins Marc Senter with a hunting knife.
Red, White & Blue is a disturbing film. It is a film that says troubling things about the human condition – in the way that women are used sexually by men; of the psychopathology lurking not far beneath the surface of Iraq War veterans, if not rural Texas itself. Indeed, the only person who seems vaguely likeable in the film is the one who conducts the most extreme actions – tortures a bunch of people to death.
---
---