---
Crew
Directors/Screenplay – Michael Roesch & Peter Scheerer, Producers – Nicole Ackermann & Mark Burman, Photography – River O'Mahoney Hagg, Music – Ralph Rieckermann, Visual Effects – Haas Studio (Supervisor – Christian Haas), Makeup/Prosthetic Effects – Obscure Artifacts (Designer/Supervisor – Jeff Farley), Production Design – Thomas William Hallbauer. Production Company – Brotherhood LLC./Psycho Studios/Herold Productions.
Cast
Victoria Pratt (Carrie Rieger), Jason Connery (Keaton), Ken Foree (Stanis), Sid Haig (Pashek), Will Snow (Tom Clayton), Wes Ramsey (Fork), Jeremy James Kissner (Derek), Rachel Grant (Jill), Darrin James (Chris Clayton)
---
Plot
Vampire hunter Carrie Rieger has been captured and made prisoner by a nest of vampires, along with Tom Clayton. A couple of days earlier, Carrie approached Tom over the disappearance of his brother Chris, certain that he had become a vampire. Tom hired her services and they instituted a search. As Carrie, accompanied by Keaton, the head of her team, broke into the nest, they realised they were dealing with something far larger – the legendary vampire Vlad Kossei resurrected. A vampire they capture warns that Vlad is so powerful that the only way he can be fought is if humans and vampires unite against him. Somehow Tom's missing brother is vital to Vlad's resurrection.
---
Brotherhood of Blood was a directorial debut for Michael Roesch and Peter Scheerer. The two were previously Uwe Boll associates who has co-written Alone in the Dark (2005) and Far Cry (2008) for Boll and House of the Dead 2 (2005), the sequel to Boll's earlier film. Both have also acted in producing capacities on several of Boll's films. Subsequent to this, they went on to co-direct Alone in the Dark II (2008), sequel to Boll's earlier film.
There was a spate of vampire hunter films a few years ago with the likes of Blade (1998), Ultraviolet (1998), Vampires (1998) – Brotherhood of Blood feels like a knockoff of these conducted on a slim budget. Indeed, a number of plot elements – the new super-vampire threat, the vampire hunters and vampires forced to collaborate against this – have been drawn from Guillermo Del Toro's Blade II (2002).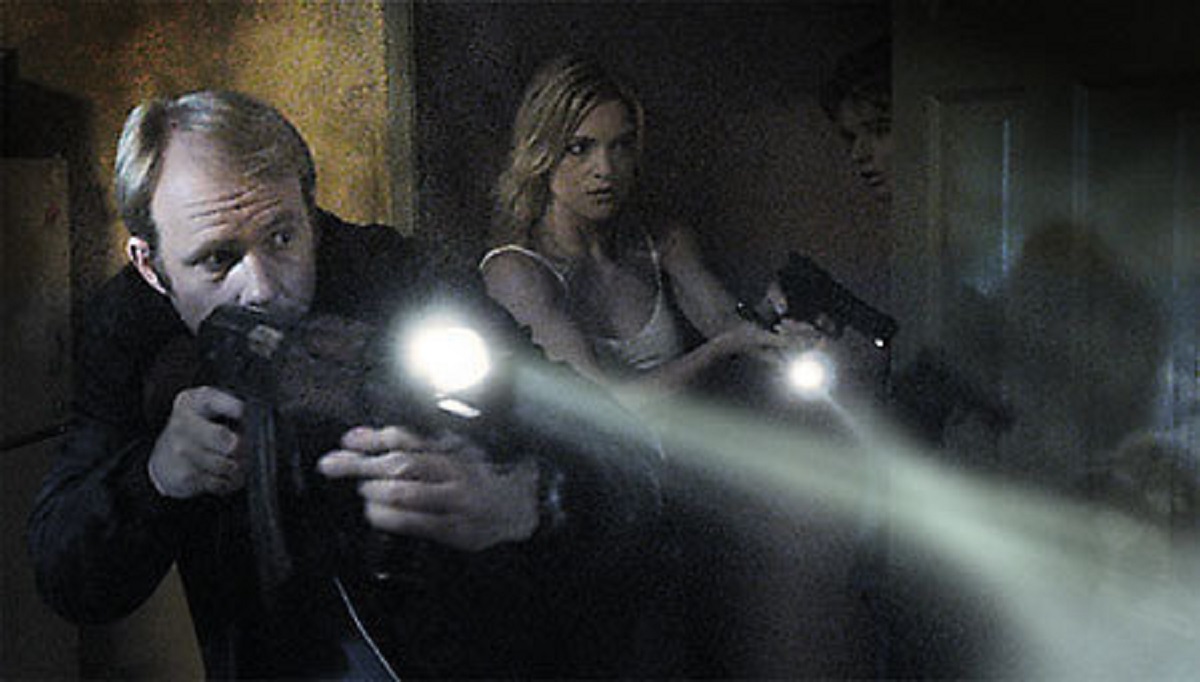 It is not that Brotherhood of Blood looks cheap – the photography and editing are all slick and well put together. It is more the case that the scope of the action is very small. Just about all of the film feels constrained to the same location – probably a workshop or small warehouse that the production crew were able to obtain use of. The action virtually cries out to be expanded onto a wider stage and given more of an impact.
Certainly, Roesch and Scheerer get some okay effects, particularly out of the scenes with the team holding Ken Foree prisoner, cutting off his fingers and pulling out his teeth. The main problem also is the story's lack of resolution – with the vampire bad guy escaped and taunting the team – clearly in anticipation of a sequel that has yet to emerge.
The film has made use of a number of regulars with genre histories such as Sid Haig and Ken Foree, most known for the original Dawn of the Dead (1978), as well as Sean Connery's son Jason. All give the impression they were hired for two or three days and the scenes they were in kept to a single location so as to maximise their time.
---
---