---
Crew
Director/Screenplay – Frank De Felitta, Based on the Short Story by Joyce Selznick, Producers – Don Levin, Mel Pearl & Hal W. Polaire, Photography – Anthony B. Richmond, Music – Alfi Kabiljo, Special Gemini Visual Effects – D.J.N. Films Inc, Special Effects Supervisor – Andre Ellingson, Production Design – Craig Stearns. Production Company – D.D.M. Film Corp.
Cast
Sharon Stone (Angela Anderson), Steve Railsback (Alex Morgan/Cole Morgan), Ronny Cox (Dr Stephan Carter), Michelle Phillips (Ann Carter), Vicki Frederick (Nancy Leahy)
---
Plot
Angela Anderson, a 26 year-old virgin with a disturbed psychological history, reports to an opulent apartment for a job assignment. However, once there she finds herself locked in, along with a dead body that has been stabbed with a pair of scissors. An unseen person then starts taunting her, driving her to the brink of madness.
---
This is a surprisingly good effort from Frank De Felitta. De Felitta is better known as a novelist and screenwriter, he being most famous for the likes of the reincarnation film Audrey Rose (1977) and the ghost story The Entity (1982). (See below for Frank De Felitta's other genre credits). Here De Felitta reveals a surprising degree of proficiency in the director's chair and the result is an impressively polished little psychological thriller.
Many of the plot elements raised – the red-bearded mystery rapist, Sharon Stone's childhood repressions, the crippled twin who is revealed to be faking it – keep one intrigued. Where the film comes into its own is the remarkably sustained middle section with Sharon Stone trapped in the apartment. Frank De Felitta invests the sequence with the silent logic of a nightmare – she finding the door locked and the handle coming off in her hand and turning out to be a rubber squeegee; a dead body in the bed with scissors planted in its back; phantom calls from a phone that is not connected; her attempts to break one of the windows only to find every item of furniture in the apartment is bolted down – then when she finally does find a wooden stool that isn't, it smashing to pieces against the glass; the sinister doll that when picked up suddenly address her by name; the crow taunting "you killed him"; her writing 'help' on the windows – only for it to be seen by a man with poor vision; the videos of her life that play – including ones that are being filmed from right outside the apartment that moment; she waking to find that the body has been moved to the kitchen table with the gutted crow served up as a platter before it; and the genuinely scary moment where she goes to bed and then a hand with a glove-puppet starts crawling up her body. Everything has a logical explanation and the twist revelation is a genuine surprise.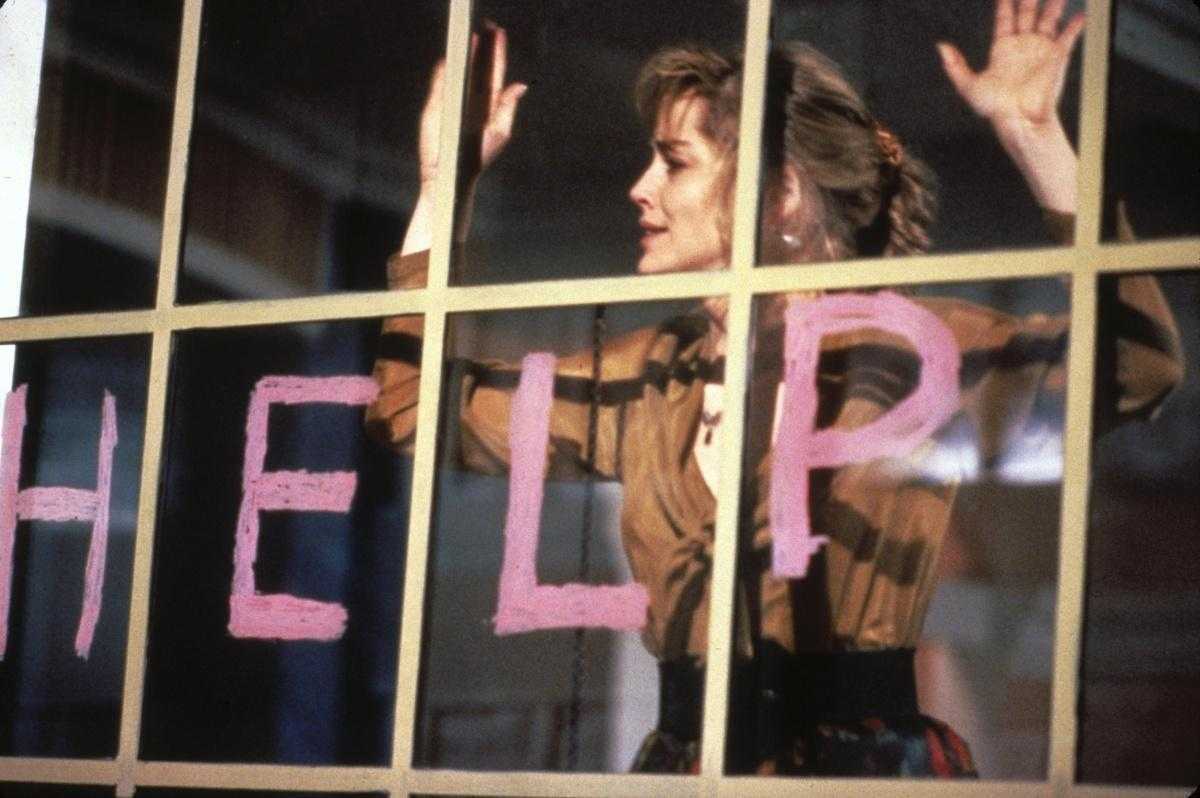 Sharon Stone is fair. This was made just before Stone became a sizzlingly hot name with Basic Instinct (1992) and it is amusing to see her cast as an introverted virgin, the complete antithesis of the usual sexually alluring roles that she was cast in immediately after. Steve Railsback is good, better as the bad twin than as the good, he not quite subduing his Southern drawl enough to play the Yuppie part convincingly. The effects shots used to allow the two Railsbacks to argue and fight together are impressive. All in all, Scissors is an impressive little sleeper that deserves wider recognition.
Frank De Felitta's other genre works include:- the script for the dystopian science-fiction film Z.P.G. (Zero Population Growth) (1971); as director/writer of the tv movie Trapped (1973) about a man hunted through a department store by dogs; as director-writer of the time travel fantasy tv movie The Two Worlds of Jennie Logan (1979); and as director of the supernatural retribution film Dark Night of the Scarecrow (tv movie, 1981).
---
---