---
Crew
Director/Screenplay/Photography – Perry Blackshear, Producers – Macleod Andrews, Perry Blackshear & Evan Dumouchel, Music – Aaron Henry, Visual Effects – Shane Winter, Practical Effects – Macleod Andrews.
Cast
Evan Dumouchel (Tom), Margaret Drake (Nina), Macleod Andrews (Al)
---
Plot
The mute Tom goes on a retreat alone to a lakeside cabin that has been loaned to him by his church. He is warned about the high number of drownings that have occurred in the lake. While on the dock, Tom encounters Nina, a girl who appears in the water but never leaves it. Nina is a rusalka, a water spirit that drowns those that she can lure into the water. Tom develops an attraction to Nina. As she responds to him, she starts to question her drive to kill people. Meanwhile, Al burns with revenge over the fact that his husband died in the lake. He befriends Tom but then realises that Nina is the one who killed his husband and that he must now kill her.
---
I first encountered director Perry Blackshear with They Look Like People (2015), which I sat down to watch knowing nothing about and found an extraordinary micro-budgeted film about a man thinking he was being directed by voices to kill demons. Blackshear makes his second full-length film with The Siren. He returns with the same three principal actors from They Look Like People – Macleod Andrews, Evan Dumouchel and Margaret Drake, while Andrews and Dumochel also produce the film along with Blackshear.
The Siren is a minimalist film. There are only three characters present and maybe half-a-dozen other people on the periphery of the film (no more than a voice on a voicemail or those who only get one or two lines). The location is contained to a small cabin on the side of a lake plus some scenes on the water – the majority of the film takes place on a few meters of dock.
The characters are all strikingly different – Evan Dumochel's lead character Tom is mute and only communicates by hand signs and notes; Macleod Andrews who burns with revenge for the murder of his husband in the lake. The characters are introduced in wry, terse exchanges that play off their very unusualness.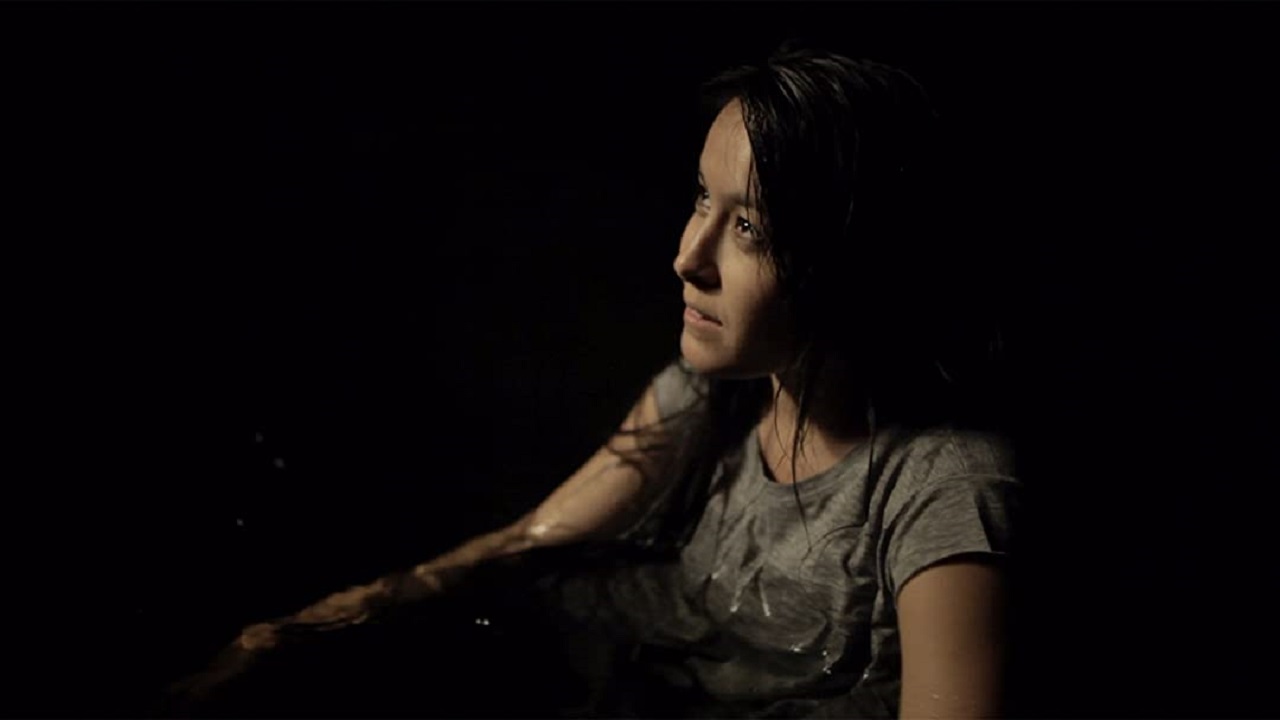 The most intriguing character is that of Margaret Drake's Nina who we are told on the opening credit is a rusalka. I assumed that this was some kind of mermaid or water sprite (research subsequent to viewing showed that it is a figure from Russian folklore). However, when we meet Margaret she is in the water fully dressed in street clothes – at one point, she is even seen looking in a mirror she keeps by the lakeside and putting on earrings. This seems decidedly unusual as you expect a mercreature to either be nude and artfully draped with long hair rather than wearing regular street clothes while swimming (which could well be a novelty means of getting around an actress unwilling to perform nude scenes). (See Films About Merpeople)
With the trio introduced, The Siren plays out in a series of unusual character interactions – a tenderness and wryness to the attraction that grows between Evan Dumochel and Margaret Drake, which is contrasted with the sharp twists that come at Macleod Andrews' sudden discovery of who Margaret really is and his determination to kill her. In its perfectly minimalist way, The Siren works with a great deal of fascinating ambiguity and a series of twists that weave in and out with quite reasonable effect.
---
Trailer here
---