---
Crew
Director – John-Paul Panelli, Screenplay – Schuyler Brumley & John-Paul Panelli, Story – Schuyler Brumley, Producers – Andrew Barcello, Schuyler Brumley, Derek Dennis Herbert & John-Paul Panelli, Photography – Matthew Plaxco, Visual Effects – Steve Dabal, Makeup Effects – Sota F/X, Inc. (Roy Knyrim & Cindy Miller-Knyrim), Production Design – Mauricio Abud. Production Company – Scratch Tap Productions, LLC/Masterfully Macabre Entertainment/Four J's Productions.
Cast
Karli Hall (Robin), Amanda Kathleen Ward (Cody), Chelsea D. Miller (Joanna), Sascha Gafoor (Aaron), Jake Ferree (Doug), Matthew Peschio (The Man), Alex Rinehart (The Woman), MacLeod Andrews (Voice of The Man), Louie Chapman (Louie), Schuyler Brumley (Max)
---
Plot
After writing a letter in a competition, Robin has won the use of a house for a weekend to use to make a film. She, her sister Cody, Doug, a friend since school, and two actors arrive to shoot. The film is based on Robin's own life and, as the course of the shoot reveals, how she stood by as her father abused Cody. At the same time, they experience ongoing harassment. A stone is thrown through the window. They then find that someone has cut the phones and the car is dead. As they set out to get help, they discover that people are filming them. The mystery figures then begin killing their numbers.
---
They're Inside was a debut film for Los Angeles-based director John-Paul Panelli. Throughout the 2010s, Panelli had made a variety of short films and music videos. The film was shot in eleven days around the parts of Eastern California (Idyllwild, Big Bear Lake).
They're Inside is shot as a Found Footage Film. It features a group of filmmakers shooting a film at a location before finding they are being stalked by other people who also have cameras. The annoying thing about the way John-Paul Panelli uses the Found Footage format here is that he cheats on the set-ups – we see point-of-view shots of someone holding a camera attacking other people but when we change to a different angle it is clear the attacker is not carrying a camera.
It readily becomes apparent that what we are watching is a Found Footage version of The Strangers (2008). Unfortunately, this is a version of The Strangers made with nowhere near any of the style that Bryan Bertino demonstrated. The film does catch your attention in its opening scene where a YouTube vlogger (Louie Chapman) is recording a show as masked figures appear at the window behind him and are gone a moment later before they abruptly pop up inside the house to stab him.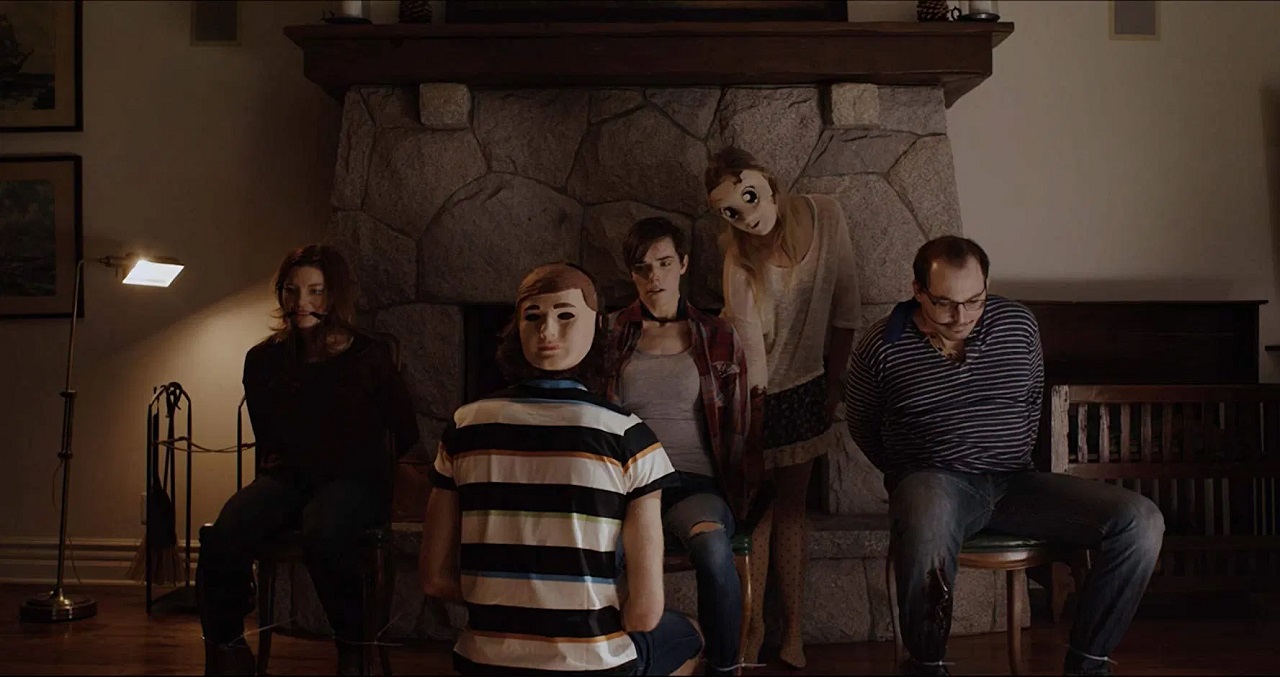 This opening scene gets a jolt. On the other hand, the film never approaches such a scene again. There's the film crew and a series of strange happenings – cut phone lines, dead cars, stones thrown through the window, lack of cellphone signal, a neighbour chopping wood at night – that indicate sinister happenings but no real tension. More interesting is the film within the film where director Karli Hall seems to be working out some incestual abuse situation with her sister that she was witness to, all while with the sister there as part of the film crew, where you get the impression she has strayed over into some unmoored territory, although it is not entirely clear what.
Things sort of go sideways at the end. The masked figures invade the house and imprison everyone. There are strange scenes where you get the impression that the abusive father is still alive, while the lead attacker at one point talks about editing things more to suggest Karli's husband might be in on it. There's an interesting scene where the male attacker reads out Karli's letter, talking about her pain and the abuse, before things get even weirder and the two sisters are made prisoners so that Karli can finish editing the film. Certainly, the expectations of where the film was trying to go get thrown well off course by this point.
---
Trailer here
---