---
UK. 2012.
Crew
Director – Jonathan Glendening, Screenplay – Philip Barron & Pat Higgins, Producers – Ciaran Mullaney, Gareth Mullaney, Billy Murray, Simon Phillips, Patricia Rybarczyk & Jonathan Sothcott, Photography – David Meadows, Music – Neil Chaney, Visual Effects Supervisor – Marcus Millichope, Visual Effects – Filmgate, Special Effects Supervisor – Barry O'Brien, Makeup Effects/Prosthetics Design – Kristyan Mallett, Production Design – Sophie Wyatt. Production Company – Black and Blue Films.
Cast
Adele Silva (Lucy/Justice), Martin Compston (Scott), Ali Bastian (Dani), Sarah Douglas (Jeanette), Billy Murray (Jack Ferris), Nick Nevern (Franklyn), Barbara Nedeljakova (Raven), Simon Phillips (Sinclair), Marc Bayliss (Carlos), Alan Ford (Harry), Robert Englund (Tapper), Joe Egan (Barker), Charlie Bond (Carrie), Rita Ramnani (Chastity), Martin Kemp (Mickey), Lucy Pinder (Carmilla), Steven Berkoff (Flett)
---
Plot
Lucy works as a stripper at the Vixens club in London under the stage name Justice. During a private dance, a customer turns into a werewolf in front of her and she inadvertently kills him when she stabs him in the eye with a silver pen. Her boss Jeanette orders the body disposed of. What they do not know is that the dead man is a member of a gang of werewolf criminals that prowl this part of the city. Learning of their friend's death, the gang determine to find those responsible. While Lucy fears telling her fiance Scott that she works as a stripper, what she does not know is that he is not the real estate agent he claims but a member of the werewolf gang. The two parties, strippers and werewolves, are set for a bloody showdown.
---
In the last few years, the idea of the wacky genre collusion has overtaken the horror film and monster movie. The 'versus' title that began with Freddy vs. Jason (2003) and AVP: Alien vs. Predator (2004) has become endemic – The Asylum's Mega Shark vs Giant Octopus (2009) spawned a host of other increasingly more absurd monster combat matches that have included the likes of Ninjas vs Zombies (2008), Aliens vs Ninja (2009), Dahmer vs Gacy (2010), Aliens vs Avatars (2011) and so on. Strippers vs. Werewolves is expectedly another entry in these. It feels as though it could easily be a companion piece to Zombie Strippers! (2008), which has spawned a number of other variants.
Strippers vs. Werewolves is a British entry. This gave cause for me to reflect on the tradition of the British B movie. England has never had the exploitation and drive-in tradition that the US did. There was the great wave of Anglo-horror produced between the late 1950s and late 1970s, spawned by the success of Hammer Films and imitators. But it is a stretch to think of these as B movies – at least in the same vein as say the work being produced during this era by American International Pictures and other studios. With the dying out of the Anglo-horror cycle in the late 1970s, the British horror genre has sporadically sputtered on. While a number of standout British genre entries have been produced, British horror never seems to have mounted any big comeback. Nor is there anybody that seems to be prolifically producing material for the video/dvd exploitation market as there is in the US.
At most when British filmmakers attempts to copy US horror-comedy trends have resulted in embarrassingly self-conscious entries like I Bought a Vampire Motorcycle (1990), Lesbian Vampire Killers (2009), The Vampires of Bloody Island (2009) and Strippers vs. Werewolves here. There are exceptions – Shaun of the Dead (2004) did a witty skewering of the George Romero zombie film and spawned a genre of zombie parodies, ironically all from the US rather than the UK – although the recent Cockneys vs Zombies (2012) was one likeable British variant. Indeed, both Cockneys vs Zombies and Strippers vs. Werewolves feel like they could take place in the same world of London's East End, filled with streetwise gangsters that could have stepped out of a Guy Ritchie film (both Cockneys vs Zombies and Strippers vs. Werewolves also feature Alan Ford). For that matter, this film's actor/producer Billy Murray was a former associate of the real-life London East End gangsters, the Kray Brothers.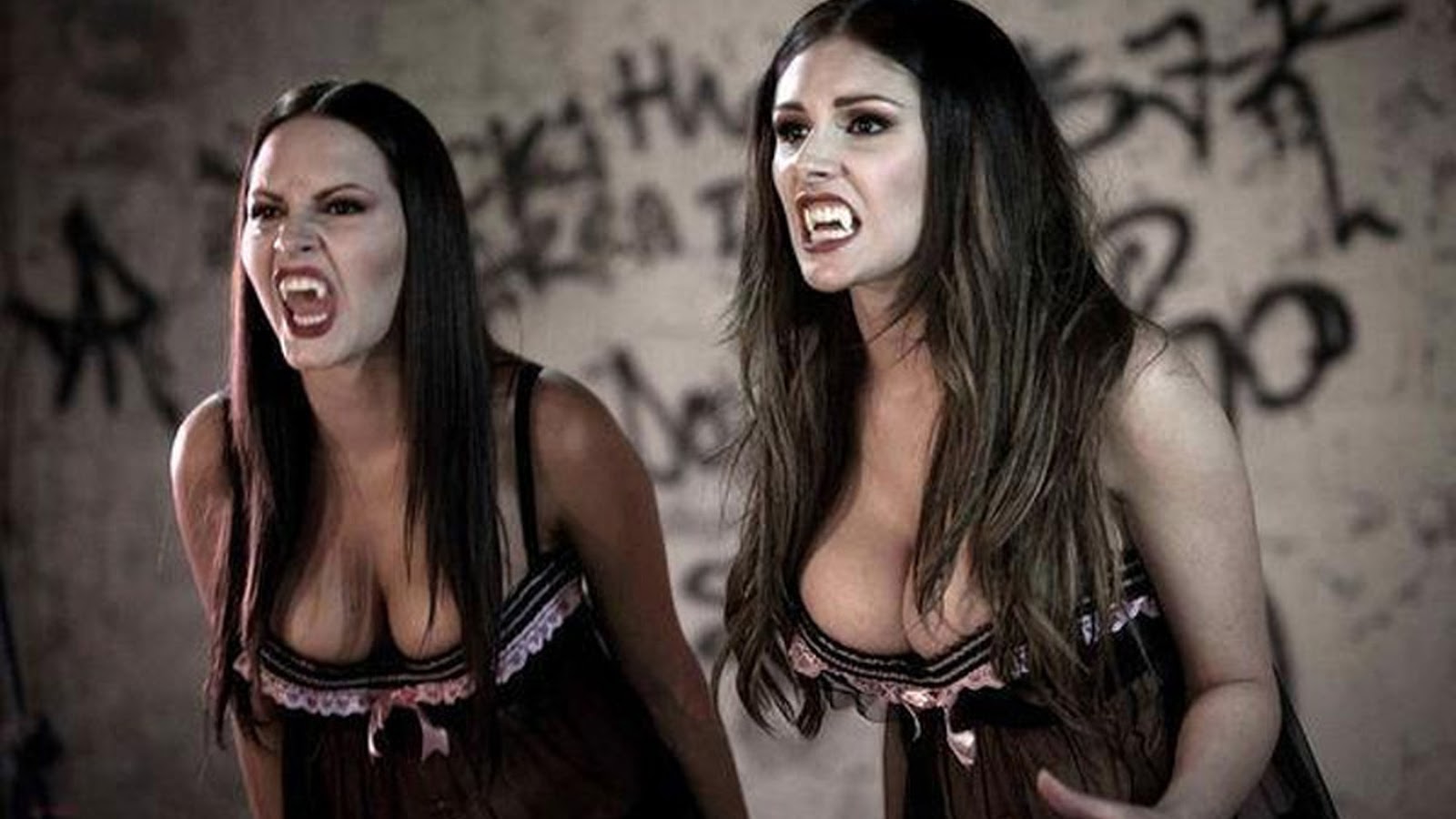 The film plays itself in a comedy vein but the humour frequently feels either forced or played down at a very stupid level. I kept getting bored at the film's obvious and efforts to make me laugh – and not succeeding. And when he fails to find a lightness of touch, director Jonathan Glendening keeps dragging a gag out and repeating it to make sure we get it – like where Nick Nevern is trying to get a corpse into the trunk of a car and the strippers come by and insist on talking to him, constantly being on the verge of exposing the body in everything they do. In particular, the scenes with Simon Phillips (another of the film's producers) as a nerdy monster hunter who takes calls from stripper ex-girlfriend Barbara Nedeljakova while trying to fend off vampire attack are unfunny in a major way.
The other complaint might be how cheap the werewolf effects look. They are only seldom shown and look like the respective actors have had clunky rubber appliances and pieces of carpet that resemble mutton chop whiskers attached to their faces.
Strippers vs. Werewolves tries to show its genre hipness by including a number of names with a history in genre material, including Sarah Douglas who has a career playing B movie parts (and has gotten awfully old since one last saw her in anything) and importing US actor Robert Englund for a couple of scenes as a jailed werewolf leader. There are other smaller cameos from Martin Kemp of 80s pop band Spandau Ballet, who later became an actor, as the werewolf that gets killed in the nightclub and playwright/actor Steven Berkoff as a crime kingpin, as well as actress Lysette Anthony in a blink-or-you-miss-her cameo during the flashback to a movie theatre and topless model Lucy Pinder as a vampire. Most of the cast is however made up of young actors from British tv series – Adele Silva, Ali Bastian, Martin Compston, as well as Barbara Nedeljakova who played one of the Slovakian girls in Hostel (2005).
Director Jonathan Glendening has made a number of other genre entries with the likes of an episode of the anthology Virtual Terror (1996), the full length S.N.U.B.! (2010) about mutants emerging in the aftermath of a nuclear detonation, and 13 Hrs (2010) about people at siege from a monster.
---
---