---
USA. 1999.
Crew
Director/Screenplay – Kevin Williamson, Producer – Cathy Konrad, Photography – Jerzy Zielinski, Music – John Frizzell, Visual Effects – Caliban Filmworks, Special Effects Supervisors – Frank Ceglia & Paul H. Haines Jr, Production Design – Naomi Shaohan. Production Company – Alliance Atlantis/Dimension Films/Konrad Pictures/Interscope Communications.
Cast
Katie Holmes (Leigh Ann Watson), Helen Mirren (Eve Tingle), Marisa Coughlan (Jo Lynn Jordan), Barry Watson (Luke Churner), Jeffrey Tambor (Coach Winchell), Michael McKean (Principal Potter), Molly Ringwald (Miss Banks), Liz Stauber (Trudy Tucker), Lesley Ann Warren (Faye Watson)
---
Plot
Leigh Ann Watson, an A student at Grandsboro High School, sees winning a writing school scholarship as her only way out of a small town and not living the nowhere life her mother has working as a waitress. However, her chances at the scholarship are endangered by the cruel history teacher Mrs Tingle who marks her project down. Luke Churner steals a copy of the History Finals for Leigh Ann but Mrs Tingle catches her with it in her backpack. Leigh Ann, Luke and her best friend Jo Lynn go to Mrs Tingle's house to plead with her not to go to the principal. They fight and Mrs Tingle is shot and wounded with a crossbow. They tie her up in her bed as they try to work out what to do. However, from her confinement, Mrs Tingle sees each of their weaknesses and uses these to turn them against each other.
---
Kevin Williamson is that all-too-rare example of a screenwriter becoming a celebrity – indeed, Williamson is one of the few examples where a film's promotion carries the writer's name above that of the stars. Williamson made a big splash with his script for the witty slasher film deconstruction Scream (1996) and maintained the same genre in-jokey style with his subsequent scripts for I Know What You Did Last Summer (1997) and The Faculty (1998). (See below for Kevin Williamson's other genre works). Teaching Mrs. Tingle (called Killing Mrs. Tingle until the Columbine high school massacre just before the film's opening provoked panic retitling) was Kevin Williamson's debut (and so far only outing) as director.
The story of how Kevin Williamson came up with Teaching Mrs. Tingle in writing school as a response to a teacher he felt stifled his creativity has already become part of a legend. As with The Faculty, Teacing Mrs. Tingle contains a subversive anti-authoritarian streak in pitting a cross-section of disaffected teens against authoritarian teachers – The Faculty after all had the gloriously subversive theme of setting teens in armed combat against the titular high-school teaching faculty wherein the class dealer's homebake became the weapon that saved Earth from alien invaders.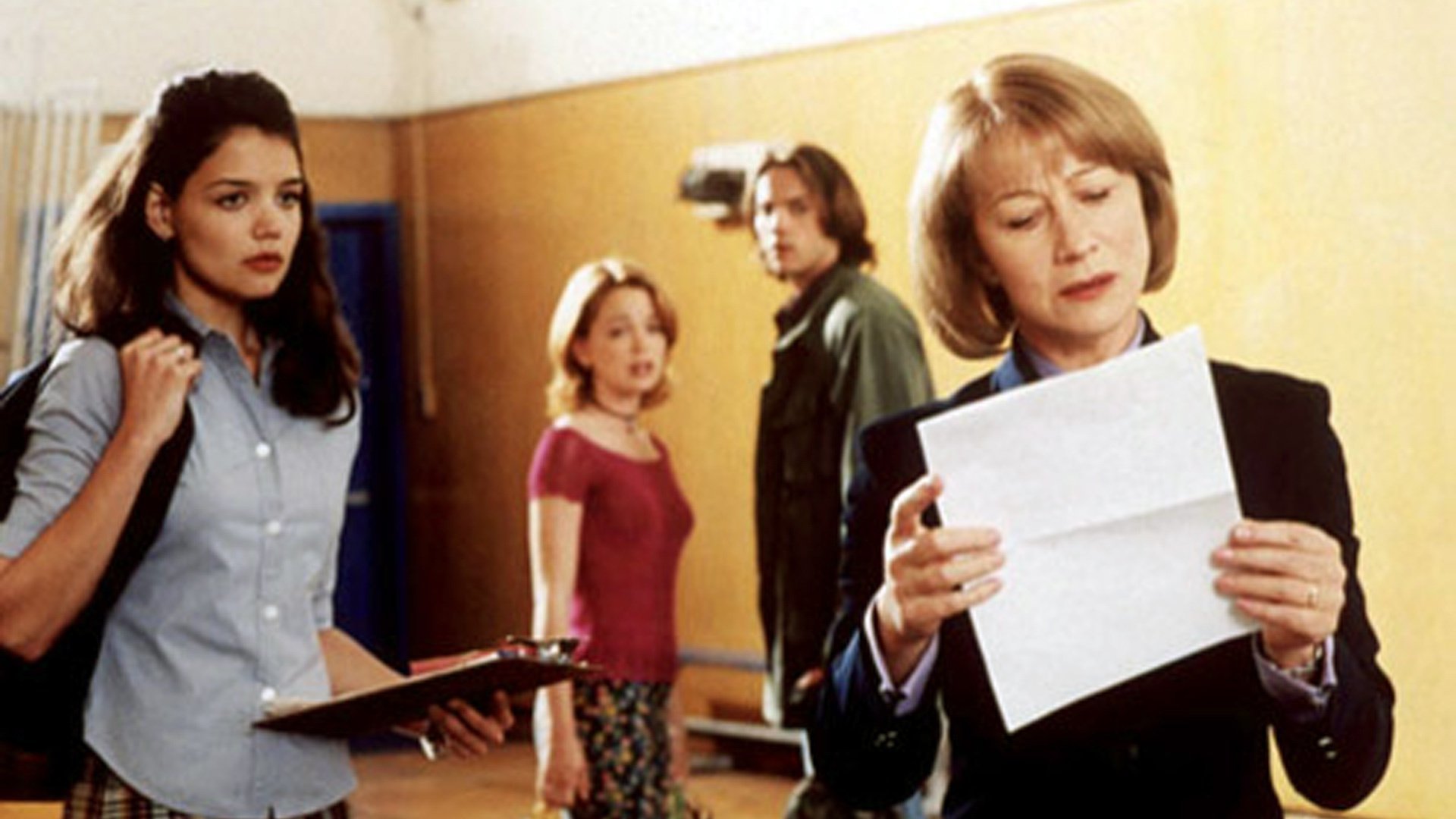 Although Teaching Mrs. Tingle shows that given his own creative control that maybe behind his subversive streak and wry postmodern playfulness, Kevin Williamson is just an old-fashioned Mom and Pop sentimentalist – Katie Holmes's A-student's desire for success is shown without much in the way of irony and elsewhere Williamson trades in American heartland images like Holmes being moved by the image of Jeffrey Tambor's wife reading her Bible or the American flag symbolically being taken down as Helen Mirren makes her escape.
Several times throughout Kevin Williamson has a running gag about the meaning of the word 'irony'. Such is apt for there seems no better word to describe Kevin Williamson's style of writing than 'ironic' – his is a body of films that almost entirely make their play out of ironic juxtapositions of expected screen cliches and reality. Here though Williamson has toned down the persistent genre in-referencing that has littered his scripts to date – although there is a running gag throughout that keeps comparing Helen Mirren tied and bound to her bed to Linda Blair in The Exorcist (1973). (Williamson later returned to an even more elaborate deconstruction of The Exorcist in his tv series Glory Days).
Disappointingly, Kevin Williamson proves to be far less effective as a director than he has as a screenwriter. All the other directors to have taken up Williamson's work – Wes Craven, Jim Gillespie, Robert Rodriguez – have demonstrated far greater elan than Williamson himself does here. Where Teaching Mrs. Tingle should have generated a sense of black comedy, Williamson allows it to degenerate into all but farce. One scene with the teens trying to get Jeffrey Tambor drunk in order to get incriminating photos is clumsily handled.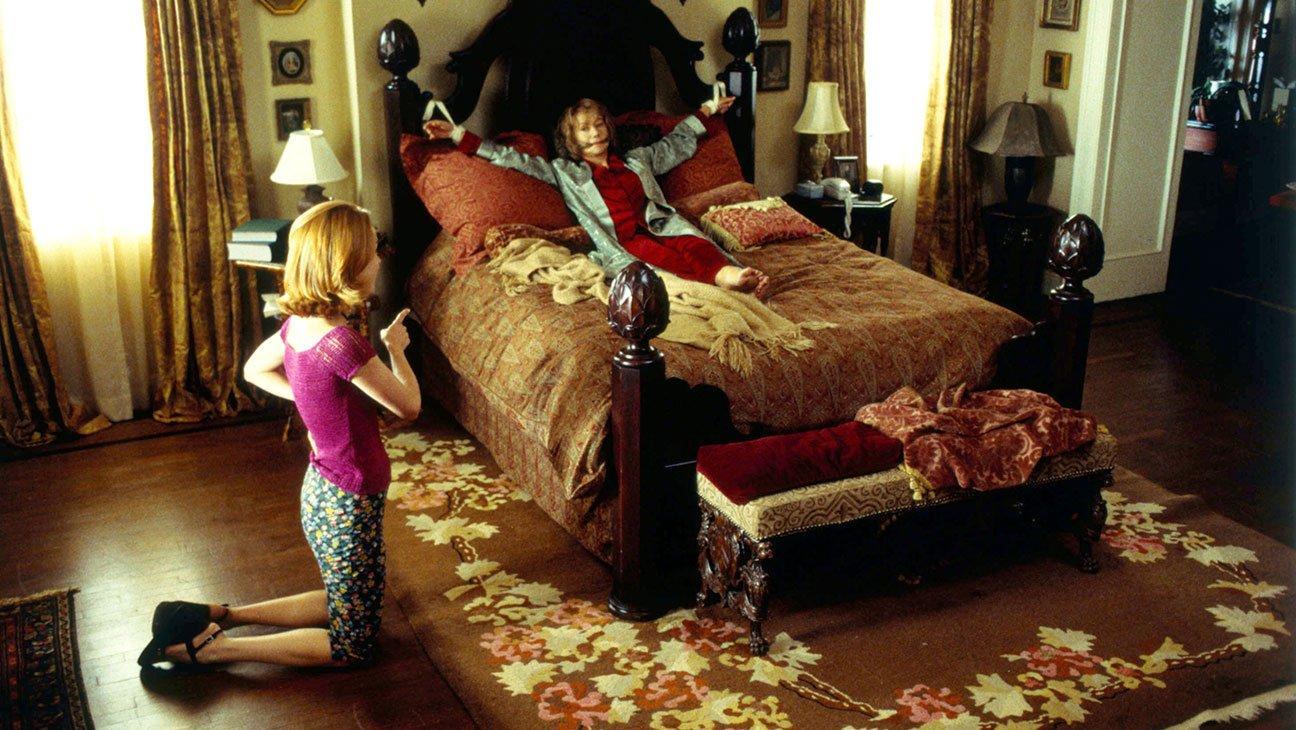 Where the film does work are the strengths that Kevin Williamson has demonstrated elsewhere – the writing. The film comes with sharp one-liners – "You should stop doing haircare products up your nose," Katie Holmes notes of Marisa Coughlan's strange behaviour. There are a couple of history lessons – an enacted take on the Kennedy era from the point-of-view of Marilyn Monroe and an interpretation of the Napoleonic Wars in terms of frustrated sexual desire – that are hilarious. However, what makes the suspense of the film work, as opposed to Kevin Williamson's direction, is the strength of the three teen characters. All are well etched and the film comes into its own when we see Mrs Tingle, from her confinement, cleverly playing each teen's weakness against the other.
Among the cast, Katie Holmes (who was in fact discovered on Williamson's Dawson's Creek) is insipid and bland. Helen Mirren brings a touch of class to the project. She is slumming it and does not exactly stretch herself in the role but wields well the acid-dripping sarcasm that only the British seem to manage with aplomb. However, it is the enormously talented Marisa Coughlan who manages to steal the show out from under everybody. Her single-handed enactment of The Exorcist is an hysterical set-piece that alone makes the film worth seeing.
Kevin Williamson's other films are:– the scripts for Scream (1996), I Know What You Did Last Summer (1997), Scream 2 (1997); the wittily alien body snatchers film The Faculty (1998), Cursed (2005), Scre4m/Scream 4 (2011) and Sick (2022). Williamson was also creator of the hit non-genre teen tv series Dawson's Creek (1998-2003); executive producer of Halloween H20: Twenty Years Later (1998); producer of the voodoo film Venom (2005); and writer/producer/creator of the tv series Glory Days (2002), Hidden Palms (2007); the tv series The Vampire Diaries (2009-17), The Secret Circle (2011-2), The Following (2013-5), Stalker (2014-5), Time After Time (2017) and Tell Me a Story (2018-20).
(Nominee for Best Supporting Actress (Marisa Coughlan) at this site's Best of 1999 Awards).
---
---