---
Crew
Director – Rahi Anil Barve, Creative Director – Anand Gandhi, Co-Director – Adesh Prasad, Screenplay – Rahi Anil Barve, Anand Gandhi, Adesh Prasad, Mitesh Shah, Inspired by the Works of Narayan Dharap, Producers – Aanand L. Rai, Amitra Shah, Muesh Shah & Sohum Shah, Photography – Pankaj Kumar, Music – Jesper Kyd, Visual Effects – Filmgate Films SB (Supervisor – Martin Malmqvist) & Prana Studios (Supervisor – Sanil Prabhakar Kamath), Animation – Mindbender (Supervisor – Calle Halldin), Prosthetic Design/Makeup Effects – Dirty Hands & Studio Hash, Production Design – Nitin Zahani Choudhary & Rakesh Yadav. Production Company – Sohum Shah Films/Colour Yellow Productions/Film I Vast.
Cast
Sohum Shah (Vinayak Rao), Mohammad Samad (Pandurang/Grandmother), Deepak Damle (Raghav), Jyoti Malshe (Vinayak's Mother), Dhundiraj Prabhakar Jogalekar (Young Vinayak), Anita Date (Vinayak's Wife), Rudhra Soni (Sadashiv Rao), Ronjini Chakraborty (Vinayak's Mistress), Cameron Anderson (Cooper)
---
Plot
1918 in the village of Tumbbad in West India. Vinayak and his brother Sadashiv live with their mother in a big old mansion where she is a servant to the Sarkar. Their mother also tends the Sarkar's grandmother who is kept chained up. Sadashiv is then killed when he ventures in to feed the grandmother. After the death of the Sarkar, they are forced to leave, the mother taking a single gold coin that she was promised and making Vinayak swear never to return. In 1947 however, Vinayak goes back to Tumbbad, finding the grandmother still alive and a tree grown through her body. He ventures into the bowels of the mansion to confront the demon Hastar. Hastar is ferociously hungry and by feeding it dough dolls, Vinayak is able to sufficiently distract it so that he can tear open its loincloth and get the gold coins it keeps there. With the coins he gathers then and on subsequent returns to Tumbbad, Vinayak is able to become a wealthy man.
---
Even though it is a larger-than-life genre, Bollywood cinema has never much embraced fantastical content – there are even fewer examples of Bollywood science-fiction than there are of horror films, for example. That said, there have been an increasing number of Bollywood horror films that have been made since the 1990s. Examples include Raat (1992), Raaz (2002), Bhoot (2003), 1920 (2008), Raman Raghav 2.0 (2016), Betaal (2020) and a number of others that I will be more than happy to write up as soon as I can find English-subtitled copies. (For an overview of the genre see Bollywood Fantastic Cinema).
Tumbbad is one of the few horror entries to emerge from Bollywood and win some international acclaim. As such, Tummbad is notable for dispensing for many of the seemingly mandatory requirements of the Bollywood film – no song and dance numbers (although several songs do play on the soundtrack at various points) and no romantic element.
I kept expecting to view Tumbbad in the same way I would a standard English-language horror film and that may have been a mistake. There is a set up where the subtitles speak of the legend of the demon that is cast down from the heavens. For a long time into the film, I was not sure how this related to anything that was going on. We then jump forward to 1918 and the titular village where the mother and her two boys tend the sarkar (a local administrator) and she is eager to earn the gold coin he promised her. The film teases us with scenes of the boys venturing in to see the hideous grandmother who is kept chained up and kills the one of the brothers before they are forced to leave folowing the death of the sarkar.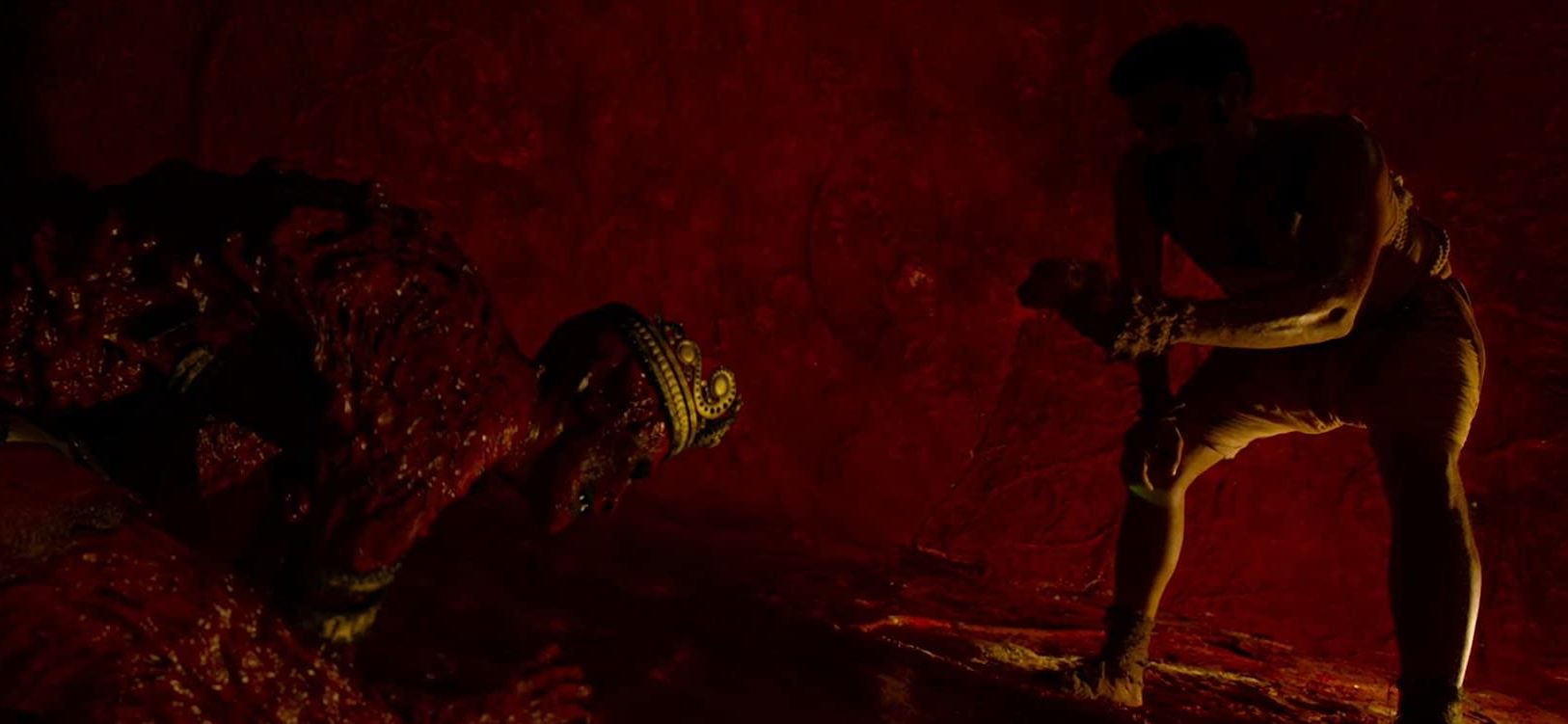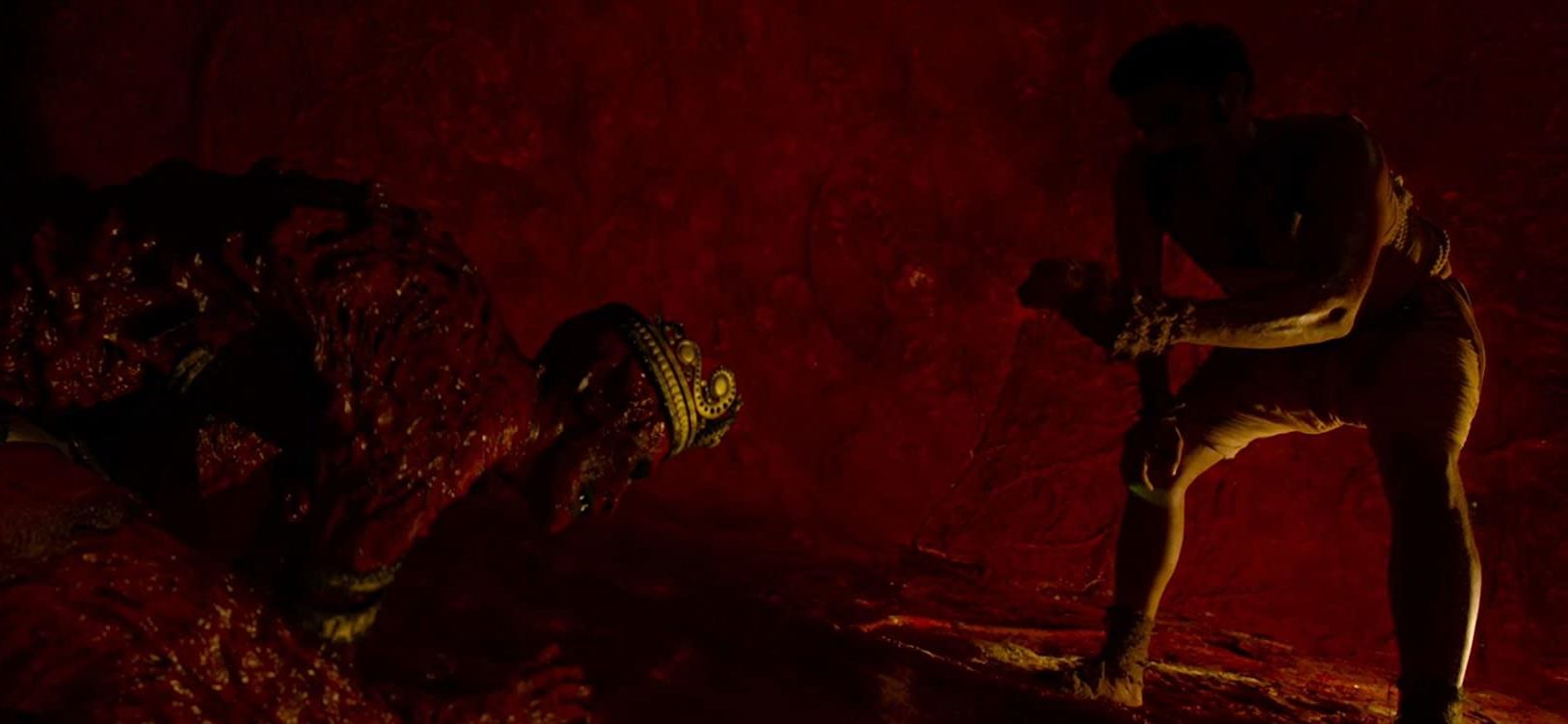 The film takes some time to return to this as we follow Vinayak as an adult. The film is richly photographed and has a great sense of place, in particular with its sets of the town and the decaying sarkar's palace. It is also a film that is surprisingly rooted in the historical eras that it straddles – from British colonialism to the time of The Partition. It is also takes place among assumptions that seem accepted in Indian culture but strange to Westerners – like the idea that a man can buy a widowed wife and move her into the home as his mistress. (One of the amusements watching the film is also captions that appear on screen at various points to inform us that the smoking depicted in the film is injurious to one's health).
It is a good way into the film before the grown-up Vinayak (Sohum Shah who is also one of the film's producers) returns to the sarkar's house. There is something uncanny as Sohum Shah enters the house and encounters the grandmother still chained up but with a tree growing through her. The most unearthly scenes come during his venture into the pit – a giant red cave that can only be descended down into by a rope from the ceiling – and his tempting a red demon figure and managing to get away with the gold coins it secrets inside its loincloth.
These scenes in the pit give Tumbbad a sense of something utterly unearthly. Particularly those where Sohum Shah's friend Deepak Damle follows him down into the pit and ends up eviscerated against the wall and Shah only managing to make an escape after setting the demon on fire. Or in Sohum Shah's venture down into the pit with his son Mohammad Samad – the film does not always explain what is going on and it is only in these scenes that we get an understanding of how Vinayak lures the demon with dolls made of dough – only for the son to have ignored instructions and brought a dough doll with him, resulting in a hair-raising scene where he is attacked.
---
---