---
Crew
Director – Mary Lambert, Screenplay – Michael Dougherty & Dan Harris, Producers – Aaron Merrell, Scott Messer & Louis Phillips, Photography – Ian Fox, Music – Jeff Rona, Music Supervisors – Harlan Goodman & Ken Kushnick, Visual Effects – Technicolor Creative Services, Hollywood (Supervisor – Tom Burton), Special Effects Supervisors – Ben & Rick Josephson, Makeup Effects – SOTA Effects, Inc. (Supervisors – Roy Knyrim, Heather Mages & Mark Villalobos), Production Design – Chris DeMuri. Production Company – NPP Productions.
Cast
Kate Mara (Samantha Owens), Robert Vito (David Owens), Tina Lifford (Grace Taylor), Ed Marinaro (Bill Owens), Michael Coe (Buck Jacoby), Lillith Fields (Mary Banner), Audra Lea Keener (Heather Thompson), Nancy Everhard (Pam Owens), Jeff Olson (Sheriff McKenna), Don Shanks (Coach Jacoby), Brandon Sacks (Roger Dory), Nate Herd (Tom Higgins), Olesya Rulin (Mindy), Hailey Smith (Martha), Ann Poll (Betsy), Daniel P. Culmer (Willy), Charlene Baptista (Young Grace)
---
Plot
Utah, 1969. At a homecoming dance, three guys attempt to take advantage of their dates by spiking their drinks with the date rape drug Rohypnol. One girl Mary Banner does not finish her drink and flees when she sees what is happening. Her date Willy tries to stop her and Mary is accidentally killed in the scuffle. In the present-day, the story of 'Bloody Mary' has passed into urban legend and is recounted at a pyjama party by Samantha Owens and two girl friends. It is reputed that Mary will appear if they say her name three times in a mirror. They do but in the morning, the three girls have vanished. A search is conducted by police and the girls are found three days later safe but with Rohypnol in their system. Samantha's brother David discovers that they were abducted by a group of football jocks because of a school newspaper article that Samantha wrote that was critical of jocks. Someone then starts killing the jocks in ways that are all associated with urban legends. As she and David try to find who the killer is, Samantha believes that the ghost of Mary Banner is calling to her, wanting her to find where her body is hidden and lay her to rest and the killings are related to the events that happened in 1969.
---
Urban Legend (1998) tried to create a slasher film centred around the theme of urban legends and proved to be a modest hit. It produced a sequel in Urban Legends: Final Cut (2000). Urban Legends: Bloody Mary was a third effort released directly to dvd/video that tries to build another film out of the increasingly ungainly premise. Beyond the slimness of the urban legend slasher premise, Urban Legends: Bloody Mary has no connection to the other films in the Urban Legend series – although it is possible to imagine that Tina Lifford's character of Grace was originally intended to be a role for Loretta Divine, the one continuing character in the other two films.
Urban Legends: Bloody Mary is directed by Mary Lambert. There was a brief time at the end of the 1980s when Mary Lambert seemed a promising genre talent, having started in music video and then premiered with the pretentious deathdream film Siesta (1987) and had a modest hit with the Stephen King adaptation Pet Sematary (1989). Unfortunately, Lambert failed to parlay that success to much of anything and spent the rest of the decade making tv movies and the occasional dreary cinematic outing. (See bottom of the page for Mary Lambert's other genre films).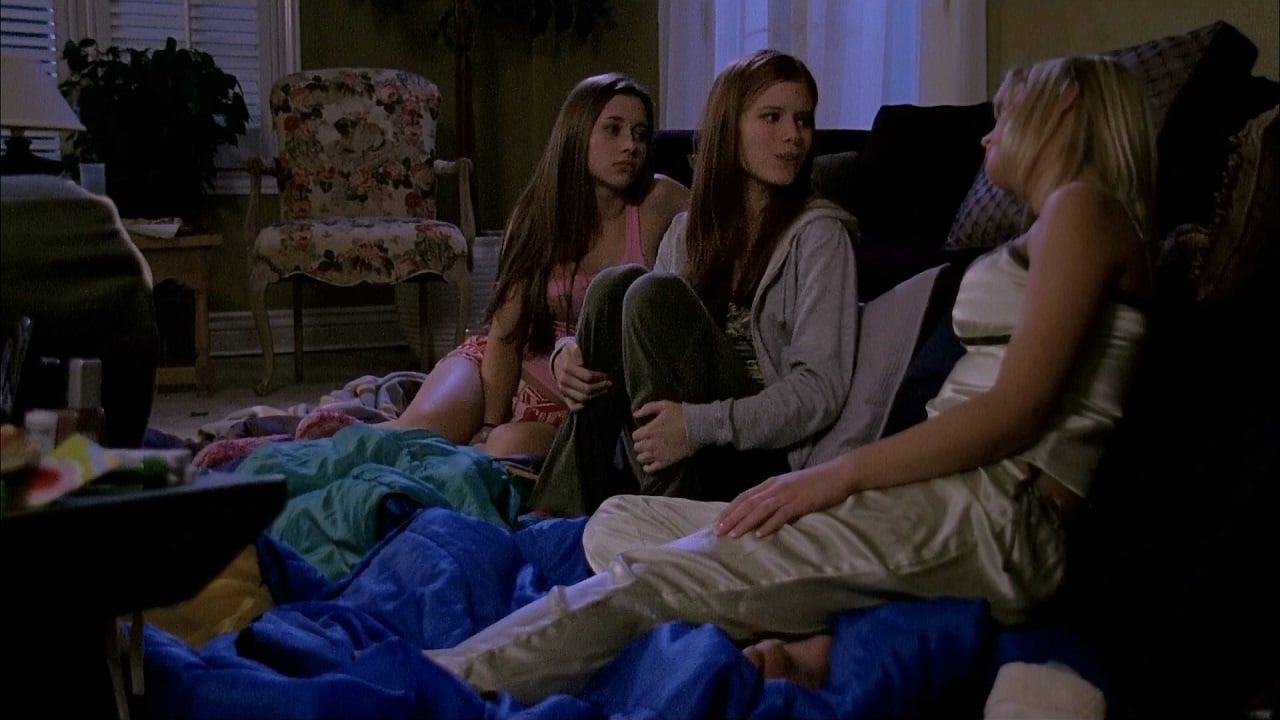 Urban Legends: Bloody Mary is an amazingly silly film. For one, it seems strained in trying to blend the urban legend-motifed slasher theme of the previous two films together with a ghost story, resulting in something that is an awkward mix of either. The plot is predictable – one can guess the identity of Willy well in advance. Mary Lambert's set-piece killings are absurd – like the scene where the killer turns up the heat on Brandon Sacks' tanning bed and it is later opened to reveal a charred corpse; or of Nate Herd urinating against an electric fence and being blown back with smoke coming out of his pants zipper.
The silliest of the set-pieces is the one where Audra Lea Keener gets out of bed in her bra and panties, pops a pimple and a spider crawls out and then other spiders keep crawling out to cover the entire room, before she bashes her head into a mirror and stumbles back with a giant shard of broken glass impaled in her forehead then proceeds to tear her face off as spiders crawl out of her brain en masse. The rest of Mary Lambert's thrills and scares are formulaic.
The film is so ill informed that the scriptwriters have never even bothered to find out that Rohypnol was not discovered until the 1970s and not commercially available in the US until well into the 1980s, even though the film has it in use in 1969. Surprisingly enough, writers Michael Dougherty and Dan Harris did do on to write several films for Bryan Singer with X2 (2003), Superman Returns (2006) and X-Men: Apocalypse (2016), while Dougherty has directed Trick'r'Treat (2008), Krampus (2015) and Godzilla, King of the Monsters (2019).
Mary Lambert's other genre films include:- the deathdream film Siesta (1987), the Stephen King adaptation Pet Sematary (1989) and its sequel Pet Sematary II (1992), the psycho-thriller Face of Evil (tv movie, 1996), the teen psycho-thriller The In Crowd (2000), Halloweentown II: Kalabar's Revenge (2001), the horror anthology Strange Frequency (tv movie, 2001), The Attic (2008) and Mega Python vs. Gatoroid (2011).
---
---