(Paroxysmus)
---
West Germany/Italy/UK. 1969.
Crew
Director – Jesus Franco, Screenplay – Milo G. Cuccia, Carlo Fadda, Jesus Franco, Bruno Leder & Malvin Wald, Producer – Harry Alan Towers, Photography – Angelo Lotti, Music – Mike Hugg & Manfred Mann, Special Effects – Howard Anderson Co. Production Company – Towers of London Productions/Cineproduzioni Associati/Terra Filmkunst.
Cast
James Darren (Jimmy), Maria Rohm (Wanda Reed), Barbara McNair (Rita), Klaus Kinski (Ahmed), Margaret Lee (Olga), Dennis Price (Kapp)
---
Plot
In Istanbul, the jazz trumpet player Jimmy finds the body of a girl on the beach. He realises that she is Wanda Reed, a beautiful woman that he saw being dragged into the sadistic sex games by three people at a party he was playing at several weeks ago. Some time later, Jimmy is playing in Rio and sees Wanda very much alive. Ignoring her warnings not to, he becomes sexually obsessed with her. However, she has returned from the dead to exact revenge on the three people that killed her.
---
Jesus Franco was a director that inspired people between either dismissal of his work or a fanatical cult devotion. Franco was possibly the most prolific director of all time. (It is almost impossible to obtain an accurate listing of Franco's films, which often hide behind a mind-boggling array of different international titles and alternative versions – the Internet Movie Database credits Franco with 1999 films as director). Franco's work ranged from mostly horror films to spy films, pornography, sf and adventure films. Franco was also prolific in the Women in Prison exploitation subgenre and is responsible for some of its most extreme and sadistic examples. As a director, Franco's work was crude, lacks little more than rudimentary style and never worked on anything beyond the most pedestrian level. The sole appeals of the Jesus Franco cult are the same ones behind the Herschell Gordon Lewis cult – a prurient fascination with sleaze exploitation at its most undiluted and extreme.
Venus in Furs has been called Jesus Franco's masterpiece. One must realise that this is Jesus Franco we are talking about and this is relatively speaking. In respect to other films, Venus in Furs is a competently made exploitation film. It could almost be a version of La Dolce Vita (1960) as directed by Mario Bava or Riccardo Freda. It is filled with numerous tame softcore sex scenes that bear Franco's unmistakable exploitation imprint.
However, the film has an atmosphere that while crude is hard to shake. The initial assault on Maria Rohm takes place at a party where everybody else stands frozen in position like mannequins while the provocative Rohm struts through the room. There is a weird scene with Dennis Price being taunted by Maria Rohm sitting in a series of provocatively teasing positions and apparently killing him with her reflection. Klaus Kinski gets his in a scene that turns into strange Arabian Nights fable. Dialogue is filled with dated howlers and there is a The Sixth Sense (1999)-styled twist ending that doesn't make much sense.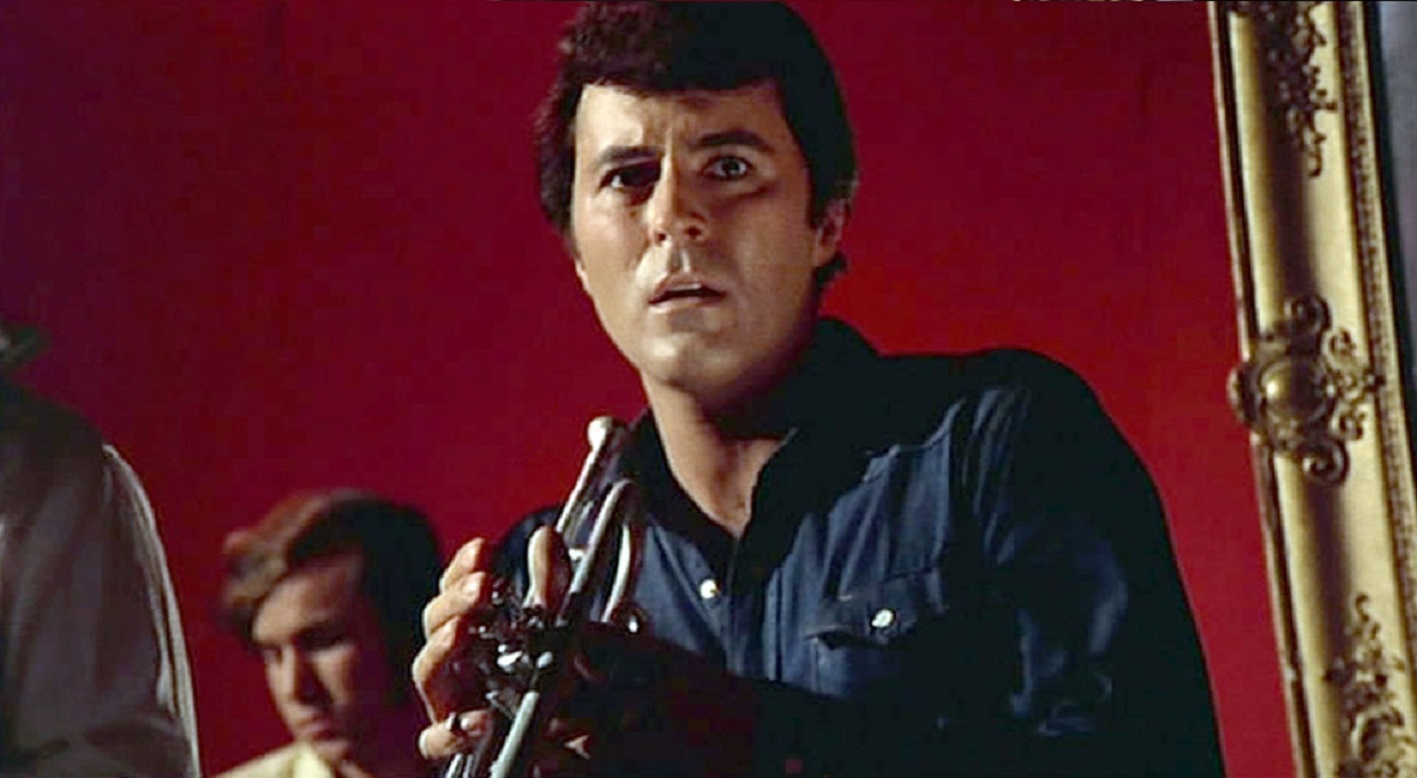 Maria Rohm has an aloofly sophisticated beauty – in some of his better images, Franco places her in a series of provocative poses and there is one undeniably erotic image of her simply caressing a statue. The beautifully wide-eyed Margaret Lee rivals Rohm for onscreen allure. There is a surprisingly good score co-written by no less than Manfred Mann. You can understand why this is such a culty psychotronic hit among Franco afficionados.
This is one of three films made all around the same time that bear the name Venus in Furs. Originally titled Paroxysmus, this was retitled Venus in Furs for US release, a title taken from an 1870 erotic novel by Leopold Von Sacher-Masoch. The late 1960s/early 70s saw a spate of Marquis de Sade adaptations – many of these made by Jesus Franco and Venus in Furs producer Harry Alan Towers. The thinking here was clearly to trend jump from the writer that gave his name to the term 'sadism' to adapt a work by the writer that gave his name to masochism – Sacher-Masoch. The irony of this exploitative retitling is that the Franco Venus in Furs has become the most well-known of the films under that name – and the one most associated with the title – even though the film has nothing to do with the book.
Jesus Franco's other genre films are:– The Awful Dr Orloff (1962), The Sadistic Baron Von Klaus (1962), The Secret of Dr Orloff (1964), Attack of the Robots (1966), The Diabolical Dr Z/Miss Death (1966), The Blood of Fu Manchu (1968), Necronomicon/Succubus (1968), The Castle of Fu Manchu (1969), Justine (1969), Kiss Me Monster (1969), 99 Women (1969), Sadisterotica/Red Lips (1969), The Girl from Rio (1969), The Bloody Judge/Night of the Blood Monster (1970), Count Dracula (1970), Eugenie/Philosophy in the Boudoir (1970), Nightmares Come at Night (1970), Vampyros Lesbos (1970), Dracula, Prisoner of Frankenstein (1971), She Killed in Ecstasy (1971), The Corpse Packs His Bags (1972), The Daughter of Dracula (1972), The Demons (1972), Doctor Mabuse (1972), The Erotic Adventures of Frankenstein (1972), The Silence of the Tomb (1972), The Bare-Breasted Countess/Erotikill/Female Vampire (1973), The Erotic Adventures of Maciste in Atlantis (1973), The Obscene Mirror/The Other Side of the Mirror (1973), The Sinister Eyes of Dr Orloff (1973), A Virgin Among the Living Dead/Christina, Princess of Eroticism (1973), Lorna the Exorcist (1974), The Perverse Countess (1974), Eugenie (1975), Doriana Grey (1976), Jack the Ripper (1976), Night of the Assassins (1976), Sexy Sisters (1976), Greta the Mad Butcher/Wanda the Wicked Warden/Ilsa: Absolute Power (1977), Call of the Blonde Goddess/Voodoo Passion (1977), Wicked Women (1977), Demoniac/Exorcism/The Ripper of Notre Dame (1979), Man Hunter/The Devil Hunter (1980), White Cannibal Queen (1980), Bloody Moon (1981), Oasis of the Zombies (1981), Revenge of the House of Usher (1982), Grave of the Living Dead (1983), The Treasure of the White Goddess (1983), The Sinister Dr Orloff (1984), Mansion of the Living Dead (1985), Faceless (1987), The Killer Barbies (1996), Lust for Frankenstein (1998), Marie-Cookie and the Killer Tarantula in 8 Legs to Love You (1998), Tender Flesh (1998), Vampire Blues (1999), Vampire Junction (2001), Incubus (2002), Killer Barbies vs Dracula (2002), Snakewoman (2005), Paula-Paula (2010), Al Pereira vs the Alligator Ladies (2012), Crypt of the Condemned (2012) and Revenge of the Alligator Ladies (2013).
---
Trailer here
---