---
USA. 2000.
Crew
Director – Robert Zemeckis, Screenplay – Clark Gregg, Story – Clark Gregg & Sarah Kernochan, Producers – Jack Rapke, Steve Starkey & Robert Zemeckis, Photography – Don Burgess, Music – Alan Silvestri, Visual Effects Supervisor – Robert Legato, Visual Effects – Sony Pictures Imageworks, Additional Visual Effects – The Computer Film Co, London, Special Effects Supervisor – T. Brooklyn Bellissimo, Makeup Effects – The Stan Winston Studio (Supervisor – Shane Mahan), Production Design – Rick Carter & Jim Teegarden. Production Company – DreamWorks SKG/ImageMovers.
Cast
Michelle Pfeiffer (Claire Spencer), Harrison Ford (Dr Norman Spencer), Diana Scarwid (Jody), James Remar (Warren Feur), Joe Morton (Dr Drayton), Miranda Otto (Mary Feur), Katharine Towne (Cailtin Spencer), Amber Valletta (Madison Elizabeth Frank)
---
Plot
After her daughter leaves home for college and with her husband Norman embroiled in his genetic research at work, Claire Spencer settles in alone at their home on the Vermont lakeshore. Claire then starts to see things that make her suspect that the man next door has killed his wife. At the same time, Claire comes to believe that the house is haunted and that this might be the spirit of Mary, the murdered wife, attempting to communicate with her. Norman however thinks her sanity is fraying. Claire then realizes that the dead person trying to communicate with her is the ghost of a woman who committed suicide in the house and that her death holds secrets that Norman is keeping from her.
---
Robert Zemeckis is one of the sf/fantasy genre's foremost directors. Zemeckis debuted with the capably made light comedies I Wanna Hold Your Hand (1978) and Used Cars (1980) and obtained good notice with the comedy-adventure film Romancing the Stone (1984). Zemeckis was then propelled to the forefront of the genre with the runaway hit of Back to the Future (1985) where he demonstrated himself to be a director with a dazzling dextrousness of touch. Robert Zemeckis's subsequent films have born him out as a director who can craft films that are compelling mainstream entertainment yet a director who has no greater artistic pretensions beyond that. Zemeckis is also as a technical perfectionist who is constantly trying to push the frontiers of technology with each new film. (See below for Zemeckis's other films).
What Lies Beneath is an old-fashioned ghost story – it is a film that could easily have been made sixty years ago. Its unfoldings are all signposted in obvious ways – speeches about the point on the bridge that the cellphone cuts out, little vignettes that pointedly note how the paralysing drug will work on any mammal for 15 minutes. In fact, you can fairly much work out when the film is setting something up for later on as this is usually the time the script stands still for a seemingly irrelevant piece of exposition. The same script – which is almost a ghost story version of Fatal Attraction (1987) – could have functioned as a routine made-for-tv melodrama had it not instead gone the A-budget, A-list stars, widescreen treatment under Robert Zemeckis.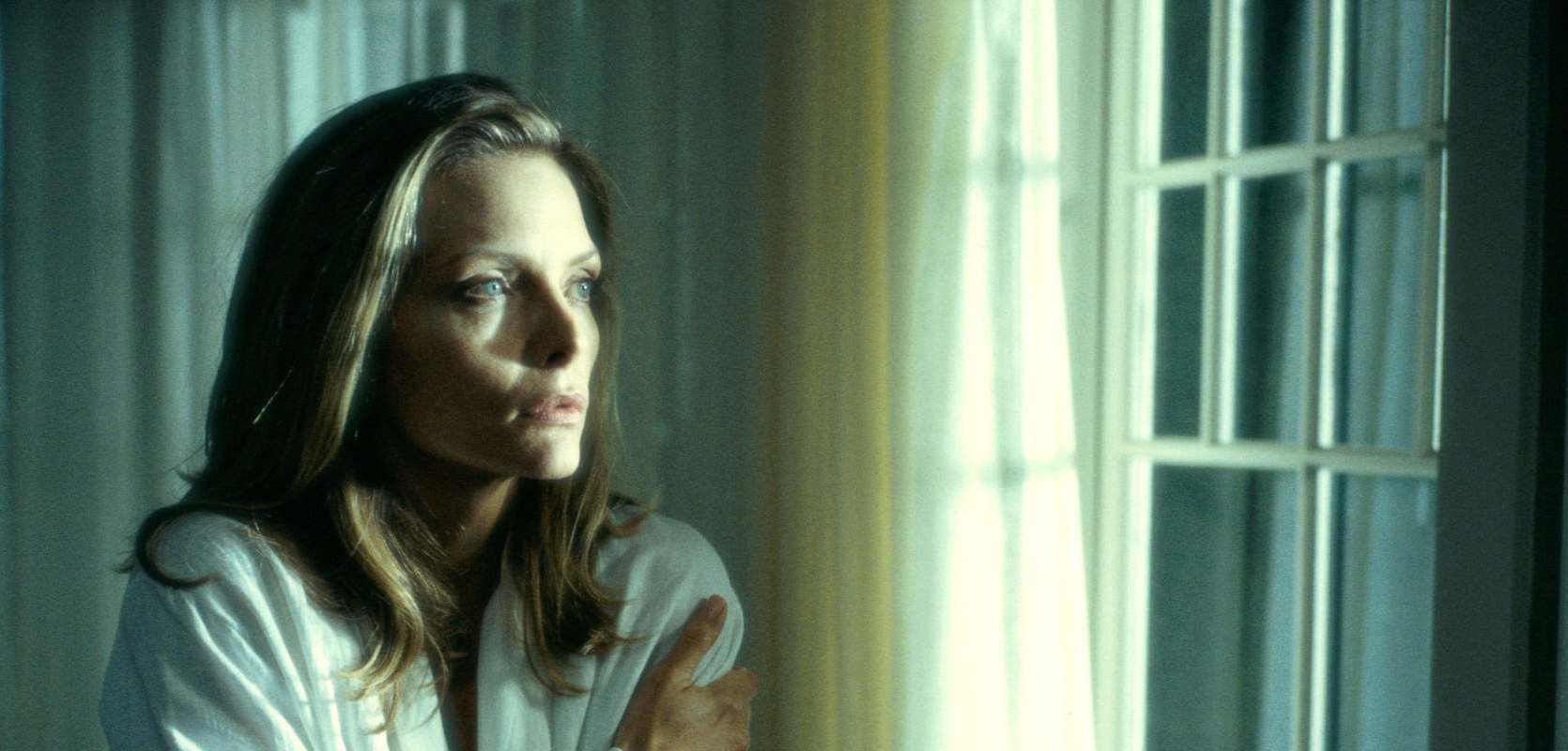 Like most made-for-tv ghost stories, it confines its ghost story within a banal upper-class setting – one where Michelle Pfeiffer's greatest problems in life are empty nest syndrome after her daughter goes to college and regret over giving up her career as a cellist for marriage. Pfeiffer plays at her most gaunt and neurotic throughout and is good in the part. Although, the one scene where she is possessed by the ghost and turns into a sultry sexual aggressor seems so out of place in this mannered, upper-class ghost story that it could have strayed in from another film altogether.
While routine on the story level, it is Robert Zemeckis's approach that makes the film work. Zemeckis displays a Hitchcockian mastery of edgy suspense. He uses all the jumps and tricks in the book – people and dogs entering unexpectedly or when one's attention is directed the other way, loud noises with cellphones ringing and music unexpectedly coming on, doors shutting of their own accord, eerie reflections in mirrors and bathwater and the like – but in a way that makes it feel like nobody has used such tactics before.
The film is relentlessly suspenseful and Zemeckis succeeds in keeping the audience entirely on edge without let up right until the end expecting that something could jump out of the frame at any moment. The last fifteen minutes of the film with a paralysed Michelle Pfeiffer lying in a bathtub that is slowly filling up over her head is one of the most intensely gruelling suspense sequences in recent memory.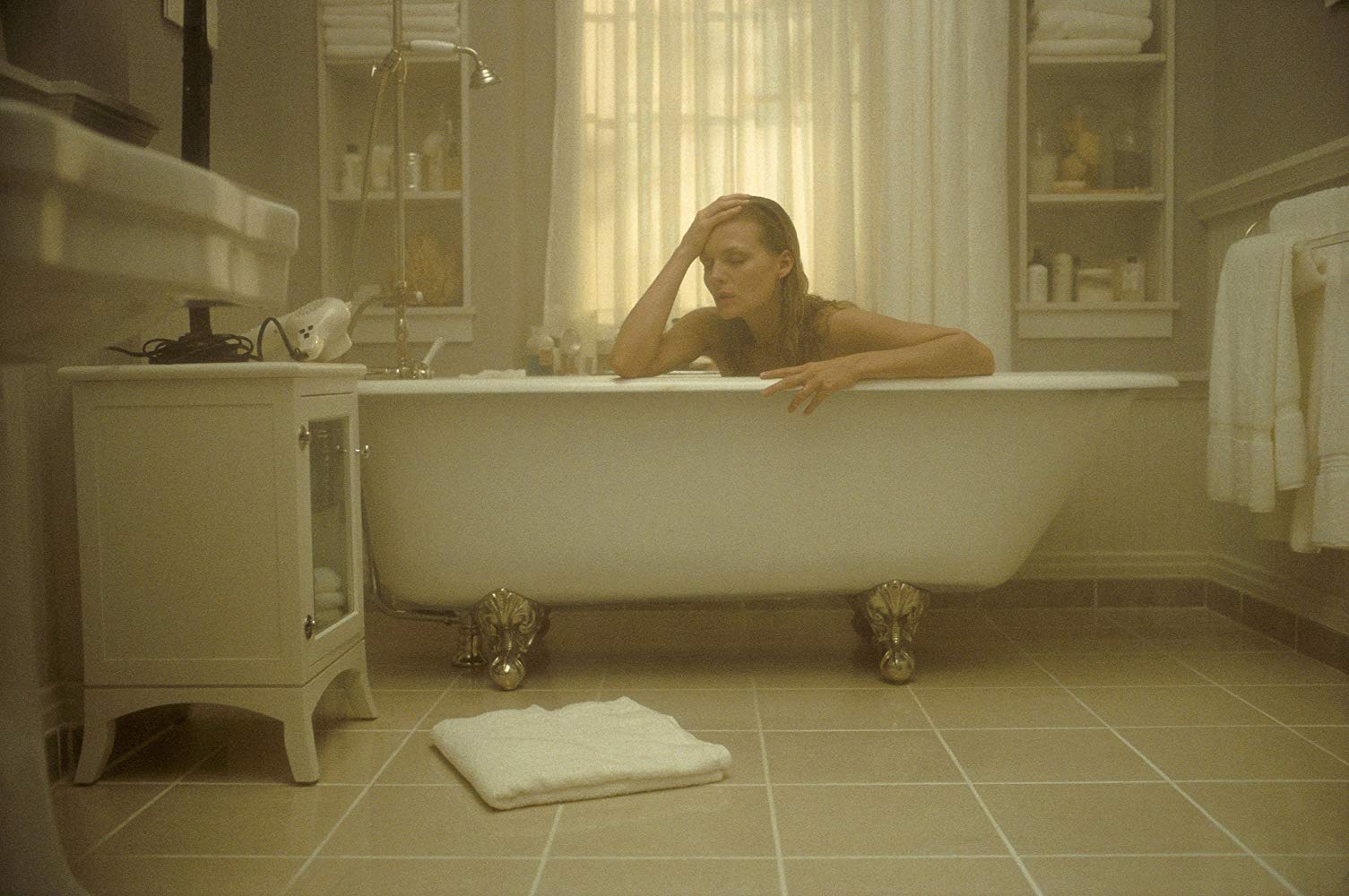 Robert Zemeckis is such a technically exacting director that he had two entire houses built from scratch on the lakeside of a Vermont national park. The care shows – What Lies Beneath loses a great deal in its moves from widescreen to video release. In a big screen multiplex theatre, it is two hours of seat-edge entertainment.
The plot of What Lies Beneath was also directly stolen as the basis of the Bollywood ghost story Raaz (2002). The film was spoofed in Scary Movie 2 (2001).
Robert Zemeckis's other films are:- Back to the Future (1985), Who Framed Roger Rabbit? (1988), Death Becomes Her (1992), Forrest Gump (1994), Contact (1997), Cast Away (2000), The Polar Express (2004), Beowulf (2007), A Christmas Carol (2009), Flight (2012), The Walk (2015), Allied (2016), Welcome to Marwen (2018), The Witches (2020) and Pinocchio (2022). Zemeckis has also produced a large number of other genre films including the Tales from the Crypt (1989-96) cable tv horror anthology series, the two film spinoffs Tales from the Crypt Presents Demon Knight (1995) and Tales from the Crypt Presents Bordello of Blood (1996), Peter Jackson's The Frighteners (1996), the motion-capture animated Monster House (2006) and Mars Needs Moms (2011), Real Steel (2011), the tv series' Manifest (2018-22) about a planeload of temporally displaced passengers and Project Blue Book (2019-20) about the US Air Force's true life UFO investigation department and the robot film Finch (2021). Zemeckis is also a producing partner in Dark Castle Entertainment, which have made a number of horror films including House on Haunted Hill (1999), Thir13een Ghosts (2001), Ghost Ship (2002), Gothika (2003), House of Wax (2005) and The Reaping (2007).
(Winner Best Director and Best Scare Scene at this site's Best of 2000 Awards. No. 6 on the SF, Horror & Fantasy Box-Office Top 10 of 2000 list).
---
Trailer here
---