---
Crew
Director/Screenplay – Mike Marvin, Producers – Buck Houghton & John Kemeny, Photography – Reed Smoot, Music – Michael Hoenig & J. Peter Robinson, Visual Effects – VCE Inc (Supervisor – Peter Kuran), Art Direction – Dean Tschetter. Production Company – Turbo Productions.
Cast
Charlie Sheen (Jake Kesey), Nick Cassavetes (Packard Walsh), Randy Quaid (Sheriff Loomis), Sherilyn Fenn (Kerry Johnson), David Sherrill (Skank), Jamie Bozran (Gutterboy), Matthew Barry (Billy Hakins), Clint Howard (Rughead), Griffin O'Neal (Augie Fisher)
---
Plot
A small Arizona town is terrorised by a gang of teens who strongarm drivers into car races in which they forfeit their vehicles if they lose. Newcomer Jake Kesey arrives in town and draws the wrath of gang leader Packard Walsh when he becomes interested in Kerry Johnson who Packard sees as his. At the same, a mysterious black turbo-charged Porsche appears, its hooded driver taking up the gang's challenges. However, the races always prove fatal for the other drivers, with the Porsche's ghostly ability to reconstitute itself showing it to be of supernatural origin.
---
The Wraith was a horror film, largely forgotten today, that earned a theatrical release during its day. The film is mostly remembered today for featuring performances the several children of better known actors – Charlie Sheen, just before he gained wider exposure in Platoon (1986), Nick Cassavetes and Griffin O'Neal, as well as Sherilyn Fenn just before she became a David Lynch starlet.
is an uncredited reworking of Clint Eastwood's High Plains Drifter (1973). The much superior High Plains Drifter was a Western in which Eastwood played a lone gunslinger who rode into town and put the townspeople through a bizarre series of humiliations, in the course of doing so revealing that he was a supernatural avenger exacting retribution for a murder they had conspired to commit. The Wraith substitutes Charlie Sheen for Eastwood's Man With No Name and a mirrored-black Porsche Turbo for a horse, but tells essentially the same story and with the same twist ending. Alas, The Wraith lacks any of the moral complexity of High Plains Drifter – the victims are all one-dimensional and deservous, not to mention badly overacted.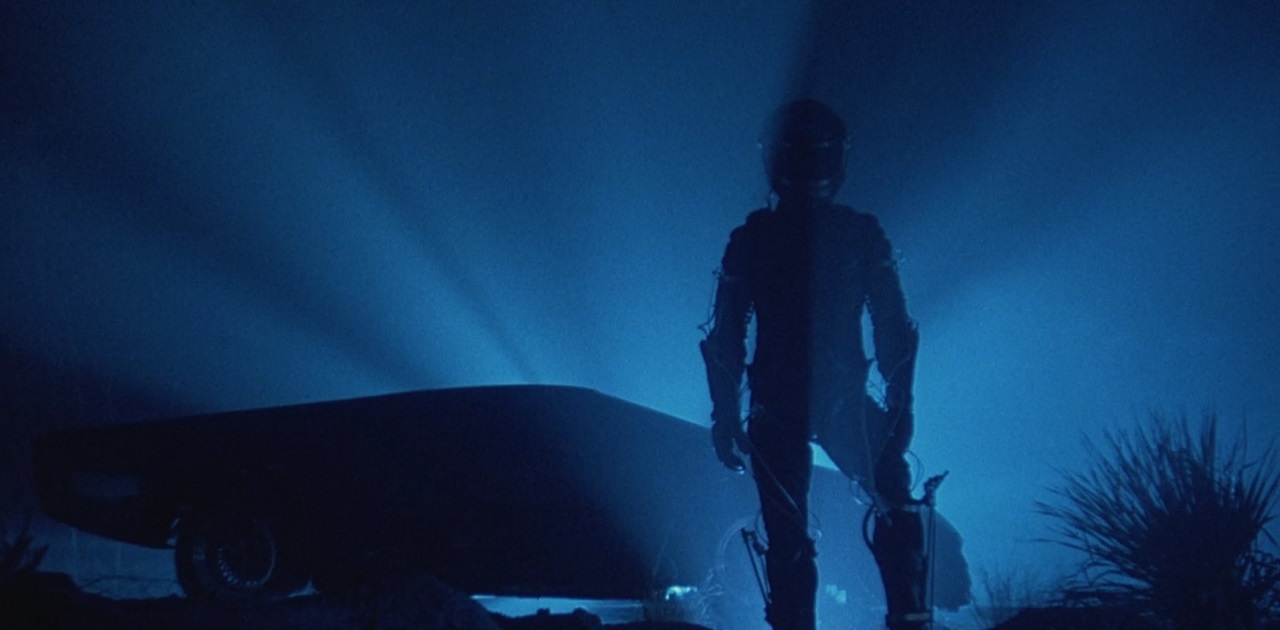 The Wraith seems more of a music video than a film, a shallow plot shot with quick pace and with a banal rock score pounding from the speakers at every opportunity. It is a film made by and for muscle-car boneheads. People in the film seem indistinguishably identified with their cars. When they are killed, it is the car we see blowing up in loving detail, not them dying; the supernatural avenger takes the form of a car; and the greatest offense in this particular world seems to be offering a ride to the girl the lead hood sees as his. Certainly, the idea of the supernaturally avenging sports car is something that has an amusement – one can easily imagine The Wraith being turned into a comic-book, something along the lines of Ghost Rider or The Crow.
Director Mike Marvin emerged as the screenwriter of teen makeout movies like Six Pack (1982), Hot Dog – The Movie (1984) and turned director with Hamburger – The Motion Picture (1986). Marvin subsequently directed the children's films Wishman (1991) and the martial arts fantasy The Dragon's Gate (1999), both of which have been little seen. Subsequent to that, he started directing erotica under the name of Jake Kesey (the same character played by Charlie Sheen here).
---
---