---
Crew
Director/Screenplay/Producer/Photography – Sam Hampson, Music – Hilgrove Kenrick. Production Company – Infinity Films.
Cast
Heath Hampson (John Northwood), Tansy Parkinson (Kyra), Ken Richardson (Raven), Tony Gardner (Max), Ian Muir (Billy)
---
Plot
The bounty hunter Max is employed by Raven, head of a medical research facility in Newcastle, to find Kyra, a girl who escaped from his clinic. Kyra was an orphan taken on by Raven after her parents were killed and then used by him as an experimental subject. The escape was facilitated by Raven's former associate Randall Scott who has left Kyra a message to find John Northwood. She finds the middle-aging Northwood but he is reluctant to go back into action. However, a tape sent by Scott demonstrating Kyra's psychic powers causes him to change his mind. He and Kyra become the subject of an armed manhunt during which she uses her powers against her pursuers. During the midst of this, she also uses her powers to create a horde of zombies.
---
Zombies Haven Fallen was a debut feature from Sam Fountayne, a filmmaker from Manchester in the UK. Fountayne takes the pseudonym Sam Hampson on screen. Fountayne/Hampson performs most of the duties behind the camera himself.
The UK has produced a modest number of entries in the zombie fad, going back to at least Hammer's The Plague of the Zombies (1966). It was the UK after all that started off the modern zombie film with 28 Days Later (2002) and then Shaun of the Dead (2004), which began the modern comedic take on the zombie film. We have seen other efforts such as Boy Eats Girl (2005), Outpost (2007) and sequels, Colin (2008), The Dead (2010), Harold's Going Stiff (2011), Cockneys and Zombies (2012), Gangsters, Guns and Zombies (2012), The Girl With All the Gifts (2016), Ibiza Undead (2016), Anna and the Apocalypse (2017) and Granny of the Dead (2017) over the last few years.
You get the impression that Sam Fountayne/Hampson has intended the title as a take on the Gerard Butler starring action films Olympus Has Fallen (2013) and London Has Fallen (2016). The disappointment of Zombies Have Fallen is that the title is misleading. The film is not really about zombies and is instead about a girl with psychic powers. (For that matter, the subtitle Vengeance Runs Deep, which suggests someone setting out to enact revenge, has no real relevance to the film either). Rather what we have feels like a variant on Firestarter (1984) with a teenage equivalent of Drew Barrymore on the run and hunted by assorted mercenaries (the FBI in Firestarter) because she has psychic powers.
It is highly confusing. You sit down to watch Zombies Have Fallen expecting one type of film and get an entirely different one altogether with no explanation – there is a voiceover narration from Heath Hampson but none that does anything to connect what we see up to the zombies of the title. We do get a zombie outbreak after about 45 minutes (of the 75-minute running time) where a fleeing Tansy Parkinson takes shelter in a church during the midst of a wedding and for no evident reason uses her powers to turn the attendees into zombies. The bizarre thing about this is that we get about ten minutes of not very well directed zombie scenes and then they are suddenly forgotten about and it is back to the main plot with Tansy being hunted by mercenaries.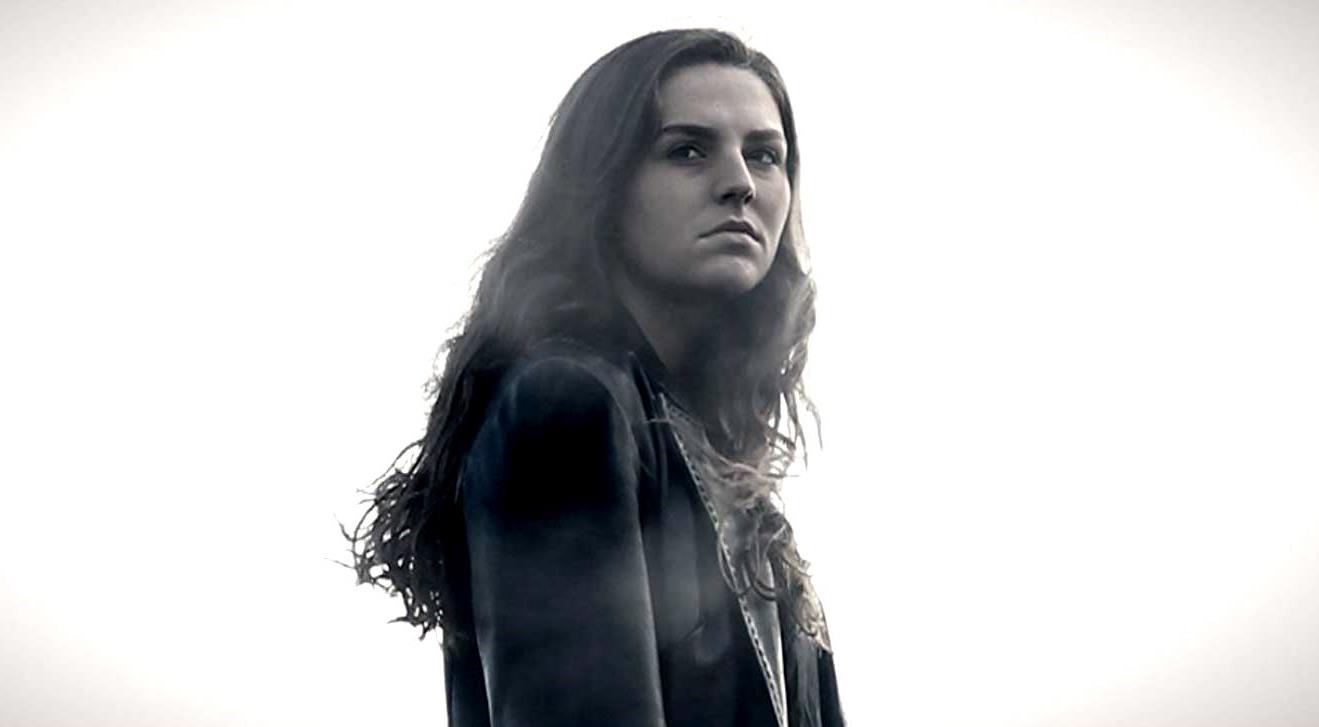 The zombie scenes prove a head-scratcher. They feel like they have strayed in from another film altogether. Either it is Sam Hampson padding the running time with extra footage from another film he shot or else the fact that the original film he started shooting about psychic powers wasn't interesting enough to sell and so he decided to add scenes and repackage it as a zombie film.
Furthermore, while the earlier action scenes are played with a relative realism, the zombie scenes are played for a more comic-bookish tone – the minister at the wedding whips out a gun and starts blazing (as if a handgun is the natural thing to carry on one's person while acting as a marriage celebrant – maybe weddings in the north of England are more violent affairs than I had been led to believe). As the zombies spill out into the streets, the Indian store-owner is also revealed to have a shotgun under his counter. Even the bagpipe player at the wedding is revealed to have a flamethrower built into his bagpipes.
Zombies Have Fallen is not a very well made film. The staging of the action scenes is amateurish, especially when it comes to the demonstration of Tansy Parkinson's powers where Sam Hampson reveals a not very good ability to shoot special effects.
---
---