---
USA. 2011.
Crew
Director/Screenplay – George Nolfi, Based on the Short Story Adjustment Bureau by Philip K. Dick, Producers – Bill Carraro, Michael Hackett, Chris Moore & George Nolfi, Photography – John Toll, Music – Thomas Newman, Visual Effects Supervisor – Mark Russell, Visual Effects – Big Film Design (Supervisor – Randall Balsmeyer), Brainstorm Digital, Phosphene (Supervisor – John Bair) & Rhino-Gravity (Supervisor – Jim Rider), Special Effects Supervisor – Steve Kirshoff, Production Design – Kevin Thompson. Production Company – Universal/Media Rights Capital/Gambit Pictures/Electric Shepherd Productions.
Cast
Matt Damon (David Norris), Emily Blunt (Elise Sellas), John Slattery (Richardson), Anthony Mackie (Harry), Terence Stamp (Thompson), Michael Kelly (Charlie Traynor)
---
Plot
David Norris, a rising young politician in New York City, loses badly in a bid for the Senate. Going into the bathroom to compose his concession speech, he encounters Elise Sellas hiding in a stall from security after crashing a wedding. The two strike it off and then unexpectedly kiss before David is called to go on stage. Due to her inspiration, he gives a rousing off-the-cuff speech. Some time later, he bumps into Elise on a bus and she gives him her number. A group of mysterious men in hats have been following David. One of them was late for an incident in which he was due to knock coffee onto David's shirt, which would have made him miss getting on the bus and meeting Elise. The men capture David and explain that they are in charge of doing the tiny things that adjust reality in coordination with their Plan, which dictates that he and Elise are not meant to meet. They burn Elise's number and tell David if he ever sees her again, they will be forced to fry his brain. Despite this, David rides the same bus again for the next three years in the hope of encountering her. One day he see her and jumps off, pressing her to meet him again. The adjustment team do everything in their power to stop the meeting happening but David outwits them. They then bring in the enforcer Thompson who explains to David that if he follows their Plan, he will become President and Elise one of the world's top dancers, but if they follow the path of their romantic impulses then this never happens and they live a life of mediocrity together.
---
Philip K. Dick is one science-fiction author who has proven surprisingly popular on film. Other classic authors even better known than Dick such as Isaac Asimov, Robert Heinlein and Arthur C. Clarke have notched up film adaptations that can maybe be counted on the fingers of one hand. Philip K. Dick however has given birth to a plethora of adaptations, including Blade Runner (1982), Total Recall (1990), Screamers (1995), Impostor (2002), Minority Report (2002), Paycheck (2003), A Scanner Darkly (2006), Next (2007), Total Recall (2012), Radio Free Albemuth (2014), the tv series adaptation of The Man in the High Castle (2015-9) and the tv anthology series Philip K. Dick's Electric Dreams (2017-8), as well as a documentary The Gospel According to Philip K. Dick (2000) about Dick's bizarre life. One suspects the reason for this might be that the nature of Dick's work and the way it circles around questions of reality being an artificial construct or characters discovering that everything they believe is a manipulated illusion lends itself to a certain type of psychological science-fiction film as opposed to other authors whose works requires more costly constructions of hardware and futuristic or outer space venues.
The Adjustment Bureau was the directorial debut of George Nolfi, previously a screenwriter with scripts like Timeline (2003) and The Sentinel (2006) under his belt, as well as previous Matt Damon works such as Ocean's Twelve (2004) and The Bourne Ultimatum (2007). Subsequent to this, Nolfi went on to create/produce the tv series Allegiance (2015), direct the Bruce Lee biopic Birth of the Dragon (2016) and the true-life The Banker (2020), and script the interesting supernatural/sf film Spectral (2016). The film is co-produced by Electric Shepard Productions, the company formed by Philip K. Dick's two daughters Isa Dick Hackett and Laura Leslie to steer film adaptations of Dick's works.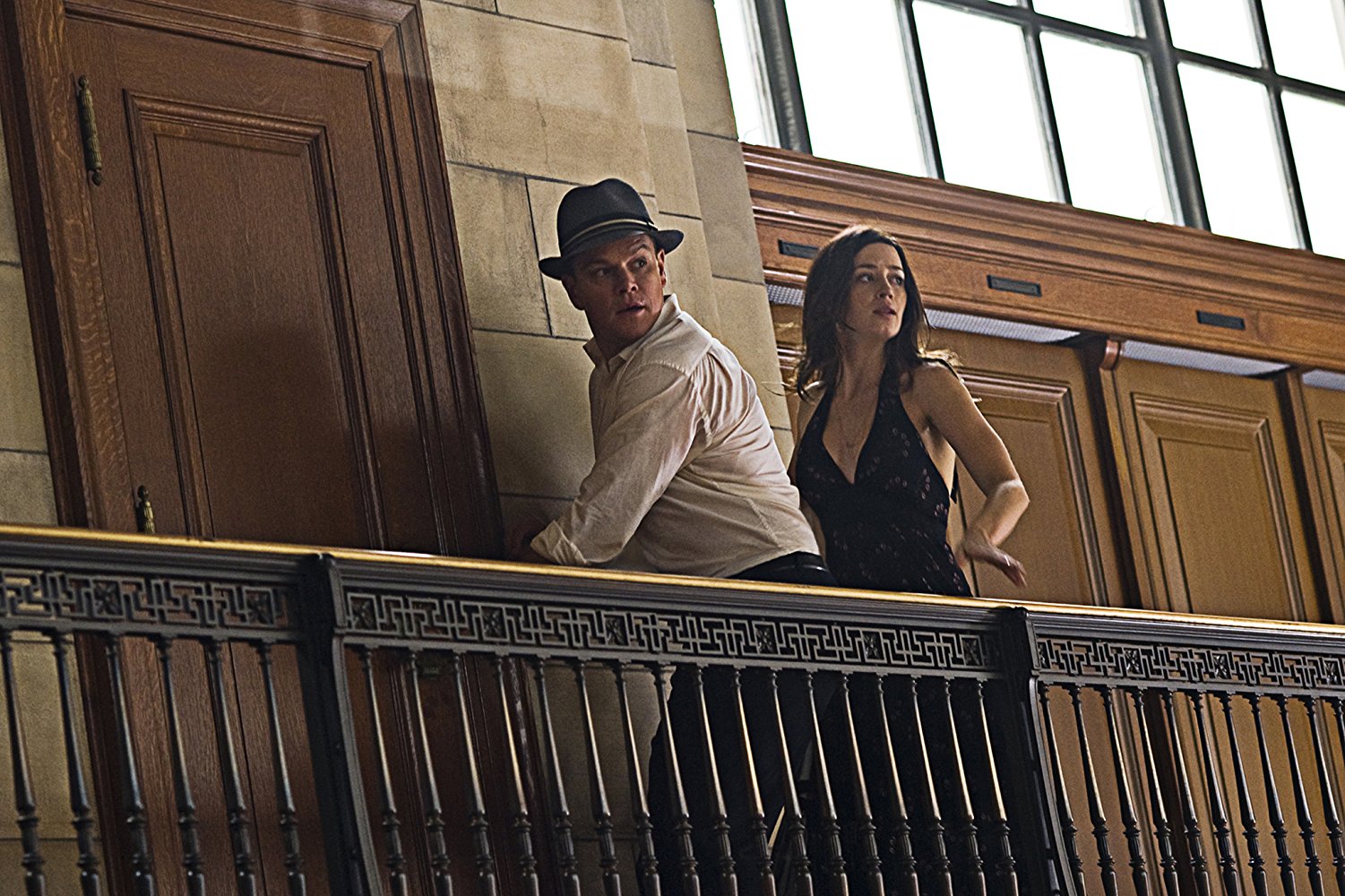 The film up on the screen as The Adjustment Bureau is a wildly different one to the original Philip K. Dick short story Adjustment Team (1954). In the short story, the hero is not a politician but an ordinary insurance salesman. More importantly, the original has no love story or any equivalent of the Elise character. The story involves a hiccup caused in the development of the mysterious plans by a dog unexpectedly barking, resulting in the hero seeing behind the fabric of reality. He tells his wife what happened and is then dragged outside of time and things explained (in scenes similar to those here where the adjustment team warn him never to say anything) before he is returned and convinces his wife that he had a psychotic lapse. There is no thriller aspect about him struggling against the dictates of fate, nor any explanation that he has a great purpose laid out for him, just that the dog barking on time will somehow cause peace between the East and West (it is never specified how). There is also nothing to do with doorways or hats in the short story.
A number of the Philip K. Dick adaptations listed above almost completely abandon their source material or else expand it out into something radically different – notable examples being Total Recall, Paycheck and Next, which all turned the slim Dick original into heavy-handed action films. The Adjustment Bureau is rapidly propelled to become one of the best of the Philip K. Dick screen adaptations despite it changing the original text enormously. It becomes that rarity of a science-fiction film (arguably it reads more as a fantasy than a science-fiction film) that works purely on a conceptual level.
In the way it was promoted with the chase aspect emphasised, one had the fear beforehand that The Adjustment Bureau would be another Philip K. Dick action film but such does not prove to be the case. In fact, as science-fiction films go, The Adjustment Bureau is surprisingly low-key when it comes to the accoutrements of the genre – the special effects consist of no more than a series of doors that lead into other rooms or parts of the city – shades of the great tv mini-series The Lost Room (2006) – and the gadgetry something as low-key as hats, at most a series of daybooks that have a nifty habit of digitally displaying the mysterious Plan.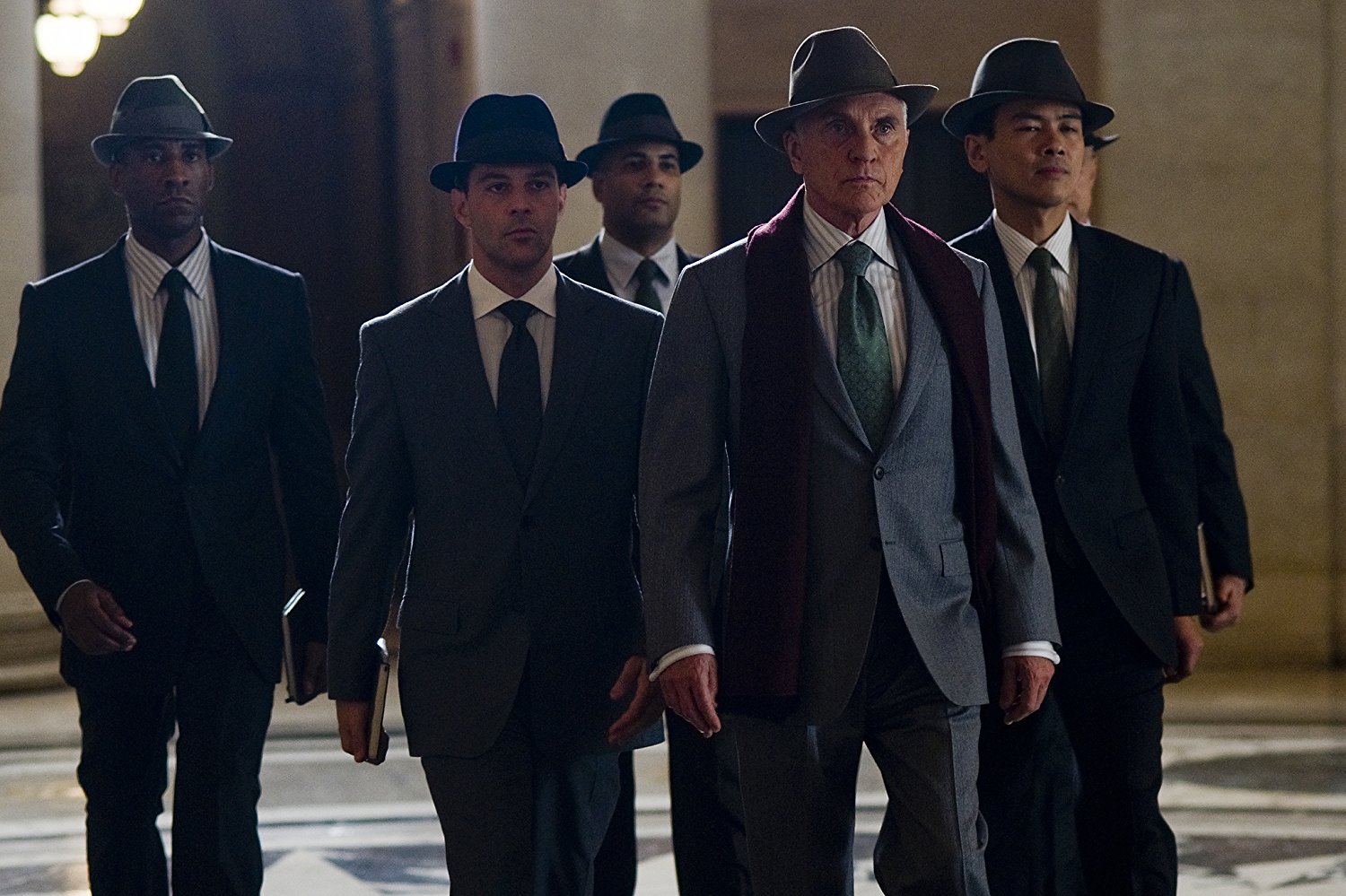 It has been some time since one has sat through a science-fiction film that has been so rewarding on an intellectual level. George Nolfi's direction is amazingly modest and unobtrusive, as opposed to flashy, ostentatious and determined to draw attention to itself. Coming from a screenwriting background, Nolfi simply allows the story to carry the film and his well-chosen actors to give it life. That said, there is an enormous amount of fun to the chase scenes in the middle of the film – Matt Damon's attempts to get to the dance studio as the Adjustment Team do everything in their power to block phonecalls, cause taxis to ignore him and even crash, yet how he manages to avoid them in spite of this; or the climactic scenes with he ducking through the doorways in an attempt to avoid the team and steal Emily Blunt away from the wedding reception.
Equally pleasurable are the ways that George Nolfi articulates the central idea (far more than Philip K. Dick did) – in seeing the playing out of the subtle manipulations the Adjustment Bureau make and especially the way that Terence Stamp illustrates to Matt Damon the fate ahead of him as The President so long as he does not allow his feelings for Emily Blunt to fill the emotional void inside, and how if she does end up with him she goes from being a world-class choreographer to teaching dance to six-year-olds. The results – especially in making a film that works both as intelligent love story and strong science-fiction – are excellent.
Matt Damon increasingly shows himself as one of the most modest and understatedly effective actors of the moment. The film's great joy is the delightful and lovely Emily Blunt. Blunt has been blossoming as a name over the last few years and suddenly emerges into full strength here with a spry and capricious performance that steals a huge part of the show out from everybody else. There is also fine support from Anthony Mackie, John Slattery and an especially steely Terence Stamp as the big gun brought in to stop Matt Damon.
(Winner in this site's Top 10 Films of 2011 list. Winner for Best Adapted Screenplay, Nominee for Best Actress (Emily Blunt) at this site's Best of 2011 Awards).
---
---