---
Crew
Director – John Krasinski, Screenplay – Scott Beck, John Krasinski & Bryan Woods, Story – Scott Beck & Bryan Woods, Producers – Michael Bay, Andrew Form & Brad Fuller, Photography – Charlotte Bruus Christensen, Music – Marco Beltrami, Visual Effects Supervisor – Scott Farrar, Visual Effects – Industrial Light and Magic, Special Effects Supervisor – Mark Hawker, Production Design – Jeffrey Beecroft. Production Company – Platinum Dunes.
Cast
Emily Blunt (Evelyn Abbott), John Krasinski (Lee Abbott), Millicent Simmonds (Regan Abbott), Noah Jupe (Marcus Abbott), Cade Woodward (Beau Abbott)
---
Plot
Society has been devastated in the aftermath of invasion by alien creatures. The creatures are hyper-alert to the smallest sound and attack anything that makes a noise. Husband and wife Lee and Evelyn Abbott live on a farm with their two children where they have adapted their living circumstances to make as little noise as possible. Their daughter Regan is deaf and they all communicate by sign language. On a sortie to town to scavenge supplies, their younger son Beau is killed by a creature when he picks up a toy and accidentally activates its siren. A year later, the family is still grieving. As Evelyn nears the due date of her pregnancy, their lives are endangered by the unforeseen dangers and unsaid griefs within the household.
---
John Krasinski is best known as an actor, gaining fame in particular as Jim in the American version of tv's The Office (2005-13). He has gone on to assorted other films, tv and animation voicework roles, including being cast shortly after this as Jack Ryan in the tv series Tom Clancy's Jack Ryan (2018– ). He made his directorial debut with Brief Interviews with Hideous Men (2009), followed by the drama The Hollars (2016), as well as wrote the screenplay for Gus Van Sant's Promised Land (2012). A Quiet Place was his third directorial outing, which he also stars in and co-writes. In real-life, Krasinski is married to Emily Blunt who plays his wife on screen in the film.
Krasinski makes A Quiet Place for Michael Bay's Platinum Dunes production company. Over the last few years, Platinum Dunes produced a host of 70s/80s properties remakes beginning with The Texas Chainsaw Massacre (2003), The Amityville Horror (2005), The Hitcher (2007), Friday the 13th (2009), A Nightmare on Elm Street (2010) and Teenage Mutant Ninja Turtles (2014), plus original genre films like Horsemen (2009), The Unborn (2009), The Purge (2013), Ouija (2014), Project Almanac (2015) and Songbird (2020), as well as the tv series The Last Ship (2014-8). A Quiet Place was an unexpected box-office success, earning some $340 million worldwide. It is almost certainly the best film that Platinum Dunes has produced.
There is a small handful of science-fiction films that take one familiar but integral aspect of the world and either remove it or severely impair it. In a similar vein to A Quiet Place would be works like Blindness (2008) where the whole world is affected by a plague of blindness; Perfect Sense (2011), which imagines what would happen if people start slowly losing their senses; The Last Days (2013) where the world is devastated by a plague of agoraphobia; Embers (2015) and Little Fish (2020) where the entire population suffers from loss of their memories; Bird Box (2018) where people are killed if they open their eyes outdoors; and Awake (2021) where the whole world can no longer sleep.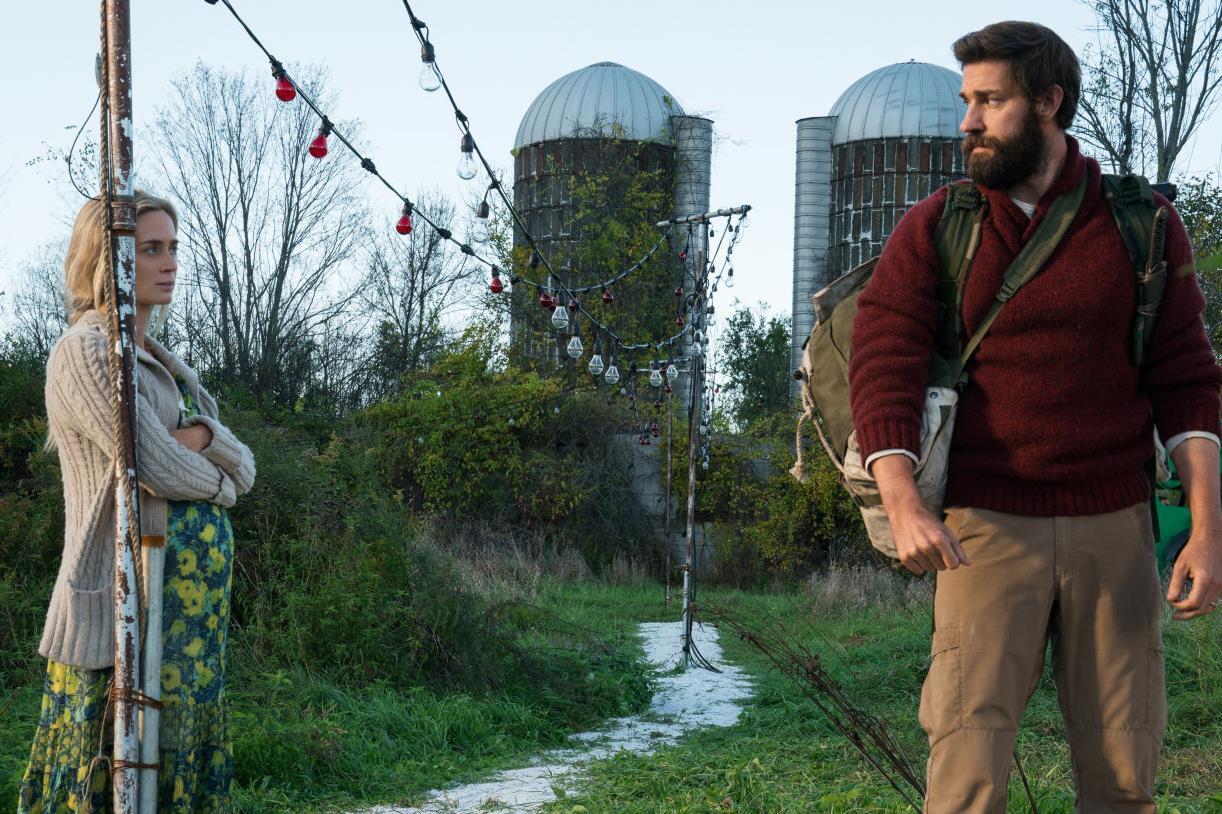 The film here imagines a world that what would result if people were unable to speak or make a noise with deadly consequences if they do. The set-up is not dissimilar to Luc Besson's first film Le Dernier Combat (1983) in which survivors in a post-apocalyptic world have lost the ability to speak. The premise of a world where people are forced to become silent after an invasion by creatures that kill anybody who makes a sound was also used in the subsequent The Silence (2019), which is based on a book that was actually published before this film. There was also the earlier Spanish film Don't Speak (2015) about an island where anybody who made a noise was killed but that squandered the premise.
The film throws us into this situation without any explanation – indeed, there is very little explanation for what the creatures are at all throughout. This proves highly captivating in the opening scene where we see the family on a scavenging expedition to the general store in the abandoned nearby town. What quickly becomes noticeable is how they move while barely making a sound as you watch Emily Blunt gingerly picking items up without trying to disturb anything else. They communicate only by sign language and then return home along a trail down the middle of the street that peculiarly looks as though it is been laid with sand or salt. The youngest Cade Woodward wants to pick up a toy space shuttle but is told to leave it because it will make too much noise, only to be urged to take it anyway by sister Millicent Simmonds. The kicker of the scene is as they traverse the bridge and Woodward starts playing with the toy, activating its siren only to be abruptly snatched up by a creature. There is a real out of the blue "WTF did I just see" jolt to the scene – at the same time, it is also a scene that has cleverly told us everything we need to know about the state of this world we are in.
Thereafter there is the fascination of watching the family go about everyday life while making a minimum of noise and without the use of any speech except for sign language. Indeed, this may be the first film since the end of the silent era, with the exceptions of Silent Movie (1975) and The Artist (2012), to eschew speech almost completely. It is not until 38 minutes into the film that we actually get to hear a word of dialogue spoken. This leads to some captivating and at times quiet lovely scenes – the image of John Krasinski and Emily Blunt dancing in silence while Neil Young's Harvest Moon (1992) plays on a pair of shared earbuds.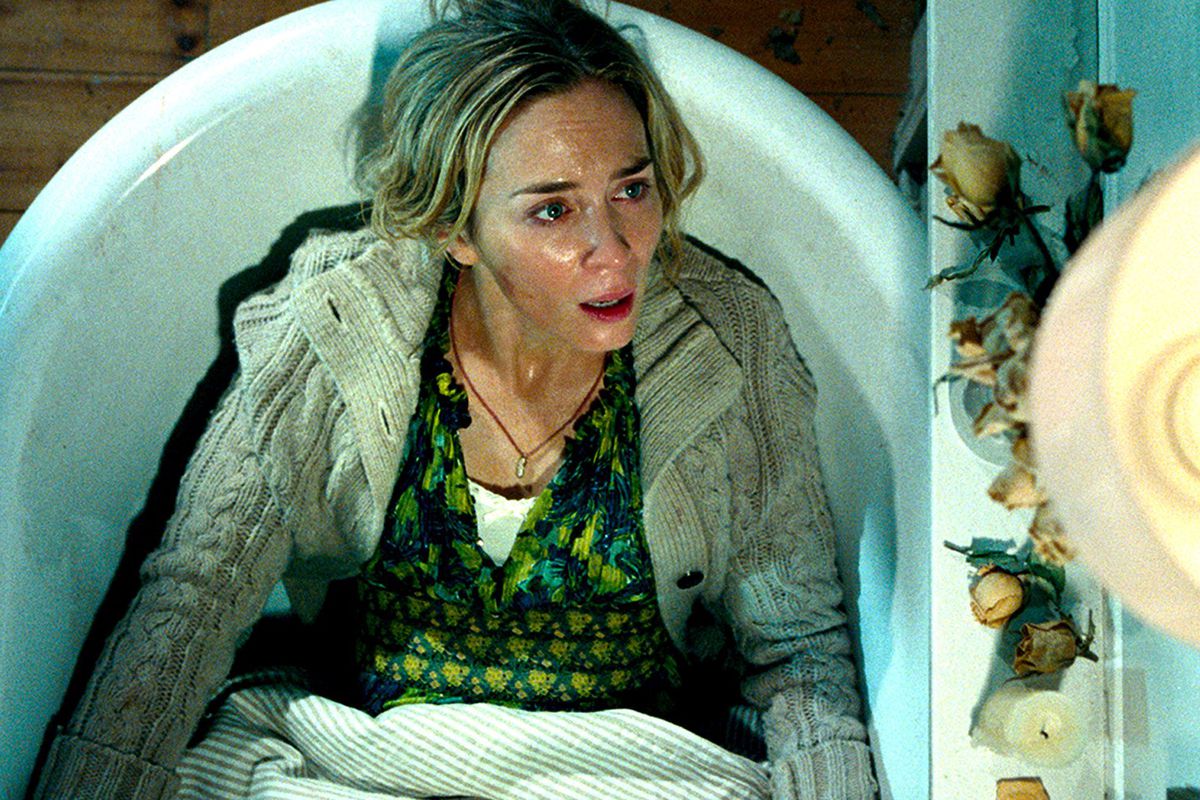 John Krasinski quickly demonstrates himself as an extraordinarily capable director. In scene after scene, he sets up moments of intense suspense and pulls them off flawlessly. There is an incredibly intensive scene as Emily Blunt, left alone in the house, goes into labour at the same time as she pierces her foot on a protruding nail on the cellar stair, a creature enters and begins to prowl about the house as she starts giving birth while hiding in a bathtub and trying to stifle herself from making any noise whatsoever.
There are similar scenes of incredible intensity with Emily Blunt in the cellar hidey-hole as it floods, trying to quell a crying baby at the same as a creature enters and begins poking around. Or when the two kids fall into the grain silo and are about to drown in the grain at the same time as a creature jumps down in too. The film reaches perhaps a little too convenient a happy wrap-up ending where the creatures' Achilles Heel is suddenly found but the journey there is an uncommonly effective one.
A Quiet Place Part II (2020) is a sequel reuniting director John Krasinski and most of the cast.
(Winner Best Film in this site's Top 10 Films of 2018 list. Winner for Best Director (John Krasinski) at this site's Best of 2018 Awards).
---