---
Crew
Director – Julien Leclercq, Screenplay – Julien Leclercq & Franck Philippon with the Participation of Nicolas Peufaillat & Aude Py, Producer – Franck Chorot, Photography – Thomas Hardmeier, Music – Jean-Jacques Hertz & Francois Roy, Visual Effects – La Maison (Supervisor – Bruno Maillard), Production Design – Jean-Philippe Moreaux. Production Company – Gaumont/TF1/Cinecinema/Sofica.
Cast
Albert Dupontel (David Hoffman), Marie Guillard (Lieutenant Marie Becker), Marthe Keller (Professor Brügen), Melanie Thierry (Manon Brügen), Alain Figlarz (Dimitri Nikolov/Danis Nikolov), Estelle Lefebure (Clara), Claude Perron (Captain Miller), Patrick Bauchau (Charles Becker), Manon Chevallier (Clemence), Francis Renaud (Yuri)
---
Plot
Paris of the future. Police lieutenant David Hoffman, still grieving for the murder of his partner during pursuit of the wanted Bulgarian black marketeer Dimitri Nikolov, is paired with new partner Marie Becker. The two investigate after the body of a girl illegal immigrant is found murdered. The investigation takes Hoffman back on the trail of Nikolov and he is successful in arresting him this time. When Nikolov pulls Marie's gun on her in his cell, Hoffman shoots him in the head. Nikolov's twin brother then turns up in Hoffman's apartment and abducts him. Nikolov has stolen an advanced machine known as Chrysalis that can copy and delete memories, even transplant them into another person's mind. He now orders that Hoffman be put inside Chrysalis and left abandoned with a blank mind.
---
The template for the modern French science-fiction film was Luc Besson's The Fifth Element (1997). The last few years has seen notable others such as Banlieue 13 (2004), Immortal (ad vitam) (2004), Babylon A.D. (2008) and the animated Renaissance (2006), which has several similarities to Chrysalis. All of these are notedly French variants on the Cyberpunk genre, concerning themselves with densely detailed and downbeat futures set amid rundown cityscapes and designer gadgetry.
Certainly, newcomer director Julien Leclercq offers up a subdued and manneredly cool variant on the Cyberpunk look. The lighting schemes have been washed out to the point that Chrysalis seems to take place in shades of gunmetal grey. There are nifty pieces of advanced gadgetry littered in the background – the police handheld holographic data scanners, the doctor who is seen signing a series of papers that only exist as projections on her desktop, the futuristic cars subtly placed in the background, the ultra-modernist Parisian skylines. The coolest of these is a scene where Marthe Keller conducts surgery via telepresence, using a series of holographic robot arms to operate on a hologram body. Like most of these abovementioned Cyberpunk films, the hero is a burned-out detective. Leclercq seems to enjoy choreographing tough and gritty fistfights and throws a number of these in throughout.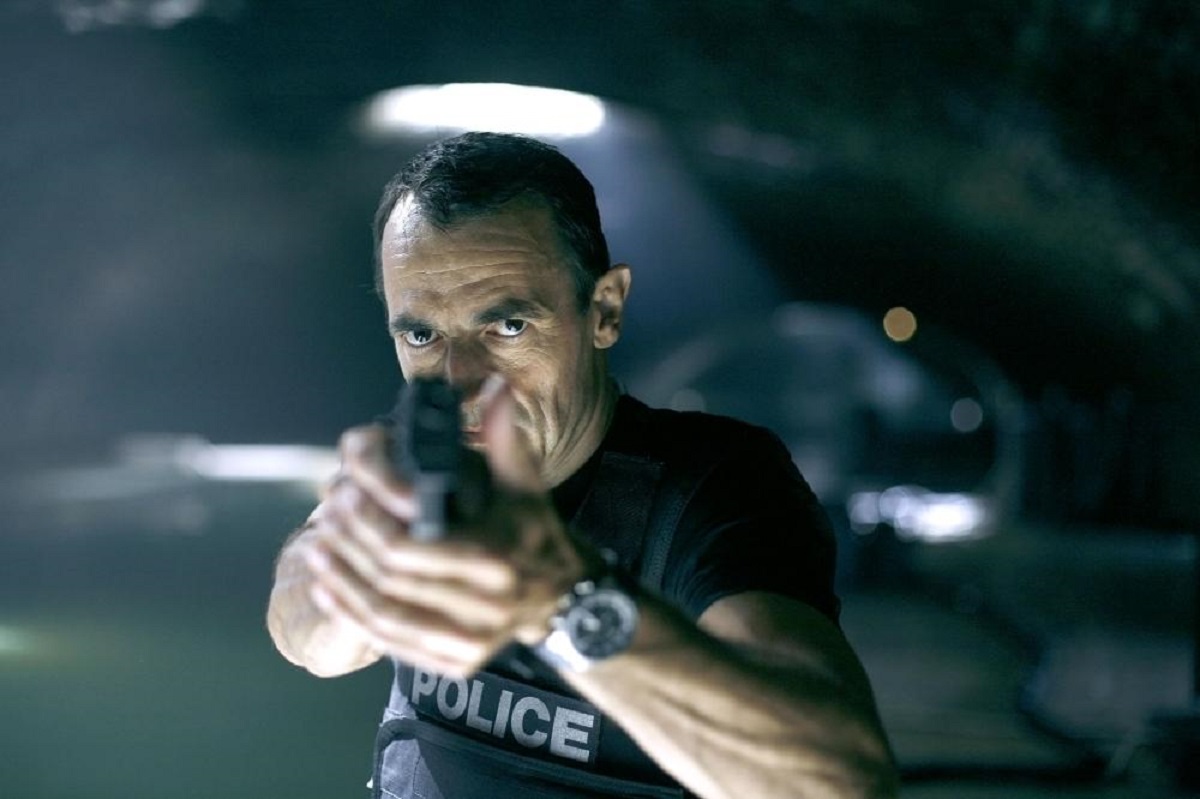 Chrysalis is also a frustrating film. For the most part, we are following a mundane crime plot about an investigation into the murder of an illegal immigrant girl. It is clear – as is often the case in Cyberpunk films – that the story is not about the uncovery of the murder but about the details of the background of the world that we are in. However, Chrysalis keeps refusing to tell us much about this world – indeed, other than a few details of surface gadgetry, it is a world not too different from our own and all that that means is that we are left following a mundane mystery. There are frequent cutaways to a B plot about a teenage girl (Melanie Thierry) waking up in a mysterious hospital with a blank memory – but the film keeps refusing to give away what is happening here up until the end.
The main problem with Chrysalis is that its double plot leads one to expect a big twist revelation of what is going on. One does eventually arrive but what the film throws up [PLOT SPOILERS] – the revelation of a blackmarket operation involving the transplant of memories – is underwhelming. It is not even particularly clear what the blackmarket operation, blanking and transplanting people's memories and abducting East European immigrants, is trying to achieve. During the latter scenes, the plot sidetracks off into scenes with detective hero Albert Dupontel having his memory wiped, although not enough is made of the confusion and blankness that must surely result – and then with a casual flick of the plotting pen, his memory is restored again at the end.
There is also a bizarre twist where Albert Dupontel kills Alain Figlarz, the bad guy he has been hunting (as he holds Marie Guillard at gunpoint in a cell in one of the film's most charged scenes) and then not longer after Figlarz turns up still alive in Dupontel's apartment and attacks him. This briefly seems a wild twist that makes us wonder if the operation in the hospital has not been creating clones, but then the film explains this in a contrived twist that dismisses the double as improbably only being Figlarz's twin brother.
---
---