---
Crew
Director – Jared Cohn, Screenplay – Richard Lima, Thunder Levin & Hank Woon, Producer – David Michael Latt, Photography – Alexander Yellen, Music – Chris Pinkston, Visual Effects Supervisor – Joseph J. Lawson, Production Design – Mark A. Terry. Production Company – The Asylum.
Cast
David Chokachi (Red), Graham Greene (General Hadley), Treach (Lieutenant Jim Rushing), Jackie Moore (Tracey), Nicole Dickson (Dr Margaret Adams), Steven Marlow (Sheldon Geiss), Demetrius Stear (Lieutenant Wexler), Nicole Alexandra Shipley (Specialist Stone)
---
Plot
An oil rig in the Atlantic Ocean is devoured by a huge monster that appears out of a rift in the sea floor. As the military commander General Hadley tries to figure out what happened, Red, Jim and Tracey, the three pilots of the experimental Armadas – vast manned robots built for combat by the army – are called into action. They are sent down to the ocean floor in the Armadas to investigate. As the monster emerges onto land, Red disobeys orders to tackle and defeat it in his Armada. He is declared a hero at the same time as Hadley orders him thrown in the brig for insubordination. However, more monsters are emerging from the rift. As they go up against them in an attack on New York City, a rogue military commander is determined to call a nuclear strike unconcerned about the effect this will have on the civilian population.
---
The Asylum is a low-budget production company who coined the term 'mockbuster' to describe their work. Beginning when Steven Spielberg announced his version of War of the Worlds (2005), they opportunistically leapt on the fact that the H.G. Wells novel was in public domain to serve up their own low-budget copy War of the Worlds (2005) and released it to videostores one day before Spielberg's film hit theatres. They have been responsible for a great many low-budget films with copycat titles designed to ride on the success of popular hits. These include the likes of The Da Vinci Treasure (2006), Snakes on a Train (2006), AVH: Alien vs Hunter (2007), I Am Omega (2007), Transmorphers (2007), Allan Quatermain and the Temple of Skulls (2008), The Day the Earth Stopped (2008), 100 Million BC (2008), Sunday School Musical (2008), The 18 Year Old Virgin (2009), Almighty Thor (2011), Battle of Los Angeles (2011) and Age of the Hobbits (2012), among others.
When Guillermo Del Toro announced his big-budget Transformers vs Giant Japanese Monsters film Pacific Rim (2013), The Asylum simply switched US seaboards and delivered their own low-budget mockbuster version and released it four days before Del Toro's films went into wide release. Pacific Rim never quite proved the massive hit that was expected, nevertheless The Asylum have produced a vigorous knockoff. In fact, Atlantic Rim emerges as one of their better mockbusters.
They copy the basic premise of Pacific Rim in serviceable ways. Both films are stuck with the fundamental improbability of why humanity would build giant transformer-type mecha to go into combat against invading alien monsters. Del Toro nimbly allowed his set-up to take place in the future after such had been decided thus avoiding any need for detailed explanations; The Asylum fail to avoid that trap so are stuck with the implausible notion that the US military has just decided to build a series of giant-sized military combat robots.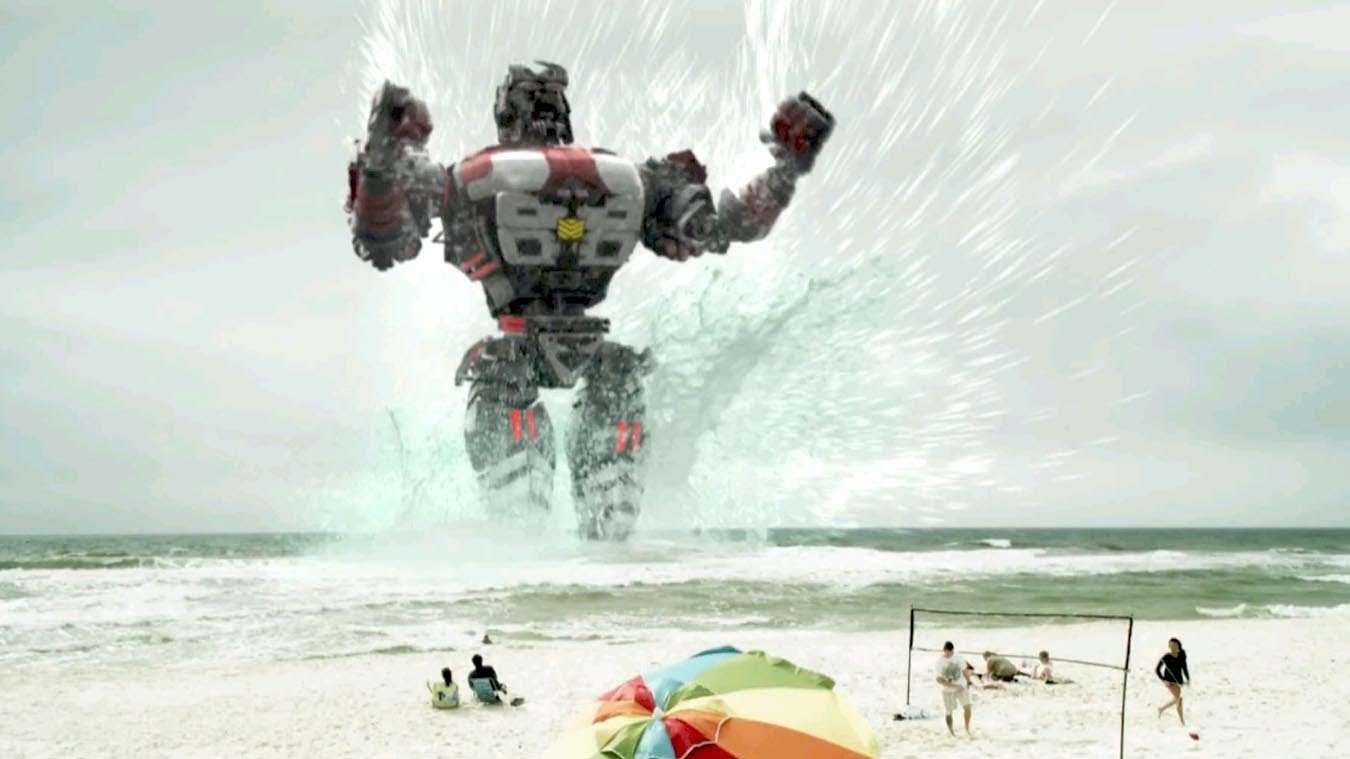 Even more improbably, on their first outing these are just sent down to the ocean floor to investigate the rift there where you cannot help but think that untested giant humanoid robots seem unlikely choices for deep sea exploration as opposed to say submarines. (They don't exactly seem built for easy underwater navigation, have major problems dealing with depth pressure, and you would imagine the vast weight of them would make buoyancy and returning to the surface problematic).
That said, the effects are far better than usual for most of The Asylum's films. The scenes of mecha and monsters in combat look quite reasonable for what is a low-budget film. There are even one or two shots that sing out as being really great – especially a fantastic shot where Red emerges from the ocean, towering up over the people gathered on a beach. There are some other fine moments with the Armadas fighting over the cities or shots of submarines being tossed out of the ocean and colliding with aircraft carriers. The cast are generally likeable with Graham Greene standing out especially well as an ironhorse general.
The Asylum made a sequel with Atlantic Rim 2 (2018).
Director Jared Cohn first appeared for The Asylum with Born Bad (2011) and has become a prolific director for them with the likes of Bikini Spring Break (2012), Hold Your Breath (2012), 12/12/12 (2012), Jailbait (2014), Bound (2015), Evil Nanny (2016), Little Dead Rotting Hood (2016), King Arthur and the Knights of the Round Table (2017), Alien Predator (2018), Shark Season (2020), Ice Storm (2022), Super Volcano (2022) and 20.0 Megaquake (2022), while going out on his own with Buddy Hitchins (2015), Hulk Blood Tapes (2015), The Horde (2016), Death Pool (2017), The Domicile (2017), Halloween Pussy Trap Kill Kill (2017), Devil's Revenge (2018) and Swim (2021). Screenwriter Thunder Levin later went on to write Sharknado (2013) and sequels for The Asylum.
---
---