---
Crew
Director – Richard Benjamin, Screenplay – Timothy Harris, Jonathan Reynolds and Herscehl & Jericho Weingrod, Producers – Franklin R. Levy & Ronald Parker, Photography – Richard H. Kline, Music – Alan Silvestri, Visual Effects – Apogee (Supervisor – John Dykstra), Production Design – Charles Rosen. Production Company – Catalina Production Group.
Cast
Dan Aykroyd (Dr Steve Mills), Kim Basinger (Celeste), Alyson Hannigan (Jessie Mills), Jon Lovitz (Ron Mills), Joseph Maher (Dr Lucas Budlong), Ann Prentiss (Voice of the Bag)
---
Plot
Astronomer Steve Mills is preparing for an experiment with a radio telescope when a thunderstorm causes a massive power surge that accidentally succeeds in pushing the signal out of the galaxy into the next. Steve is fired as a result. Unknown to him, the signal has drawn the attention of an alien race who need him to send it again in order to save their civilisation. They send a beautiful emissary, Celeste, to Earth to convince him to rebroadcast the signal. However, Celeste has only eight minutes to acquaint herself with Earth culture and proves bizarrely out of place when it comes to Earth customs upon arriving. Steve falls head over heels for her nevertheless. Completely unaware of what it means, she agrees to marry him.
---
That Kim Basinger is gorgeous there is no doubt; as to her acting abilities, opinion varies. First working as a model, she came to attention on screens as a James Bond girl in Never Say Never Again (1983) and was then propelled to superstardom as Mickey Rourke's sexual plaything in Adrian Lyne's dazzlingly sensual 9½ Weeks (1986). Basinger ornamented a variety of films through the latter half of the 1980s and the early 1990s ranging from the hugely entertaining – Batman (1989), the underrated remake of the The Getaway (1994) – to fizzlers – No Mercy (1986), Cool World (1992), Final Analysis (1992) – to the downright awful – comedies like Blind Date (1987), Nadine (1987) and The Marrying Man (1991). She was often compared to a latter-day Marilyn Monroe and seen as having a spectacular body but not too much else. She nevertheless succeeded for a brief time during the late 1980s in becoming one of the top woman stars of the moment.
In the 1990s, Basinger's career faded somewhat, although peaked again after her Academy Award win for L.A. Confidential (1997). She has since taken on more serious roles such as I Dreamed of Africa (2000), 8 Mile (2002), The Door in the Floor (2004) and The Burning Plain (2008). Although more often than not during this period, Basinger has gained media attention not for the roles she has taken but the court cases she has been engaged in – the breaking of the verbal agreement to star in Boxing Helena (1993) and the bitter 2003 marital dispute with ex-husband Alec Baldwin.
My Stepmother is an Alien was created as a comedic vehicle for Kim Basinger. Here she displays a surprising talent for comedy and shows that beneath the blonde bombshell typecasting she can act and indeed has an underappreciated talent for comedy. Her wide-eyed Candide performance holds a great deal of amusement – serving up fifty-course breakfasts, running through the gamut of all possible definitions of the word 'kiss' in about a minute flat, checking to see if "her pants have been blown away", and that ever so delightful moment where a supermarket clerk asks if she has anything smaller than a hundred dollar note and she reaches into her handbag and offers up a perfectly miniaturised bill.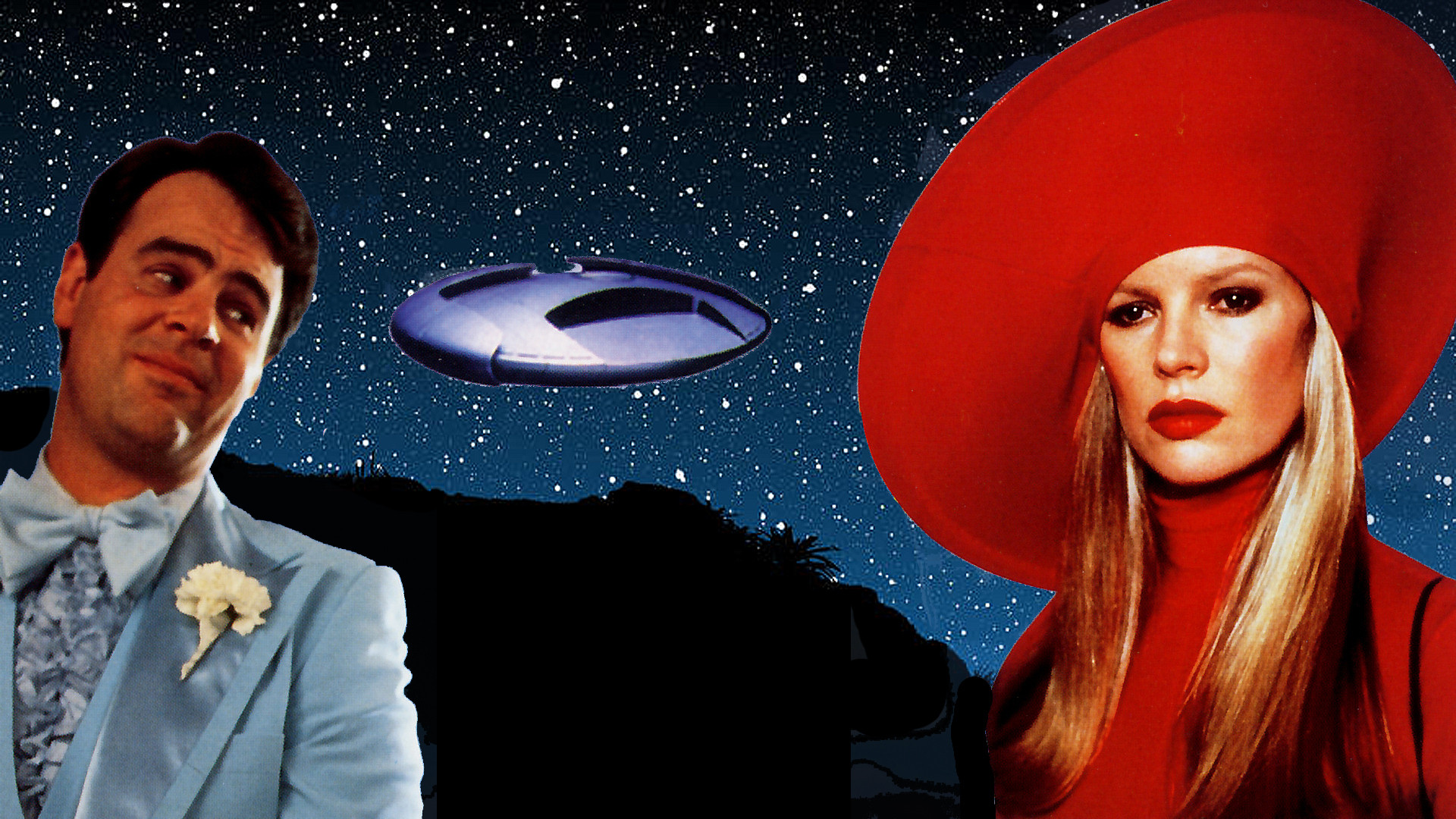 My Stepmother is an Alien is a light and throwaway film but Kim Basinger remains a delight – from her manic pastiches of tv behaviour to the heart-warming innocence of her discoveries of the pleasures of eating, sex or just twinkling her toes in the sand. She gets good support from Dan Aykroyd in one of his typical hand-wringing performances and from a lively 14-year-old Alyson Hannigan, several years before she became a regular on tv's Buffy the Vampire Slayer (1997-2003).
On the minus side, Ann Prentiss's hip voicing of the Bag is awful. The Bag is indicative of a fundamental confusion about how to play the aliens, with the film being cautiously contradictory as to whether they are innocent, hip, cold and villainous, or a bunch of droll three wise men.
The story is also confused in a major way about the nature of intergalactic distances, while the plot device about the necessity of sending a radio signal in order to save an alien civilisation is a dramatically fuzzy hook. Yet while My Stepmother is an Alien does not vary far from the Spielbergian suburban Americana feelgood formula and winds down by its effects-heavy climax, it is, for a film that one goes into with no expectations, witty and genuinely off the wall and comes out winning on most accounts.
The film's director Richard Benjamin is best known as a comedy actor in films such as Goodbye Columbus (1969), Catch 22 (1970), Portnoy's Complaint (1972), Love at First Bite (1979) and more serious efforts like Westworld (1973). Benjamin is remembered to genre fans who have a memory as the title character in the appealing but short-lived genre spoof, the tv series Quark (1978). Richard Benjamin has directed a number of other films, mostly comedies, including My Favorite Year (1982), City Heat (1984), The Money Pit (1986), Little Nikita (1988), Mermaids (1990) and Made in America (1993). My Stepmother is an Alien has been his only genre outing as director.
---
Trailer here
Clip from the film here:-
---