---
Crew
Director – Tim Burton, Screenplay – Scott Alexander & Larry Karaszewski, Producers – Tim Burton & Denise Di Novi, Photography (b&w) – Stefan Czapsky, Music – Howard Shore, Special Effects Supervisor – Howard Jenson, Makeup Effects – Rick Baker & Ve Neill, Production Design – Tom Duffield. Production Company – Touchstone.
Cast
Johnny Depp (Edward D. Wood Jr), Martin Landau (Bela Lugosi), Sarah Jessica Parker (Dolores Fuller), Patricia Arquette (Kathy O'Hara), Bill Murray (John 'Bunny' Breckinridge), Jeffrey Jones (Criswell), Lisa Marie (Maila 'Vampira' Nurmi), George 'The Animal' Steele (Tor Johnson), Juliet Landau (Loretta King), Mike Starr (George K. Weiss), Max Casella (Paul Marco), Vincent D'Onofrio (Orson Welles)
---
Plot
Edward D. Wood Jr is an aspiring filmmaker. After the news of the world's first sex change operation, he tries to find funding for his own film about a sex-change entitled 'Glen or Glenda?', arguing that he is the person best qualified to make the film because he enjoys wearing women's clothing – he even wore a bra and panties under his uniform into combat in WWII. He gets his film made after he meets and befriends famous horror actor Bela Lugosi, now an aging, down-and-out, morphine addict. Along with Bela, his entourage of eccentric hangers-on, and all the while trying to deal with his girlfriend who does not understand his crossdressing, Wood goes on to make 'Bride of the Monster' and the film he is certain will be his masterpiece – 'Plan 9 from Outer Space'.
---
The cult of that surrounds Edward D. Wood Jr (1924-78), director of Glen or Glenda? (1952), Bride of the Monster (1955) and the legendary Plan 9 from Outer Space (1959). This began with the publication of The Golden Turkey Awards (1980) by brothers Harry and Michael Medved. (These days Michael is an ultra-conservative critic who writes books championing a return to the cinematic values of John Wayne and Shirley Temple). In the loud and lurid tones of a tabloid newspaper, the Medveds put Edward D. Wood Jr in a pillory, calling him the Worst Director of All-Time and Plan 9 from Outer Space the Worst Film Ever Made, pelting him with the critical equivalent of rotten fruit for everything from his sexual peculiarities to the drug addiction of his stars, as well as the pretensions of his films.
Ironically, instead of deriding Edward D. Wood Jr, the Medveds, to the contrary turned him and Plan 9 from Outer Space into objects of cultish veneration. Edward D. Wood Jr's films were suddenly revived as midnight favourites and the just-arrived video market allowed many of them to be rediscovered. Lost Wood films were unearthed – some even given releases for the first time. Tracking down details of Edward D. Wood Jr's bizarre private life became an obsessive topic of fanzinish academia. Probably more articles, books and video have been dedicated to the world's worst director than there has ever been to any other B-movie director.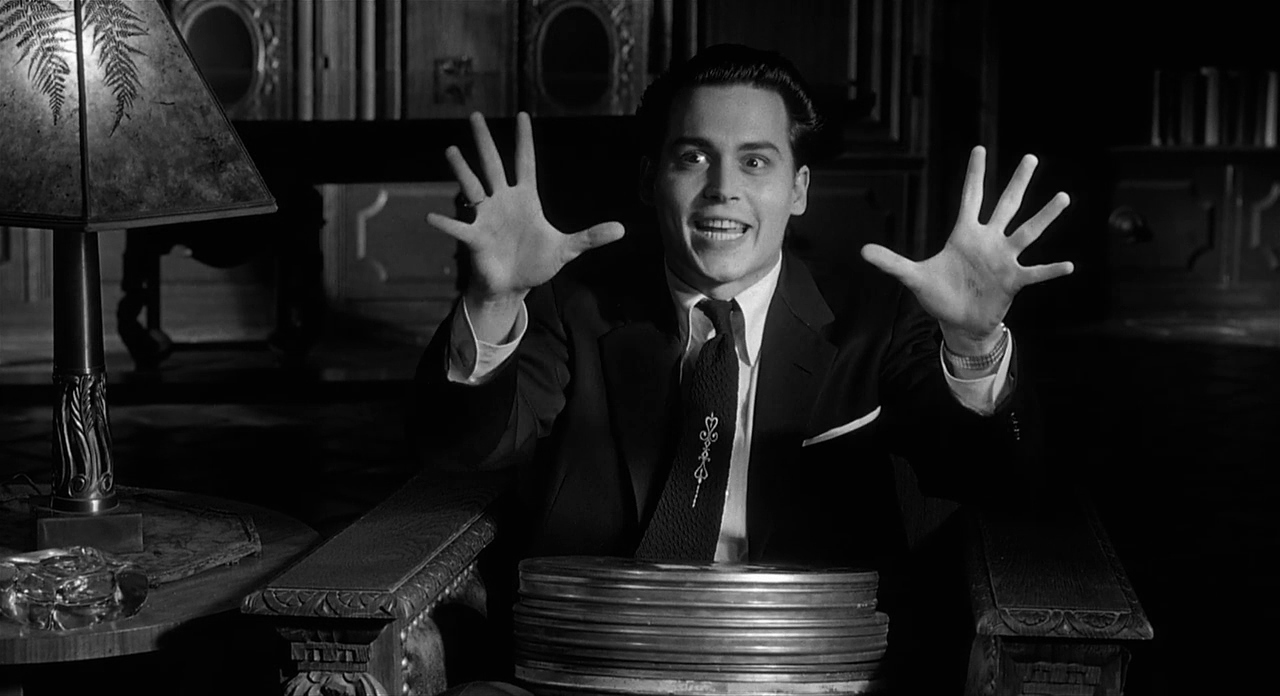 In fact, at the point of Ed Wood's release, Edward D. Wood Jr was the only director one knows of to have a film made about his life – the only other example one can think of is John Huston in Clint Eastwood's White Hunter, Black Heart (1990). Certainly, this changed somewhat after Ed Wood with Gods and Monsters (1998) about James Whale, Shadow of the Vampire (2000), which fictionalises the life of F.W. Murnau, Hugo (2011) about silent film pioneer Georges Melies, Hitchcock (2012) and one further bad movie director biopic about Art Nelson with The Creep Behind the Camera (2014).
Despite an impeccable box-office record with hits like Beetlejuice (1988), Batman (1989), Edward Scissorhands (1990) and Batman Returns (1992) behind him, Tim Burton had enormous difficulty getting the Ed Wood film off the ground, despite its relatively low budget. However, when one considers how much of a fan's film Ed Wood is, this is not much of a surprise. Only the Wood cult can appreciate many of the film's references or the film's obsessive recreations of the sets and camera set-ups from Bride of the Monster and Glen or Glenda?. For a film pitched to such a minority audience, one can sympathize with the studio's cold feet. Moreover, this seemed to be born out, with the film having only had a very modest financial success.
Tim Burton is to at least be commended for not turning the film into a freakshow. Considering that the hero of the story is a cross-dresser and the collection of wannabe sex changes, fake prophets and washed-up drug-addicts the film has on hand, it is remarkable that the film does not choose to deride and poke fun at them, as indeed the Medveds did. But then this is a Tim Burton film and the heroes in Burton films – the likes of Pee-Wee Herman, Edward Scissorhands, Batman, The Mad Hatter – are always the alienated and the social rejects. Instead of laughing at Ed Wood, Burton chooses to ennoble his pretensions.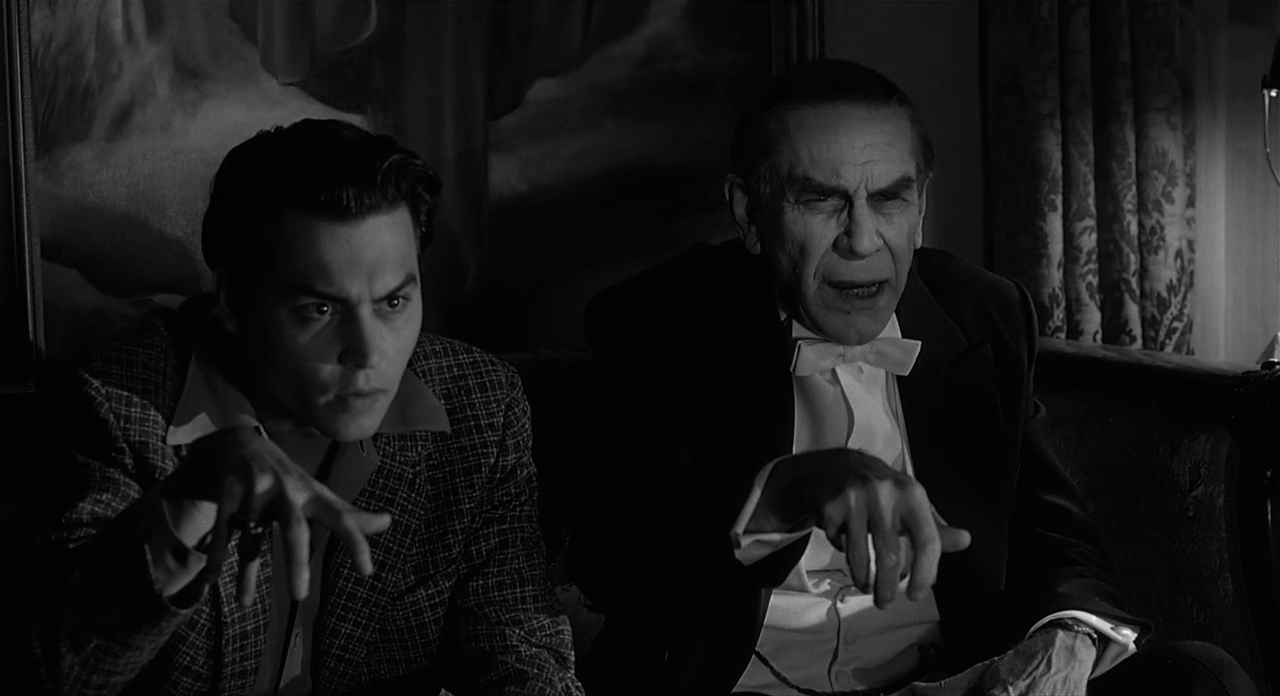 It is peculiar to watch a film honouring one of the world's greatest losers, but oddly enough it works. The film's greatest strength is the sadness of the relationship between Ed Wood and the down-and-out Bela Lugosi. Martin Landau delivers a grand performance, be it pretending to wrestle an inanimate octopus, or showing the sad hunger for attention of any sort when he puts on his Dracula cape to scare some trick-or-treating kids or eagerly greeting tabloid reporters come to interview him in a drug rehab clinic. The makeup job and Martin Landau's mimicry of Bela Lugosi's over-the-top acting style is uncannily realistic.
The world of topsy-turvy trash culture values that the Edward D. Wood Jr Z movie cult embodies was surely best demonstrated by the fact that Martin Landau swept that year's Academy, Golden Globe, LA Film Critics, New York Film Critics, National Society of Film Critics and Screen Actors Guild Awards for Best Supporting Actor – most of the world's top acting accolades – for playing one of the world's worst (over)-actors in a film about the world's worst film.
Tim Burton's other films of genre interest include the kitsch Pee-Wee's Big Adventure (1985), the bizarre ghost story Beetlejuice (1988); Batman (1989); the genteel artificial boy fairy-tale Edward Scissorhands (1990); Batman Returns (1992); the alien invasion spoof Mars Attacks! (1996); the ghost story Sleepy Hollow (1999); the remake of Planet of the Apes (2001); Big Fish (2003) about an habitual teller of tall tales; Charlie and the Chocolate Factory (2005); the stop-motion animated Gothic Corpse Bride (2005); the horror musical Sweeney Todd: The Demon Barber of Fleet Street (2007); Alice in Wonderland (2010); the film remake of the tv series Dark Shadows (2012); the stop-motion animated Frankenweenie (2012); Miss Peregrine's Home for Peculiar Children (2016); and the live-action remake of Dumbo (2019). Burton also produced Henry Selick's darkly brilliant stop-motion animated fantasies The Nightmare Before Christmas (1993) and James and the Giant Peach (1996); as well as the live-action conte cruel Cabin Boy (1994), Batman Forever (1995), the animated 9 (2009), Abraham Lincoln, Vampire Hunter (2012) and Alice Through the Looking Glass (2016). The Death of "Superman Lives": What Happened? (2015) is a fascinating documentary about Burton's failed Superman Lives project.
Screenwriters Larry Karaszewski and Scott Alexander had previously written Problem Child (1990) but went on to deliver a series of fine screenplays for biopics of controversial figures including The People Vs. Larry Flynt (1996), Man on the Moon (1999), Dolemite is My Name (2019) and returning to write Big Eyes (2014) for Tim Burton, as well as producing Auto Focus (2002) and creating the tv series American Crime Story (2016– ), all also in the biopic field. More recently within the genre they wrote the children's spy film Agent Cody Banks (2003), the Stephen King adaptation 1408 (2007) and Goosebumps (2015).
(Winner in this site's Top 10 Films of 1994 list. Winner for Best Supporting Actor (Martin Landau), Nominee for Best Adapted Screenplay and Best Actor (Johnny Depp) at this site's Best of 1994 Awards).
---
---