---
Crew
Director – Tim Burton, Screenplay – Caroline Thompson, Story – Tim Burton & Caroline Thompson, Producers – Tim Burton & Denise Di Novi, Photography – Stefan Czapsky, Music – Danny Elfman, Visual Effects – VCE (Supervisor – Peter Kuran), Miniatures – Stetson Visual Services Inc (Supervisors – Robert Spurlock & Mark Stetson), Special Effects Supervisor – Michael Woods, Makeup/Scissorhands Effects – Stan Winston, Production Design – Bo Welch. Production Company – 20th Century Fox.
Cast
Johnny Depp (Edward Scissorhands), Winona Ryder (Kim Boggs), Dianne Wiest (Peg Boggs), Alan Arkin (Bill Boggs), Anthony Michael Hall (Jim), Kathy Baker (Joyce Monroe), Robert Oliveri (Kevin Boggs), Vincent Price (The Inventor), Dick Anthony Williams (Officer Allen)
---
Plot
Avon Lady Peg Boggs goes up to the old gloomy Gothic castle in her neighbourhood in the hope of making a sale. There she meets the strange Edward who has large steel shears instead of hands. Edward was artificially created by a kindly scientist who died before he could replace Edward's scissors with a pair of hands. Touched by Edward's loneliness, Peg invites him home. Edward's scissors initially prove ungainly when it comes to eating at a table and sleeping in a waterbed. Edward then becomes a neighbourhood sensation when he demonstrates an ability to use his scissors to carve exotic hedge and hair designs. He secretly falls for Peg's teenage daughter Kim but she finds his ungainliness abhorrent. Kim's boyfriend Jim fools the guileless Edward into helping burgle his parents' house but abandons him when the police come. After this, the people in the neighbourhood suddenly begin to see Edward as an outcast and a freak.
---
Tim Burton is surely the most eccentric director at work in the American mainstream. Burton was at his height in the early 1990s when he made Edward Scissorhands. Up to that point, Burton had made the cornball Pee-Wee's Big Adventure (1985), the wackily surreal afterlife comedy Beetlejuice (1988) and then had the massive runaway success of Batman (1989). Burton's heroes are always eccentric outsiders – marginalised loners like Pee-Wee Herman, Ed Wood, Jack Skellington, Ichabod Crane, The Mad Hatter, Margaret Keane – whose happiness in life eventually comes in their uniqueness being accepted by everybody else.
Edward Scissorhands is, if you like, Tim Burton's take on the Frankenstein story. What clearly appealed to Burton in the classic Frankenstein (1931) was not the character's monstrousness but the sense of sad pathos that audiences responded to in Boris Karloff's performance. Burton had earlier conducted a homage to the Karloff Frankenstein in his short Frankenweenie (1985), which he later spun out into Frankenweenie (2012), a feature-length remake.
In Burton's vision, the Frankenstein Monster is Special, in the same way that we call people with disabilities Special. Edward Scissorhands can be seen an alternate take on the Karloff Frankenstein, one where instead of arriving with burning torches the villagers welcome the monster into their midst. Indeed, the film might even be subtitled a 'A Portrait of the Frankenstein Monster as Artist' where the monster, rather than seeking revenge for his condition, rediscovers himself through artistic expression.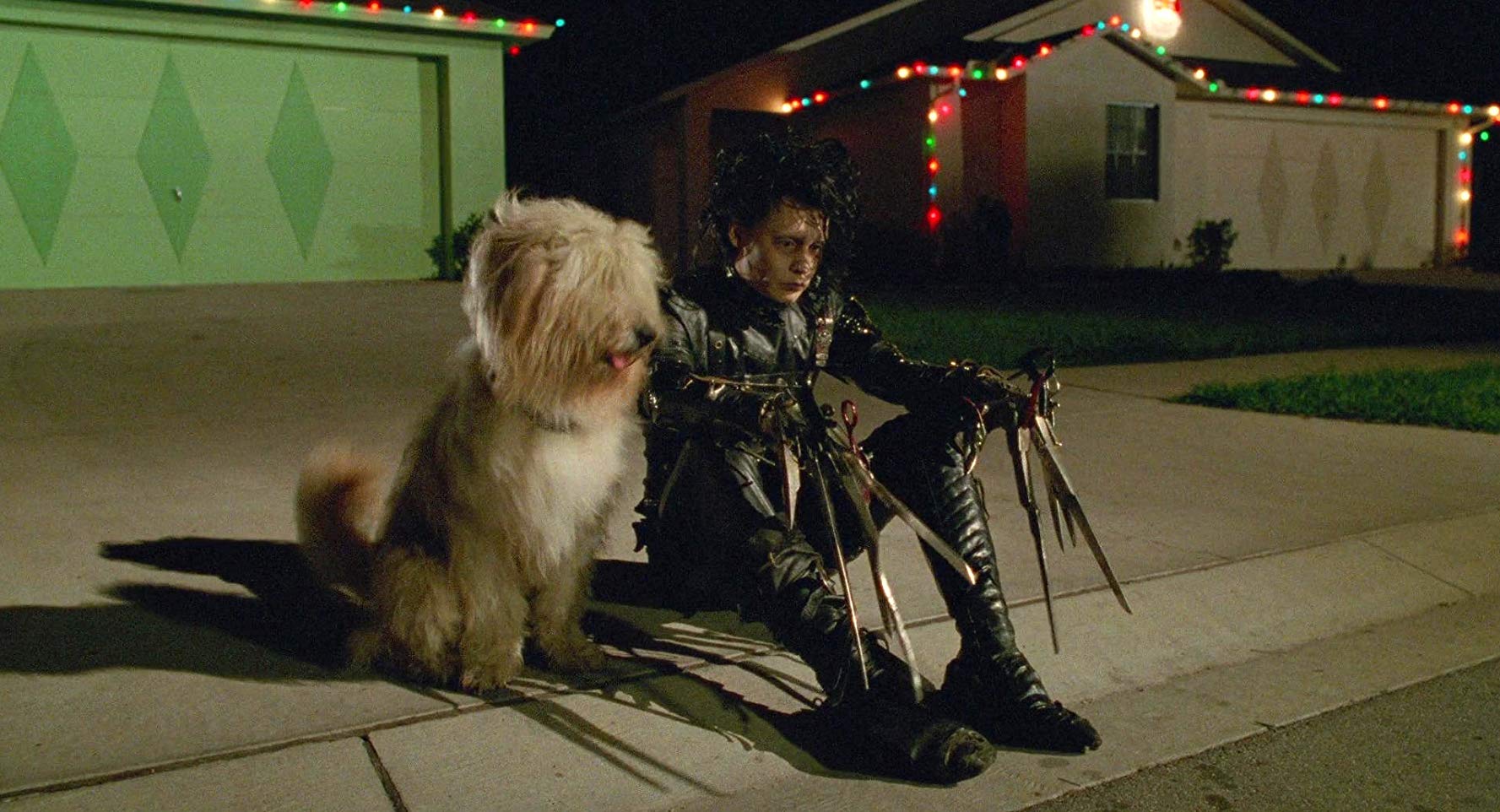 Tim Burton constructs Edward Scissorhands as a fable – it even begins with a 'Once Upon a Time' – and the stage he sets for his fable is a mythic vision of suburbia, taking in Avon Products consumerism and Father Knows Best (1954-60) values with an earnest sincerity. Burton has a sublime sense of deadpan weirdness – there is a wonderfully nonchalant charm to the dinnertable conversations at which Alan Arkin proves himself a master of straight-face humour in his attempts to teach Johnny Depp ethics, or him coming up with the perfectly natural idea of turning Depp's scissors towards the carving of a roast.
Other images hold great beauty and charm – Johnny Depp chipping a three-metre tall ice angel with Winona Ryder dancing in the snowfall of ice chips; the toe-curling ecstasy the women experience as he clips their hair; the ever-so casual shot where the dejected Depp sits on a curbside and without a misstep reaches out to clip the overgrown hair from the eyes of the dog that forlornly wanders by. Of all Tim Burton's films, this is the one that feels the most honest and heartfelt.
At the time, Johnny Depp seemed to be doing his best to shake the pretty boy teen idol role he gained from the teen cop show 21 Jump Street (1987-92) – and with this and roles in quirky off-the-beaten-track films like John Waters' Cry-Baby (1990), Benny and Joon (1993), What's Eating Gilbert Grape? (1993), Don Juan de Marco (1995) and Terry Gilliam's Fear and Loathing in Las Vegas (1998), he quickly established himself as a potential pinup for indie audiences as well. By the 00s, he had become one of the major stars in the world. The beatific smiles and melancholic mime work that comes in his almost entirely silent performance here establish him as a rather good actor too. He and Tim Burton would go onto make eight films together, with Depp perpetually cast as one of Burton's endearingly eccentric outsiders.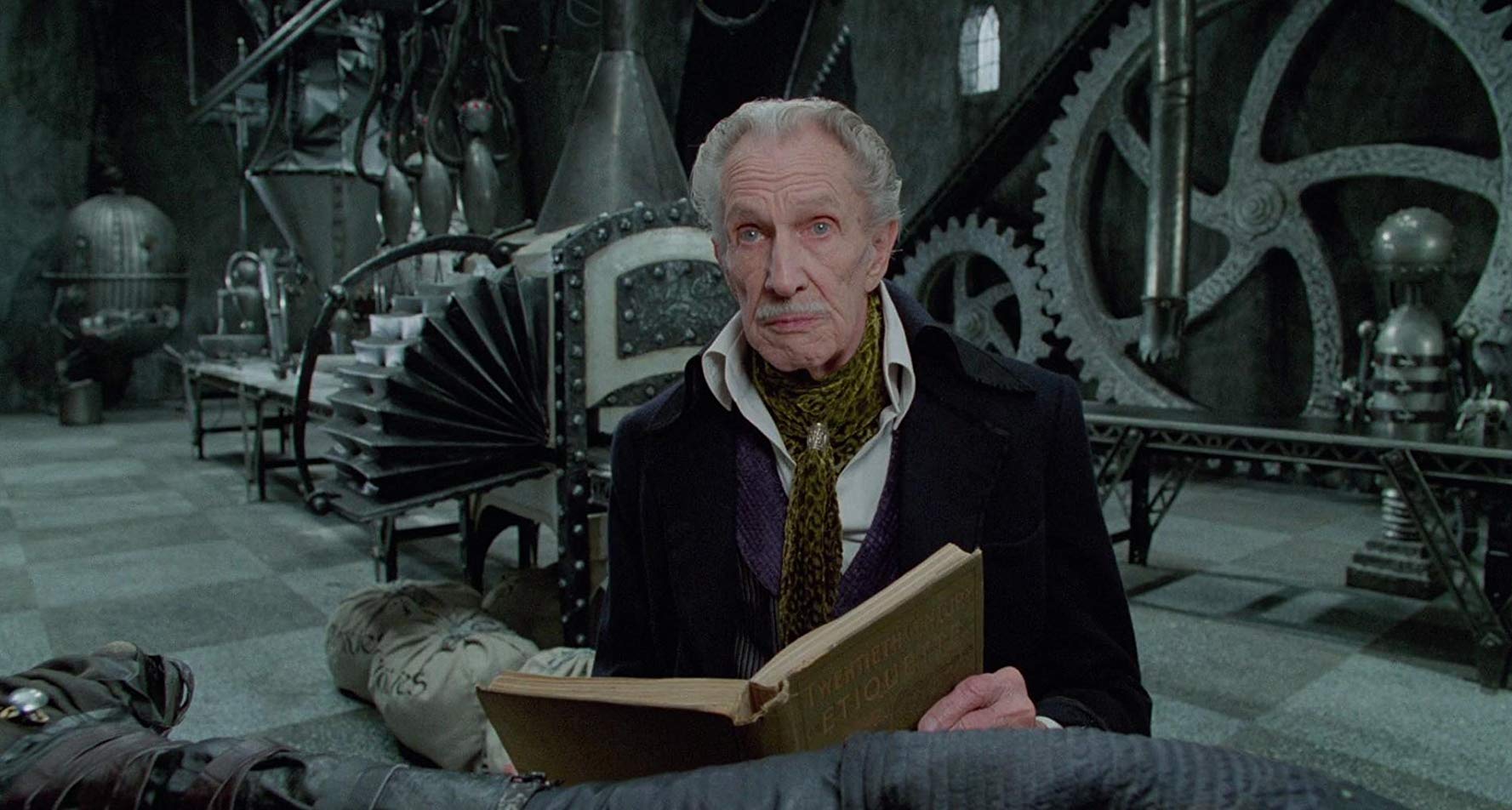 Winona Ryder is uncustomarily subdued and unconvincingly blonde as the love interest but Alan Arkin and Dianne Wiest both give perfectly deadpan performances. Vincent Price in his last screen appearance plays Edward's creator with genteel charm. The production design is stunning – from the beautifully gaping bare castle walls and antiquarian gardens to the amusingly colour-toned suburbia where products are known by generic brand names, and most imaginatively the flashback tour of Vincent Price's robot egg and cake beater inventions, all designed in a sort of L. Frank Baum steampunk.
Tim Burton's other genre films are:– Pee-Wee's Big Adventure (1985), the gonzo afterlife comedy Beetlejuice (1988), Batman (1989), Batman Returns (1992), the "world's worst director" biopic Ed Wood (1994), the cornball alien invader film Mars Attacks! (1996), the ghost story Sleepy Hollow (1999), the remake of Planet of the Apes (2001), Big Fish (2003) about an habitual teller of tall tales, Charlie and the Chocolate Factory (2005), the stop-motion animated Corpse Bride (2005), the horror musical Sweeney Todd: The Demon Barber of Fleet Street (2007), Alice in Wonderland (2010), the film remake of the tv series Dark Shadows (2012) the stop-motion animated Frankenweenie (2012); Miss Peregrine's Home for Peculiar Children (2016); and the live-action remake of Dumbo (2019). Burton has also produced Henry Selick's ghoulish Halloween-invades-Christmas puppet show The Nightmare Before Christmas (1993), the absurdist conte cruel Cabin Boy (1994), Batman Forever (1995), Selick's James and the Giant Peach (1996) the animated 9 (2009), Abraham Lincoln, Vampire Hunter (2012) and Alice Through the Looking Glass (2016). The Death of "Superman Lives": What Happened? (2015) is a fascinating documentary about Burton's failed Superman Lives project.
---
---