---
Crew
Director – Alan Rudolph, Screenplay – Alan Rudolph & John Binder, Story – Judson Klinger & Richard Woods, Producer – Carolyn Pfeiffer, Photography – Paul Lohmann, Music – Gary Wright, Special Effects – Johnnie Burke & Steve Galich, Production Design – Trevor Williams. Production Company – Alive Enterprises.
Cast
Robert Urich (Ruben Castle), JoBeth Williams (Harriett Purdue), Marin Kanter (MacKenzie Castle), Paul Dooley (Joe Hiatt), Hoyt Axton (Ben Morgan), Peter Coyote (Steele), Dan Hedaya (Peck)
---
Plot
Police detective Ruben Castle determines to quit drinking and moves to a small town of Buffalo in Colorado with his teenage daughter. In Buffalo, Harriet Purdue becomes the town's new sheriff. She must then deal with a plague of cattle mutilations in which the animals' organs have all been removed. This is causing the locals to panic amid wild rumours of UFOs and Satanists at work. She and Ruben team up to investigate in an initially testy relationship that eventually turns to romance. The trail leads to a disused NORAD base where they discover covert nerve gas experiments are being conducted. However, as they begin to uncover what is happening, the government agency conducting the tests determines to eliminate all those in the know.
---
Endangered Species is a nifty and well-made little thriller (albeit a little-seen one) that jumps on the late 1970s phenomenon of cattle mutilations. Everyone at the time put the mutilations down to UFOs, Satanists/cult activity, Chupacabra and government conspiracies. However, laboratory tests have put the explanation appears to be purely terrestrial – that the cattle had died and the supposedly surgically excised organs had been devoured by small animals and insects that eat the most vulnerable parts of the body rather than try to burrow through hide, while the rest evaporates through weather conditions.
Even though the explanations for what is happening in the film are eventually revealed as purely terrestrial, Endangered Species is determined to build the mutilations up into something mysterious and otherworldly. The glimpses we get of the mutilations are filmed in a way that makes it deliberately seem as though it is UFOs at work – lights in the sky, clamps descending out of the air to pick up cattle, cattle being dropped into lakes out of mid-air, men in contamination suits, computer-generated terrain maps and the like.
Of course, it is only later that one realises that this has been done with the deliberate intent to mislead. That said, it is not too hard to work out that there is some purely terrestrial explanation behind what is going on as the film has given all its secrets away during the opening statement that talks about US Army chemical experiments. The script remains vague as to what exactly the cattle mutilations are about – we, for instance, never find out how cutting cattle up with laser probes and dumping them in the wild is meant to develop a weapon against the Russians.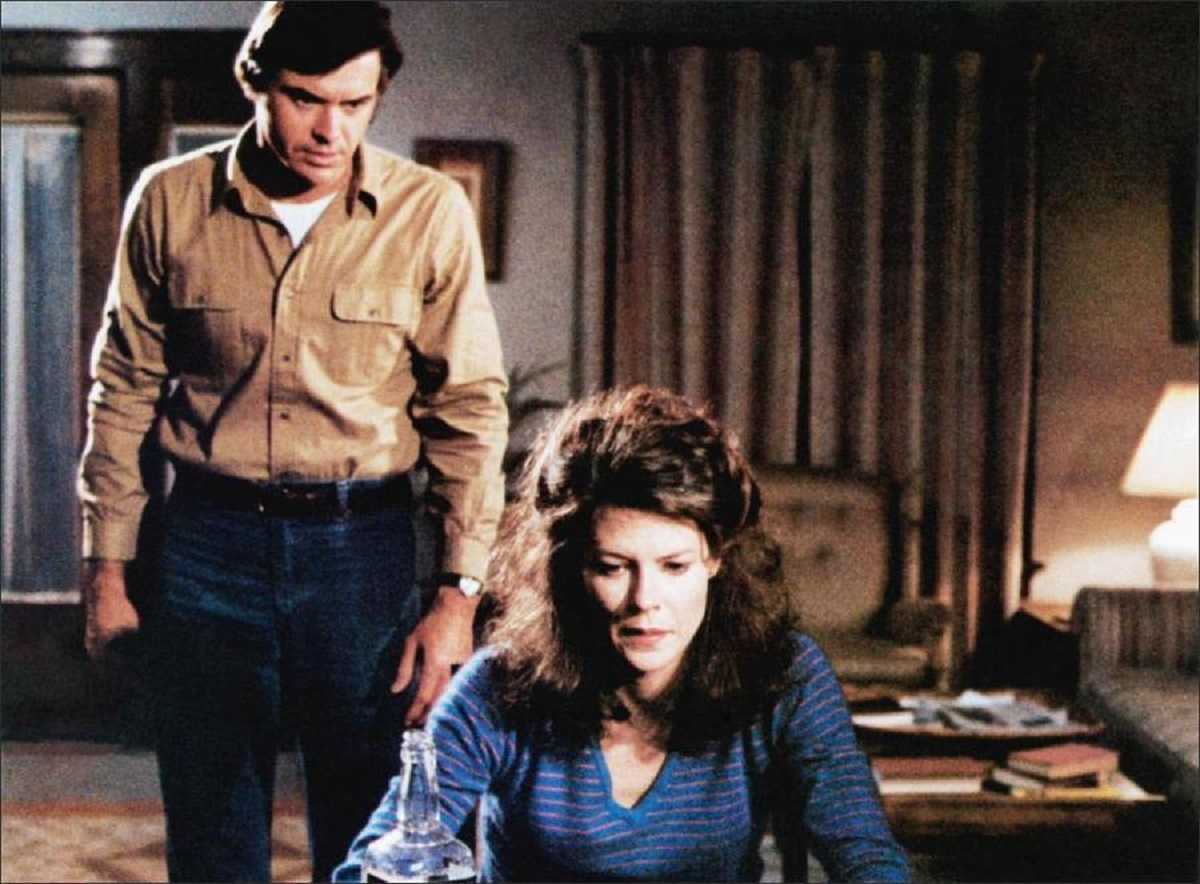 Nevertheless, Alan Rudolph mounts the machinery of the paranoia conspiracy thriller well. The scenes with Robert Urich being pursued by a silent helicopter using infrared sights are excellent. So too is the climax, particularly the triumphant moment the proverbial cavalry of the townspeople's vehicles comes across the horizon. Robert Urich, playing a burned-out alcoholic city detective, and JoBeth Williams as the tough and sensible woman sheriff are well cast together – their initial dislike and its growth into a relationship is credible, indeed is the central strength of the film.
In all, this is a neat little film that was well before its time. Alas, it was not a big success. In the 1990s, when such paranoid themes become fashionable after the success of tv's The X Files (1993-2002, 2016-8), it would been a hit – indeed, with not much rewriting, Endangered Species could have easily have been an episode of The X Files.
Director Alan Rudolph became a well-known mainstream director with films like Roadie (1980) through Choose Me (1984) to the likes of Mrs Parker and the Vicious Circle (1995) and Afterglow (1997). Rudolph has made a number of ventures around the edges of genre cinema. His first film was the obscure Premonition (1972) about students who take a drug that creates precognitive visions, followed by the gory psycho film Barn of the Naked Dead/Terror Circus/Nightmare Circus (1973). He then made the more respectable duo of quasi-futuristic film noir thrillers, Trouble in Mind (1986) and Equinox (1992), the appealing afterlife romance Made in Heaven (1987) and the Kurt Vonnegut adaptation Breakfast of Champions (1999).
---
---