---
Crew
Director – Gary Fleder, Screenplay – Carolyn Case, Ehren Kruger & David Twohy, Adaptation – Scott Rosenberg, Based on the Short Story The Impostor by Philip K. Dick, Producers – Gary Fleder & Gary Sinise, Photography – Robert Elswit, Music – Mark Isham, Visual Effects – Industrial Light and Magic (Supervisor – George Murphy), Additional Visual Effects – Blackbox Digital, Digiscope & Netter Digital, Special Effects Supervisor – Clay Pinney, Makeup Effects – MastersFX (Supervisor – Todd Masters), Production Design – Nelson Coates. Production Company – Mojo Films.
Cast
Gary Sinise (Spencer John Olham), Vincent D'Onofrio (Major Hathaway), Mekhi Phifer (Cale), Madeleine Stowe (Dr Maya Olham), Elizabeth Peña (Midwife), Tony Shalhoub (Nelson Gittes), Tim Guinee (Dr Carone)
---
Plot
In the year 2079, Earth is at war with Alpha Centauri and the populace shelter in cities covered under forcefields. Spencer Olham goes to work in his job as a weapons designer, only to be arrested by Major Hathaway of the security forces. Hathaway believes that Spencer has been replaced by an android duplicate that is unaware of its true nature and has been built with a bomb in his innards, designed to assassinate a chancellor that Spencer is meeting with that evening. Spencer protests vehemently that he is human and manages to make an escape just as Hathaway is about to tear him open. In the wastelands, Spencer attempts to get in contact with his wife and prove that he is a human.
---
Impostor came to screens, the first wide-circulation release of 2002, after considerable delays. The film was shot as long ago as 1998 where it was originally intended as an episode of a film anthology but remained in limbo since then. The trailer first played in theatres way back in mid-2000 but that release was postponed. A direct-to-video release was announced in mid-2001 but cancelled and then a cinema release suddenly announced again towards the end of 2001. The finished film gives much indication of having been substantially re-edited with there being a number of credits, for instance, for the shooting of extra sequences.
Impostor is directed by Gary Fleder who emerged to some acclaim with the gangster film Things to Do in Denver When You're Dead (1996). Fleder then slipped into an efficient if unremarkable niche with commercial successes like the serial killer thriller Kiss the Girls (1997), the Michael Douglas psycho-thriller Don't Say a Word (2001) and the subsequent Runaway Jury (2003) and A Midsummer's Nightmare (2017), plus producing the tv series Beauty and the Beast (2012-6). Fleder's first film was The Companion (1994), which was also an interesting venture into android themes about a love robot going amok. On script, Fleder has David Twohy, the director of some of the most intelligent genre films of recent years, including the likes of Timescape (1992), The Arrival (1996) and Pitch Black (2000) among others, as well as Ehren Kruger, the screenwriter of Arlington Road (1999), Scream 3 (2000), The Ring (2002), The Brothers Grimm (2005) and the Transformers films.
As the film tells us, before the cast, the credits or even the title pops up, it is based on a work by "the classic futurist Philip K. Dick" – even though Dick himself might have resisted the self-description of the word 'futurist' – which was originally published in 1953. Philip K. Dick is a genuine cult writer. His stories operate on a particularly paranoid worldview where protagonists typically find themselves in fundamental existential crises where they can no longer be sure if they are not android duplicates indistinguishable from humans, whether their whole lives are artificial implants or if their entire perception of reality is being manipulated. Philip K. Dick's works have led to a number of other films and tv series (see below).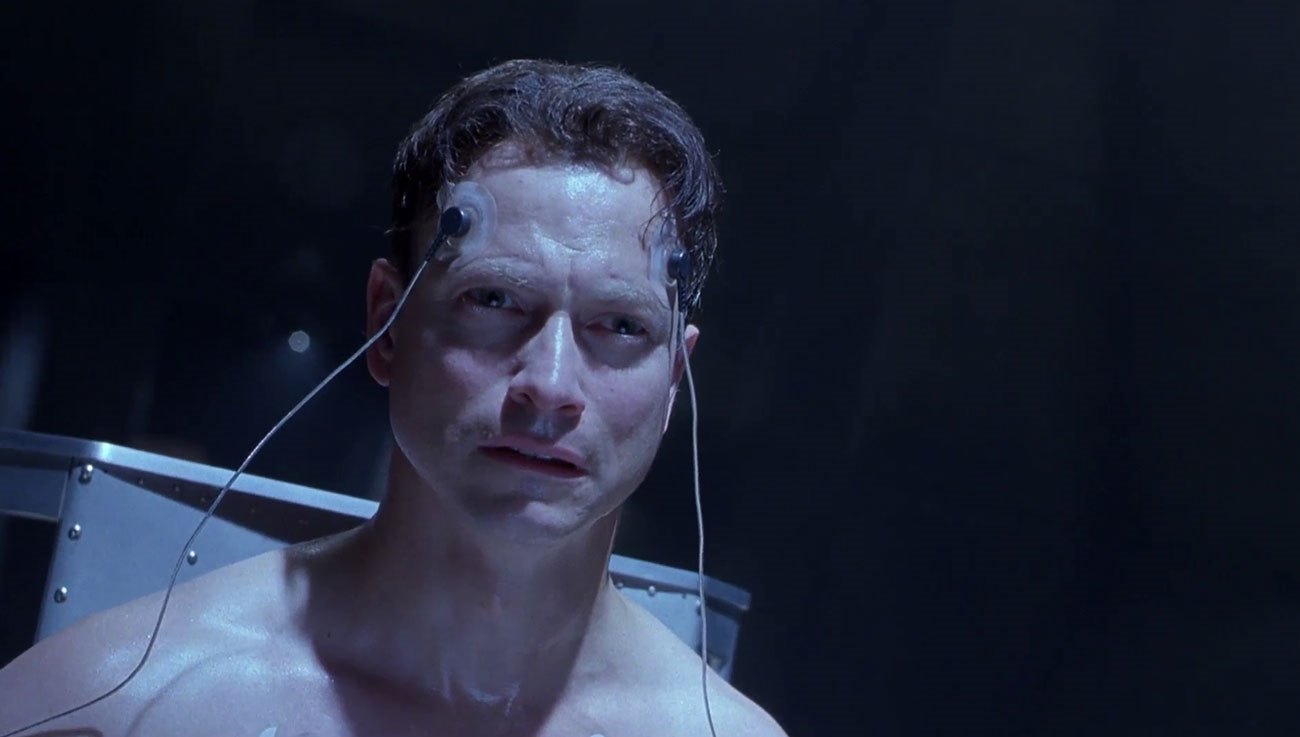 Part of the problem that no doubt led to the film's delays is that Impostor is a relatively modest and unassuming film. It features a handful of moderately well-known actors (including Gary Sinise who also acts as the film's producer) but no top-list stars. It offers some excellent Industrial Light and Magic cityscape backgrounds but is not in itself a special effects vehicle. There are various chase sequences, shootouts and fights but it is not an sf/action film. Rather, Impostor is that rarity of a film carried simply by a good story and an original idea. Which may well explain why people were having difficulty selling the film. It could have been blown up into a big action vehicle – as indeed, other Philip K. Dick adaptations such as Total Recall and Paycheck have been – but the film's good sense is to realize that it didn't need to be. What is also surprising, considering that it has been reshot, is that the finished film still retains the surprisingly dour ending of the story.
Impostor is not a film that is ever going to attain cult or classic status, or even make any year-end Top 10 lists, but it does conduct itself with modestly quiet effect. The story is interesting, Gary Fleder keeps it moving by shooting in tight, kinetic closeups. Perhaps the ultimate complaint one can make is that it is just that – a little too quiet and modest. Nevertheless, there are a good many worse ways to spend an hour-and-half.
Philip K. Dick's works have led to films such as Blade Runner (1982), Total Recall (1990), Screamers (1995), Minority Report (2002), Paycheck (2003), A Scanner Darkly (2006), Next (2007), The Adjustment Bureau (2011), Total Recall (2012), Radio Free Albemuth (2014), the tv series adaptation of The Man in the High Castle (2015-9) and the tv anthology series Philip K. Dick's Electric Dreams (2017=8), as well as the documentary The Gospel According to Philip K. Dick (2000) about Dick's fascinatingly bizarre life.
---
---