---
Crew
Director – Cal Brunker, Screenplay – Bob Barlen & Cal Brunker, Story – Cory Edwards & Tony Leech, Producers – Luke Carroll, Brian Inerfeld & Catherine Winder, Photography – Matthew A. Ward, Music – Aaron Zigman, Animation Director – Adam Wood, Production Design – Barry Jackson. Production Company – CRF Productions/Rainmaker Entertainment.
Voices
Rob Corddry (Gary Supernova), Brendan Fraser (Scorch Supernova), William Shatner (General William Shanker), Sarah Jessica Parker (Kira Supernova), Jonathan Morgan Heit (Kip Supernova), Jessica Alba (Lena Thackleman), George Lopez (Thurman), Jane Lynch (Io), Craig Robinson (Doc), Ricky Gervais (James Bing), Sofia Vergara (Gabby Babblebrock), Steve Zahn (Hawk), Chris Parnell (Hammer)
---
Plot
Scorch Supernova is a space hero of the planet Baab, with a media presence and crowds of adoring fans. His nerdier and more cautious brother Gary works in Mission Control at BASA and is frequently ignored by Scorch who always charges ahead filled with bravado and little sense. Scorch then announces that he is going to mount an expedition to the Dark Planet from which nobody ever returns – Earth. After landing, Scorch is captured and made a prisoner at Area 51. Gary realises that his only option is to mount a rescue operation. However, he too is captured and taken to Area 51. There General Shanker keeps various aliens prisoner and has forced them to give up the secrets of their technology, which he has sold for profit. Gary is now forced to develop super-powerful bublonium for Shanker's Peace Ray, before realising that Shanker is intending to use it to wipe out all planets that have intelligent life.
---
In the last few years, we have seen an increasing number of new companies seeking to get a slice of the lucrative box-office dollar enjoyed by the animated family film. One of the more interesting trends among these has been the move of some visual effects companies from producing CGI effects to animation. The way was begun with Blue Sky Studios who were a visual effects studio in the 1990s and became an animation house in 2000s with the likes of Ice Age (2002) and sequels, Robots (2005) and Rio (2011). Sony Pictures Imageworks became Sony Pictures Animation and delivered animated films like Surf's Up (2007), Cloudy With a Chance of Meatballs (2009), Arthur Christmas (2011), Hotel Transylvania (2012) and The Pirates! Band of Misfits (2012). More recently, Industrial Light and Magic premiered as an animation studio with Rango (2011) as did Reel FX subsequent to this with Free Birds (2013).
With Escape from Planet Earth, it is the turn of Canadian visual effects house Rainmaker, who have previously been a visual effects studio producing effects for the likes of Stargate SG-1 (1997-2007), I, Robot (2004), Elektra (2005), The Da Vinci Code (2006), Night at the Museum (2006) and Tropic Thunder (2008), among others. Although this is not quite the case of Rainmaker breaking out from a visual effects company to an animation production facility according to the story being sold by the film's publicity department. In 2007, Rainmaker incorporated what was previously Mainframe Entertainment, which had been the world's first computer animation company, and had put out tv series such as ReBoot (1994-2001), Beast Wars: Transformers (1996-9) and a great many Barbie films. Mainframe then continued to put out a number of dvd-released films and tv series under the Rainmaker banner. Escape from Planet Earth, while by no means Rainmaker's debut as an animation studio, is however their theatrically released animated film.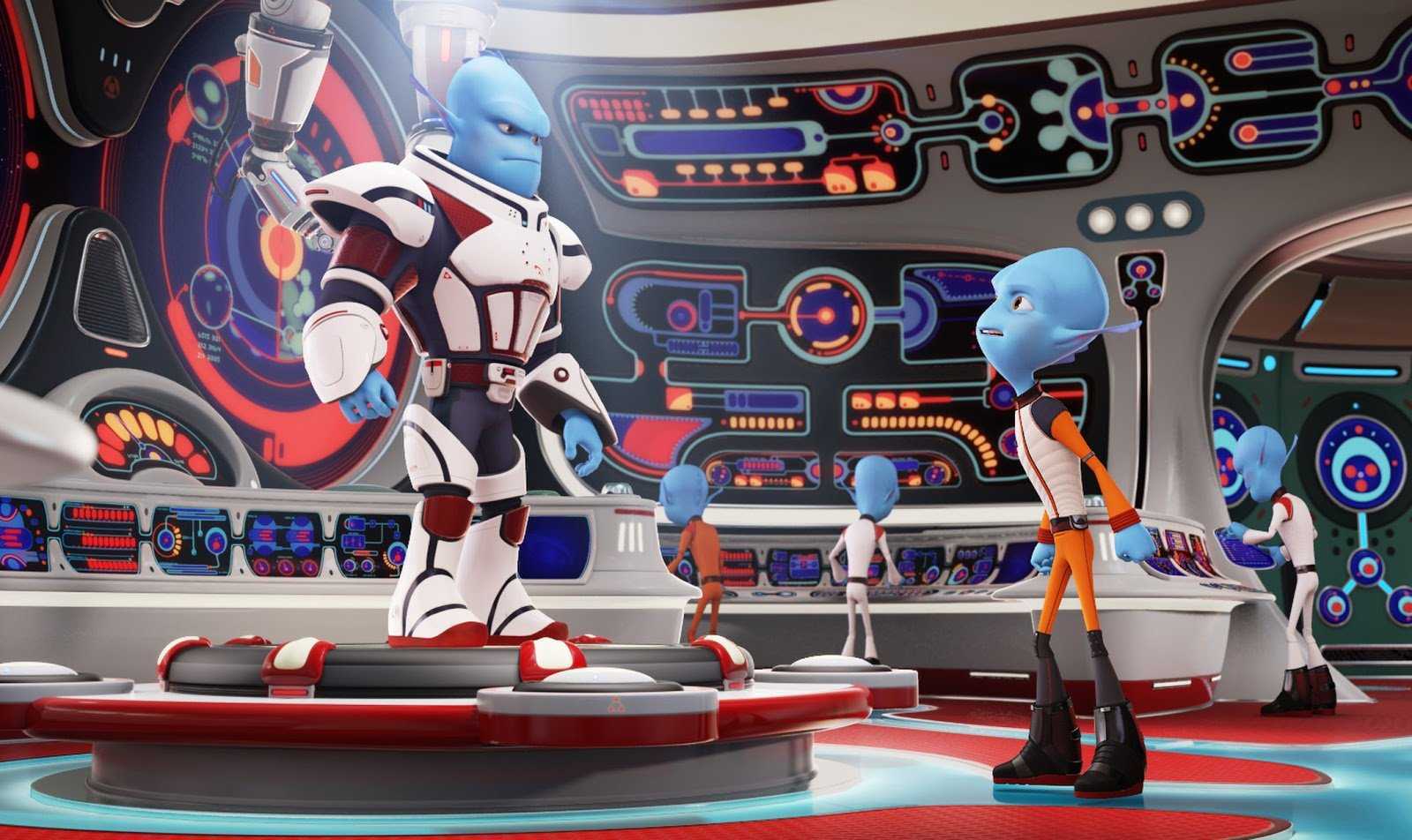 There is a cute joke at the heart of Escape from Planet Earth. The film takes the point-of-view of aliens as they land on Earth where the cliches of alien invasion cinema are reversed – they are the decent cuddly cute guys and humanity is seen as sinister and militarily obsessed. Indeed, Escape from Planet Earth could almost be a follow-up to the similar animated Planet 51 (2009) that saw a human astronaut landing on a planet of little green men in terms of a spoof of alien invasion cinema where the human was the invader. I sat down expecting a film that offered a good deal of play on familiar Earth culture as seen through the eyes of aliens, which is always something that can work well. I grated through the glib and annoying humour of the opening scenes on Baab, hoping that things would pick up.
Alas, as soon as the film gets the characters to Earth, it confines the entirety of the film to Area 51. Instead of the anticipated cultural humour, the film spends its time getting laughs out of a range of strange but cuddly supporting alien creatures. William Shatner chews the scenery in expected style as a stock villain with an exceedingly improbable scheme to dominate the galaxy – one that involves his torturing aliens to get their tech, energy cells smuggled inside Scorch's spacesuit and the general catfishing himself via an internet romance to an alien woman back in Baab mission control. The bulk of the film is in fact about the heroes' attempts to escape from Area 51 and then defeat the general and his universe-destroying death ray.
What we end up with is stock villainy, stock cute supporting animal sidekicks, lots of drama centred around escapes, canned cutsie and slapstick sequences, including even an alien foodfight. The character of Scorch even seems blatantly copied from Toy Story (1995)'s Buzz Lightyear. You could compare the film with the Star Trek: Deep Space Nine episode Little Green Men (1995), which took on Roswell and Area 51 from the alien point-of-view and achieved a number of rather funny laughs. Escape from Planet Earth does the same but fails to deliver anything amusing or interesting about any of it.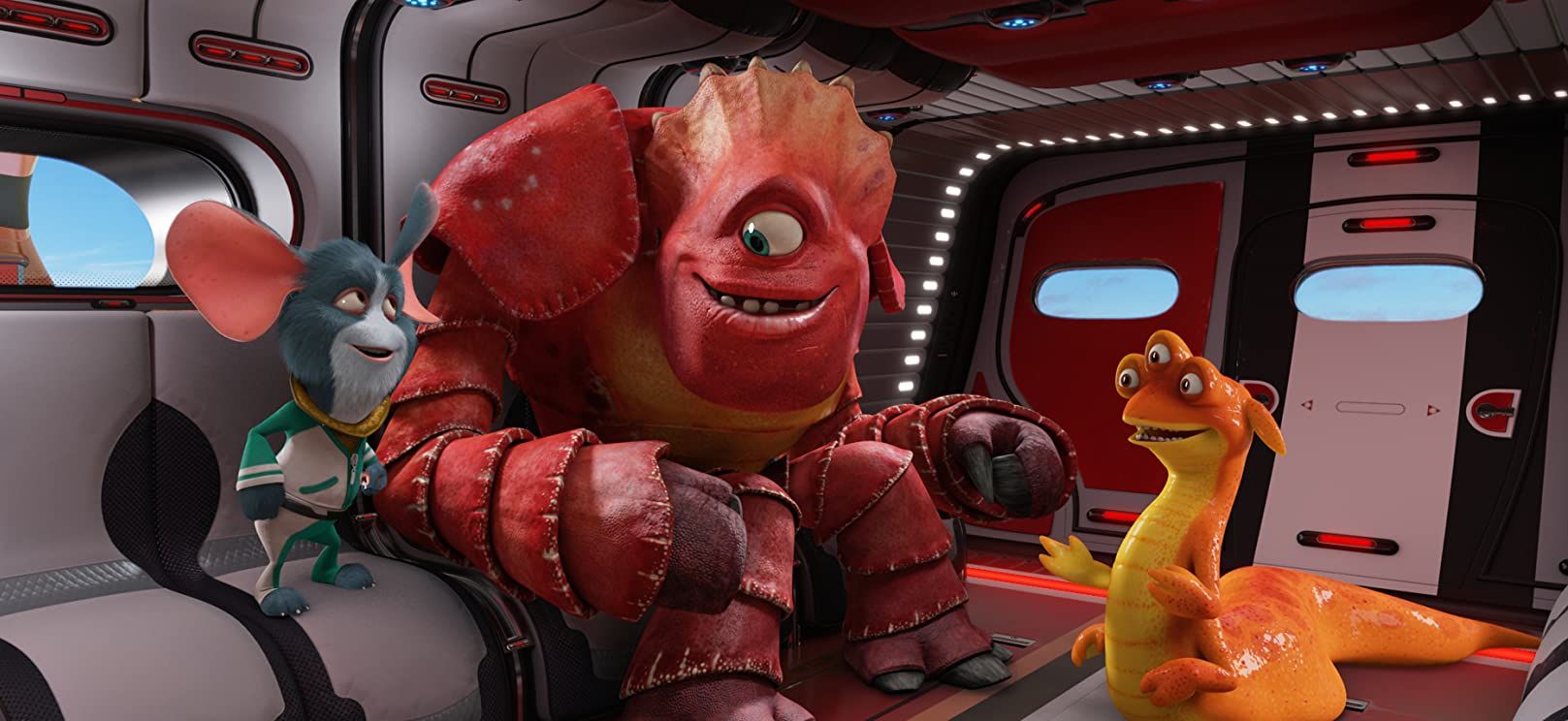 A few years ago, there was a trend of fantasy and fairytale films being overrun by hip pop culture jokes and references, smartass one-liners and a constant rupturing of the bubble of suspension of disbelief that a fantasy milieu should exist in – see films such as Ella Enchanted (2004), Shrek 2 (2004), Hoodwinked! (2005) and Happily N'Ever After (2006). Indeed, it is no particular surprise that the story for Escape from Planet Earth is co-written by Cory Edwards, the director of Hoodwinked!, easily the worst of these smartass modernistic fairytale retellings. Here the same kind of idiocy starts to infect the science-fiction film. Baab, it would appear, has developed an identical parallel culture to Earth with even the same tv shows, cereal boxes, homes, even, as the last scene of the film shows, where they play the exact same music at wedding ceremonies.
I hate this type of moronic cinema that says that the purpose of science-fiction and fantasy should not be to transplant the viewer to a different time and place but rather to overwrite other worlds with our own pop culture. Hang the idea of looking at the way an alien might behave or look in at Earth culture, the film seems to say, all that matters is playing a series of cutsie jokes that make the audiences of right this moment laugh. As the inclusion of jokes about Simon Cowell shows, this is a film that is going to quickly date within a matter of years so has no intrinsic value beyond the momentary passing interest of the audience watching it in 2013.
Indeed, what we have is faux science-fiction – a film that has precisely zero interest in engaging with any of its elements on a conceptual level (the mark of good science-fiction) and exists solely as a series of pop culture jokes, thrills, feelgood laughs and banal epiphanies designed to make people go "aww."
Rainmaker next went on to make the theatrically released adaptation of the videogame Ratchet & Clank (2016).
---
---