---
Crew
Director – Barry Sonnenfeld, Screenplay – Brent Maddock, Jeffrey Price, Peter S. Seaman & S.S. Wilson, Story – Jim & John Thomas, Producers – Barry Sonnenfeld & Jon Peters, Photography – Michael Ballhaus & Stefan Czapsky, Music – Elmer Bernstein, Visual Effects – Industrial Light and Magic (Supervisor – Eric Brevig, Animation Supervisor – Danny Gordon Taylor), Special Effects Supervisor – Michael Lantieri, Makeup Effects – Rick Baker, Production Design – Bo Welch. Production Company – Peters Entertainment/Sonnenfeld-Josephson/Todman Simon LeMasters Productions.
Cast
Will Smith (Captain James West), Kevin Kline (Artemus Gordon/President Ulysses S. Grant), Kenneth Branagh (Dr Arliss Loveless), Salma Hayek (Rita Escobar), Ted Levine (General 'Bloodbath' McGrath), M. Emmet Walsh (Coleman), Bai Ling (Miss East), Musetta Vander (Munitia), Sofia Eng (Lippenreider), Frederique Van der Wal (Amazonia)
---
Plot
President Ulysses S. Grant pairs up US Marshal James West with Artemus Gordon, master of disguise and inventor, to stop someone who is kidnapping top scientists and is now threatening to overthrow the nation. Aboard the specially outfitted train The Wanderer, West and Gordon are joined by Rita Escobar, the daughter of one of the missing scientists. They must then tackle Dr Arliss Loveless, a crazed Southern genius who rides a giant mechanical scorpion and is planning to force President Grant to sign a treaty returning the US states to their original owners.
---
The tv series The Wild Wild West (1965-9) was one of the better of a host of films and tv series that leapt on the 1960s spy film bandwagon following the enormous success of the James Bond films. The Wild Wild West was memorable for crosshatching the spy film with Western tv series of the time a la Gunsmoke (1955-75), Maverick (1957-62), Rawhide (1959-66) and Bonanza (1959-73). The series had a tongue-in-cheek deadpan that wilfully concatenated Western action with colourfully eccentric super-villains and anachronistic inventions.
Here The Wild Wild West is another of the 1990s/00s big screen remakes of 1960s tv series – a la The Beverly Hillbillies (1993), The Fugitive (1993), The Flintstones (1994), The Brady Bunch Movie (1995), Flipper (1996), Maverick (1996), Mission: Impossible (1996), Leave It to Beaver (1997), The Saint (1997), The Avengers (1998), Lost in Space (1998), The Mod Squad (1999), My Favorite Martian (1999), Charlie's Angels (2000), I Spy (2002); Scooby-Doo (2002), Starsky & Hutch (2004), Thunderbirds (2004), Bewitched (2005), The Dukes of Hazzard (2005), The Honeymooners (2005), Miami Vice (2006), Transformers (2007), Get Smart (2008), Speed Racer (2008), Land of the Lost (2009), Star Trek (2009), The A-Team (2010), Yogi Bear (2010), Dark Shadows (2012), The Sweeney (2012), 21 Jump Street (2012), The Equalizer (2014), Jem and the Holograms (2015), The Man from U.N.C.L.E. (2015), Dad's Army (2016), Baywatch (2017), CHiPs (2017), Fantasy Island (2020) and The Munsters (2022)
Wild Wild West is directed by Barry Sonnenfeld. Barry Sonnenfeld was a cinematographer on films like Raising Arizona (1987), When Harry Met Sally (1989) and Misery (1990), before inheriting the director's chair on The Addams Family (1991) largely by accident – that they needed the nearest available person after the previous director bowed out. Since The Addams Family, Sonnenfeld went onto further success with Addams Family Values (1993), Get Shorty (1995) and the mega-hit of Men in Black (1997). The Addams Family films were enjoyable and Get Shorty was Sonnenfeld's best, largely due to John Travolta on top form and a tight script from an Elmore Leonard novel.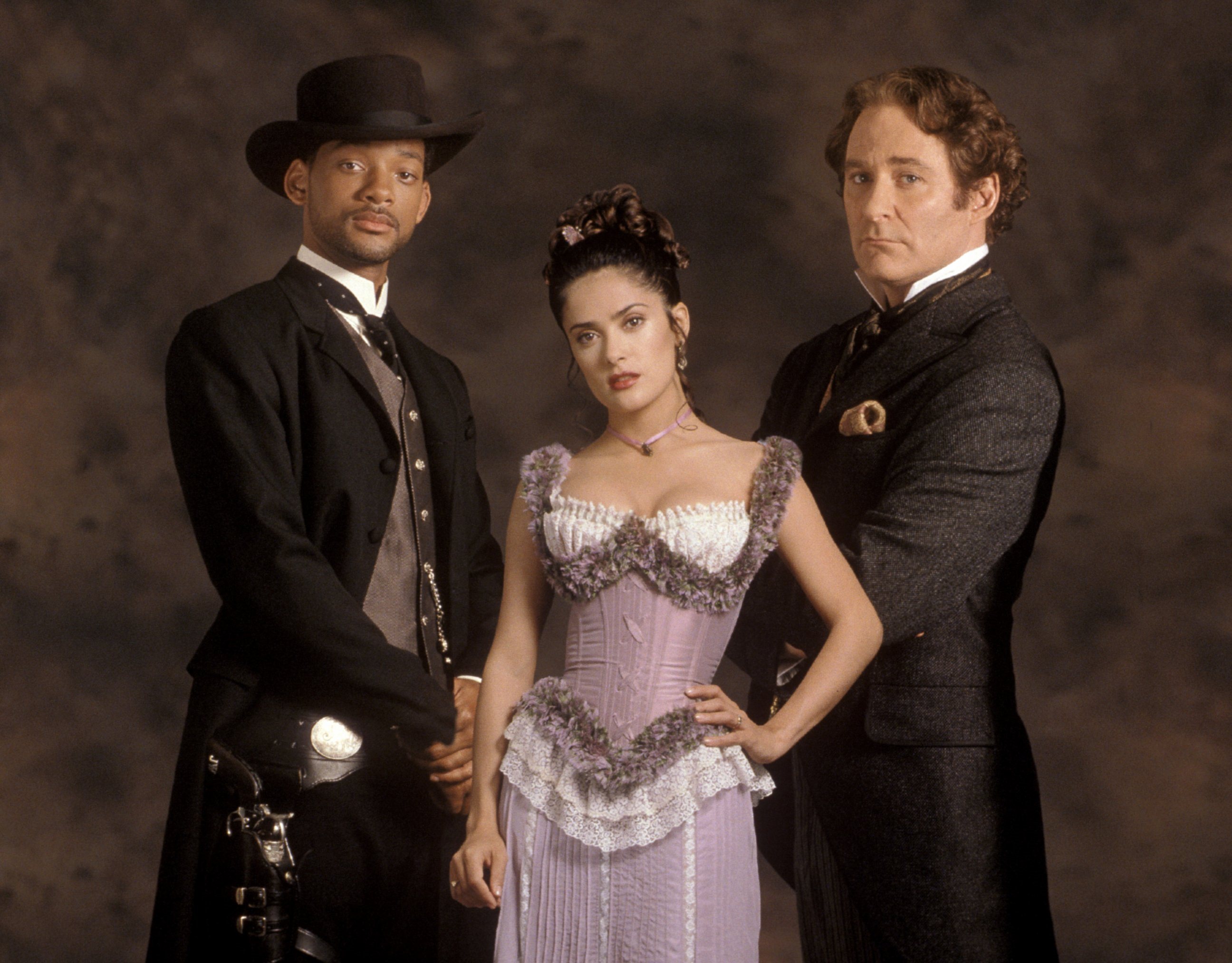 However, with the uneven Men in Black – and most certainly with Wild Wild West and his next film Men in Black II (2002) – Sonnenfeld seemed in imminent danger of being buried under the machinery of the big budget box-office vehicle. Sonnenfeld's forte is clearly mainstream comedy – he was perfectly at home in the arch mock kinkiness of the Addams Family films and the snowballing wit of Get Shorty. With Men in Black one could see Sonnenfeld failing to hit the stride and the film uneasily alternating between deadpan and strident farce. Wild Wild West and Sonnenfeld's subsequent flop nuclear bomb comedy Big Trouble (2002) seem to represent all of Sonnenfeld's failings writ large.
Wild Wild West seems more of a film construed in terms of a package of box-office drawcards than it is a film – a big screen remake of a 1960s tv series; large-scale action; CGI effects; box-office stars – especially flavour of the year Will Smith doing the Will Smith eye-rolling, jocular asides thing, as well as names such as Kevin Kline, Kenneth Branagh and Salma Hayek along for the ride; a good deal of audience-pleasing humour; a Burger King promotional tie-in; and a rap soundtrack by Will Smith. As it emerges on screen, Wild Wild West is a great piece of packaging that when unwrapped has all the substance of trying to meal on something like Dairy Whip.
Wild Wild West is not a film that takes itself seriously – not necessarily a problem – but it is not even a film that wants you to take it seriously either and advertises such in loud and clear terms. If the 1960s Wild Wild West was born out of the Sean Connery Bond films then the Wild Wild West movie must be the equivalent of the Roger Moore Bond films – where the chic sophistication of the originals has become supplanted by over-inflated big-budget excess, a campy silliness and an unserious attitude on the part of the leads that shows that they are not taking any of the proceedings with a straight face. The original Wild Wild West never took things too seriously either but the difference between the two is that Wild Wild West 1999 pitches itself at such a level of audience-pleasing humour that it collapses into a circus of noise and thunder whose entire arsenal of humour is a series of moron-level pratfalls.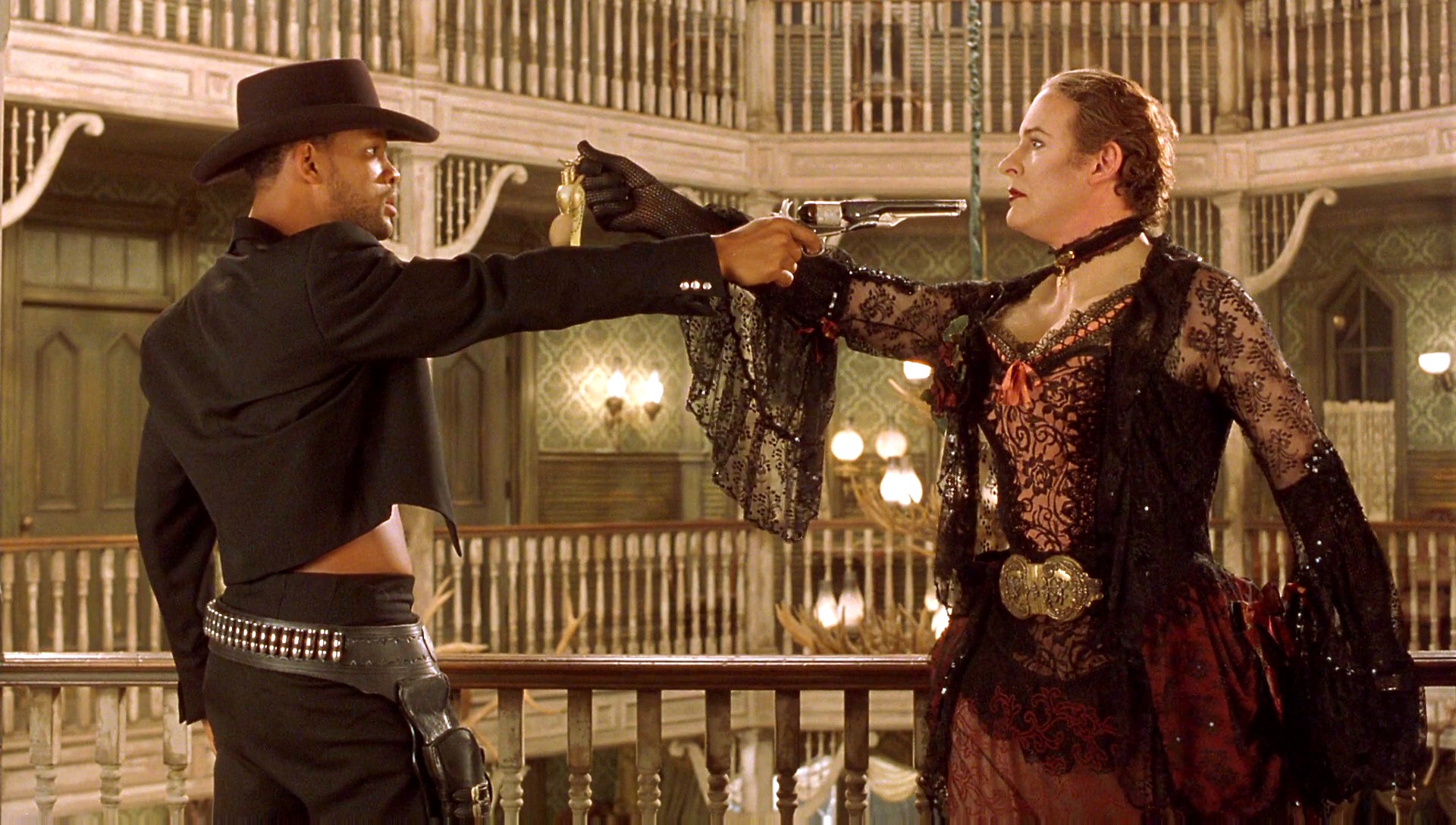 There are endless unfunny scenes with Will Smith bungying underneath a train; rotating billiard table gags; Will Smith falling out of a water tower where he has been love-making and having to take on gunmen naked; and a good deal of dumb fooling around with magnetised metal collars. There is a gag with Will Smith and Kevin Kline trying on a set of false breasts and their various comments being misinterpreted as gay male banter where the film goes on and on in a singularly unfunny way that seems to demand we applaud it for making such clever double entendres. Ditto a scene with Smith and Kline falling over themselves making Freudian slips about breasts and butts at the sight of Salma Hayek in longjohns. At the point of the climax where Will Smith rescues Kevin Kline from a firing squad by dressing up as a harem girl, you sit there in disbelief at how staggeringly unfunny the scene is and realise you are in the midst of a mega-million dollar Carry On film.
Of course, Wild Wild West's lack of seriousness in itself should have been signalled even before one enters the theatre and saw that the character of James West had been cast with a Black superstar. Now one's support of affirmative action employment and joy in seeing that racial equality has reached a point where a Black star can carry a major box-office success aside, this is a piece of casting that seems to fly absurdly in the face of any type of historical credibility. The film's date of 1869 comes only four years after the end of the American Civil War and four years after the formation of the Ku Klux Klan. Admittedly, there were Black congressmen at the time, but the film's casting seems to blatantly disregard the social position of African-Americans in the particular day and age. There is one attempt to deal with the issue – where Will Smith tries to convince a Southern lynch mob out of hanging him by telling them the virtues of being rednecks – "Red is because you're passionate. And neck – well I can't seem to say anything about neck" – that does such a bad job in making a joke out of a serious issue that it borders on the offensive.
There are minor pluses. Some of the anachronistic Steampunk gadgetry is cute – flying buzzsaws, rocket bicycles, Da Vinci flying machines, tanks, gramophone earpieces and sleeves with spring-loaded guns and notebooks, not to mention the big set-piece of a giant steam-powered mechanical tarantula. There is also one cute sight gag with Will Smith tying a horse up outside the White House.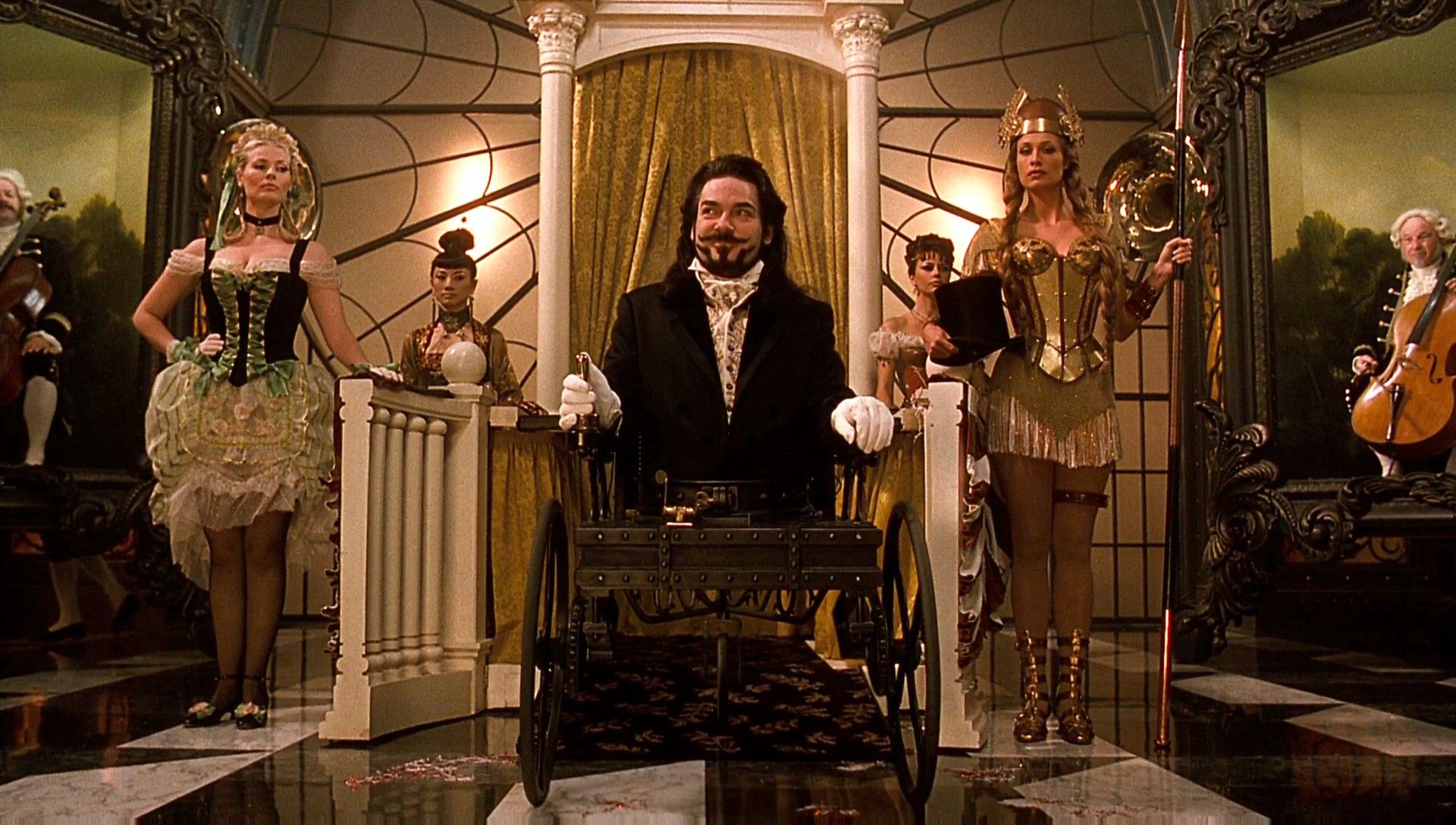 Amid the cast, Will Smith plays with the likeable, average guy sense of humour that has made him an effortless box-office star. Kevin Kline, a charismatic box-office star in his own right, seems uncustomarily subdued as the second banana. Kenneth Branagh has always shown a tendency toward a broad, theatrical flamboyance when on screen. As the villain of the piece, the film grants him the opportunity to indulge his proclivity toward overacting with shameless regard. He leaps in and plays with an outrageously over-the-top Southern accent – and as a result steals the show. Salma Hayek, one of the sexiest actresses of the moment, is capable of a genuine passion and fire when given the chance but the film wastes her in a part that is no more than cursory feminine window-dressing.
Barry Sonnenfeld's other genre films as director include The Addams Family (1991) and Addams Family Values (1993), Men in Black (1997), the nuclear weapon comedy Big Trouble (2002), Men in Black II (2002), Men in Black 3 (2012) and Nine Lives (2016) with Kevin Spacey resurrected in the body of a cat. Sonnenfeld also produced the witty spoof James Bond tv series Secret Agent Man (2000), the live-action superhero spoof The Tick (2001-2), the tv series Pushing Daisies (2007-9) about a man with resurrection powers, the Lemony Snicket tv series A Series of Unfortunate Events (2017-9), the revival of The Tick (2017-9) and Schmigadoon! (2021- ) about a magic town that operates like a musical, and on cinema screens the Gothic children's film Lemony Snicket's A Series of Unfortunate Events (2004), the Disney animation spoof Enchanted (2007) and its sequel Disenchanted (2022), the animated Space Chimps (2008) and Men in Black: International (2019).
(Nominee for Best Production Design at this site's Best of 1999 Awards).
---
---