---
USA. 1983.
Crew
Director – Charles Band, Screenplay – Alan J. Adler, Producers – Charles Band & Alan J. Adler, Photography (3-D) – Mac Ahlberg, Music – Richard Band, Makeup Effects – Allan A. Apone, Francis X. Carriosa & Douglas J. White, Art Direction – Pamela B. Warner. Production Company – Albert Band International.
Cast
Jeffrey Byron (Jack Rojan), Mike Preston (Jared-Syn), Tim Thomerson (Rhodes), Kelly Preston (Dhyana), Richard Moll (Hurok), David Smith (Baal)
---
Plot
On a desert world, the Ranger Rojan saves Dhyana from attack by the cyborg Baal. Baal is the son of the evil messianic warlord Jared-Syn, who uses Baal's mechanical arm to spray people with a poison that traps their souls inside a giant crystal. After Jared-Syn abducts Dhyana, Rojan and a fellow ranger set forth to find Jared-Syn's secret city and defeat him.
---
Metalstorm: The Destruction of Jared-Syn was an entry in the brief 1981-3 3-D revival fad that started with the awful Western Comin' at Ya (1981), a fad that was noted chiefly for failing to even produce a single worthwhile film. Metalstorm was one of the earliest productions of Charles Band. Band had previously directed the 3-D Parasite (1982) and would set up his Empire studios the following year and later go onto head Full Moon Productions, where he and his father Albert would produce dozens of low-budget horror films including the Ghoulies, Trancers, Subspecies, Prehysteria! and Puppetmaster series, among many others. (See below for Charles Band's other films as director).
Metalstorm bears a close resemblance to Spacehunter: Adventures in the Forbidden Zone (1983), another better-budgeted 3-D entry that came out the same year and had a near-identical plot involving a ranger travelling across an alien desert world to rescue a woman/women being held by an evil warlord. The similarities between Spacehunter and Metalstorm are perhaps coincidence but everywhere else Metalstorm is a magpie collage of copyings from other sources – light trips a la 2001: A Space Odyssey (1968), Death Star trench-like shootouts from Star Wars (1977), speeder-bike chases out of Return of the Jedi (1983). Like many science-fiction films of the post-Star Wars period, Metalstorm consciously draws on the influence of the Western – the desert setting, saloons, and gunfight showdowns, while the poster even goes out with the legend 'It's High Noon at the End of the Universe'. Most of all though, the film borrows much from the look and design of Mad Max 2 (1981) – in particular, Charles Band casts actor Mike Preston, who played the leader of the besieged community that Mel Gibson saves in Mad Max 2, as the villainous Jared-Syn.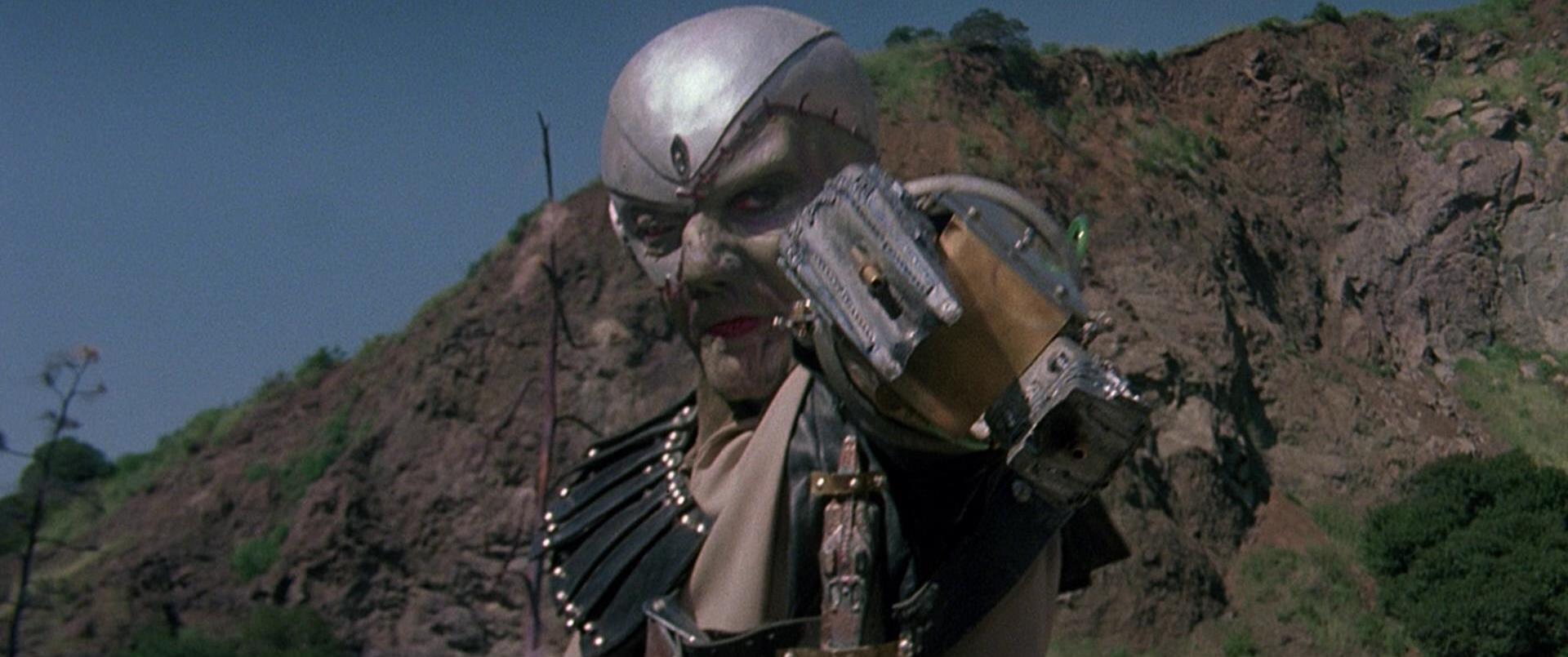 In all technical areas – especially editing and matte work – Metalstorm is shoddily made. Band's brother Richard delivers an overemphatic score. Little is ever explained in the film – what the rangers are, what the vortex is, what the strange landscape Baal's poison takes victims into is. The title, one should note, has no relation whatsoever to anything that happens in the film – there is no 'metalstorm', and neither is Jared-Syn destroyed or even killed. It is a miserably cheap and dull film on all counts.
In early career parts, one can note later-to-be Mrs. John Travolta, Kelly Preston, as the heroine. In his first appearance for the Bands, there is also Tim Thomerson who would later go onto to become one of the Bands regular players – most notably as Jack Deth in the Trancers series and the title character in Dollman (1990), among others.
Charles Band has produced over 200 films. As director, his other genre films include:- Crash (1977), Parasite (1982), The Alchemist (1983), an episode of The Dungeonmaster/Ragewar: The Challenges of Excalibrate (1984), Trancers/Futurecop (1985), Pulse Pounders (1988), Crash and Burn (1990), Meridian (1990), Trancers II (1991), Doctor Mordrid (1992), Dollman Vs. the Demonic Toys (1993), Prehysteria! (1993), Head of the Family (1996), The Creeps/Deformed Monsters (1997), Hideous (1997), Mystery Monsters (1997), Blood Dolls (1999), Puppet Master: The Legacy (2003), Dr Moreau's House of Pain (2004), Decadent Evil (2005), Doll Graveyard (2005), The Gingerdead Man (2005), Evil Bong (2006), Petrified (2006), Dead Man's Hand (2007), Decadent Evil II (2007), Dangerous Worry Dolls (2008), Evil Bong II: King Bong (2009), Skull Heads (2009), Evil Bong 3D: The Wrath of Bong (2011), Killer Eye: Halloween Haunt (2011), The Dead Want Women (2012), Devildolls (2012), Puppet Master X: Axis Rising (2012), Ooga Booga (2013), Unlucky Charms (2013), Gingerdead Man vs Evil Bong (2013), Trophy Heads (2014), Evil Bong 420 (2015), King of Cult (2015), Evil Bong: High 5 (2016), Evil Bong 666 (2017), Puppet Master: Axis Termination (2017), Evil Bong 777 (2018), Barbie & Kendra Save the Tiger King (2020), Barbie & Kendra Storm Area 51 (2020), Corona Zombies (2020) and Evil Bong 888: Infinity High (2022).
---
Trailer here
---