(Na Yeh Ling San, Ngo Joa Seung Liu Wong Gok Hoi Wong Dai Bou Dik Hung Van)
---
Crew
Director – Fruit Chan, Screenplay – Chan Fai-hung, Fruit Chan & Kong Ho-yan, Based on the Novel Lost on a Red Mini-Bus to Tai Po by Mr Pizza, Producer – Amy Chin, Photography – Lam Wah-tsuen, Music – Veronica Lee & Ellen Loo, Visual Effects Supervisors – Tong Ka-wai & Ken Law, Visual Effects – Different Digital Design Ltd (Supervisors – Ken Law & Randy Tse), Makeup Effects – QFX Workshop. Production Company – The Midnight After Film Production/One Ninety Films Company Ltd.
Cast
Wong You-nam (Yau Tsi Chi), Simon Yam (Wong Man Fah), Lam Suet (Suet), Chui Tien-you (Shun), Janice Man (Yuki), Kara Hui (Mook Sau Ying), Jan Curious (Auyeung Wai), Ronny Yuen (Airplane), Cheuk Wan-chi (Pat), Lee Shing-cheung (Bobby), Sam Lee (Blind Fai), Kelvin Chan (Glu-Stick), Melodee Mak (Lavina)
---
Plot
Late at night, a group of varied people catch the minibus home along Hong Kong's Tai Po Road. As they emerge from a tunnel, they find the city to be strangely deserted. They puzzle over what has caused this and theorise all manner of scenarios. The puzzle is added to as they pick up mysterious Morse radio signals that translate as David Bowie lyrics and see a strange figure in a hazmat suit who turns out to be a Japanese man who says he has come to save them. At the same time, members of the group start dying one by one of an infection that causes them to crumble to dust.
---
I noticed the improbably named Fruit Chan a few years ago with the fine horror film Dumplings (2004), which was simultaneously released in condensed form as one of the episodes of Three … Extremes (2004). Prior to that, Chan had made films such as Made in Hong Kong (1997), The Longest Summer (1998), Little Cheung (1999), Durian Durian (2000), Hollywood, Hong Kong (2001) and Public Toilet (2003). Dumplings however seemed to mark his turn into genre material. Chan next came to the US to make the flop of the English-language Don't Look Up (2009) and subsequently returned to Hong Kong, later making the horror anthology Coffin Homes (2021).
The Midnight After falls into the genre of Last People on Earth films such as Five (1951), Day the World Ended (1955), The World, The Flesh and the Devil (1958), Last Woman on Earth (1960) and The Last Man on Earth (1964). The Midnight After draws in particular from The Quiet Earth (1985), a drama about the last people who are attempting to deal with an enigmatic catastrophe, the nature of which is never clear to us. We have seen several variants on this in recent years with the likes of The Last Seven (2010), Vanishing on 7th Street (2010), the fascinating South Korean The End of the Animal (2010), Alone (2017) and Bokeh (2017).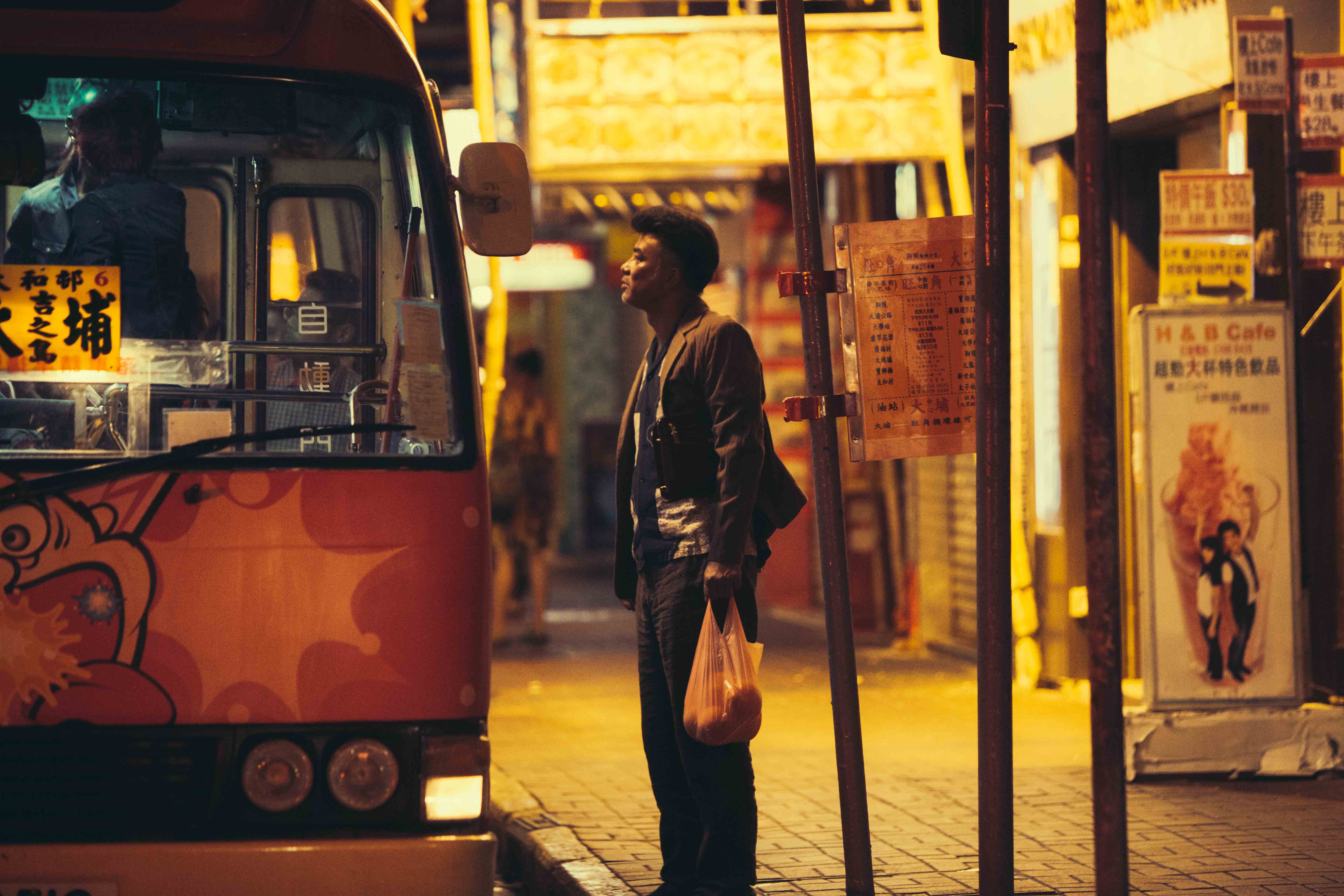 The Midnight After seems to be following the standard path of these Last People on Earth dramas – the puzzling over the disappearance of the rest of the populace, the freedom and luxury of being able to do anything, the loneliness and despair. Then however, the film starts to get strange. This begins with the characters picking up strange white noise on their phones that is deciphered as Morse code transmissions that are revealed to be, of all things, lyrics from David Bowie's Space Oddity (1969). (One of the more stranger images of the film gets to be when HK pop star Jan Curious playing the nerd of the group stands up to do a karaoke rendition of the song).
Other increasingly bizarre things happen – Wong You-nam walks Janice Man home but both of them end up with two completely different memories of what happened, while later he keeps having visions of her as something otherworldly with her hair flowing up as though blown by a wind; the appearances of the strange figure in a black hazmat suit who is later revealed to be a Japanese man who claims he has come to rescue them; Wong You-nam receiving a phone call from his girlfriend that tells them that it is now five years in the future, that his mother is dead and all of Hong Kong has been evacuated after their disappearance. These set up a fascinating mystery that leaves you intrigued to find out what is happening.
One of several problems I had with the film was Fruit Chan's uncertainty of tone. Some of it seems to be comedy – the people who take leadership of the group are constantly blustering their way through with idiotic decisions and dismissing those who actually have helpful and relevant information about the situation. There are a number of snide political asides (that make more sense apparently to someone who is a Hong Konger than they do to me), including jibes about the Chief Executive and analogies to Fukushima.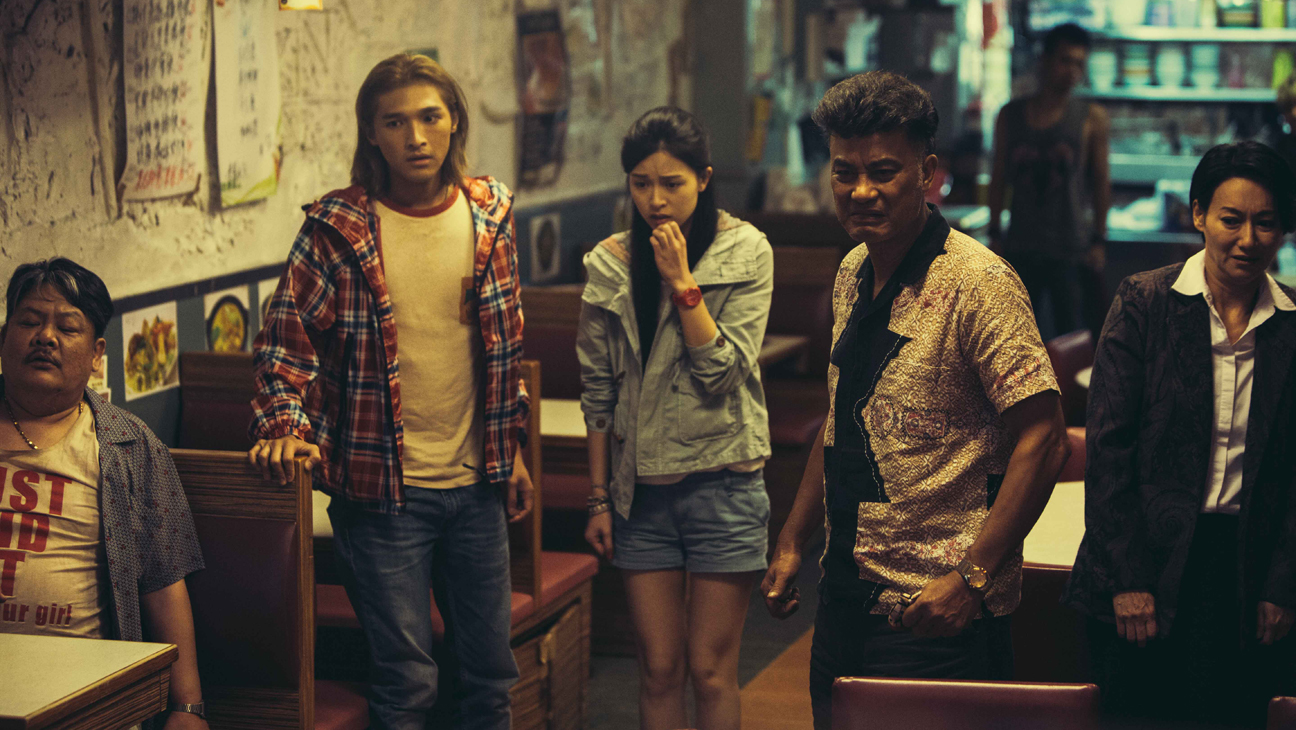 Other times the film works as straight drama. One of the better sections is when the group all discover that Airplane is guilty of the rape and decide he must be stabbed to death, only to then be faced with the choice of having to enact this themselves and trying to reach a decision who among them should do it. However, a serious scene like this veers off into the bizarre absurdity of the vehicle chase around the city with obvious CGI stunt sequences that are played for comical effect.
The disappointment of the film is the lack of resolution it offers for anything that happens. [PLOT SPOILERS]. We never find out the cause of the minibus becoming displaced into an empty Hong Kong, what it was that emptied Hong Kong in the first place, who the Japanese men in black hazmat suits are, why Wong You-nam experiences different versions of reality and sees visions of Janice Man, and what the Space Oddity messages meant. The end of the film seems to be a big lead-up to their going to Tai Mo Mountain to obtain the answers to these questions but the film just fades out with the minibus travelling off in that direction. The problem here is that Fruit Chan has filmed a book Lost on a Red Mini-Bus to Tai Po (2012) that was originally serialised as a web novel by the 25 year-old author known only as Mr Pizza. However, only half of the story was released in book form, which appears to make up the film and the second half has presumably been left for a sequel.
---
---