(…4 ..3 ..2 ..1 …Morte/Perry Rhodan – SOS aus dem Weltall)
Crew
Director – Primo Zeglio, Screenplay – Primo Zeglio, Sergio Donati & K.H. Vogelman, Story – K.H. Vogelman, Based on the Perry Rhodan Stories Created by Walter Ernsting, Producer – E. von Theumer, Photography – Manuel Merino, Music – Anton Garcia Abril, Art Direction – Jamie Perez Cubero. Production Company – Altor/DEA/Theumer.
Cast
Lang Jeffries (Major Perry Rhodan), Essy Persson (Thora), Luis Davilla (Captain Bull), John Karelson (Kress), Gianni Rizzo (Arkin), Pinkas Braun (General Rotkin)
---
Plot
Mission Stardust, commanded by Major Perry Rhodan and with a four-man crew, is launched to the Moon. However, the rocket is pulled off course by a ship containing two female aliens from the planet Archon who are looking for another humanoid race to breed with. One of the aliens is diagnosed with leukaemia so Rhodan arranges a rescue mission to obtain an experimental cure from a doctor in Mombassa. However, the mission is endangered by the Kenyan army and international criminals who want to get their hands on the Archons' plentiful supply of diamonds.
---
The German Perry Rhodan novels comprise the longest running series in science-fiction. The books began in 1961 and are still going, of which there have been nearly 3000 weekly novellas published to date. In many fan circles, Perry Rhodan is representative of all that is bad science-fiction writing. What cannot be denied is that they are popular. Their literary merits notwithstanding, the stories are no more than free-ranging and colourful juvenile space operas. Their popularity inspired this film.
Co-written by one of the authors of the book series, the film version is reasonably faithful to the basic Perry Rhodan characters – the story is set at the start of the series rather than the more interesting period after Rhodan's formation of the Solar Empire and the ensuing intergalactic adventures. (It is the alien technology from Arkon that is first introduced here that allows Rhodan and associates to begin their intergalactic adventures).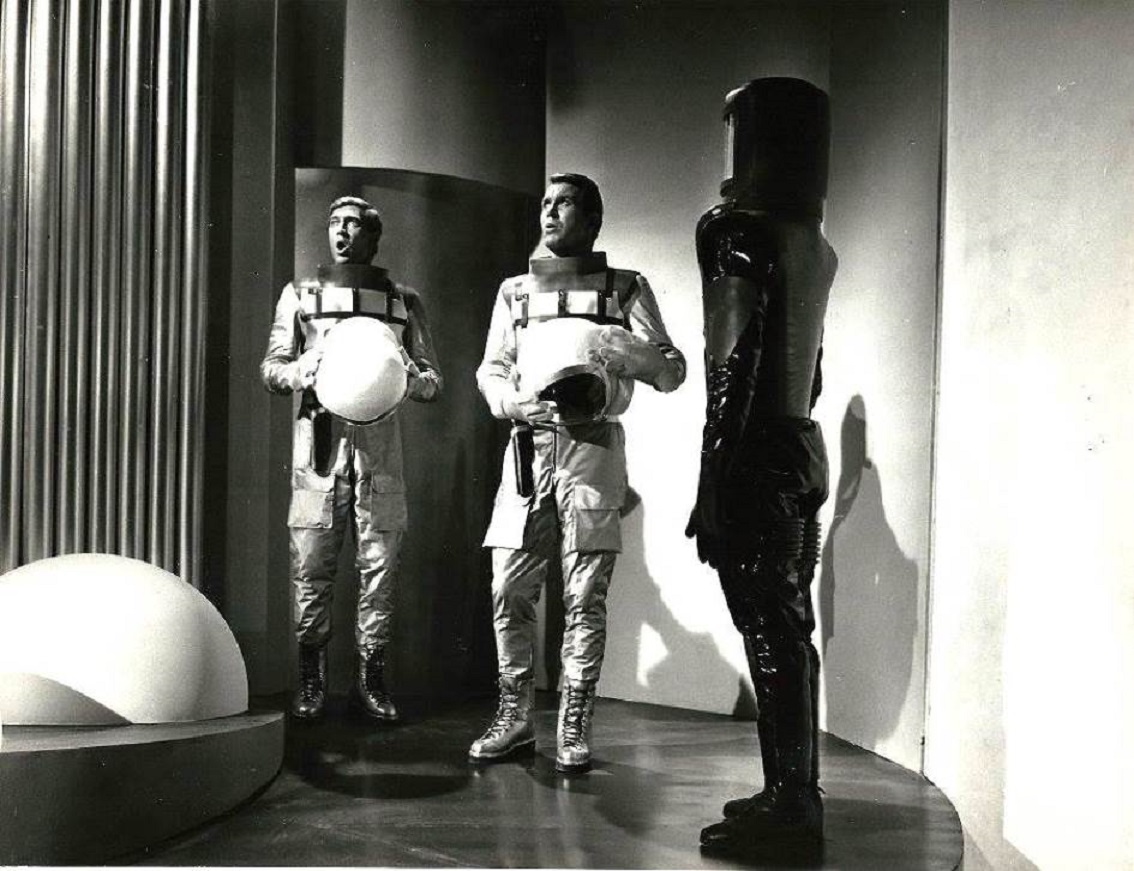 Mission Stardust is not a particularly good film – it is incredibly drab in terms of direction, photography and acting. Heroes Lang Jeffries and Luis Davilla are like blocks of wood uttering nobly resolute epithets. The action and substandard effects hardly work up any excitement. The film has a juvenile chauvinism to it that the principals play with an embarrassed deadpan – upon meeting a beautiful doctor, Luis Davilla comes out with lines like "Doctor, what disease would put me in the hospital under your care?" and the end has the alien woman succumb to Rhodan's charms. After a time, the film attains a colourful amusement, while the models, sets and costumes all have a juvenile innocence.
These is some confusion over the titles whether there was this and another film entitled Perry Rhodan – SOS in Welthall (1967). Both the Internet Movie Database and Wikipedia insists that SOS in Welthall and Mission Stardust are the same film; The Aurum Film Encyclopedia: Science Fiction (1984) lists this as a sequel originally titled Orbita Mortal (1968), while internet sources simple list Orbita Mortal as the Spanish language title for the film).
---
Trailer here
Full film available online here:-
---