---
Crew
Directors/Screenplay – Phil Lord & Chris Miller, Based on the Book by Judi Barrett & Ron Barrett, Producer – Pam Marsden, Music – Mark Mothersbaugh, Animation – Sony Pictures Imageworks, Senior Animation Supervisor – Peter Nash, Visual Effects Supervisor – Rob Bredow, Production Design – Justin Thompson. Production Company – Sony Pictures Animation.
Voices
Bill Hader (Flint Lockwood), Anna Faris (Sam Sparks), James Caan (Tim Lockwood), Andy Samberg (Baby Brent), Bruce Campbell (Mayor Shelbourne), Mr T (Earl Devereaux), Benjamin Bratt (Manny), Neal Patrick Harris (Steve), Bobb'e J. Thompson (Cal Devereaux), Lauren Graham (Fran Lockwood)
---
Plot
Ever since he was a boy, Flint Lockwood has wanted to be an inventor. He was ridiculed by his classmates for his failures, but his late mother taught him to persevere with his dream. The island of Swallow Falls where Flint lives is suffering from economic woes after interest in their primary sardine export has dried up, meaning that the locals have had to subsist on a diet of sardines only. Flint has hopes for his latest invention – a machine that will convert water into any type of food. Flint attempts to hook the machine up to the power grid at the same time as the Mayor unveils a giant fishbowl as part of the town's tourist revival, but things goes awry and the bowl is wrecked and the food converter takes off into the sky like a rocket. Flint hides from the townspeople's wrath but is startled when it starts raining hamburgers (which he was trying to get the converter to make when it took off). He remotely accesses the converter and causes the weather to start raining bacon and eggs, steaks, ice cream, jello or whatever he decides on each day. This turns Flint into a local celebrity. The Mayor makes the rains of food into a big promotion and plans to reopen the town under the name Chewandswallow. In the midst of this, Flint is attracted to Sam Sparks, a weather girl assigned to cover the island, when he discovers that she is a nerd like him. Flint then realises that the converter is going into dangerous overload and producing food that is becoming more and more oversized. A tornado of spaghetti nearly endangers the town. The Mayor sneaks in and then reprograms the machine to provide a Vegas-style all-you-can-eat buffet for the reopening ceremony. This causes calamity with massive food items of all types crushing and overrunning the town. The only hope is for Flint to fly up into the centre of the massive floating maw of food that the converter has become and manually program in a kill code.
---
Cloudy With a Chance of Meatballs was the third animated film from Sony Pictures Animation, a division of the visual effects company Sony Pictures Imageworks who in turn are part of the media conglomerate Sony Pictures Entertainment. Sony Pictures Animation have previously had modest success with Open Season (2006) and Surf's Up (2007) and subsequently made Hotel Transylvania (2012) and sequels, The Emoji Movie (2017), Peter Rabbit (2018), The Mitchells vs the Machines (2021), Vivo (2021) and Wish Dragon (2021), as well conducted a series of collaborations with Aardman Animations on Arthur Christmas (2011) and The Pirates! Band of Misfits (2012)..
Cloudy With a Chance of Meatballs was written and directed by Phil Lord and Chris Miller, who previously created/produced/directed the gonzo animated tv series Clone High (2002-3) and went on to direct the subsequent live-action film version of 21 Jump Street (2012) before returning to animation with The Lego Movie (2014), as well as producing the tv series The Last Man on Earth (2015-8) and the animated Storks (2016), Spider-Man: Into the Spider-Verse (2018) and The Mitchells vs the Machines (2021). They did start out directing Solo: A Star Wars Story (2018) but were fired and replaced by Ron Howard for taking too much of an improvisational approach.
Cloudy With a Chance of Meatballs is based on a popular children's book by husband and wife writing/illustrating team Judi and Ron Barrett. The book was originally published in 1978 and has become a minor classic. The Barretts also produced a sequel Pickles to Pittsburgh (1997). The book is substantially different to the film, especially in that all of the central characters in the film do not exist. The book is largely a story being told by a grandfather to his two children about the town of Chewandswallow where it always rains food. The story is not much more than a description of the various food types that fall there. The film has extruded that back to tell an origin story of how such weather came about.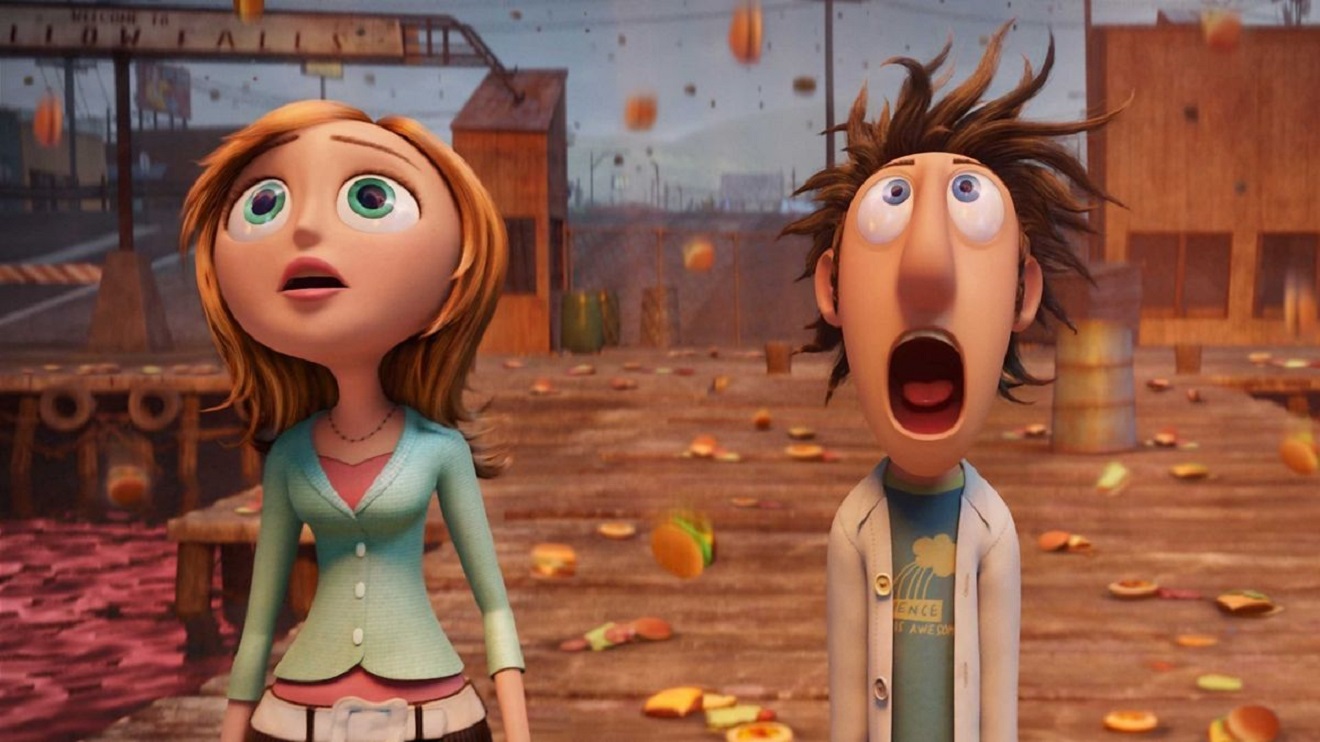 Cloudy With a Chance of Meatballs is the most fun one has had in a children's animated film in some time. Even more so than the book, the film is a work of delirious absurdism that delights in the sheer nonsensical visions of food items falling from the sky – denizens of the town have snowball fights and go skiing amid a town that has turned into a giant-sized valley of ice cream; Flint creates a palace of jelly for Sam where the two of them have delight bouncing off the walls, visiting wobbling recreations of famous works of art and diving into a pool to hang there suspended like flies in amber; the townspeople head out to sea aboard a flotilla of toasted sandwiches boats to escape the storm; the Eiffel Tower is impaled as a giant-sized BLT.
The film becomes even more demented when Flint and co set out in his flying car to turn the machine off where they are waylaid by flying pieces of pizza in a dogfight; where a river of hot cooking oil becomes the equivalent of a river of lava in an adventure film; where they use marshmallows as torches to light their way; of ambulatory and dancing fried chickens; and a climactic attack by killer gummy bears (which the monkey disposes of by eating them because they are its favourites).
As with much animation being produced at the moment, Cloudy With a Chance of Meatballs premiered in the Real-D 3-D process. Visually, it has a giddy effervescence that suggests it is in 3-D even when the film is being watched flat. Even though Lord and Miller adopt a traditional squash and stretch stylism for their characters, a huge degree of detail has gone into the background. The film has an enormously endearing sense of humour – most humour in animated/family films is so facile and cutsie or forcedly trying to be funny that I immediately switch off. Here through there are a considerable number of genuine laughs to be found – be it Flint getting Sam's foot in his eye as she sits on the edge of the pier, in watching Mr Lockwood's eyebrows or his attempts to use the computer. It is a film that works just as enjoyably for adults as it does the intended kid audience.
Cloudy With a Chance of Meatballs 2 (2013) was a sequel.
---
---